News
Mayakoba Golf Classic: Our experts predicted Bryson DeChambeau's win last week. See who they're picking to win in Mexico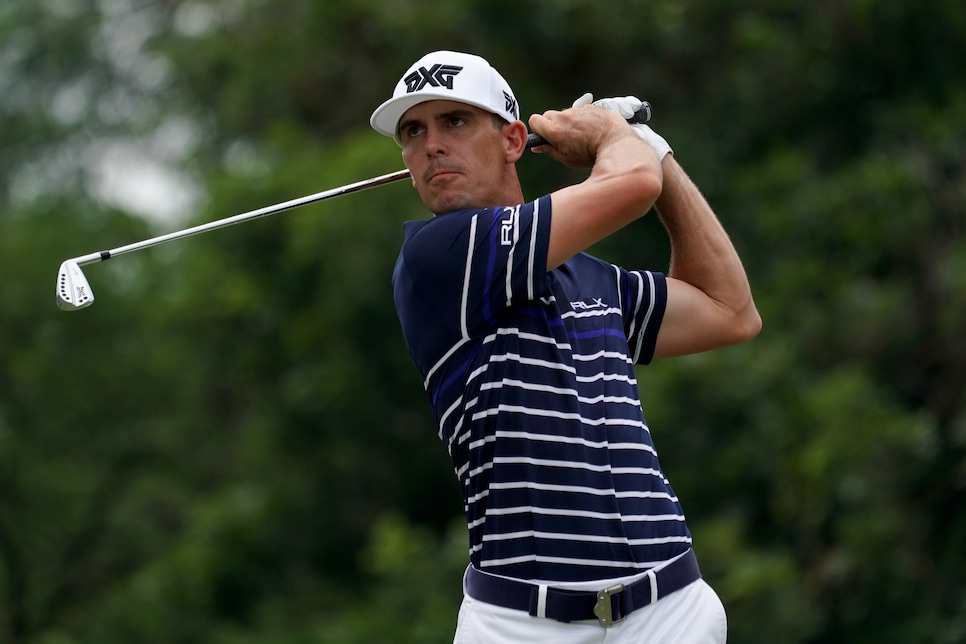 We're officially cooking with oil with our betting advice column. One of the best golf handicappers in the industry, Pat Mayo, is a contributor to GolfDigest.com betting and daily-fantasy sports advice, and he gave us last week's winner, Bryson DeChambeau, when many in the industry were saying to fade him.
That's our second winner of the 2017-'18 season, which means we're officially a place you need to check before placing your golf bets or submitting your daily-fantasy lineups. Included in our expert crew are a number of PGA Tour caddies who alternate making picks for us each week; Columbia University professor of analytics, decision modeling and optimization, Lou Riccio; Mayo, who is on the board of governors of fantasynational.com; Brandon Gdula, a senior writer for FanDuel's NumberFire; Las Vegas handicapper Brady Kannon (who's off this week); and our staff insiders, one of whom, Christopher Powers, correctly called Kevin Tway's win at the Safeway Open.
We've come out firing—and we intend to continue. Here's who we like at the Mayakoba Golf Classic.
Mayakoba Golf Classic, Odds to Win (odds from Sportsbook.ag):
Pat Mayo, DraftKings analyst, 14-time fantasy sports-writers association finalist, and board of governors at www.fantasynational.com: Billy Horschel (28-1) — Gander at some of the past five champions at Mayakoba: Patton Kizzire, Pat Perez, Graeme McDowell, Charley Hoffman and Harris English. All veterans; all very solid ball-strikers. At the time of their wins, G-Mac and English had lost a bit on their fastball. Horschel fits exactly in this mold. Beyond the ball striking, Horschel is one of the few outlier players who gains a bunch of strokes off the tee despite not being a bomber, much like all the previous winners here.
Joaquin Niemann (40-1): Any time he's over 25-1, bet him. He's going to win eventually, and a resort course helps his chances, so you'll be +EV in the long term if you just commit to betting him every week.
Brandon Gdula, Senior Writer, FanDuel/numberFire: Gary Woodland (16-1) — I keep going back to Woodland, who is top-six in the field in approach and off-the-tee play over his past 36 rounds, viaFantasyNational.com. He has finished 34th and 2nd here the past two years and enters with five straight top-12s.
Lou Riccio, Columbia University professor of analytics and decision modeling: Jordan Spieth (14-1) — My modeling indicates Spieth should be the favorite based on his history the past six months. And after struggling last week, he says his game is nearly back to where he'd expect it to be. In a field like this, if you can Spieth—a once-in-a-generation type of player—at these kind of odds, you take them. Spieth currently has lower odds for the Masters—significantly—so when you consider that, you know he can win the Mayakoba.
PGA Tour Caddie No. 1: Luke List (45-1) — People are crazy to undervalue this guy. Talent-wise, he's near the top on the PGA Tour. He nearly took down Justin Thomas at the Honda Classic last year. He's close to putting it all together—and it seems like a lock he'll win some time soon.
Joel Beall, GolfDigest.com Staff Writer: Abraham Ancer (28-1) — Ancer has carried over his 2018 second-half success to the fall season, posting top-five finishes at the Shriners and CIMB. While his approach performance doesn't jump off the page, his dual dexterity off the tee (22nd) and on the greens (4th in sg: putting) makes him a viable pick at Mayakoba.
Christopher Powers, Golf Digest.com Associate Editor: Abraham Ancer (28-1) — Ancer has quietly put together a pretty phenomenal stretch of golf since August, a month he kicked off with a T-4 finish at the Quicken Loans National. Since then he's played in 10 events and finished inside the top seven four times, including two of his first three starts of the new season. While it's a small sample size, he's putting the lights out so far, ranking fourth in strokes-gained/putting. The fact he's playing in his home country, in an event he finished T-9 in last year, and the fact he seems poised for a breakthrough makes me like the 27-year-old at those odds this week.
Stephen Hennessey, Golf Digest Associate Editor: Gary Woodland (16-1) — On a course where you don't need driver, I love picking Woodland. His long-iron game is so impressive. And he's playing arguably the best golf of his career right now. Woodland heated up on Sunday at the Shriners with an 8-under 62 on Sunday to propel him to a T-10. I fully expect him to contend in Mexico.
Sleepers (odds from Sportsbook.ag):
Mayo: Matt Kuchar (60-1) — It feels weird to put Kuchar in this category, being as steadily consistent for much of his career. Since 2012, the 2018 WGC-Mexico stands as the worst putting performance of Matt Kuchar's career. That week he lost 7.4 on the greens. Last week's Shriners, was hist second worst effort (-5.5). However, the rest of game completely turned itself around. He was 20th on SG: OTT, and more importantly, fifth in SG: APP, tying him for seventh in opportunities gained, a new stat from www.fantasynational.com which measures the amount of birdie and eagle putts a player generates from inside 15-feet. It's a really terrific stat if you're looking for player who can pile up birdies in a hurry. And, since putting is highly variant, the expectation is that Kuch will move back towards his career baseline. The week following that horrendous outing at WGC, Kuchar gained 3.4 strokes putting at Valspar the next week, over a 10 stroke difference. If the ball striking persists, El Chameleon provides a better fit for his skill set, and looking into some of the corollary tournaments — Heritage and Sony Open — you'll notice an impressive track record from the vet.
Beall: Patton Kizzire (100-1) — His game has been a bit of a mess over the last six months. But for a defending champion, +8500 is a slap in the face. At this figure, the juice is worth the squeeze that Playa del Carmen shakes the rust off Kizzire's clubs.
Hennessey: Brice Garnett (185-1). — Seems like way too high odds for someone who has won on the PGA Tour in the past 12 months, and whose game translates to a seaside course like El Camaleon.
PGA Tour Caddie No. 1: Sam Ryder (+110) over Adam Hadwin — Ryder has quietly had two top-5s in his three starts this season. This young kid is closing in on his first PGA Tour win.
Powers: Cameron Champ (+130) over Billy Horschel (-150) — No disrespect to Billy Horschel, who has really turned it around over the last two seasons, but I had to do a double take when I saw this. He's favored over Champ? The next Tiger Woods? Can't be right. Obviously, I'm exaggerating, but I still like Champ a lot as an underdog in this matchup. If not for a poor Sunday showing in Vegas, he may have contended down the stretch. Horschel did play well in China at the WGC though, so this could be a fun matchup to watch.
Hennessey: Cameron Davis (+130) over Bill Haas. No offense to our guy Alex Myers and his Demon Deacon legend Bill Haas. But Cameron Davis has been hitting the ball as well as anybody on tour the past couple weeks—finishing T-7 at the Sanderson in strokes gained/approach, despite missing the cut because he lost 6.4 strokes to the field on the greens. On a course where putting is somewhat negated on these slower, paspalum greens, give me Davis over Haas, who hasn't heated up yet after missing time in 2018.
(Matchup results last week: Hennessey: 1 for 1; Riccio: 0 for 1; Powers: 0 for 1; Kannon: 0 for 2.)
(Matchup results year to date: Hennessey: 5 for 8; Powers: 3 for 5; Beall: 1 for 2; Kannon: 4 for 15; Riccio: 0 for 1.)
Top 5 (odds from DraftKings Sportsbook):
(Results on top-5 picks last week: Hennessey: 0 for 1 (Chesson Hadley finished T-7, missing a top-five by a stroke); Gdula: 0 for 1; Beall: 0 for 1.)
(Results on top-5 picks year to date: PGA Tour caddies: 1 for 1; Hennessey: 1 for 2; Gdula: 0 for 2; Beall: 0 for 2; Kannon: 0 for 1; Powers: 0 for 2; Myers: 0 for 2.)
Top 10 (odds from FanDuel Sportsbook):
Mayo: Sam Burns (+600) — Burney burned everyone a week ago with a horrendous performance through 28 holes. Then, knowing full well he's missing the cut, started going HAM coming home, posting birdie after birdie before catching the early flight to Playa Del Carmen. Sometimes a short, hot stretch like Burns' is exactly the momentum switch you want to see entering the following event. Hopefully Burns can keep it rolling.
Gdula: Anders Albertson (+850) — Albertson enters off a 28th and 5th and has been gaining fairways and approach strokes of late. Ranked 13th in strokes gained: ball-striking, Albertson just needs to make putts to be in play for a top-10.
Bronson Burgoon (+1000) — Burgoon missed last week's cut due to poor putting but gained strokes tee-to-green. He's 11th in strokes gained: ball striking over the past 36 rounds, making a top-10 — of which he has three this season — in the cards at a great price.
Powers: Charles Howell III (+430) — GREAT odds for the ATM machine known as Chucky Three Sticks. Not to mention the fact he's finished T-4, T-7, T-17 and T-6 in four of his past five appearances at El Camaleon.
Hennessey: Charles Howell III (+430) — Howell III is someone who excels at current courses. Let's get aboard this ATM Machine this week.
Beall: Patrick Rodgers (+700).
(Results on Top-10s last week: Beall: 1 for 1 (Hadley); Hennessey 0 for 2 (Missing out on J.J. Spaun by one stroke, finishing T-15); Mayo: 0 for 2; Powers: 0 for 1.)
(Results on Top-10s year to date: Riccio: 2 for 3; Beall: 2 for 4; Mayo: 1 for 6; Hennessey: 1 for 6; Gdula: 0 for 3; PGA Tour caddies: 0 for 2; Powers: 0 for 3; Myers: 0 for 1.)
Top 20 (odds from FanDuel Sportsbook):
Mayo: Brandon Harkins (+1200) and Alex Prugh (+2200): Looking wayyyyyyyy down the board reveals two players who giving themselves great looks at birdies, they just need to convert a few more to breakthrough. Both finished inside the top 10 of opportunities gained last week at the Shriners and should continue assaulting the pins in Mexico. Harkins we know can compete here, notching a T25 last year. With Prugh, it's all about putting. If he can not be the worst guy in the field, he'll have a shot to complete. And on the super slow paspalum greens, it should give him more of a chance to remain around field average.
Gdula: Shawn Stefani (+550) — Stefani has finished second, 25th, MC and 20th at El Camaleon, which he says reminds him of his home courses, and he's 14th in strokes gained: approach over the past 36 rounds, giving him strong form entering the weekend.
Powers: Harold Varner III (+380) — Came on strong at the end of last season up until his girlfriend's trunk had its way with his clubs. Those club issues haven't carried over into the fall though, as Varner III has posted two top 15s in his first three starts. Look for HV3 to keep it rolling south of the border.
Hennessey: Cameron Champ (+155): Playing as well as anybody on tour right now—to get this bet at plus-money feels like finding money. I'll take it.
(Results on Top-20 picks last week: Mayo: 0 for 1; Powers: 0 for 1; Beall: 0 for 1.)
(Results on Top-20 picks year to date: Mayo: 0 for 5; Gdula: 0 for 4; Powers: 0 for 4; Hennessey: 0 for 3; Riccio: 0 for 2; Kannon: 0 for 2; Beall: 0 for 2)
As discussed in my field breakdown this week, I'm targeting Finau, Horschel, Grillo, List, and Niemann as my expensive options to begin lineups and filtering down to the shorter hitting, ball strikers in the mid-range, all of whom score well on Par 4: CT Pan, Kuchar, Perez, and Chez Reavie. From the bottom, Prugh and Harkins are in the mix, as are Sebastian Munoz, Ricky Werenski, and the Prince of paspalum, Brice Garnett.
Gdula: Paying up for two of the four studs — Rickie Fowler ($12,500), Jordan Spieth ($12,300), Tony Finau ($11,900), and Gary Woodland ($11,800) — is a smart move in a top-heavy field. I rank them Fowler, Woodland, Finau, Spieth this week. As usual, we'll need value plays to round out the core, and these options are in play on FanDuel, given their recent form and price.
Anders Albertson ($8,000)
Joaquin Niemann ($11,200)
Freddie Jacobson ($7,000)