News
Did Harold Varner III's girlfriend's car derail his season last year? Possibly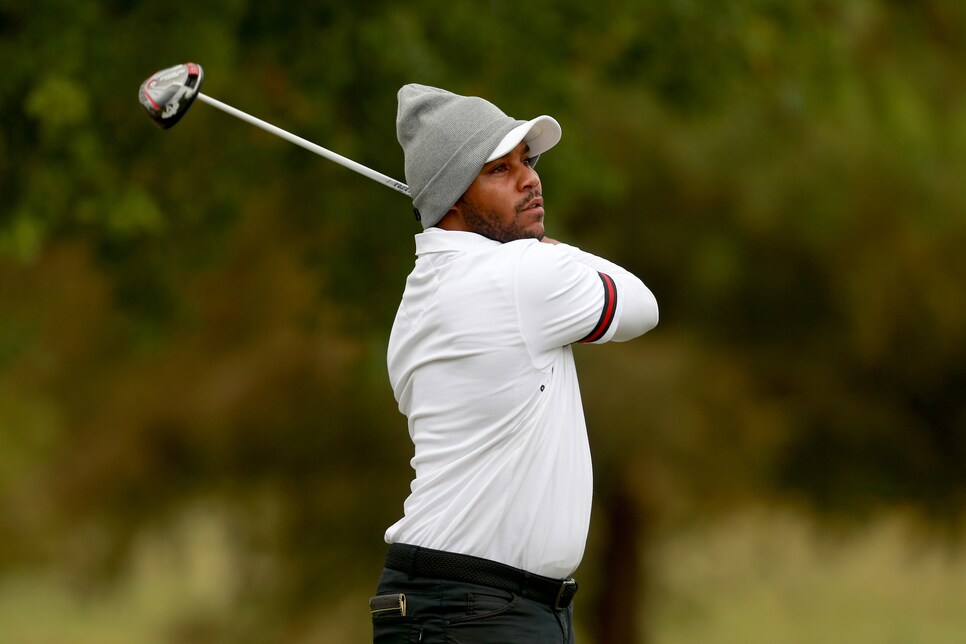 Harold Varner III got off to an inauspicious start last year on the PGA Tour, missing seven of his first 17 cuts and finishing no higher than T-23 during that span. For the first time in his career he was in danger of missing the FedEx Cup Playoffs, sitting at 160th in the standings in early May.
But a late-season surge quickly changed that, starting at the Players Championship, where Varner finished T-7, his first top 10 on tour since the 2017 Wyndham Championship. The strong week at Sawgrass kickstarted a run that included a T-5 at the Greenbrier, a solo sixth at the John Deere Classic and a T-17 at the RBC Canadian Open. The 28-year-old was rolling, nothing could stop him now ... except for his girlfriend's car.
Following his third straight top 20 in Canada, Varner had a few weeks off because he did not earn a spot in either the WGC-Bridgestone or the PGA Championship. His next start would come at the Wyndham, and Varner made the drive there from Jacksonville with girlfriend Amanda Singleton in her car. During the drive, Varner's clubs got bent in a pretty strange way in the trunk. He explained what happened after carding a six-under 65 on Thursday at the Shriners Hospitals for Children Open:
"Yeah, my club got bent in Amanda's car. On that car right there," said Varner. "There is a little railing in the back for like -- when old people get groceries and can't reach in the back there is a little bar you can slide up to keep your groceries from coming back.
"The clubs, my 7-iron and my 4-iron got stuck in there. I didn't know it. I get my 4-iron out and it's like bent. I'm like, All right, so it's only the 4-iron.
"Pull out 5-iron, it's bent, too. What the? So I had to get a new set. Got a new set at Wyndham. I hit them terrible. It sucked. Didn't hit it good. Live and you learn."
"It sucked for me, it sucked for Ray [Farnell, Varner's caddie], because the 8-iron, like all of a sudden you're getting more spin than you were. What's weird enough is they got bent in the shafts. I still have the old irons and we just put new shafts on them. So, I mean, just hang in there, club."
Varner posted rounds of 66, 69, 69 and 69 that week, but those are scores not nearly good enough to contend at the Wyndham, where 21 under or better has been the winning score the last three seasons. He finished T-53 with the new set, and then struggled at the Northern Trust, finishing T-40, which wasn't enough to get him to the second leg of the FedEx Cup Playoffs. All because of his girlfriend's old people trunk (kidding).
The good news is that Varner's club issues haven't carried over into the fall. He opened the new season with a T-14 at the Safeway Open and then bounced back on Thursday in Vegas after a missed cut at the Sanderson Farms. He'll go off in the second round at 2:35 p.m. ET and look to get in position to contend on the weekend. Going forward, he should probably keep his sticks within arm's reach at all times.