News
Shriners Hospitals for Children Open 2018 odds and betting analysis: PGA Tour caddies and expert handicappers predict winners in Vegas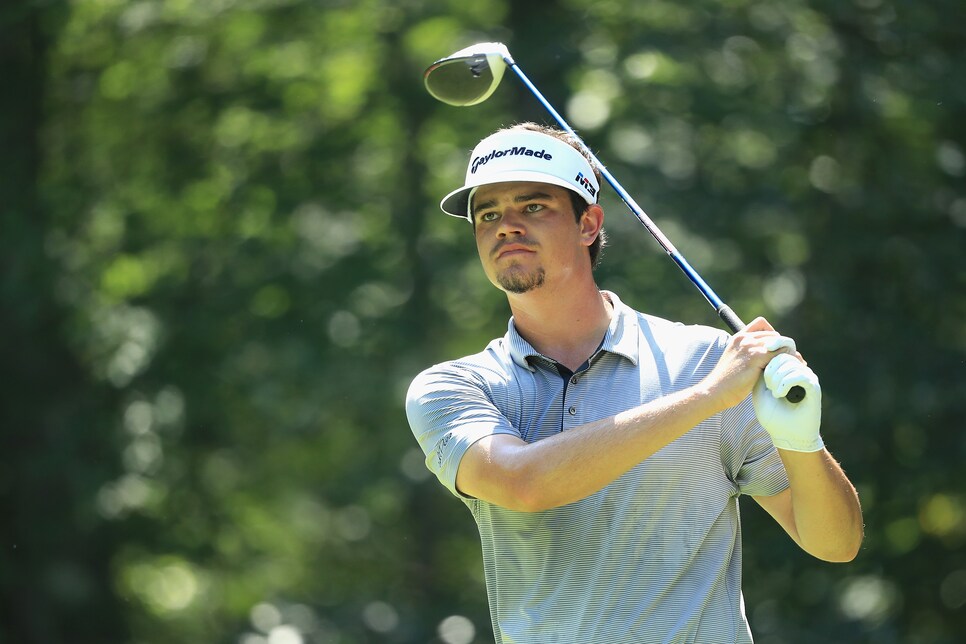 As the PGA Tour heads to the gambling capital of the world—Vegas baby, Vegas!—we're (hopefully) taking a look at this week's golf odds and picking winners for the 2018 Shriners Hospitals for Children Open. If you were tired of the late-night golf over in Asia, the PGA Tour is back in the U.S. with a couple more tournaments to round out the fall season.
We've seen consistent results from our cast of PGA Tour caddies and expert golf handicappers to launch this column to start the season. Last week, Tony Finau was my pick to win and finish in the top-10. His runner-up finish, losing to Xander Schauffele, marked the third runner-up our group has collectively picked in five tournaments. Plus, our Christopher Powers correctly picked Kevin Tway's season-opening win at the Safeway Open (yes, Chris, we'll stop boosting your ego soon enough), so we've been all over the leader board thus far this season.
Our crew of experts is back with their analysis for the Shriners Hospitals for Children Open. For the first time ever, with sports betting legalized in almost a half dozen states, golf fans can now (legally) bet on the Vegas event outside of Vegas. Here are some picks to help you find some value on this week's card:
2018 Shriners Hospitals for Children Open, Odds To Win (odds from Sportsbook.ag):
Brandon Gdula, Senior Writer, FanDuel/numberFire: Gary Woodland (18/1) — With a logjam at the top, we may as well find the most value we can. Woodland ranks sixth in strokes gained: approach and second in strokes gained: off the tee over the past 36 rounds, via FantasyNational.com. Woodland enters with just three career wins but two straight top-fives.
Pat Mayo, DraftKings analyst, 14-time fantasy sports-writers association finalist, and board of governors at www.fantasynational.com: Bryson DeChambeau (12/1) —Take a gander at the top of the odds board outside of Bryson: Finau, Fowler, Webb, Spieth. Combined, they have fewer wins than Bryson over the 16 months. Closers get coffee, and pay outright winner odds. And Bryson read his ABCs.
Joaquin Niemann (50/1) — Betting Niemann is simple math; much like the Si Woo Kim method. Kim has cashed a 300/1 and 100/1 winner ticket in over over 50 career starts. If you'd have bet Kim every week, you'd be a giant winner. Niemann is going to be that guy every time he's 25/1 or higher. I think he'll play about 25 times this year, and I think he'll win somewhere. Since he's regularly deeper than 25/1, the Chilean will eventually pay himself off.
Cameron Davis (90/1) — If this was on Monday, I'd easily be pumping Sam Burns in this spot. But his odds have dropped from +10000 to +3300 in 36 hours. People saw what I saw. Still not a horrible bet for what it's worth. Cam Davis is just the superior value now. One of the greatest features of www.FantasyNational.com is looking back at the past strokes gained for any event, then compare them to the recent form of the players who match up stats and skill wise. For TPC Summerlin, SG approach has been twice as impactful on the Top 10 finishers than the other T2G components the past five years. Last week at the Sanderson, Davis missed the cut. However, he still finished 7th in the field in SG: APP. (+5.1). The Aussie just happened to lose 6.4 strokes on the greens in two rounds. Putting is highly variant, and looking at Davis' baseline putting stats in his minimal PGA starts, he's not awful. He should finish somewhere closer to the middle of the pack, and if he can continue striking it like last week, he'll contend. Oh, on Web.com Tour last year Davis was 64th in putts per round. I would have used that in my case but putts per round is a completely irrelevant stat. What if a player failed to hit and green in regulation, then chipped it to 3-feet every time. Would he be the greatest putting in history because he averaged 18 putts per round? There is no context to PPR. That said, Davis is long enough odds that you should nibble on the Top 5 and Top 10 odds as well.
Dr. Lou Riccio, Columbia University professor: Jordan Spieth (11-1) — Though many are focused on why Spieth is here making his first fall start, I don't think he's getting enough credit as possibly earning a victory here. He owns far and away the best pedigree out of this field, and my optimization model gives him the best chance to win.
Joaquin Niemann (50-1) — Speaking of my optimization model, it gives Niemann the third best chance of winning out of the entire field. The odds according to Vegas, however, don't match up—showing really heavy value. Many expect him to earn his first PGA Tour victory this season. The elite ball-striker should have as good chance of any to do so.
Brady Kannon, VSIN.com golf specialist and golf sales at TeeTimesUSA.com: Aaron Wise (25-1) — Scrambling may be his only weakness but I don't think there will be too many brutal up and downs this week at TPC Summerlin. I believe will see close to 20-under par winning this event again.  I am looking for players that can make birdies, carry a hot putter, hit greens, and can scramble. As other contenders, I also would consider backing Beau Hossler (28-1) and Austin Cook (66-1).
Alex Myers, GolfDigest.com senior writer: Beau Hossler (28-1) and Kevin Na (40-1): Despite a rough start to the season for my picks, I'm feeling lucky about Las Vegas again and taking two players. Last year while in Sin City, I hit a small jackpot by betting on Patrick Cantlay and I believe Beau is more than due as well for that breakthrough win. Meanwhile, Na picked up his first PGA Tour title at this event in 2011 and nearly won again in 2016. From Na to Webb Simpson to Rod Pampling, TPC Summerlin has proven to be course where plucky players succeed and both players come in a little undervalued after not doing much on the Asian Swing. Hossler had a chance to win in his debut here last year, but the co-leader through 54 holes shot a final-round 73 to fall to T-7. I'm counting on him moving past his Sunday struggles (177th in final-round scoring last season) in his second full season on tour.
Christopher Powers, GolfDigest.com assistant editor: Beau Hossler (28-1). Rough week for me last week, but the only way to get over that is to get back on the horse! I'm rolling with the Beau Show again despite the fact I've picked him twice to win already this year and gone 0-for-2. The Shriners is where Patrick Cantlay, a former amateur stud, got his breakthrough victory a year ago. I think we could see a similar storyline play out with Hossler, who was tied for the 54-hole lead at TPC Summerlin last year before shooting final-round 73 and finishing T-7.
Joel Beall, GolfDigest.com staff writer: Beau Hossler (28-1)
Steve Hennessey, Golf Digest associate editor: It feels like a matter of time for two players in this field: Beau Hossler (28-1) and Joaquin Niemann (50-1). For the reasons described above, it feels like these are two must-bets in a less-than-stacked field.
Kannon: Aaron Wise (+135) over Gary Woodland: By simply the stats that I am looking at this week, Wise ought to be favored. I understand Gary Woodland has been playing great golf but +135 is way too generous on Wise.
Austin Cook (+100) over Russell Henley: Once again, my numbers favor the underdog. Over the last year, Cook has been the better putter, scrambler—and makes more birdies.
Riccio: Rickie Fowler (-120) over Bryson DeChambeau: My model shows a preference on fading DeChambeau this week compared to the other favorites. Though the rough isn't penal at TPC Summerlin, the stats show a correlation between driving accuracy and success here in the past—another reason to not like Bryson this week, as his driver has shown itself to be inconsistent at times. Rickie usually plays well in the desert—and I like his high ball flight into these greens.
Hennessey: Patrick Cantlay (-130) over Jordan Spieth. This isn't the best price to pay against one of the best players in the world, but I'm going with the strong recent form of Cantlay returning to the course he earned his first PGA Tour victory at last season. I think Spieth can play well this week, but I'm leaning with Cantlay to have the stronger result.
Powers: Kevin Na (+150) over Gary Woodland — I know Woodland has been red hot (T-5 CIMB, runner-up CJ Cup) but Kevin Na's past history at TPC Summerlin makes him a juicy play at +150. In addition to winning the event in 2011, Na, who resides in Las Vegas, finished tied for 2nd here in 2015, T-22 in 2012 and T-15 in 2008. Woodland, meanwhile, has never played in the Shriners.
(Matchup results last week: Powers: 1 for 1; Hennessey: 1 for 1; Beall: 1 for 1; Kannon: 0 for 3.)
(Matchup results year to date: Hennessey: 4 for 7; Powers: 3 for 4; Beall: 1 for 2; Kannon: 4 for 13.)
Sleepers (odds from Sportsbook.ag):
Kannon: Chris Kirk (120-1), Hudson Swafford (120-1), and Joel Dahmen (150-1). I like three long-shots this week. This event has often been won by first-time winners and/or big long shots. These three have a lot of what I am looking for this week and I also like how Swafford has won in the desert before at La Quinta in 2017 in addition to finishing well here in Las Vegas in prior visits.
Beall: Anders Albertson (110-1)
Powers: Bronson Burgoon (65-1) — He's been hot this fall—and this course should fit his game. Give me some of them Crab Burgoons!
Top 5 (odds from FanDuel Sportsbook):
Gdula: Joaquin Niemann (+1300) — Niemann is a sleeper to win this week, as he ranks top-four in strokes gained: approach and strokes gained: off the tee over the past 36 rounds.
Hennessey: Chesson Hadley (+1000): 10-1 seems like strong odds to get for another top finish by Hadley, who is one of the more elite ball-strikers in this field. Hadley had a T-2 a couple weeks ago at the CIMB Classic, so I like him to continue his form.
Beall: Austin Cook (+1400).
(Results on top-5 picks last week: Gdula: 0 for 1; Beall: 0 for 1.)
(Results on top-5 picks year to date: PGA Tour Caddie: 1 for 1; Hennessey: 1 for 1; Gdula: 0 for 1; Beall: 0 for 1; Kannon: 0 for 1; Powers: 0 for 2; Myers: 0 for 2.)
Top 10 (odds from FanDuel Sportsbook):
Mayo: Anders Albertson (+850) and Seth Reeves (+1400) — Ride their recent form and their irons. Both were top-10 tee-to-green last week en route to top-10 finishes, and their odds haven't adjusted. We just need one to repeat with a similar approach game to cash in.
Hennessey: Tony Finau (+145) — Not exactly great value here, but you gotta like the chances of someone with the elite form and course history of Finau in this spot. You could almost take Finau to finish top-10 every week. It worked for me last week, so I'm going back to Big Tone.
J.J. Spaun (+1100): Spaun opened up with rounds of 66 and 65 last year before fading on the weekend, so he'll return to Vegas expecting to contend once again. Plus he's coming off a top-10 in his last start at the CJ Cup. With a week off to rest before Vegas, I'd back Spaun to have another strong finish at TPC Summerlin.
Beall: Chesson Hadley (+430).
Powers: Matt Kuchar (+430). In his past two appearances at the Shriners, Kuch has finished 2nd and T-7. Sure, those came in 2008 and 2009, but I trust that he could show up anywhere, anytime and backdoor his way into the top 10 on Sunday.
(Results on Top-10s last week: Beall: 1 for 1; Hennessey: 1 for 2; Mayo: 0 for 1; PGA Tour Caddie No. 1: 0 for 1; Myers: 0 for 1; Powers: 0 for 1; Riccio: 1 for 1.)
(Results on Top-10s year to date: Riccio: 2 for 3; Beall: 1 for 3; Mayo: 1 for 4; Hennessey: 1 for 5; Gdula: 0 for 3; PGA Tour caddies: 0 for 2; Powers: 0 for 2; Myers: 0 for 1.)
Top 20 (odds from FanDuel Sportsbook):
Mayo: Sebastian Munoz (+1100) — Over the last 50 rounds, per www.fantasynational.com, Munoz is 8th in this field in birdies or better gained. He makes birdies at an insane clip, like Fowler level birdies, he just needs to figure out his putter. For four rounds, he can do that. We've seen him do it before.
Powers: Ryan Moore (+250) — This is some value for a guy that won the Shriners in 2012 and almost just won the Safeway earlier this month. I went against him twice in matchup bets in Asia, and won both, but I think he returns to form in the states at a place he's comfortable with.
Beall: Austin Cook (+300)
(Results on Top-20 picks last week: Gdula: 0 for 1; Powers: 0 for 1; Hennessey: 0 for 1.)
(Results on Top-20 picks year to date: Mayo: 0 for 4; Gdula: 0 for 4; Riccio: 0 for 2; Kannon: 0 for 2; Powers: 0 for 3; Hennessey: 0 for 3; Beall: 0 for 1)
Mayo: Jordan Spieth is the slate breaker on DraftKings this week. As discussed in my breakdown, since Spieth hasn't played since the Ryder Cup, and never at this course in a competitive event, no one knows how he's going to play. Which making him a massive fade for most players. If you're competing in a large entry DraftKings tournament, Spieth is exactly the type of contrarian player you want. I can't tell you how well he's going to do, but I can tell you he'll be one of the two lowest owned of the Top six players. Meaning, you bet on his overall talent, and if Spieth ends up hoisting the novelty check, you create a lot of leverage on the field.
Spieth $11,000 Bryson $10,800 Niemann $8,400 Burns $7,600 Albertson $7,000
Riccio: Jordan Spieth; Rickie Fowler; J.J. Spaun; Joaquin Niemann; John Senden; John Huh
Beall: Patrick Cantlay - $9,900; Beau Hossler - $8,600; Joaquin Niemann - $8,400; Sungjae Im - $8,000; Austin Cook - $7,800; Anders Albertson - $7,000
Riccio: Jordan Spieth; Rickie Fowler; Joaquin Niemann; Trey Mullinax; Chesson Hadley; Harris English.
Beall: Bryson DeChambeau $11,900; Patrick Cantlay $11,900; Beau Hossler $10,500; Chesson Hadley $9,800; Sungjae Im $8,300; Anders Albertson $7,500