A Rivalry Born
Ohio State's Ryan Day and UCLA's Chip Kelly got the news the Bruins were joining the Big Ten while playing in the same golf tournament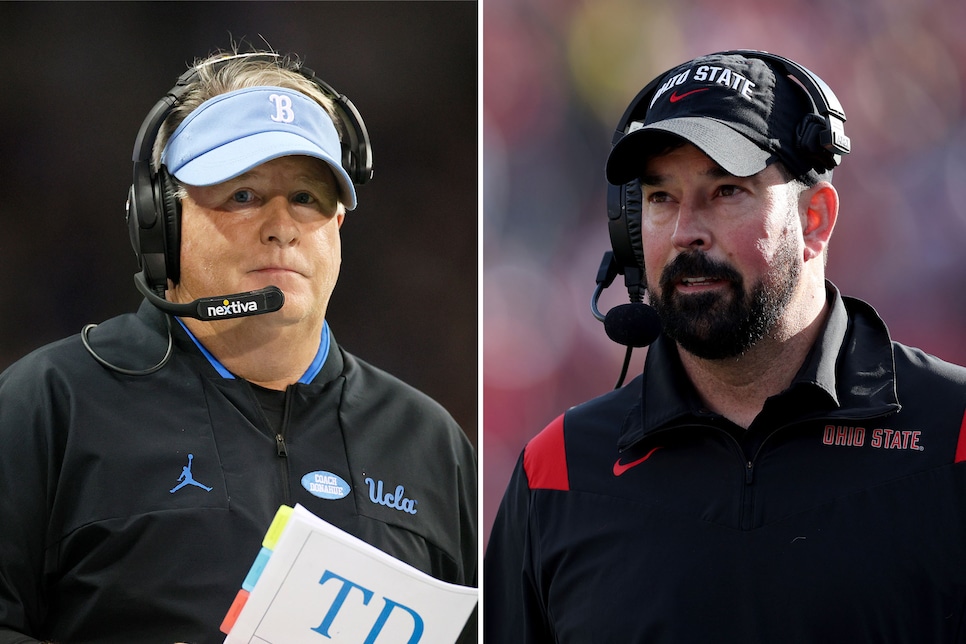 A few weeks back, the college football world turned upside down for the 100th time in the past couple of months when news broke that UCLA and USC were set to join the Big Ten beginning in 2024. Nevermind that it made no geographic sense and even less cultural sense, the move instantly reshaped college football, and will continue to do so until it's finally, officially official.
Funnily enough, Ohio State head coach Ryan Day and UCLA head coach Chip Kelly found out at precisely the same moment on precisely the same golf course, at least as Day tells it. (Excerpt begins around the 42-second mark).
According to the Buckeyes ball coach on this week's episode of THE Podcast, both he and Kelly were on the course at Kelly's annual golf tournament in New Hampshire. Kelly was in the group ahead, and as Day was making the turn, the pair's wives came running out to deliver the news.
"We didn't really know it was coming, to be quite honest," Day explains. "We heard some different things, but we didn't know. We started off the round and we're in two different conferences. We end the round and we're in the same one."
Wild stuff. It shows how fast college football is changing and proves that the golf course is still, in the year of our lord 2022, where business gets done. The only question now is, in five years, when Bruins-Bucks is a knock-down, drag-em'-out blood-rivalry, will Day still be getting an invite to Kelly's golf outings? B1G questions for our B1G future.