Five Stars
Notre Dame somehow, some way pulled off a not-corny, kind-of-good 'Hangover'-inspired uniform reveal
Everything the Notre Dame football program does and stands for is ripe for hatred. Non-Irish fans hate their tradition, they hate the gold helmets, they hate the fact their games are on NBC, they hate that they don't wear names on the back of their jerseys. Above all—and this is the most warranted reason—they hate that they continually get into the playoff thanks to a questionable 12-1 season only to get their sh-t kicked in by a SEC team and/or Clemson.
So it stands to reason that ND's latest uniform reveal, which hit social media on Wednesday, would be absolutely tarred and feathered. Hung out in the town square for all to see. There's simply no way it could have not been very corny and cringey. It was always going to get 0 out of 5 stars.
In a shocking upset (kind of like if ND ever actually beat a good team in a big game), it was the exact opposite. This "The Hangover"-inspired uniform reveal, featuring Mike Golic and Mike Golic Jr., plus new head coach Marcus Freeman and junior tight end Michael Mayer, was... actually good? It's four minutes long, which is four mintues longer than anyone wants to spend their time on anything ND-related, but we promise it's worth it (kinda):
Greatest of all time might be a stretch, but even a USC fan has to admit this was pretty good. OK, maybe not a USC fan. A Michigan fan? Nope. Miami? Boston College? OK, no one is actually going to admit it's good outside of South Bend, but in our unbiased opinion this was much better than we thought. The attention to detail is there and the acting chops are surprisingly solid. The only bad part of the whole thing?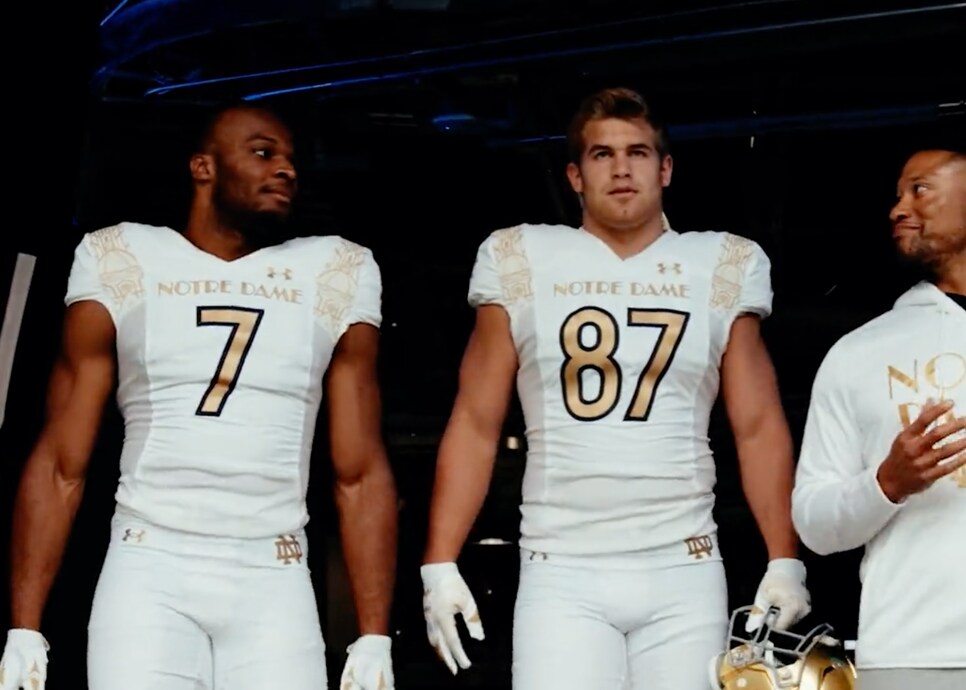 I mean ... these kind of stink? In the pantheon of Notre Dame alternates, I'm not sure these rank in the top 10. All that production value to reveal a Wal-Mart Georgia Tech jersey is an incredibly tough scene. But the video itself was very good so we'll chalk this up as a dub for ND.