News
Now is the time for golf to have 'the talk' about racial inequality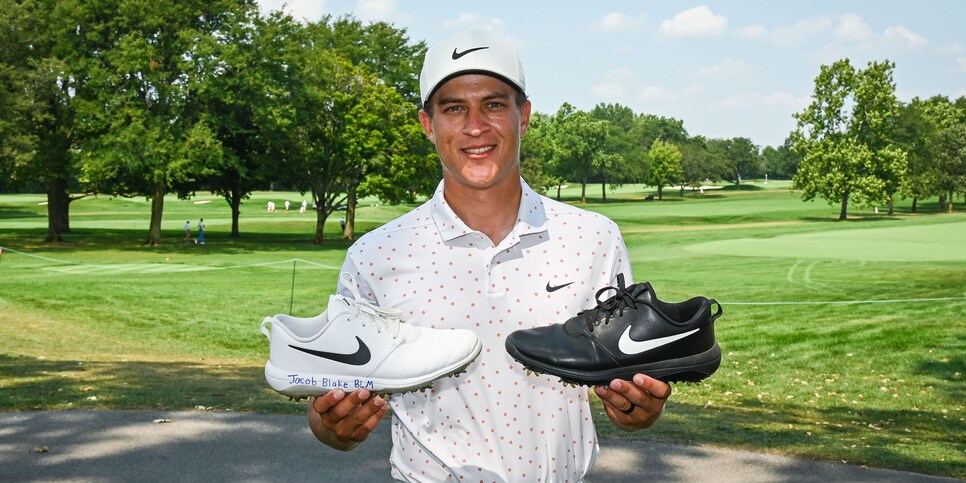 On Wednesday afternoon, shortly before they were scheduled to face the Orlando Magic in an NBA playoff game, the Milwaukee Bucks decided not to play. They wanted to protest the most recent police shooting of a Black man, Jacob Blake in Kenosha, Wis., on Sunday. Blake was shot seven times in the back by police while getting into his car—with his three children in the back seat.
Blake is in critical condition and paralyzed. His shooting set off protests and national outrage. Since George Floyd was killed in Minneapolis in May when a police officer kept his foot on his neck for eight minutes and 46 seconds, more and more athletes have been speaking out against police brutality.
Once the Bucks made their decision, all three NBA games scheduled for Wednesday were postponed. The WNBA followed soon after, postponing three scheduled games. Three Major League Baseball games were also called off, and past U.S. Open champion Naomi Osaka said she wouldn't play her semifinal match in the tennis warm-up event for this year's Open before that match was halted by a day. Nine NFL teams called off practices to protest and speak out. On Thursday, the National Hockey League announced a two-day postponement of playoff games in protest of the Kenosha shooting, and seven more MLB games were called off.
Cameron Champ, who is biracial, spoke up after showing up to play the first round of the BMW Championship wearing one black shoe and one white shoe. And the tour released a statement saying it supported the actions of the athletes in other sports "and many of our own members [who are] standing up for issues they believe in." The statement then went on to talk about the work the tour has been doing this summer "to make a deeper and more specific commitment to racial equity."
The next sentence was the most baffling: "We understand that now is not the appropriate time to highlight our programs and policies but rather to express our outrage at the injustice that remains prevalent in our country."
Actually, now is exactly the time that the tour should be talking in specifics about what it is doing. Calling off the first round and scheduling 36 holes for Sunday certainly would have sent a message.
Tiger Woods, who along with Champ, Harold Varner III and Joseph Bramlett is one of the four players of color across all three tours (PGA Tour, PGA Tour Champions, Korn Ferry Tour), said he had talked to commissioner Jay Monahan after the other sports announced their shutdowns and that he was comfortable with the tour's statement being enough. "We're all on board," he said.
Tony Finau, who is of Tongan and Samoan descent, said, "We're in full support of what the NBA is doing," adding, "If we can learn from each other, listen to each other, I think it's a big deal."
"It was something I knew I wanted to do as soon as I saw the Kenosha video," Champ said Thursday night after playing his first round. "I mean, my jaw dropped when I saw it. I thought, Not again, but there it was. I mean all I could say was, 'Wow.' "
Champ has worn one black shoe and one white shoe in the past—to celebrate Black History Month. This, however, was different.
"My grandfather grew up in the south when Jim Crow [legal segregation] still existed and the KKK was still feared," he said. "I know those stories, and I know how difficult it can be to be Black in this country—even now. I think we [in golf] need to use this as a starting point to become more diverse on and off the golf course. It's amazing that we have only four players of color on tour right now. We need to improve that."
Champ received a good deal of blowback Thursday on social media for his shoes and for his video, which concluded with him saying, "This needs to end."
"I'm not naïve," he said. "I knew that was coming."
Paul Goydos, who has played on the PGA Tour and the PGA Tour Champions dating to 1993 and once taught school in the inner city of Long Beach, Calif., said he didn't expect to see many tour players speak out on the current state of affairs.
"That's not the way we are politically," he said. "Everyone knows that. The tours are mostly white and lean right. But it's more than that. Team sports are owner-driven financially. We're sponsor-driven. I think there's a reluctance to say or do anything that might upset sponsors."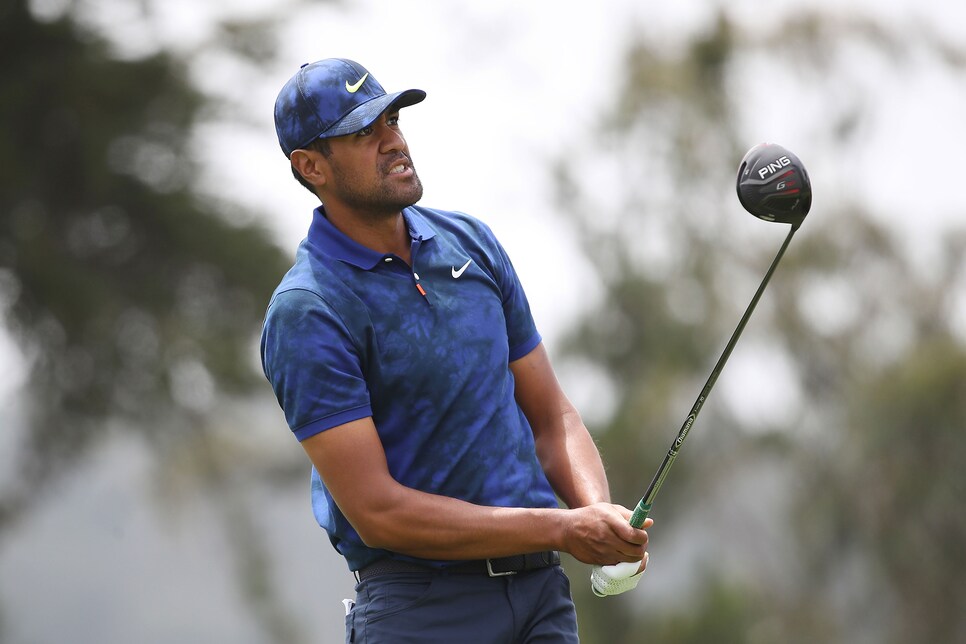 After his round Thursday at the BMW Championship, Tony Finau spoke of the need to continue to have "uncomfortable conversations about systemic racism."
Sean M. Haffey
Goydos said he admires the Black Lives Matter sticker that fellow PGA Tour Champions player Kirk Triplett put on his bag two weeks ago. "Let's face it, there are neighborhoods in this country where it's borderline illegal to be Black," Goydos said. "If I walk down a street, no one will notice. If a Black man walks down that same street, it's entirely possible people will call the police. I think the most important thing I can do right now—that we can all do—is listen and try to learn."
Triplett has four children, two of them adopted. One is Hispanic and one is Black/Japanese—his 18-year-old son Kobe. When Triplett put the sticker on his bag he talked about "the talk" he felt compelled to give Kobe—the same talk most fathers feel the need to give their Black children when they become teenagers.
"Think about this," Triplett said. "When you have a segment of the population that is frightened of those that are there to help with public safety, you have an issue."
Perhaps the most surprising—and encouraging—occurrence of the past few days was the decision to shut down by the NHL, where 97 percent of the players are white, according to USA Today. The fact that players in a predominantly white league decided to take a stance is a new development. Most of the raised voices of athletes—dating to Colin Kaepernick's decision to kneel for the national anthem in 2016—have come from Blacks.
Champ, Finau and Goydos are right about what should come next in golf. Everyone needs to listen and understand why there is so much anger and frustration about these issues. And, as Champ says, the tour needs to move beyond words and address the sport's lack of diversity.
From tragedy, can come progress.