News
Not so fast: Jim Furyk tells AP he'll treat Tiger Woods' Ryder Cup chances "like everyone else"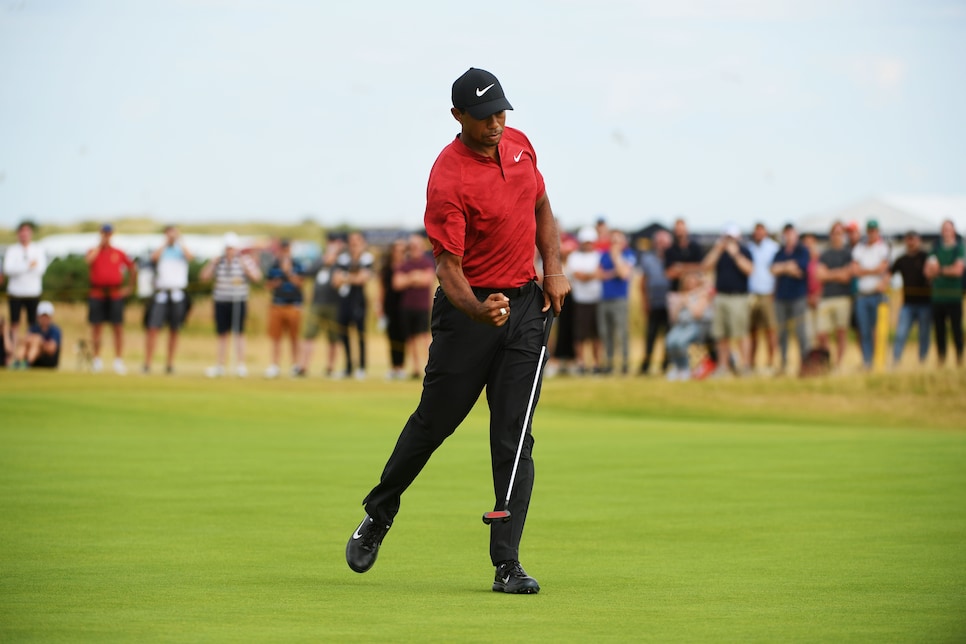 Tiger Woods ostensibly locked up a Ryder Cup bid with a sterling performance at Carnoustie. The T-6 was Woods' sixth top-12 finish in just 10 starts, and though the 42-year-old hasn't returned to the winner's circle, the numbers (third in sg/approach, fourth in sg/around-the-green, sixth in strokes gained) paint the profile of a formidable player. Coupled with the business and marketing boom Tiger's participation would bring to the biennial event, Woods teeing it up for the red, white and blue seems like a foregone conclusion.
Except, apparently, to the only person who will decide the matter.
Jim Furyk, captain of this year's United States team, told the Associated Press that he remains noncommittal to Tiger's Ryder Cup playing prospects.
"I'm going to handle (Woods) the way I do everyone else," Furyk told the AP's Doug Ferguson on Monday. "I'll ask my top eight guys. The way he's playing, he might be one of them. I'll ask the vice captains, collectively, and I think we'll do the best we can to round out the team. We want the guys playing the best."
It's worth noting that one of said vice captains is Woods. The 14-time major winner has already voiced his desire to serve as a playing assistant, and Furyk does seem open to the idea. However, as Furyk noted, Tiger's not the only aspiring U.S. candidate playing well at the moment. Xander Schauffele, Kevin Kisner, Kevin Chappell, and Tony Finau all submitted strong cases for Ryder Cup inclusion at Carnoustie.
"We had a lot of guys in pretty good form," Furyk said. "Flip over to Tiger, you look at him because he's Tiger, and he's earned a lot of attention...I loved seeing him play well. I loved seeing him jump to 20th. It's fun to watch. But we'll handle him like everyone else."
Woods' run at the claret jug vaulted him to 20th in the U.S. Ryder Cup point standings. But with just two appearances before automatic qualifying ends, Woods needs to win the Wanamaker Trophy—or couple a top five at the PGA Championship with a Bridgestone Invitational victory—to have a chance at one of the eight point selections. If not, Tiger will have to rely on one of Furyk's four captain's picks.
Woods served as an assistant at the 2016 Ryder Cup and 2017 Presidents Cup, but last suited up for a Ryder Cup in 2012. In seven appearances, Woods has a 13-17-3 record (albeit 4-1-2 in singles), with the U.S. winning just one Cup in that span.
This year's Ryder Cup begins on Sept. 28 at Le Golf National. The Americans are the defending champs, but haven't won in Europe in 25 years.