What-If History
New book claims Nick Saban almost left Alabama for College GameDay after the "Kick Six"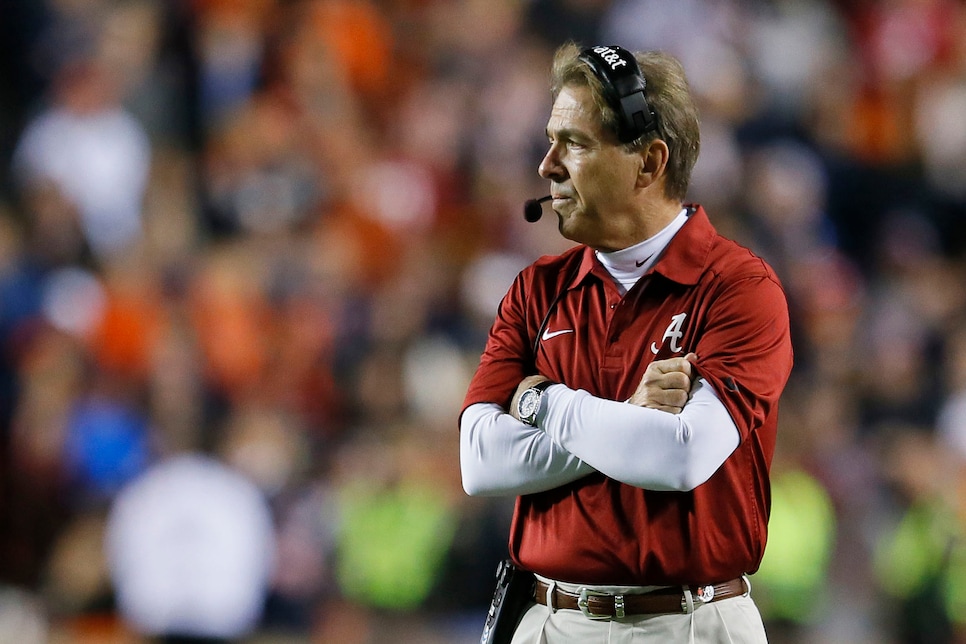 College football is nearly upon us. The bands are tuning up, the kegs are filling, and the Golden Egg is a-scramblin'. Just in time for the most wonderful time of the year, John Talty's 'The Leadership Secrets of Nick Saban'—a deep-dive into the world of college football's most exacting czar—is also poised to hit shelves. You may not be looking for a page turner with wall-to-wall football on the way, but Talty has included plenty of juicy tidbits to help grease the library card. Chief among them is a near bombshell, one that had the potential to rock college football to its core only to have its detonation sequence canceled at the last moment. And no, it's not that Saban had never heard of Zaxby's …
After the Crimson Tide's gutting "Kick Six" loss to Auburn in the 2013 Iron Bowl, Saban reached out to agent Nick Khan—who then represented ESPN talent like Kirk Herbstreit, Mike Greenberg, Skip Bayless, and Colin Cowherd—and "empowered" him to reach out to ESPN saying that Saban was considering his "next chapter" and was "considering whether media should be a part of that." Talty says Saban had "zeroed in" on a College GameDay gig and grilled then ESPN executive John Wilhack about ESPN culture, asking if it was akin to being part of a team.
Ultimately Saban decided to stick to the sideline, and that decision paid off, winning national championships in 2015, 2017, and 2020 while cementing himself as one of the greatest coaches to ever do it at any level in any sport. But still, it's hard not to pine for Saban at the GameDay desk—sun coming up, hundreds of already hammered coeds behind him—being asked to don a tiger mascot head in lieu of Corso …
Now THAT would have been fun.