Hammer Time
Hall of Famer Nick Faldo: My 'hammer' test will quickly reveal if you have a good golf grip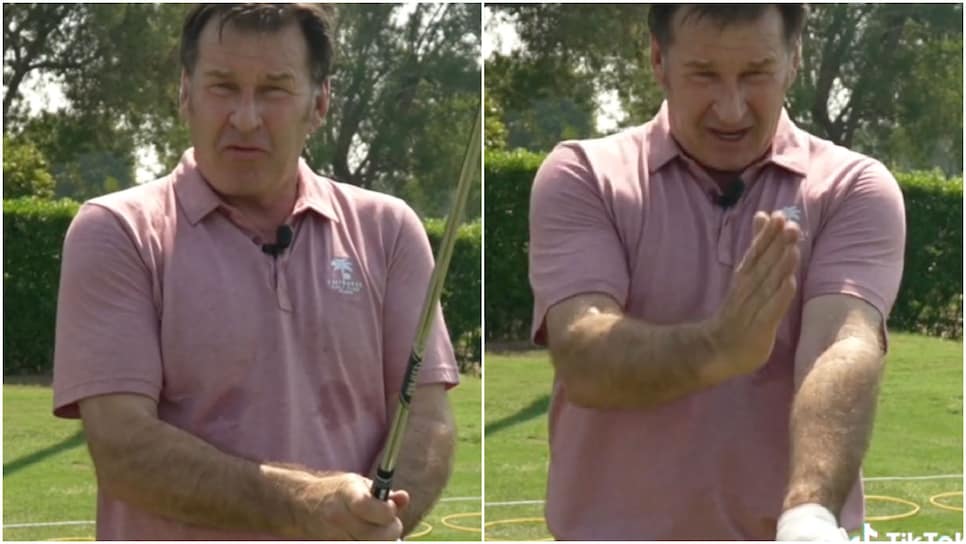 There are few pros who know more about the golf swing than Nick Faldo. His story has become legendary: A rising young talent whose golf swing kept failing him under pressure, the Englishman paired with David Leadbetter, overhauled his action and returned from a three-year winless streak as one of the most fearsome pressure players in golf.
One of the first things Faldo and Leadbetter changed was his grip. As Faldo writes about in his book, A Swing For Life, his right hand grip was rotated into a strong position. To prevent the ball from hooking, Faldo said he developed an overly large slide towards the target with his lower body. To fix one, he needed to address the other.
So, he changed his grip, and along the way developed this handy little way that he—and you— can check to see if it's in the spot you wanted it. Last week, the six-time champ shared the tip itself on his TikTok.
Grab the club with only your lead hand (left hand for right-handed golfers). Then, bang the heel of the club into the ground.
"Whack the ground a few times, and makes sure it comes back square," Faldo says.
If, after a few whacks, the clubface is open or closed, it's time to adjust your grip.
An open clubface means you need to rotate your hand so you see more knuckles; a closed clubace means the opposite. Rinse and repeat until your clubface is square, then add your trail hand, Faldo says.
"Fiddle with it a little bit," Faldo says.
There's no one perfect grip for everyone. Each golfer needs to grip the club a little differently, based on their unique biomechanics (you can read more about that here). Take a few seconds to try Faldo's hammer test, and you'll quickly find the one that's best for you.