The Loop
The NHL just announced two outdoor games on the 18th fairway of Edgewood Tahoe
What a time to be alive for hockey fans. A month ago, we still weren't sure what sort of horrors Bettman and co. had cooked up for us in 2021 (if any at all), and now here we stand on the precipice of all hockey, all the time. Glory be.
But it's not just the prospect of actual, honest-to-goodness, non-bubble pucks that has us belting "Oh Canada!" at the top of our lungs, however. It's also the NHL's announcement on Monday, amidst the Wild Card clean up and National Championship hubbub, of two outdoor games set to go down on the shores of Lake Tahoe NEXT MONTH. If that doesn't get you sparked for a Labatt and gravy on your french fries, maybe this scenic computer rendering will.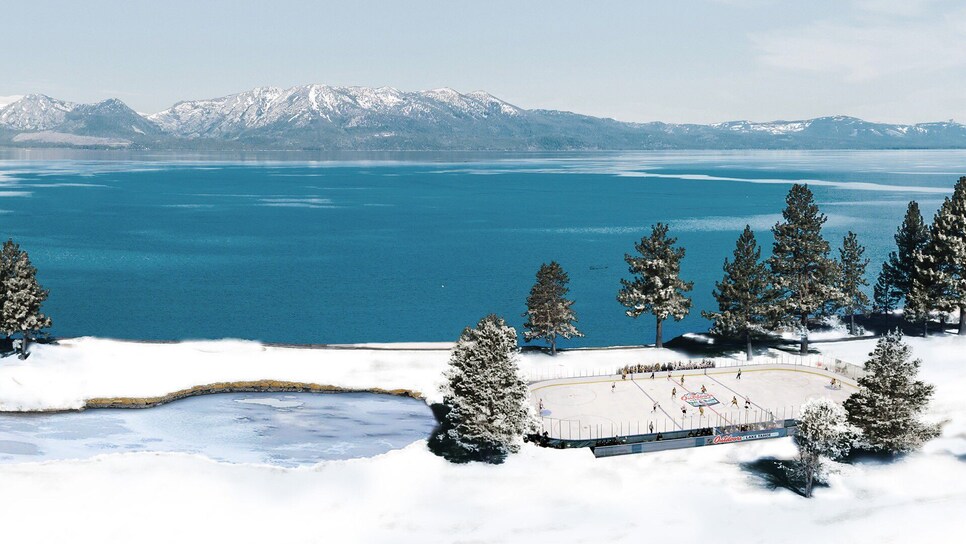 Savvy golf fans among us may recognize that as roughly the 18th fairway of Edgewood Tahoe, which hosts the American Celebrity Championship each summer. The Dallas Stars' Joe Pavelski finished third in that event back in 2018, but this year it will be Nathan McKinnon taking center ice when the Colorado Avalanche take on the Las Vegas Golden Knights on Saturday, February 20th. The Eastern Conference then gets its turn on Sunday the 21st, with the Bruins taking on the Flyers. All four teams will sport their Reverse Retro threads, in case you needed even more incentive to tune in.
Adding to the prevailing pond hockey vibe is the fact that no fans will be in attendance. Perhaps that's putting too positive a spin on what is obviously a big compromise, but with the 2021 Winter Classic and Stadium Series game now officially cancelled, we'll take whatever the outdoor pucks gods will give us.