Year in Review
Cabrera's prison time, Van Rooyen's rage and a Solheim Cup gimme among controversies that caused a stir in 2021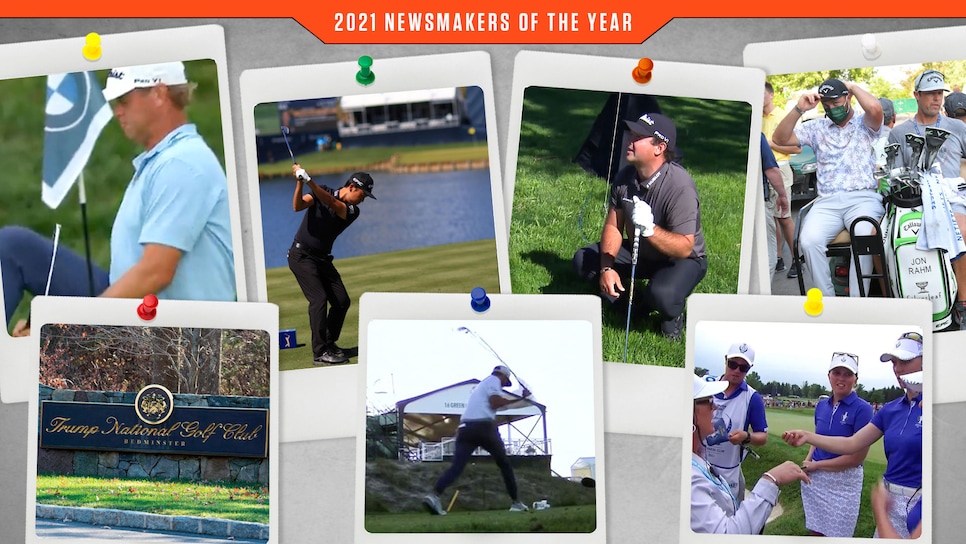 Justin Thomas might have gotten 2021 off to an inauspicious start with his audible gaffe, but he wasn't alone in causing controversy and creating a bit of a buzz that was surprising, shocking or otherwise highly questionable. Throughout the last 12 months, a handful of golfers have stumbled into the spotlight due to unfortunate circumstances.
Whether they raised eyebrows, suspicions or questions, here's a look at some of the folks who created a stir this year and the inauspicious moments they were connected to. (And a warning, you might ask why a certain squabble between Bryson DeChambeau and Brooks Koepka is missing here. Don't worry, we'll attend to their feud later in our Newsmakers package.)
It's unusual when a former Masters champion fails to return to Augusta National Golf Club for the tournament, even if he is not playing. That's why the absence this spring of Angel Cabrera was a head scratcher.
At 51 years old, the 2009 Masters champion from Argentina surely would have been a competitor in the 85th Masters, but instead it was revealed that he was in Buenos Aires facing charges of assault against his ex-wife. Cabrera denied any wrongdoing, but in July he was sentenced to two years in prison.
Temper tantrums are nothing new in golf, but the unhinged rage Erik van Rooyen exhibited at the PGA Championship was shocking in both its ferocity and its potential for harm.
Near the end of a second-round 81 at Kiawah Island, the 31-year-old from South Africa dumped his tee shot into the water at the par-3 17th hole and went ballistic. He swiped his club angrily at a tee marker back-handed—toward spectators—then turned around and whacked it again in the opposite direction, sending the marker flying and snapping off the clubhead. Had Matt Wallace's caddie Gareth Lord been one second faster walking off the tee, he might have been injured seriously by the marker or clubhead.
Worse, van Rooyen didn't apologize immediately to Lord or Wallace or the spectators. Sure, he took to Twitter a few days later for a standard mea culpa, but that's an easy out. His behavior was indefensible.
Kizzire kills a driver (and a putter)
During the rain-soaked final round of The Northern Trust, which finished on a Monday, a frustrated Patton Kizzire bent his driver across his back after spraying a tee shot into the right rough on the seventh hole at Liberty National. Applying a bit too much pressure, the shaft broke.
He sought to replace it, and according Rule 4.1, he's allowed to do so if a club "is damaged during the round by an outside influence or natural forces or by someone other than the player or his or her caddie." But he can't replace it if it was damaged in anger. Whoops.
Kizzire argued that he did not break the club in anger, but after conversations with playing partner Jordan Spieth and a PGA Tour rules official, it was determined he couldn't replace the club. Kizzire had to finish without a driver and went on to shoot a two-over 73. Fortunately, he still advanced to the next event, the BMW Championship. Which was unfortunate for his putter. At Caves Valley, Kizzire suffered a double bogey to end his second round. He responded by breaking his putter over his knee and tearing up his cap walking to the scoring area. That had to feel good.
No, not another Patrick Reed rules issue
A reputation for being liberal with the rules didn't help Patrick Reed (and neither did television replays) after he took a drop for an imbedded ball during the third round of the Farmers Insurance Open at Torrey Pines. Reed claimed that he found his ball plugged in the turf after he pulled his approach left of the green at the 10th hole.
Rain had softened the course, and the round was being played with preferred lies in the fairway, but TV showed that Reed's ball bounced before coming to rest. A volunteer near the ball said she did not see the ball bounce, and that was good enough for Reed, who then picked up the ball before consulting a rules official.
In the end, PGA Tour officials said Reed followed the necessary steps to take relief and was cleared to play on. Even so, Nantz noted on the CBS broadcast, "It's a bad look." Reed saved par on the hole, held a share of the third-round lead, and then went on to win by five shots.
In easily the most stunning 60 seconds of the year immediately following the completion of a tournament round, Jon Rahm went from leading the Memorial in his title defense by a record-tying six shots to being forced to withdraw from the tournament. This after a PGA Tour rules official approached him beside the 18th green at Muirfield Village—with a CBS camera rolling—to inform him he had tested positive for COVID-19.
It all happened after Rahm finished up a stellar eight-under 64—the best strokes-gained round of his career—to complement the 65 he had posted earlier in the day and finishing off the weather-delayed second round. It was no wonder he responded with a shocked reaction—bending over in disbelief—that initially had viewers (and CBS commentator Jim Nantz) unnerved as to what he'd just been told.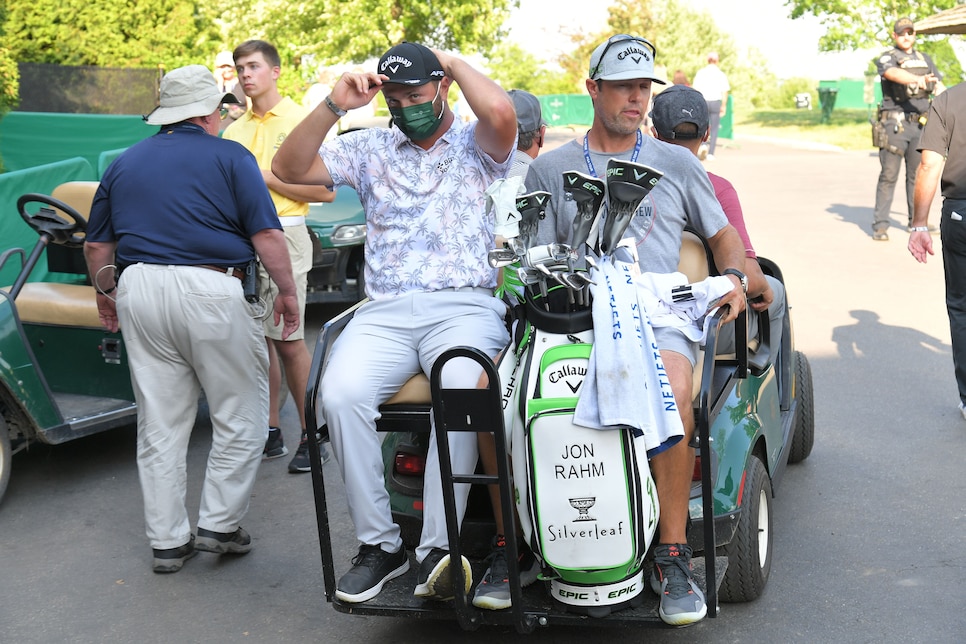 Jon Rahm gets shuttled away after being told he tested positive for COVID-19 at the Memorial.
Ben Jared
While some wondered if the tour could have let Rahm play as a single during Sunday's final round, given his big lead, that wasn't really a feasible option. Instead, Patrick Cantlay and Collin Morikawa inherited the 54-hole lead, and Cantlay went on to win. Rahm, who had completed the first of two shots of the coronavirus vaccine and had been testing negative throughout the week after coming in contact with a person who had tested positive, got clearance in time to play two weeks later in the U.S. Open at Torrey Pines. Which he won. Which was some consolation. Some.
In news that was unusual but not surprising, the PGA of America announced it would not hold the 2022 PGA Championship at Trump Bedminster just a few days after a demonstration at the U.S. Capital that turned violent. The Jan. 6 riot was really the last straw, as PGA of America officials had been having internal discussions about a possible move rather than face backlash—and damage to its brand—during its major championship at a facility carrying the name of a controversial former president.
"We find ourselves in a political situation not of our making," Seth Waugh, the CEO of the PGA of America, told the Associated Press. "We're fiduciaries for our members, for the game, for our mission and for our brand. And how do we best protect that? Our feeling was given the tragic events of [Jan. 6] that we could no longer hold it at Bedminster. The damage could have been irreparable. The only real course of action was to leave."
The association announced a few weeks later that it was taking the 103rd PGA to Southern Hills in Tulsa, Okla., which previously was slated to host the championship in 2030.
Kevin Na has become known for his early walk to the cup as his putts are tracking toward the hole, and he did the early walk thing while wedging onto the 17th hole's island green at TPC Sawgrass during the first round of the Players, confident he'd find the island green. Unfortunately, that was his fourth attempt of the round after three previous had bounced on the green and then over it into the water.
Na hit his first three shots from the teeing ground and the fourth from the drop area, and that shot barely stayed dry, just inches from the penalty area. Then he chipped in for a quintuple-bogey 8, which obviously didn't assuage his frustration.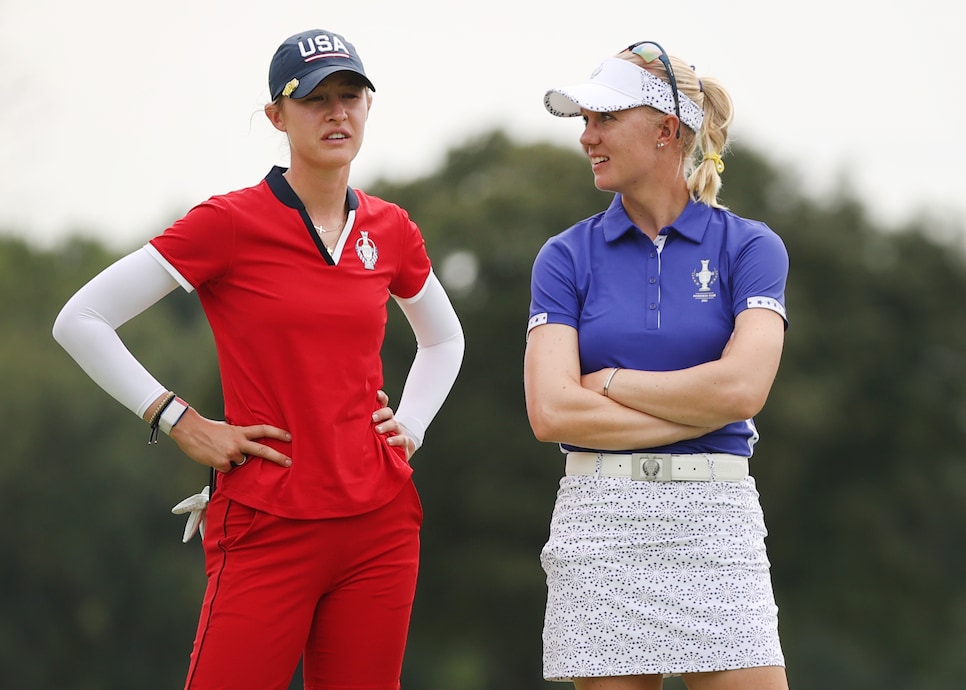 Nelly Korda of Team USA and Madelene Sagstrom of Team Europe talk during the Solheim Cup.
Maddie Meyer
There's always some kind of controversy in team match play events, and sure enough, in a Saturday four-ball match at the Solheim Cup, controversy ensued on the 13th hole at Inverness Club in Toledo, Ohio. American Nelly Korda narrowly missed an eagle putt, and within seconds, Madelene Sagstrom of Europe scooped up the ball, near the right edge of the cup, and gave it back to Korda, conceding the obvious birdie to tie the hole.
But citing Rule 13.3b, match referee Missy Jones jumped in and awarded Korda and Ally Ewing the hole. Sagstrom hadn't waited the prescribed 10 seconds to see if Korda's ball might drop in—though the ball clearly had come to rest and was not overhanging the cup—so Jones ruled that Korda's ball must be treated as holed.
Korda and Ewing took a 1-up lead with the gift eagle and held on to win by that margin.
"I don't think golf should be handled this way," said Nanna Koerstz Madsen, Sagstrom's partner.
There were more than a few observers who agreed.
Usually good-natured Rory McIlroy ripped up his shirt after stumbling home over the final holes of the DP World Tour Championship, angry more for how he handled some bad breaks in the final round of the European Tour season finale than the actual loss to Collin Morikawa after he held the 54-hole lead. Of course, photos surfaced of the sartorial redesign.
Then last week at the Hero World Challenge after one too many questions, a perturbed McIlroy responded, "... this f---ing ripped shirt, Jesus."
That's our cue to go no further.