Golf development is sizzling throughout the south and southeastern United States.
Florida and South Carolina are red hot with new course construction. Georgia and Tennessee are warming up, and even Alabama recently debuted its first new course in nearly 20 years, the Bill Coore and Ben Crenshaw-designed Wicker Point on Lake Martin. It was only a matter of time before Texas jumped into the fire.
For a state of its geographic and demographic heft, Texas lags behind its peers when it comes to great architecture. Currently only three venues rank among America's 100 Greatest and Second 100 Greatest Courses—Whispering Pines (No. 51), Dallas National (83) and Bluejack National (139)—and the average score of the top 10 courses in the state on our most recent rankings is just 59.0203 compared to New York (64.7365), California (63.7652) and Florida (60.7452).
A surge of new courses and developments could very easily alter that equation as some of the profession's top designers have been getting to work here. There's no shortage of land or exciting golf properties in Texas, and if the right concepts and architects can take advantage of them, the future of Texas golf looks as radiant as it's ever been.
DRIFTWOOD GOLF AND RANCH CLUB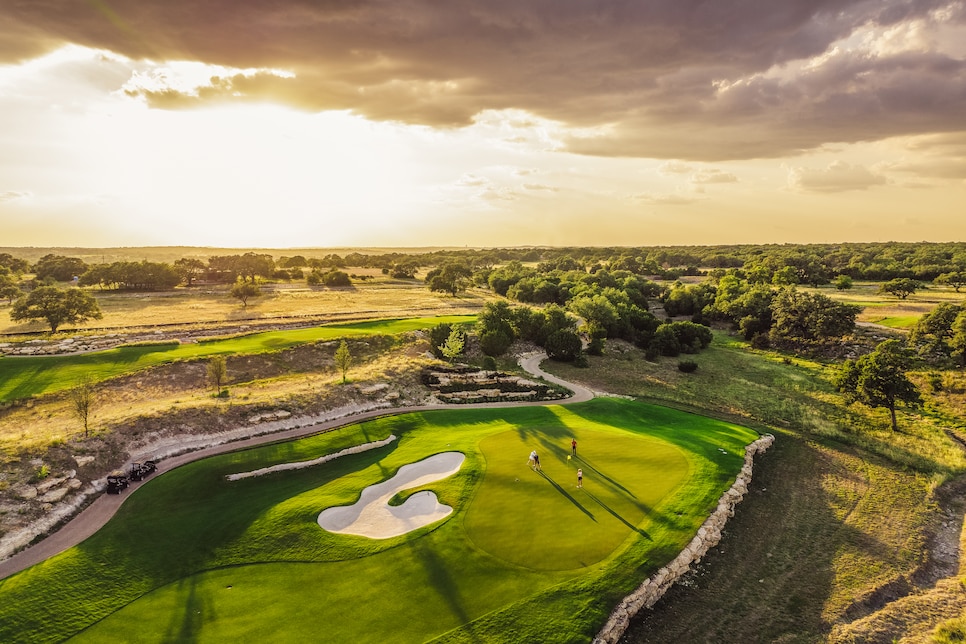 Driftwood, a new development southwest of Austin.
Driftwood was the first of Texas' new slate of clubs to open in 2022. This Discovery Land Company development southwest of Austin possesses all the polish and upper-end amenities the developer is known for (luxury comfort stations, anyone?). It also features a highly polished Tom Fazio design that reflects the region's rustic, rocky Hill Country character with holes that flow past bright white sand bunkers through aisles of meadow grasses and clusters of mature live oaks.
FIELDS RANCH EAST AND WEST AT PGA FRISCO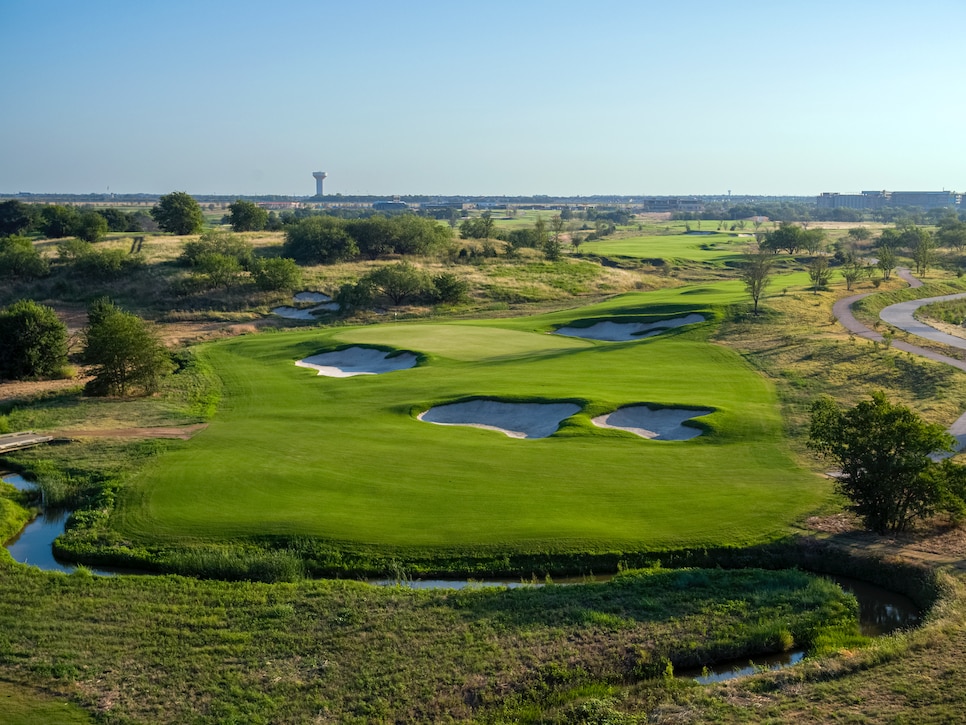 Gil Hanse and Jim Wagner's par-4 5th at Fields Ranch East.
Beau Welling, the lead architect for Tiger Woods' design company, was instrumental in building Bluejack National, ranked third in the state. He returned to Texas with his own design of the West Course at the new PGA Frisco, headquarters of the PGA of America, a course designed to be a swashbuckling, playable alter-ego to the more tournament-oriented East Course. Welling accentuated the site's gradual elevations to create a number of downhill drives to go along with large, roller coaster greens and fairways that stretch 50 to 90 yards across. As one of our course ranking panelists put it, "America definitely needs more courses like the West—fun to play, tough to lose balls, and good birdie opportunities with well executed shots."
The East Course is built from different mettle. At over 7,800 yards from the championship tees, the Gil Hanse and Jim Wagner design puts a greater emphasis on driving, demanding length, accuracy and the courage to take on cross-bunkers and central hazards. The greens, perched above bunkers and chipping runoffs, are smaller and require controlled approaches, and the holes of the second nine prowl the basin of Panther Creek. Though only in its first year (both courses opened in May), the East has already hosted the KitchenAid Senior PGA Championship.
Highland Pines' par-5 15th.
Located north of Houston in Porter, Highland Pines opened in early 2023 and makes the most of some mild elevation changes in an otherwise level region. Built by the design team behind the Tour18 replica courses in Houston and Dallas, Highland Pines is part of a residential development that is just getting underway, and most of the holes are currently isolated in the eponymous trees. The course features enough water to tremble the nerves (it lurks beside nine greens), including the unique par-5 15th with a fairway split into left and right avenues by pines, pot bunkers and a creek. The putting surfaces are small and segmented, and the range of hole locations can significantly elevate the level of challenge.
BIG EASY RANCH "THE COVEY"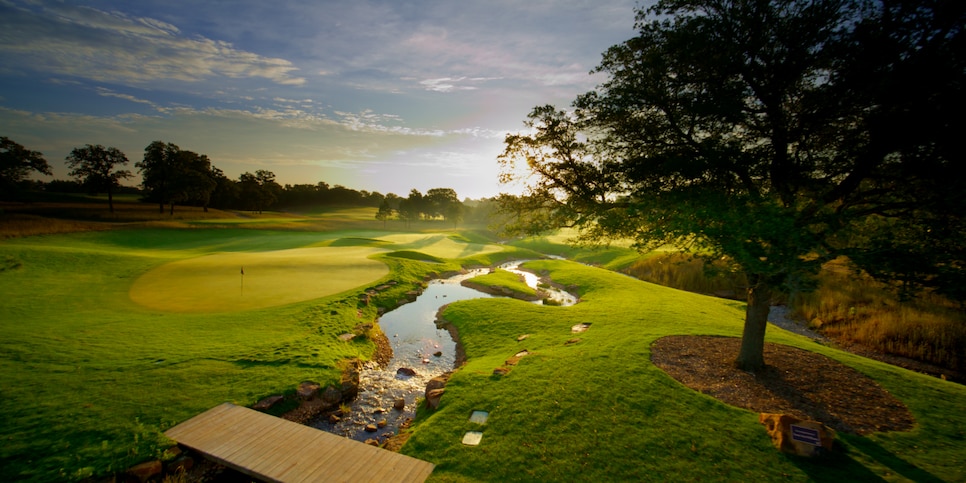 Architect Chet Williams has already set the standard for golf in Texas with Whispering Pines, the state's top-ranked course in Trinity, north of Houston. He'll try to match that success with The Covey at Big Easy Ranch, set on a 2,000-acre section of land between Houston and Austin. Opened this summer, Big Easy Ranch is described as a sporting club as members have access to fishing, hunting, clay and other activities. The property is similar to what Williams worked with at Whispering Pines in the sense that it's remote, unencumbered by buildings or development and possessed with a strong backdrop of pine and hardwoods, but the routing is tauter, continually turning direction with smaller, more formal bunkers and greens tucked beyond streams, ravines and lakes. Over 85 feet of elevation change also means that players will have to be on their games to calculate roll-out of the firm Zeon zoysia fairways.
RED FEATHER GOLF AND SOCIAL CLUB
Texas is blessed with an incredible range of inspiring and diverse golf landscapes across 260,000 square miles, but not much of it is located near Lubbock. That presents unique opportunities for architects to create stimulating architecture from the ground up, as Tom Doak did at the Rawls Course at Texas Tech in 2003 where his team manufactured fairway contour, ridges and elevation changes on a pancake flat piece of land. Rob Collins and Tad King have done the same on a tight, 120-acre piece of ground for Red Feather, south of the city. Opened to limited member play this summer, many of the holes share corridors, and in some cases, greens, to maximize the limited space. The key to making the golf feel spacious and exciting in such a small footprint is to build a series of very long holes (600-yard par 5s, 500-yard par 4s, 250-yard par 3s) offset by very short, sporting holes like drivable par 4s and chip-shot par 3s. The tension is amplified by the construction shaping, which has transformed the lifeless site into the quasi-remnants of a mining operation full of pits, sink holes, kettles, sandy gashes and faux slag heaps.
Hal Sutton is one of Texas' favorite sons, and now he's angling to be one of its favored golf designers (he's also the architect of record for the 18th-ranked Boot Ranch in Fredericksburg). For the better part of the last year he's been working in Columbus on The Darmor Club with course builder Doug Wright. The property is not far from Big Easy Ranch, but the concept of The Darmor Club is radically different than The Covey as Sutton and Wright have taken inspiration less from the land and more from the early 20th century templates of C.B. Macdonald and Seth Raynor, so players will find a Biarritz green, a Road Hole, a reverse Redan par 3, a Cape hole, an Alps and the like. Grassing was completed this fall, and a spring or early summer 2024 opening is expected.
Kyle Franz's design for the Luling project.
Kyle Franz, one of the profession's most in-demand up-and-coming solo designers, is in the process of shaping bunkers and greens at this yet-to-be-officially-named golf club between Austin and San Antonio and expects to begin grassing in the coming months. The property's potential is outstanding with sweeping meadows and rolling contour, but the most interesting aspect are the myriad barrancas that network the property ranging from three to 30 feet in depth. Some will be rugged and exposed like those at Los Angeles Country Club and Riviera, and others will be grassed like those on Pasatiempo's second nine, and Franz's design uses them and chains of bunkers to create alternate fairways and optional routes of play on nearly every hole.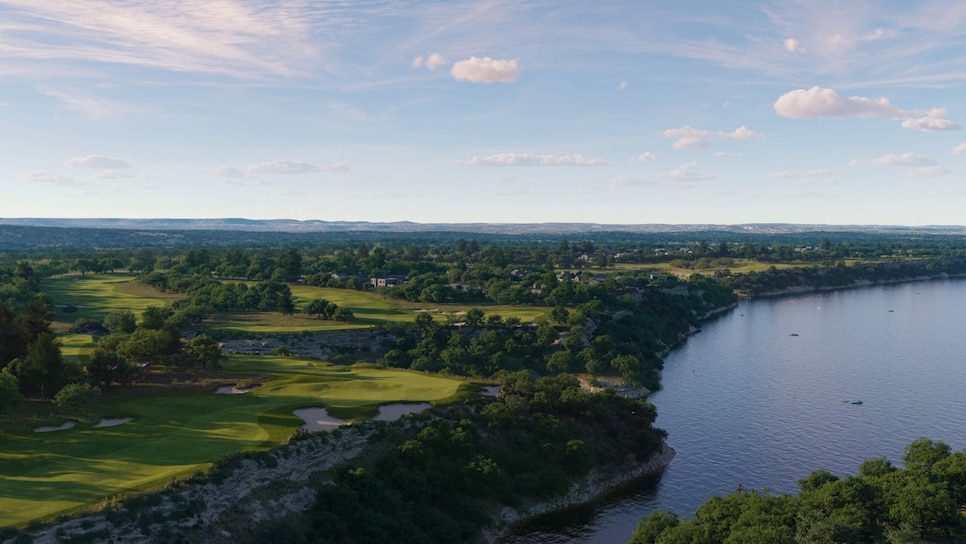 A rendition of the blufftop holes at Loraloma.
Loraloma is part of a large master-planned community northwest of Austin from the Areté Collective, founded by former Discovery Land Company executives. At the heart of the luxury development is an 18-hole course from David McLay Kidd, architect of the original course at Bandon Dunes, as well as Gamble Sands in Washington State and Mammoth Dunes at Sand Valley, each ranked among Golf Digest America's 100 Greatest and Second 100 Greatest Courses. As at Gamble Sands, Kidd is back working atop bluffs, in this case on the palisades 30 to 40 feet above a bend in the Pedernales River. The site will make for dramatic golf with several holes running the length of the river similar to how four, five, six and 16 at Bandon Dunes border the oceanside cliffs, and nearly half the remaining holes edge along interior ravines like Bandon's 17th. Loraloma breaks ground this month with a projected opening in early 2025.
Kelly Ranch is the new iteration of the Avanzada development southwest of Fort Worth that was announced last year. Acquired by a new developer, the Kelly Ranch community will feature 2,500 homesites and an upscale golf course from owner/operator Escalante Golf. Designing the course will be Oklahoma-based architect Tripp Davis, who previously worked with Escalante to remodel the Pines Course at the International Golf Club outside Boston. Davis, known for building strategically engaging courses that require players to think through each shot and make decisions about where to place the ball to unlock the access point of each hole, will have a rich canvas to work with that includes pasture areas and forested sections along Bear Creek that will interact with four holes. Other playing area will play through valleys that remind Davis of Sonoma County in California. Construction begins next month with a potential spring or summer 2025 opening.
Located a scant six miles from Loraloma northwest of Austin, Travis Club is a 1,500-acre community on Lake Travis with over 10,000 feet of waterfront. Beau Welling's course plays primarily in the rugged, rumpled uplands above the lake but dips down toward the shore on the first nine, highlighted by a heart-pounding all-or-nothing par 3 across a cove. Contruction is expected to begin by early spring 2024.
Welling has also been tabbed to design the course at Freestone Lake & Golf Club, a new development 90 minutes south of Dallas in Fairfield on a large lakeside property that was formerly maintained as a Texas state park. Construction is pending due to land permits.
This new destination club in Childress, some four hours northwest of Dallas, is slated to have two 18-hole courses, one from Tom Doak and the other, to come next year, from Gil Hanse and Jim Wagner. Set on an old cattle ranch in a region of prairie, bush and eolian sand dunes in the panhandle near the Oklahoma border and the headwaters of the Red River, the model is a getaway club with cabins designed for multi-day stays a la Sand Hills or Ohoopee Match Club. Doak expects to begin construction on the Upper Course sometime in late fall or winter (Hanse and Wager will break ground on the Lower approximately a year later), and when complete, Childress Hall may come to redefine perceptions of golf in the state.