News
In 'wild, wild West' created by COVID-19, college golf coaches ponder the uncertain future of their sport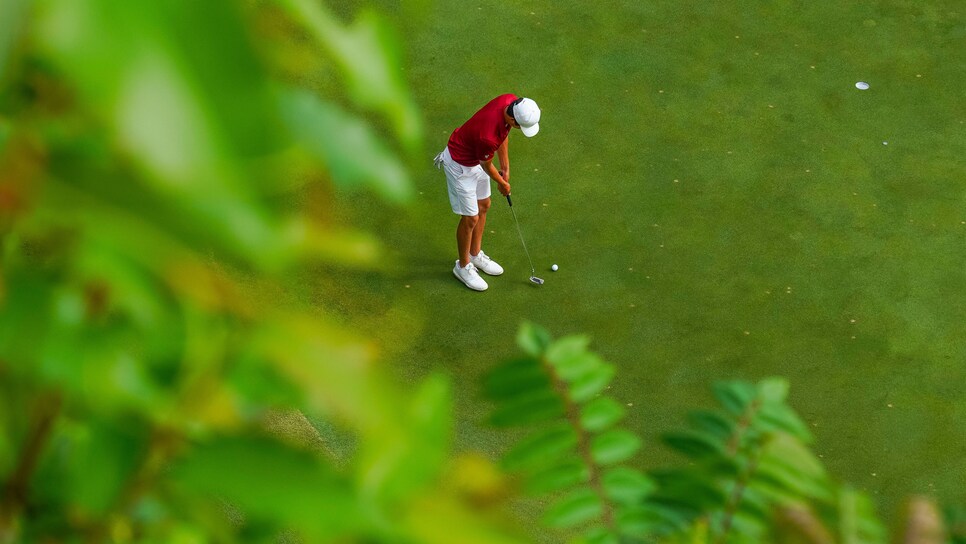 There are times when Derek Freeman must feel like he's overseeing a multinational company rather than a college golf team. Once a week, the men's coach at UCLA gathers all of his players together on Zoom. The appointed time: 10 p.m. on the West Coast, about the hour Freeman would like to be heading for bed. Why then? Because some of the young men are connecting from all around the world. The Bruins have players currently living in Spain, Japan, China and Malaysia.
"It's difficult finding a time for us all to get together," Freeman reasoned. "I just want to make it as easy as possible for them because they're already going through so much."
If the coronavirus didn't exist, all of Freeman's golfers would be on the Westwood campus in the Los Angeles suburbs, going to class, practicing at some of the city's finest country clubs and preparing for top-level competition.
But that all changed with COVID-19, which first gummed up the turning wheels of college sports in March, when play came to a shocking halt. Championships in all winter and spring sports were canceled. Classes were switched to online. Many of the students, still in their teens, faced the first deep crisis of their lives.
The sadness, confusion and sense of upheaval has softened in some regions of the country, but it weighs as heavily as it ever did in others. The same can be said for college golf, where the NCAA, conferences and universities are in the strange, unprecedented position of relying on states, counties and even the beliefs of individual families to determine their competitive fate in the 2020-'21 season and beyond.
For now, a handful Power Five and Group of Five (mid-major) conferences in Division I have begun playing in tournaments this fall. The rest are waiting for the spring portion of the schedule to start play, with the hope COVID-19 abates and potential vaccines may be available to return some normalcy to the landscape.
While some schools have had their players on campus for more than a month, others just saw them arrive in the past week. There are men's and women's teams that aren't officially competing, yet traveling around their own regions to get in reps. Tournaments specifically designed for displaced college athletes have popped up all over the country.
And then there are squads such as Freeman's in Los Angeles County, which has suffered some of the most COVID-related deaths in the U.S. The coach just couldn't see a scenario in which his players would be able to practice without heavy restrictions, so he told them to do their school and golf work at home, be that in San Jose or Tokyo.
For Freeman, it doesn't get any easier as the calendar turns. He has to piece together a schedule for his program—"It's all in pencil right now"—while also serving as a member of the six-person NCAA Division I Golf Committee, which has the unenviable task of identifying invitees to the NCAA postseason in May by contemplating a puzzle without all of its pieces.
"This is the wild, wild West," said Gregg Grost, the CEO of the Golf Coaches Association of America (GCAA). "We were not designed for this. We're making this up as we go along. We're trying to put round pegs into square holes, and it doesn't work."
Mary Lou Mulfler, the University of Washington women's coach who is in her 37th season with the Huskies and sits on the NCAA Division I Women's Golf Committee, said her younger counterparts have always told her that she has everything figured out. Then COVID arrived.
"Every year something new happens, and boy did it happen this year," Mulfler said. "You could have asked me 1,000 times what's the most illogical, inconceivable thing that could possibly happen, and I wouldn't have answered that we'd have a pandemic. There's no playbook for this."
By its very nature, college golf is a unique entity. Unlike most other sports, it plays across the entire school academic year, divided into fall and spring portions, split up by a winter break. In normal seasons, any tournament can have implications for the rankings and determine who reaches the postseason. That's not possible in 2020-'21, with some teams idle and others with three or four tournaments on their fall schedule.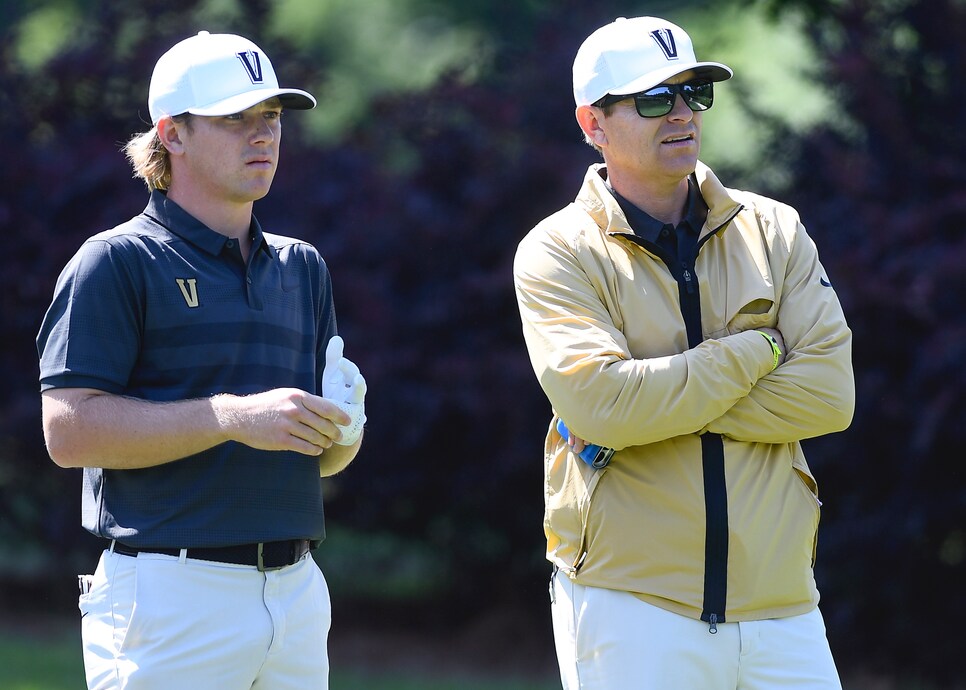 Vanderbilt men's golf coach Scott Limbaugh (right) is getting former U.S. Amateur runner-up John Augenstein back as a fifth-year senior for the 2020-'21 season.
Tim Cowie - Tim Cowie Photography
Among the conferences that have chosen to allow their teams to compete in the fall are two in the Power Five—the SEC and the Big 12—along with Conference USA, Southland, Sun Belt and West Coast Conference. The first high-profile event of the season is the inaugural Blessings Collegiate Invitational in Fayetteville, Ark., that runs Monday to Wednesday and will be televised on Golf Channel. It's an All-SEC affair, with all the men's and women's teams from the conference's 14 schools expected to compete, barring any coronavirus roadblocks.
Scott Limbaugh, the men's coach at Vanderbilt who has guided the Commodores to six straight NCAA Championship appearances, found himself torn last week between giddy anticipation of seeing his team compete for the first time since March and nagging anxiety of what could go wrong.
"We're so excited," Limbaugh said, "but every day you're just trying to get to the next day right now. We're taking it one day at a time. One hour at a time. I mean that. I'm not exaggerating. It's been a real battle. Is the goal just to get to the Blessings healthy? Is it to build a team?
"We're excited to go play, but I'll be super excited when we hit the road on Saturday and everybody is healthy."
The first men's Division I golf tournament of the fall season was the Jim Rivers Invitational, played Sept. 14-15 and hosted by Louisiana Tech. Twenty teams were originally committed to compete, according to Louisiana Tech coach Matt Terry, but the field ended up with 12 because schools either had positive tests on their squad or were in quarantine. Schools participating were mostly from the South, because driving was a must, with no teams in any part of the country taking flights right now. Bowling Green did something crazy and impressive—it made the 14-hour journey by highway from northern Ohio to Ruston, La. Teams were required to submit COVID-19 test results within 72 hours of competing, and each school played only in groups of teammates.
It had been 184 days since Louisiana Tech's last competitive round. "Everybody was excited," Terry said. "I drove around talking to the different teams and was saying, 'How good does it feel just to play a practice round?' It was all smiles. They were pumped up out there."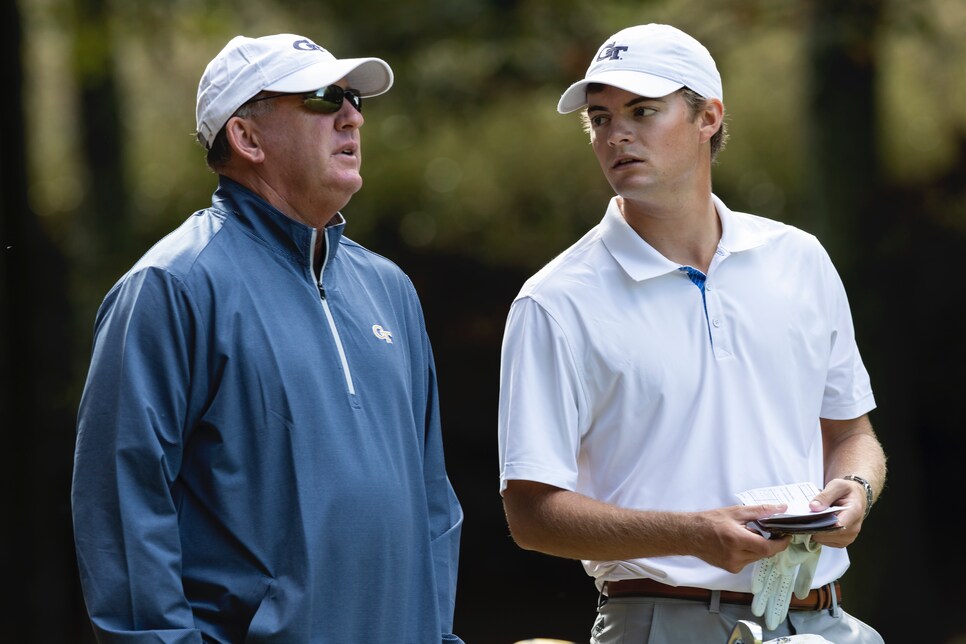 The season for Georgia Tech head coach Bruce Heppler and fifth-year senior Tyler Strafaci, the reigning U.S. Amateur champion, won't start until after January 2021.
Clyde Click
COBBLING TOGETHER A 2020-'21 SEASON
C-USA's University of Alabama-Birmingham captured the Jim Rivers, and the Blazers have won another two events since then. For the teams sitting on the sidelines, it's not easy to watch other schools being able to compete and excel. It also concerns the coaches who are waiting to play, because their golfers aren't being tournament tested, nor are they experiencing the camaraderie that comes with traveling to events.
"I happen to think it's a special feeling getting in that van and going somewhere with five guys who are putting on the same shirt with the same letter on it," said Bruce Heppler, men's coach at Georgia Tech, an ACC powerhouse that is not yet playing. "So I think that's an advantage [the teams current playing] have."
However, Heppler noted that his program has the financial backing that has allowed him to take his full squad on several trips in their golf-rich state. The Yellow Jackets spent a few days in St. Simons Island and were headed for Lake Oconee this past weekend.
For schools in the North and Midwest, where temperatures begin to drop significantly come November, the loss of the fall portion of the season is a big setback. Mike Small, the men's coach at Illinois, said he uses the fall to evaluate his players, then does some of the most intense coaching during the winter break. The Illini then take a couple of trips to Florida or Arizona after New Year's, "and we're rockin' and rollin' after that," Small said.
This season, he doesn't even know when his team will be able to fly, or where it will be playing. He said Big Ten administrators are supposed to meet this week to discuss the staging of spring sports.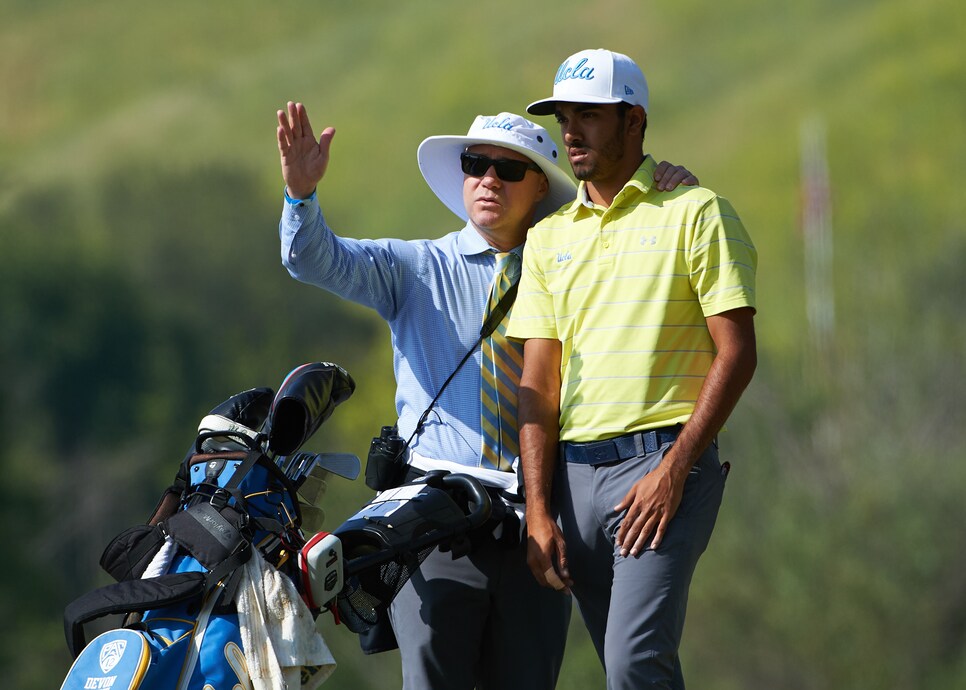 UCLA men's golf coach Derek Freeman is currently only seeing his players online, including Devon Bling (right).
Don Liebig
"Where we're located, we can't just jump in a bus for five hours to go play a tournament," Small said.
Athletes are driven to compete, and the coaches say the disappointment among their players is sometimes palpable, but they've also tried to see the advantages, too.
"I think you can look at it two ways," Stanford men's head coach Conrad Ray said. "Weirdly, I like the fact that my guys are on campus and have time to develop. One criticism of college golf is that it's almost too competition based. I don't mind 60 days of my guys getting to know each other better."
Freeman has emphasized to his UCLA team that what they're experiencing is brutal, but also a valuable life lesson. He said he has told them, "The world that you're going to live in, life isn't always going to be fair. It's not always going to work out in your favor. How are you going to deal with that situation? This is probably one of the most difficult obstacles they'll ever face."
Having said that, Freeman knows the challenges that will meet him come the spring. One of the most potentially contentious circumstances will be when it's time to select teams for the NCAA men's postseason. Usually, 81 teams are tabbed to compete in six regionals (72 teams for four regionals on the women's side), but there has been speculation that the fields may be reduced this year, and that there could be true regionals, with only teams from nearby parts of the country going against each other with the chance to advance to the national championship. Some coaches contend that could create unbalanced regionals in which powerhouses knock each other out, while lesser schools advance from weaker regions. Adding to that concern is that the requirement that men's teams have a .500 record to qualify for regionals has been eliminated for this season.
In a regular year, the Golfstat.com rankings would be the primary measuring stick for awarding regional berths, but if there isn't enough variety of head-to-head play, the men's and women's golf committees will have far less to base their picks on.
"I think it's going to be the most challenging thing we will ever do as a committee," Freeman said. "I think a lot of it will depend on how the spring plays out."
Mulfler, serving her first season in her second stint on the women's committee, joked that she asked, "Can I defer?"
"We're going to have to dig deeper than we've ever dug," she said. "There are always going to be people that aren't happy. It's like I've said to my team, 'Go out and play. If you don't want other people to decide your fate, play well.' That's the best way I can put it."
As disappointing as the current situation is, the most disturbing and disruptive changes could still be ahead. In May, the Associated Press reported that 97 programs were eliminated by universities across all level of college sports due to the coronavirus' financial impact. At the time, no Division I schools had made such drastic moves, and then two months later Stanford eliminated 11 sports, though golf was spared.
In golf at the Division I level, Brown, Dartmouth and Akron all eventually announced over the spring and summer they were cutting their programs. Grost, head of the GCAA, said he told his board in the spring he feared the loss of 50 to 75 golf programs nationally.
"We haven't seen that yet, but I'm still extremely worried," Grost said. "Everybody just assumes that spring will come and we'll all be rockin' and rollin', and I wonder how in the world you could possibly think that."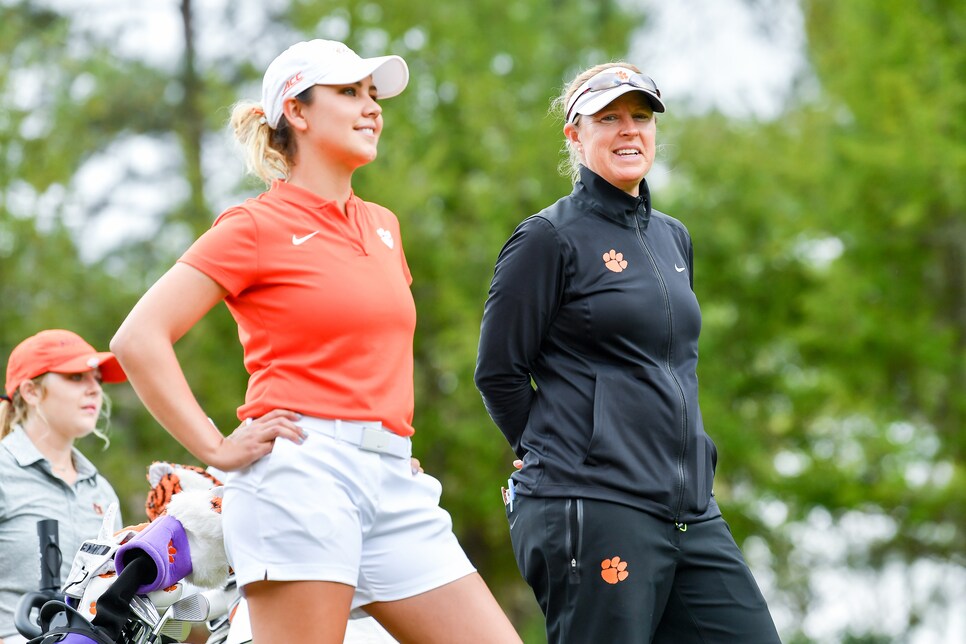 Clemson women's golf head coach Kelley Hester (right) says programs across all levels of the NCAA will be affected by the financial downturn due to the coronavirus.
Carl Ackerman
"It's scary, scary stuff," Vanderbilt's Limbaugh said. "It's going to be a struggle for everybody. There's nobody who's going to be above this change in the college landscape. That's a fact. Anybody who thinks they're above it is not being realistic."
Many coaches say we have only seen the hint of what could be coming, considering many of the previous cuts were made before universities had a true handle on what the loss of football and basketball revenue could mean to their ability to support all of the current sports. They still probably don't know.
A survey of 100 athletic directors conducted by LEAD1 Association in the spring found that 41 percent of Power Five schools said they had financial reserves for times of crisis, while only 26 percent in the Group of Five did. More than one-third of the respondents expected at least a 30 percent drop in revenue for the 2020-'21 academic year.
Golf programs could see such cuts as less air and more regional ground travel, less expensive hotel stays and fewer of the marquee trips and experiences that attract recruits.
"This is going to have a huge impact," said Clemson women's head coach Kelley Hester, who has coached at six schools at various levels on the college food chain. "We're doing more to support student-athletes than ever before. And I would say that spending has spun out of control, and that maybe it takes events like this or a recession to sort of bring it back in check. I would say it would create a more level playing field, but there are going to be fatalities of programs along the way.
"I would say Clemson is positioned as well as any school in the country because of our football and basketball success, and we've felt it. I think everybody has."
For any administrators who ask, golf coaches have compelling arguments to keep their programs. They say their teams, in relation to others, don't cost a lot of money to operate, much of their expenses are supported by outside donors, and that high-level, top-contributing alumni enjoy being associated with the golf teams.
"Golf is one of those sports that there are a lot of big donors who are involved football and basketball who are also backing us," said Ryan Donovan, head men's coach at San Diego State, which plays in the Group of Five Mountain West. "We don't spend money and we raise a lot of money, so I'm not concerned."
He may be among the very few who is not.