The Fringe
Comedian Nate Bargatze found the ideal profession for his golf addiction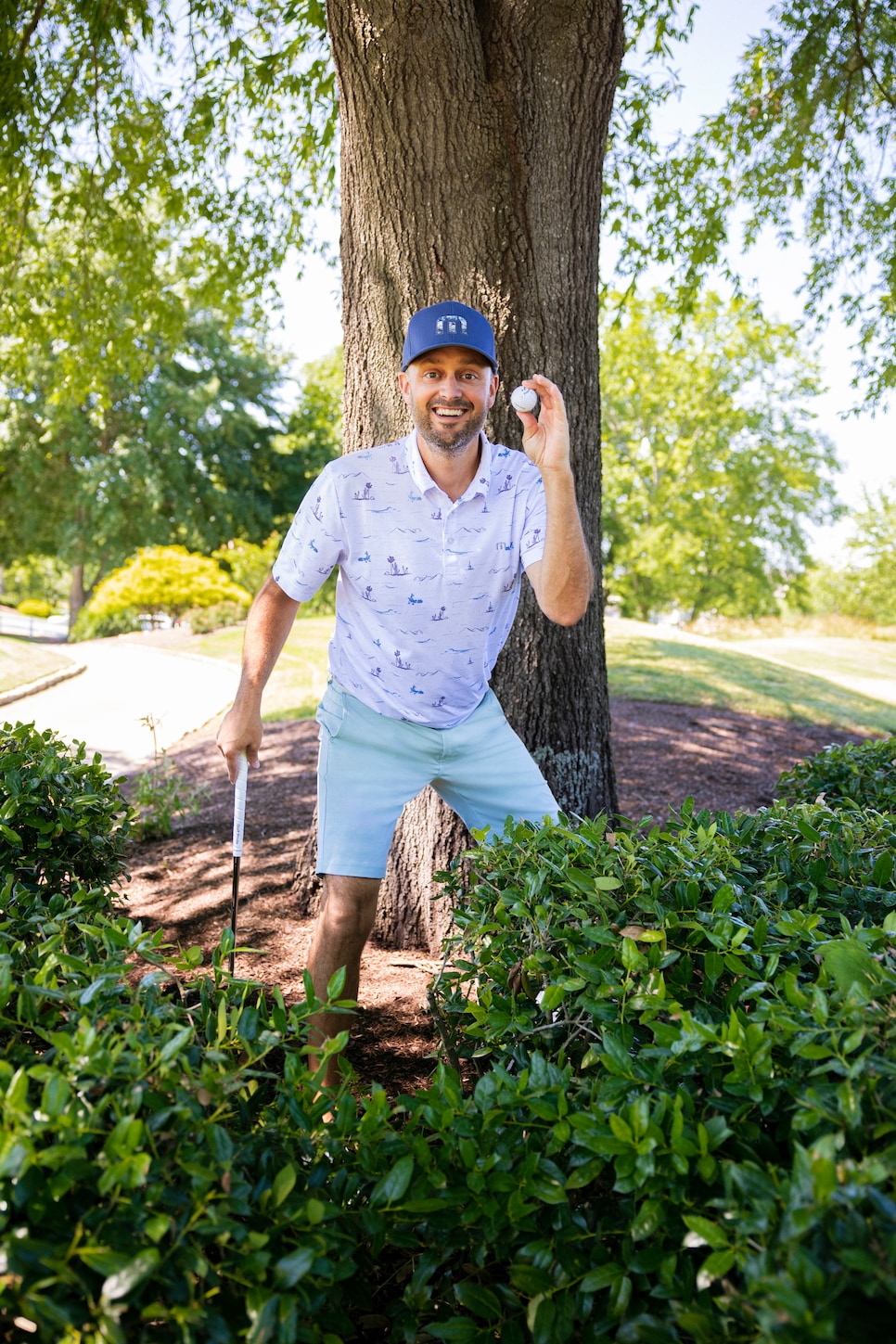 Nate Bargatze tells jokes for a living, but it's hard to imagine someone being more serious about golf. In addition to avidly playing and practicing amid a jam-packed touring schedule, he has gone as far as seeking professional help during a tournament.
"Jason Day told me to club up, and I told him I'm playing in the Tennessee mid-am, 'Is this illegal?' " Bargatze recalls with a laugh about texting his friend and former World No. 1. "He goes, 'I mean, it's wildly illegal.' He's like, 'You can't text professional golfers during a mid-amateur!' But it was COVID, so I called him my virtual caddie."
Bargatze, 43, has worked hard at trying to become a great golfer. After getting into the game in his 20s, he describes his 30s as "a hard run to get to a single-digit" handicap. Nowadays he plays to about a 4, though he has that nagging feeling that plagues all golfers—even when they reach their goals. "Now I'm a single digit, but I feel stuck," Bargatze says. "I still have a 20-handicapper in me."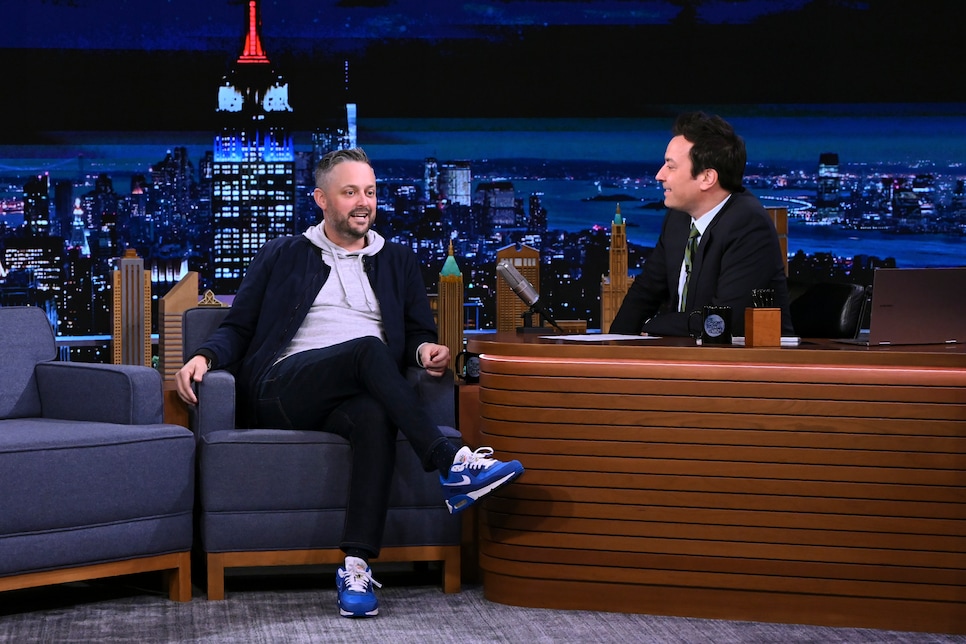 Nate Bargatze during an appearance on "The Tonight Show starring Jimmy Fallon" in January.
NBC
Bargatze's career, however, is moving as fast as ever these days. He performed a prolific 170 shows during the past year, but that didn't keep him from playing golf—a lot of golf. "I've got a set that I keep here, and I've got a set that I take on the bus because you never know what's going to pop up," he says. "I'm ready no matter what, and I'm not afraid to rent some clubs, either."
Bargatze says he plays with several comedians on the road, but he prefers teeing it up with better players like David Spade, Joe Zimmerman and Ray Romano, who is apparently a stickler for the rules. Not that Bargatze, who has been making an effort to compete in more events, minds. Twice he has shot even par at his home course, Vanderbilt Legends Club in Franklin, Tenn., but his golf highlight came with an opening one-over-par round in the 2019 club championship. He's quick to point out that he completely unraveled the next day, a reminder that no one, not even Jason Day, can help when your game goes bad. In that way, he draws parallels to being a stand-up comic, where you're always one bad set away from bombing.
'[Jason Day] was like, "You can't text professional golfers during a mid-amateur!" But it was COVID, so I called him my virtual caddie.'
"You're alone, so mentally you're the only one who cares if you make it to where you want to make it," Bargatze says. "Nobody cares. I mean, your family wants you to, but even if you don't, you tried. You're the only one who matters because we're lucky enough to get to do a job that no one needs us to do. Yeah, it's on you, dude. You have to figure out if you want to be good at it, then figure out how to be good at it."
Bargatze's particular day job—or maybe night job—has been instrumental in being able to devote so much time to golf. "When I play during the week, I don't get up early," Bargatze says. "There are always tee times open when I go because earliest is going to be 11, unless it's a special event."
For a guy who is claustrophobic, golf seems to be the perfect game as well. The time between shots gives him the opportunity to try out some of his material on his golf buddies. Bargatze is constantly tinkering with his game as well, but he has realized that he can overdo it by taking too many lessons. Same with playing too much on days he's performing.
"You don't want to be tired and the last five holes you check out anyway because you're thinking about the show," Bargatze says. "I've had to learn to back it off just because I would like to be a professional comedian. I should show some attention to the comedy side of my life. But I still get it in."
When he's not on the course or on the road, Bargatze, who lives with his wife and daughter in Nashville, can often be found practicing in his golf simulator. Despite not being satisfied with his game, there's definitely some great golf in Nate. Our Golf Digest crew witnessed that when Bargatze hit a hybrid to five feet on the closing par 5 at Vanderbilt Legends Club, then rolled in the eagle. He also makes sure there's a bit of golf in all of his longer comedy shows.
"Every special on Netflix I've had a golf joke, and I've got one for the next one," says Bargatze who is scheduled to have a third hour-long special on the streaming platform this fall. "It's just a nod that I play so that people might ask me to come play places. 'Hey, that guy's a big golfer!' So it doesn't hurt me to throw a golf joke in, just as a reminder."
Bargatze says he constantly thinks about golf and isn't afraid to "look like a lunatic" air swinging. To read greens he uses a combination of AimPoint and plumb-bobbing, a quirky technique that sounds like it could be part of his next stand-up special. "It's just a lazy way to read greens where you don't have to get on the ground," he says. "I just hold it up. Do I know how to do it? I don't even know. I don't think anyone really knows how to plumb-bob."
But Bargatze certainly knows how to do comedy, even if he comes across people who don't know how far it has taken him. "A guy was playing in my charity golf tournament, and I was riding around talking to him, and he was like, 'What's up, man? How's comedy going? Are you still doing it?' " Bargatze says. "Like, the tournament is named after me! No, I just quit, and they named it after me out of pity. Not everyone really knows what you're doing so you get knocked to reality quite a bit."
Yep, Nate Bargatze definitely picked the right hobby.