The Fringe
Formula 1 driver Lando Norris has a new obsession with golf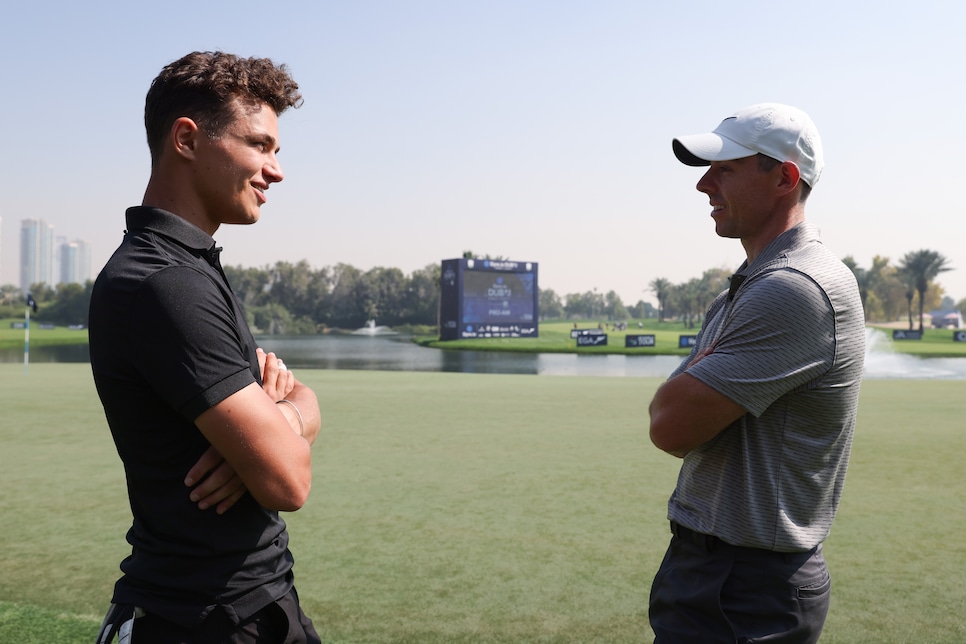 Lando Norris is a young man always on the move—usually at speeds that would cause my Subaru to spontaneously combust. So it's only fitting that I caught up with the Formula 1 star while he was in a moving vehicle—though not behind the wheel—on his way to the airport. Because when the British-born Norris isn't driving, he's often flying around the world.
Racing has taken the 22-year-old to some cool places, and now it's taking him to some cool golf courses. Norris made a May trip to the United States for a big race, but the highlights of the journey were away from the track, including a more leisurely drive than he is used to down Magnolia Lane. In addition to playing Augusta National (Norris beamed as he showed off his new Masters green hat), the avid golfer played Michael Jordan's exclusive Grove XXIII with Dustin Johnson. He also got in rounds with Joaquin Niemann and Jon Rahm thanks to a quick stopover in Phoenix. Like we said, the guy gets around—fast.
"To see how they think on the course, their mentality, is amazing," Norris says of playing with PGA Tour stars. "They always try to give me tips to help me out. I may not be very good at translating them into improvement straight away, but I do my best."
Three years ago Norris didn't play golf. He didn't even follow the sport. "I'm not going to lie. I watched golf on TV and thought, This is the most boring thing ever," Norris says. For someone who began his racing career on the go-kart circuit at age 7 and who drives McLarens for a living, you can appreciate that he was used to a more intense adrenaline rush. But after former teammate Carlos Sainz convinced him to tag along to the course with him, Norris had a change of heart. He compares the pursuit of getting better in golf to the never-ending search to drive the perfect lap in racing.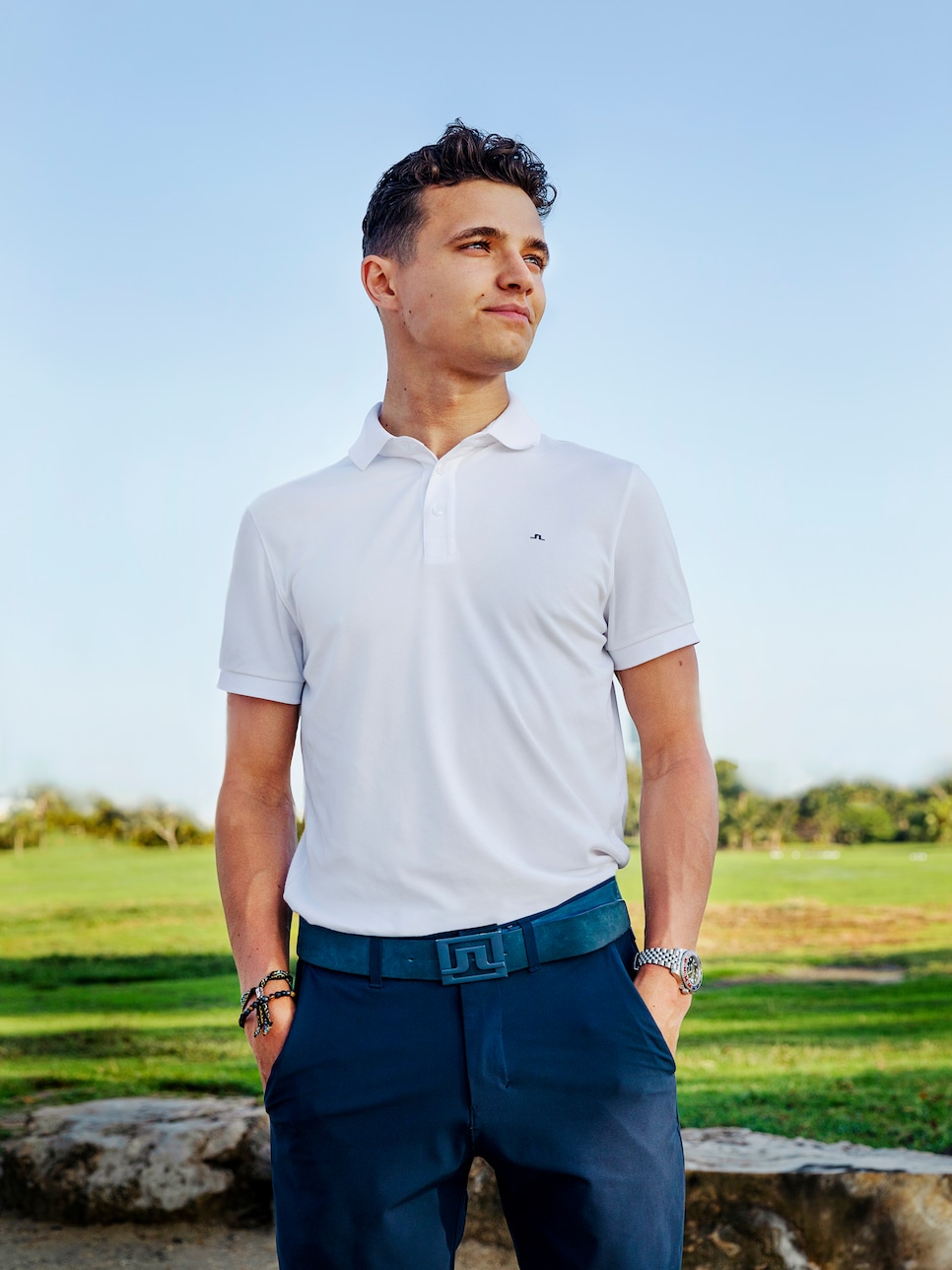 OVERDRIVE "I can't describe how addicted to golf I am," says Norris, who began playing just three years ago. Photograph by Alfonso Duran
"I'm fully addicted, like I can't describe how addicted I am to golf," says Norris, who in the midst of our conversation looked up his Handicap Index (13.6 and trending lower) as quickly as he goes from zero to 60 in a car. "I watch it every weekend. I'm looking at the scores. I'm watching the live streams. The golf bug has really bit me hard, but it's really enjoyable."
The Formula 1 bug has bit a lot of people during the same time, which explains Norris' recent trip for the star-studded inaugural Miami Grand Prix—where a who's who of athletic GOATs from Jordan to Serena Williams to Tom Brady attended. The sudden interest can be heavily attributed to Netflix's popular "Drive to Survive" series, which takes fans behind the scenes of the Formula 1 circuit.
"It's been huge, especially in the United States" Norris says. "You saw how crazy Miami was this year and Austin last year. So that's amazing."
Norris looks forward to the streaming platform's similar treatment of the PGA Tour, but he wonders how they'll replicate the head-to-head drama that's more akin to racing.
"Maybe they'll just bring in Brooksy and Bryson and put them in a boxing ring," he jokes.
Norris is certainly in shape to go the distance in a fight. One has to be to enter this line of work given the constant stress an F1 driver is under during races that last up to two hours. The sport requires incredible core and glute stability, which explains why the 5-foot-7, 150-pound Norris can crush a golf ball when he catches one pure. But F1 is unique for the neck strength (yes, neck strength) needed to deal with levels of G-force faced by fighter pilots. Norris says he can lose nearly 10 pounds during a race wearing multiple layers of fireproof clothing while being strapped into a cockpit with an average temperature of over 120 degrees Fahrenheit.
"It's hard to describe to people what it's like," Norris says, "because there's really nothing in the world quite like it."
Norris' openness regarding mental health has also won over fans. One of the youngest ever to compete in F1, Norris has been candid about his nerves and anxiety, particularly during his debut season in 2019 when he was still just a teenager.
"It's not easy because no one ever wants to expose themselves or show the vulnerable side of themselves," says Norris, who also admits to fearing things on the course like water hazards despite how dangerous his day job is. "But knowing the impact I can have on kids mainly and people watching me who see me as an idol in some way is huge."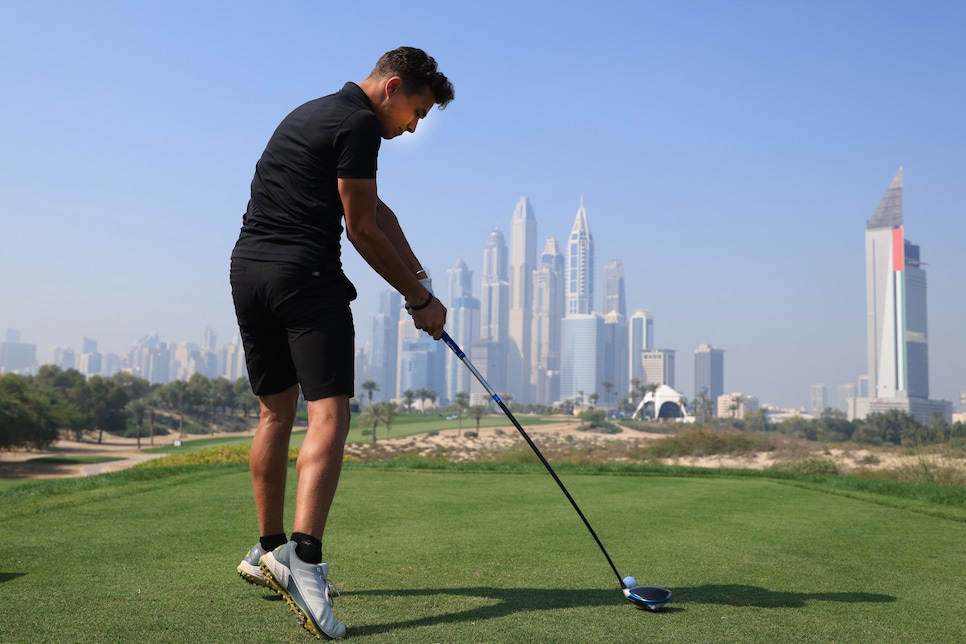 Norris' popularity—a 2021 survey named him F1's No. 2 behind only reigning world champion Max Verstappen—and a recent rare long-term contract extension from McLaren have come despite the fact that he is still looking for his first win at the time of publication. Unlike golf, however, F1 celebrates close calls by awarding trophies to those finishing in the top three during the podium finish. Somewhere, Lee Westwood is jealous.
"In golf, you finish second, and you're a loser," Norris, who has six podiums in his young career, says with a laugh. "So it's tough."
Of course, Norris is focused on getting to the top of the podium soon, but he's also committed to moving up the unofficial ranking on the competitive F1 golf scene.
"It's kind of like a race of who can become the best in the shortest amount of time," he says.
A race, huh? Sounds pretty fitting as well.