The Fringe
Nashville's Russell Dickerson plays sold-out shows—and Augusta National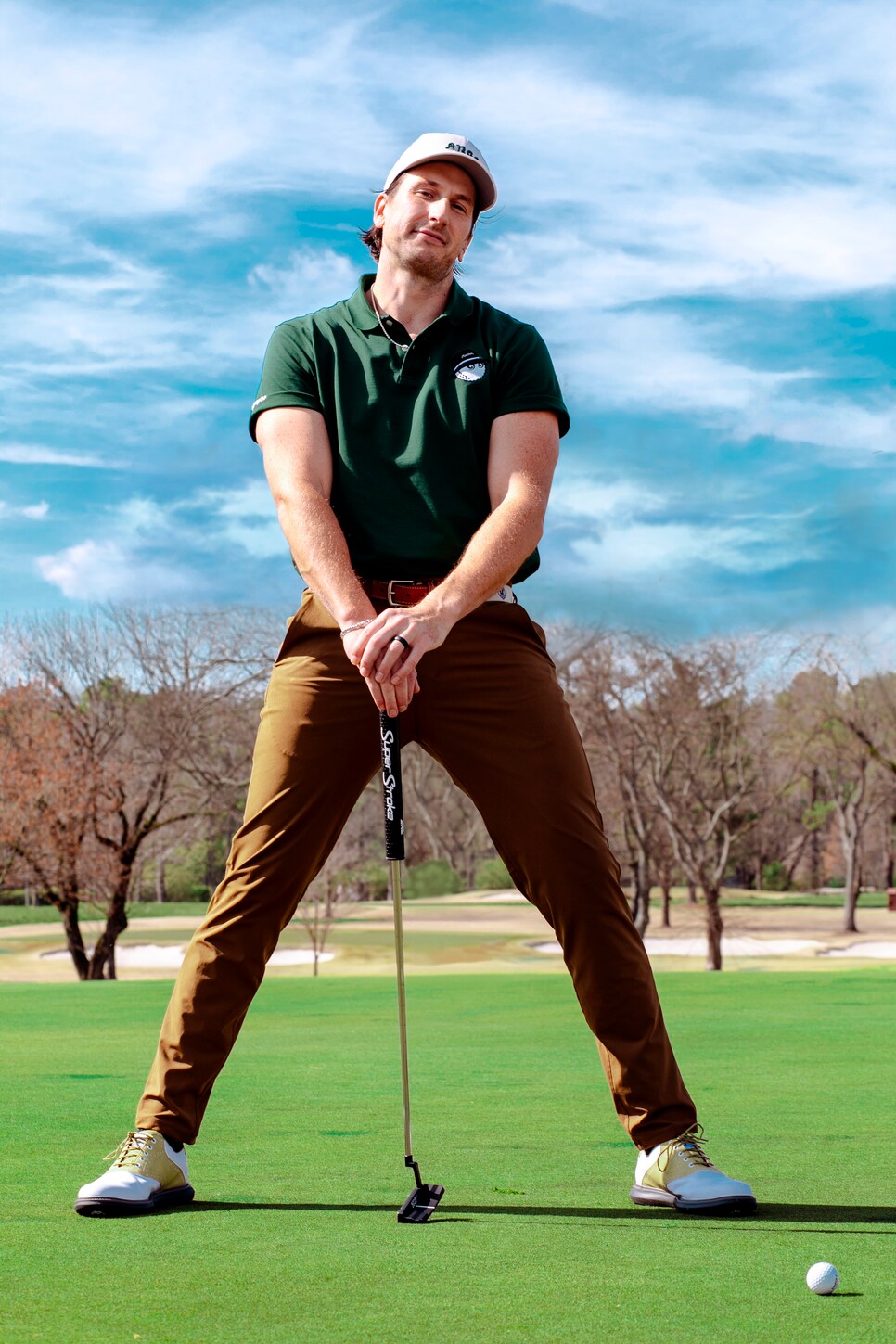 On a magical day in late February, Russell Dickerson played golf on the hallowed grounds of Augusta National in the morning, then played a sold-out show in Atlanta that night. Not too long ago the country music star couldn't have imagined either of those things taking place—let alone happening in the span of several hours.
Let's start with Dickerson's golf, or lack thereof, until a few years ago. The Nashville resident estimates he had played five rounds in his life. "Since sixth grade, all my energy and focus has been on music," Dickerson says, which is something you would expect to hear from someone who grew up in a place known as "Music City." When he hired golf-loving tour manager Taylor Watson, things changed.
"He would be like, 'Hey, there's this course right down the road,' like, 'We got tee times if you want it, if not, whatever,'" Dickerson says. "So we would just rent some clubs, take a couple hours, blow some steam off, drink a couple beers."
But as a 6-foot-4 lefty, renting clubs wasn't easy. Dickerson eventually got fitted for a new set, which has become arguably the most important piece of cargo he travels with as his interest in the game has intensified.
"You know how it always goes: You hit those one or two shots, and you're hooked," says Dickerson, who doesn't maintain a handicap but recently shot a career-best 81 at Spanish Oaks Golf Club in Austin. "Now it's like, of course I'm gonna wake up and go play golf as much as I can on the road."
With a wife, Kailey, and a young boy at home—and another on the way—Dickerson plays most of his golf when he's traveling. When he is on the course, he loves listening to music and often pauses to jot down song ideas on his phone, sometimes inspired by a phrase used by a playing partner. Dickerson counts fellow musicians Charles Kelley, Thomas Rhett and Darius Rucker among his golf buddies, but he's always looking to expand his contacts—especially if it helps get him on a new course.
"It's amazing what you can get with a couple concert tickets," Dickerson says with a laugh.
Dickerson's music career, however, didn't develop quite as quickly as his love of golf. After graduating from Belmont University in 2010 with a bachelor's degree in music, he took more than six years to sign with a record label. During that time, he had few sold-out shows as Dickerson performed in front of sparse crowds that sometimes wouldn't even give him so much as a golf clap. Looking back, though, he's happy with how things unfolded.
"I wouldn't change a thing," says Dickerson, whose self-titled third studio album was released in November. "Obviously you want to blow up and play Madison Square Garden as fast as possible. But every dorm lobby we played, every college cafeteria where they're just like, 'Oh, God, why? We're just trying to eat lunch,' all those shows and all the miles are so worth it."
Like a mini-tour pro grinding a path to the PGA Tour, Dickerson always believed he was close to breaking through. The guitarist dug his success out of the dirt—or, rather, plucked it—finally hitting it big in late 2015 thanks to one song, "Yours." Well, one music video, that is—one cheaply made music video. The song's subject, Kailey, served as videographer, director and editor, setting up a camera on a tripod in the back of their SUV. Another friend drove as Dickerson sang with an oncoming thunderstorm providing a natural dramatic backdrop.
"I knew deep down this was a hit song," Dickerson says. "It got to the point we were like, we're just gonna shoot a video; we're gonna do it ourselves. So I just start walking down this road; I'm singing to the song, pouring my heart out to my wife behind the camera. Man, you couldn't pay a billion dollars to get a music video like this."
"Yours" went viral to the tune of nearly 70 million views and counting on YouTube. In 2016, it got another boost by being named The Knot's top new wedding song of the year, all from a video that Dickerson estimated cost about $6 in gas money to make.
Being budget conscious while pursuing your dream is another way Dickerson feels connected to professional golfers, even though he had never seen them up close until attending the 2022 Masters. Although he's got a great support system in place, ultimately, he's a solo act.
"I don't have a duo; I don't have a band. You know, it's just me, and everybody is counting on me, so I can relate to that," Dickerson says. "If I don't wake up in the morning, if I don't write the songs, if I don't make the hit records, if I don't do this, everybody underneath me on my team is going to struggle. Just like with any of those players, if you don't win, you don't get paid."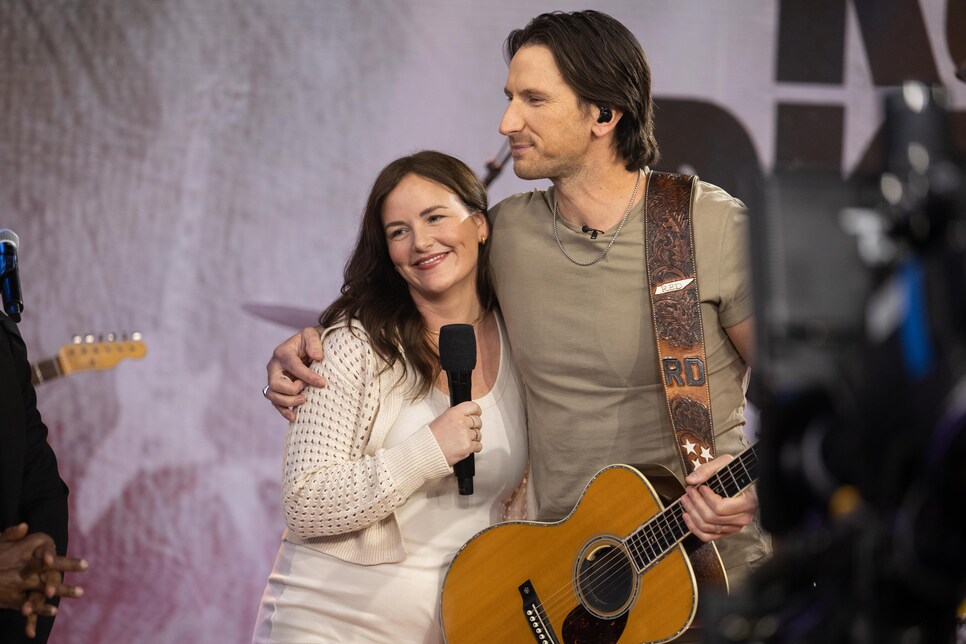 Kailey Dickerson and Russell Dickerson on Today
NBC
When it comes to improving his golf game, Dickerson has mostly taken a solo approach as well, having never taken an official lesson, but he's "totally open to all critiques" from playing partners. He wanted to give Zach Johnson's caddie, Brian Smith, a shout-out for his help when they were paired in the Arnold Palmer Invitational pro-am in March.
"He got me to move the ball back in my stance a little bit, close my shoulders," Dickerson says, "and the next drive was an absolute bomb."
Dickerson could have used that advice the week he played at Augusta National, but he was still happy with the 91 he shot. The whole morning of his round was so surreal that he can't even remember what club he used to hit the green on No. 12, a video highlight that lives on his Instagram feed.
As a Tennessee lifer, though, he'll never forget seeing Peyton Manning in the clubhouse that morning. However, seeing is all he did as Dickerson decided not to approach the Volunteers legend and NFL Hall of Famer because he "didn't want to be that guy." We're pretty sure you can't be "that guy" when you have four No. 1 singles (and counting) on the Country Airplay chart, but that's the attitude of someone who didn't find success overnight. Dickerson calls his career rise "steady," and he's ready for the next progression.
"We're stepping into those big-league venues this fall, which is kind of scary," he says of the upcoming leg of his tour. "You know, when you see the word 'Arena' on your tour list, it's like, all right, man, we got some tickets to sell."
Maybe Dickerson will go say hi to Manning next time he's at Augusta National. Better yet, at this rate, maybe Manning will come say hello to him.