The Next One's Good
Have we become %$#@*!& numb to the use of profanity?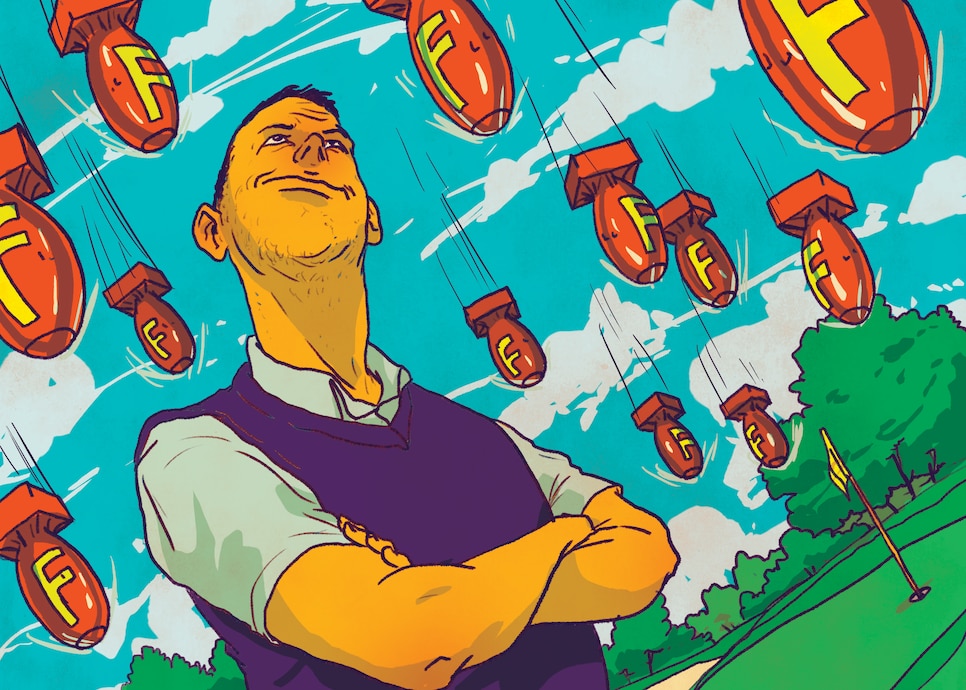 Illustration by Michael Byers
My old boss Nick Seitz used to tell the story of going to lunch with Ben Hogan at Shady Oaks Country Club in Fort Worth. When the club manager came over to their table, Hogan introduced him to Nick. "This guy has 15 kids," Hogan said. Inscrutably, he added, "Effed himself right out of a seat in the station wagon."
I always liked that story. It said so much about Hogan and his saltiness.
There's a similar one about Bobby Jones, who was negotiating a book deal with his publisher, which had offered him an insulting advance fee. "Ahhh wouldn't walk across the effin' street for faaahv thousand dollaaahs," Jones famously said in his languorous Georgia drawl.
Of course, neither man actually used the euphemism. They said the word and probably said it often among friends and confidantes but not in public, not in the final round of a major with crowds of young people around them and certainly not on television. It was a different time, you might say.
When I play in PGA Tour pro-ams these days, the thought invariably occurs to me that the language has become looser, to put it mildly. You almost don't see a missed shot played without the obligatory f-word being muttered or sometimes clearly stated.
The word is still vulgar slang according to the dictionary. It means to have sex with someone or damage something or, evidently, miss a putt. It can be a noun, a verb, an adjective, an adverb or a gerund invaluable with a golf club in your hands. It's an interjection signifying pain, pleasure or self-loathing, which on the PGA Tour sounds like a round of golf. It's the most versatile word in the language of sport. An expert on the international game, Peter Dobereiner once told me that no golfer ever became great until he learned to swear in English, or maybe Anglo-Saxon. The retired golf bureaucrat David Fay collects taped recordings of tirades by baseball managers—heroes like Lee Elia and Tommy Lasorda are without peer—but there has been a noted uptick in the use of the word on the PGA Tour.
Sometimes it can be used colorfully or even dexterously. After a horrendous round in the year's first major, Tommy Bolt was once overheard fuming: "Eff the Masters. Eff Augusta National. And eff the crippled son of a bitch who built this effin' place." Offensive in so many ways, the sheer universality was breathtaking.
Jim Dent exhibited a particular cleverness that followed him from the PGA Tour to the seniors. After flushing an approach shot that appeared to be flying well over the green, he once yelled, "Get down, mother f___er." A tour official was immediately dispatched to discuss what used to be a violation of the code of conduct. When interrogated, Dent said that he had been misheard. "What I actually said was, 'Get down, mother-father!' " Then explained: "In my family, it's appropriate to honor both parents when you've hit a good shot." Our recollection is that his sentence was commuted.
Phil Mickelson's use of "scary mother-fathers" in reference to the Saudi tour seemed to be unabashedly published in every media outlet last year and has contributed to this normalizing of the word. I think it was his actions more than his language that caused Phil to be suspended, but at least he claimed it was off the record.
Nor is the LPGA Tour exempt. My longtime favorite was the Swede Helen Alfredsson, whose legendary tantrums were once described by the Financial Times as "louder and more richly worded than many of Lenny Bruce's best performances."
Most of the time now on the PGA Tour it's used as a substitute for cleverness. It's banal, just plain crude, and, when said within earshot of family television, shameful. Does it raise your brand value? Is your agent proud of you? Would you want your kids to hear?
I remember taking my 11-year-old daughter to the 2006 U.S. Open at Winged Foot where we watched Ian Poulter badly pull his drive into the left trees and shout the word at full volume. I looked down, and Lauren's eyes were like dinner plates. The Saudis can have him.
Tiger Woods might hold the TV record, but then again he has logged more minutes of air time, and lately he has been on good behavior, so he gets a pass. Arnold Palmer was discreet if nothing else, and he was a lot else. I'm not saying Jack Nicklaus is an angel, but I've got recordings of more than 20 hours of one-on-one interviews I did with him from over the years and, goodness gracious, he didn't use the word once.
I've been told it's a generational thing. Am I offended or angered? No, I'm just saddened that another standard has been lowered. I look at sepia pictures of old tournaments, and every man in the gallery is wearing a coat, tie and fedora; the women are in dresses and pearls. They weren't all rich folks either. Adults wore leather shoes, not sneakers or flip-flops. I know I'm out of touch, but nobody looks good in those silly jogger pants and flat-brim caps. We need to attract younger and more diverse audiences, but is this the way to do it? When Harry Styles plays golf, he wears a collared shirt.
What tipped the balance for me and makes it a subject with currency is this year's Netflix series "Full Swing," which gives us a look behind the curtain at a dozen current PGA Tour stars. We hear the word used on camera by even goody-two-shoes like Jordan Spieth and Justin Thomas. Dustin Johnson uses it to describe his golf cart in the opening sequence of the first episode. Golf carts can perform many functions nowadays, but that, I didn't think, was one of them.
In episode 2, Brooks Koepka is the guy you wouldn't want in a drinking game. In a 40-minute show that he shared with Scottie Scheffler, I scored it 9 for Brooksie and 0 for Scottie. Guess who comes off better? Whose shirt would you rather plaster your financial services logo on? You get the idea. In a later episode that dealt with LIV Golf, Rory McIlroy jokingly said, "Eff you, Phil [Mickelson]" and took some backlash from fans. Unlike live telecasts where a slip of the tongue dies with the weekend, these Netflix shows will live on forever, like a bad tattoo.
I know the PGA Tour has fines and penalties for conduct unbecoming a professional, and they're not made public. There's one current player who has been fined so many times, he offered to give a tour official a preloaded debit card with $100,000 and was told, "Not enough—at this rate, you'll be out of credit by the end of the month." Anger management is prescribed in some cases.
A tour pro committed multiple profanities and was approached by an official the following week. When confronted, the player pointed to an old guy in the gallery and said it was his fault. "That's my father," he said. "Ask him what he thinks." When the rap sheet was explained, Dad replied, "I think you should fine the pr___."
One writer specializing in this genre was Dorothy Parker, who was the Tommy Bolt of the Algonquin Round Table. She once refused a call from her editor complaining that the copy for an article assignment was late. "Tell him," she said, "I'm too effin' busy, and vice versa."
If you're going to use it, be as clever as Hogan.