The Fringe
How course designer Beau Welling balances a life of golf and curling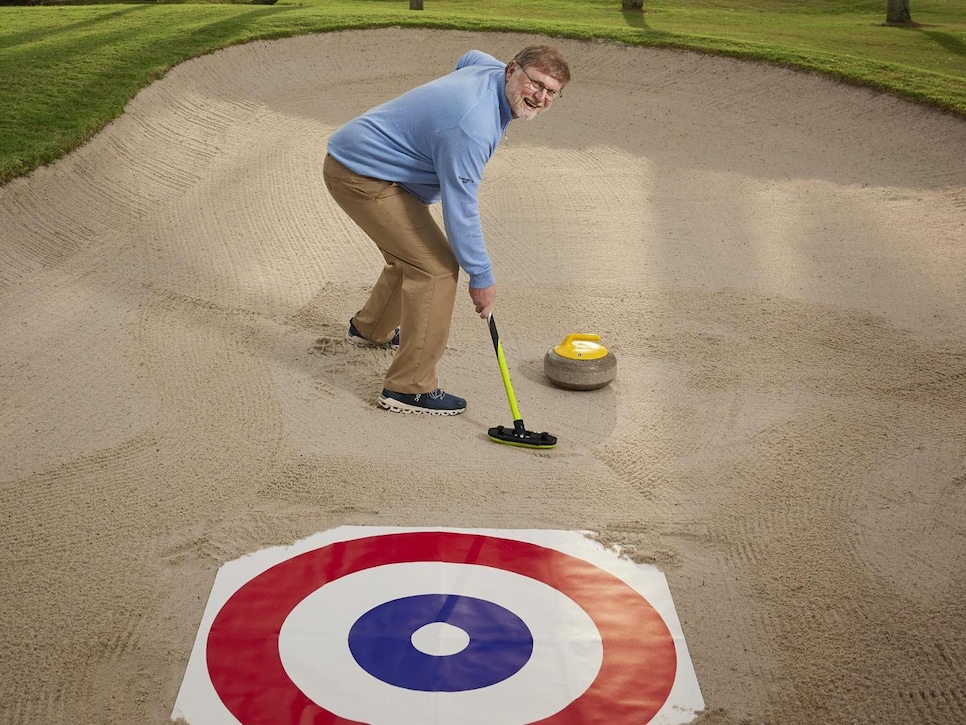 Golf fans know the Ailsa Craig as a scenic backdrop to famed Scottish courses Turnberry and Troon, but they probably are not aware that the uninhabited island is also the source of every curling stone ever used in the Olympics. The location's unique granite can produce an object smooth enough to glide over ice and strong enough to keep from eroding along the slick surface and breaking against other stones. If it seems improbable that the material for such a crucial piece of sporting equipment could come from one tiny place, wait until you hear about the golf-course designer who is now overseeing the entire sport.
Beau Welling is one of the busiest golf-course designers in the United States, running his own company and serving as the senior consultant for Tiger Woods' design firm. You might have seen one of his redesigns, Pelican Golf Club, get a primetime-TV showcase in December for the seventh edition of "The Match" featuring the 15-time major champ. But Welling also happens to be the new president of the World Curling Federation. Yep, this Beau knows curling. How does a South Carolina native who didn't even try the sport until his late 30s wind up in such a powerful position?
"I'm like the Forrest Gump of curling," Welling says with a laugh.
Although Welling remembers being intrigued by curling when it was a demonstration sport at the 1988 Olympics, like many, his love of curling blossomed when it became the darling of the 2002 Games. (I even remember watching with my college friends in our dorms that year.) Beau developed such a passion for the sport that after the 2006 games, he traveled to Bemidji, Minn., a curling hotspot in the United States, for the national championships. Despite being in awe of the Olympians he had watched for years on TV, the outsider with the southern accent was hailed as a celebrity upon arrival. Welling was placed in a front-row seat for the event, given lessons from some of the sport's legends between competitions and even asked to participate in a celebratory parade starting at the town's famed Paul Bunyan (talk about a guy who could have cut some curling stones!) and Babe the Blue Ox statues. From there, the appointments kept coming. First, Welling was named the sport's first-ever independent director, then part of the Team USA delegation to Vancouver in 2010. Then he became a team leader and a representative of the World Curling Federation, which evolved into a spot on the organization's board. Finally, this past fall, he was elected president.
"At some point, people started inviting me to do a bonspiel [a curling competition often between clubs], and so I started doing that," Welling says. "It was sort of bizarro stuff, like I'd be getting asked to go play in a bonspiel by a tour-level curler."
It might seem like a mismatch at first, but Beau says the two sports that originated in Scotland around the middle of the last millennium have more in common than one might think. After all, there are plenty of golf courses that double as curling clubs in the winter. (The Country Club in Brookline, site of last year's U.S. Open, is one.) Not too surprisingly, Welling's golf stories from working with Tom Fazio and Tiger Woods are a hit at curling cocktail parties.
"It's clear to me they both come out of the same sort of Scottish ether," Welling says. "Angles are very important in both sports. They're games of values and honor and integrity. In both you call your own fouls. They are very camaraderie based. They both have weird jargon, and, arguably, they both are excuses to drink scotch."
Considering the first curling world championship was called The Scotch Cup from 1959-'67, the man has a point. That's not to suggest there's not serious competition—and athleticism—at the highest level. Curling became an Olympic sport in 1998, 18 years before golf, but curlers and golfers face questions about whether they belong, questions that Welling, who helped launch the Palmetto Curling Club in his hometown of Greenville, S.C., says are unfair.
"These guys are in the gym all the time, you know, throwing zillions and zillions of rocks," says Welling, who maintains a single-digit handicap in golf and estimates he would be about an 18 in curling if it had such a rating system. "One of the things that people don't realize about curling is the length of play is 50 yards. The sweeping motion is a very athletic, proactive thing that requires a lot of endurance over games that last about three hours."
Welling doodled golf holes as a kid, but he really discovered design thanks to childhood trips through family friends to places he calls "cathedrals of golf," Augusta National and Cypress Point. Although Welling majored in physics at Brown University, where he also played on the golf team, he was allowed to take classes at nearby Rhode Island School of Design, which happened to offer a course in landscape architecture. Fazio was building a golf course at that time in Greenville, and Welling's dad just happened to be involved in the development. That led to Beau interning for the legendary architect during those college summers and taking a job with him after graduation.
Between curling and his original day job, Beau has been extra busy of late. Most recently, he has been involved in the PGA of America's new headquarters in Frisco, Texas, designing one of the two 18-hole golf layouts, the West Course, which opens this spring.
"When I first heard about it, I just thought, We've gotta figure out some way to be a part of this because this is gonna be such a big deal and so significant," Welling said of the expansive facility that has been called The Silicon Valley of Golf by PGA executive director Seth Waugh. "You would've gotten long odds on us getting selected, but we kind of did this crazy presentation, and I think kind of blew them away."
A "crazy" presentation from a golf architect with a physics degree from Brown who has sat on the board of the Carolina Ballet Theatre and oversees an Olympic winter sport? You don't say. But as he has shown with his other sports job, having a different perspective is sometimes exactly what's needed.
"If the world had more curlers, the world would be a better place," Welling says. "I would say the same thing about golfers, too."
In Beau Welling, the world is lucky to have both.