golf state of mind
How does a golfer on a tight budget make it in New York?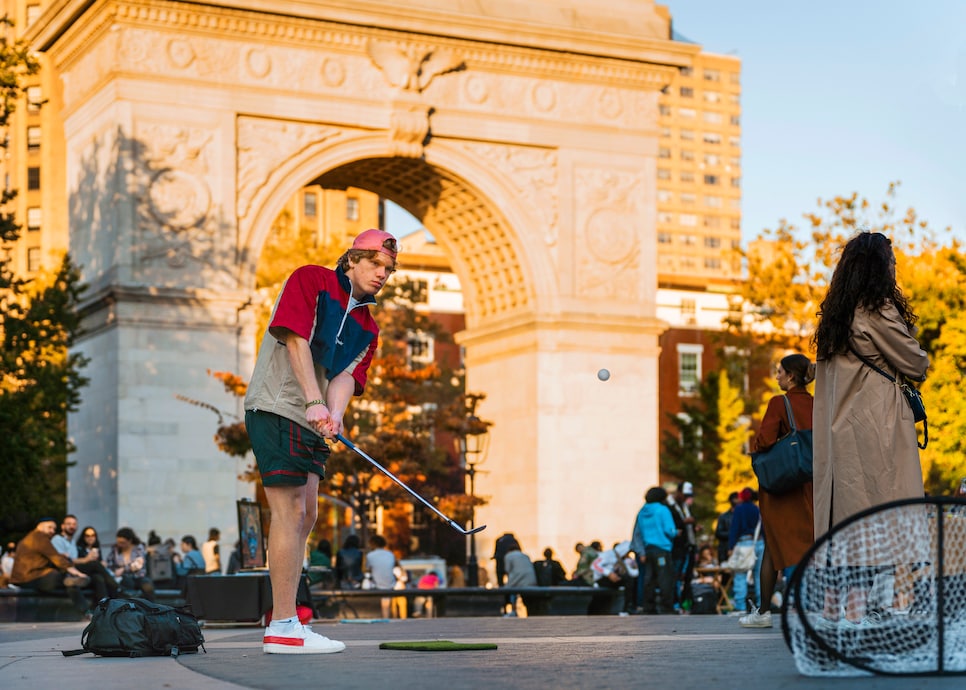 STREET PERFORMER Reiter practices his chipping in Washington Square Park.
Will Fullerton
I heard a loud crunch as plaster rained on my head, covering the floor with white powder. The friend I was showing my swing to on FaceTime burst out laughing as I stood frozen, club in hand, staring up at where I had just made a Callaway Jaws-sized imprint into the ceiling. My tiny dorm room is not a good place to practice chipping, but you make do with what you have. My combination of yoga mat, plastic wiffle ball and repositioned furniture yielded enough room to practice quarter swings but not an unintentional half swing. Once the shame subsided—and the fear my RA would come barging in to see what the commotion was—I got back into it like nothing happened.
I had gotten into golf only a few months earlier as my Florida high school tenure was ending. Some friends and I went to a Topgolf on a whim. The next week we tried a nine-holer. I was hooked. It hadn't yet occurred to me that attending college in New York City wasn't the best place for a golf-obsessive, but here I am, like thousands of other New York City golfers, lamenting our tiny living rooms and the fact that the 843-acre park uptown doesn't have cups cut into it. Hmmm, so what to do?
Walking up Fifth Avenue one morning, I came across a sign for Five Iron Golf. I walked upstairs to investigate, and when I opened the door, excitement fell over me. To the left I saw four large simulator screens equipped with TrackMans, overhead cameras and other techy gizmos that tell you how much you miss the center of the face. To my right was a putting green with dozens of putters (but only three for a lefty like me), a bar and a fitting area. I made plans to return with a friend to split the cost—an hour is $90, more than half my $150 weekly allowance. I'd rather spend that money on a green-grass experience, but this is the reality of living in a city where one square foot costs about as much as an acre in my home state. A few days later we arrived for our slot on a sold-out Saturday. I had a great time, though the hour felt more like a few minutes. Virtual golf is fun, but I still yearned for the sight of a ball splitting the sky and the smell of mowed grass.
I knew of the great courses on Long Island and surrounding Westchester County, but my limited knowledge of New York City's public transit system narrowed my options. After sifting through the top-rated Google results, I came across Douglaston Golf Course, a moderately priced ($45) 18-hole layout in Queens—a 30-minute and $40 Uber ride from my Washington Square Park dorm. After coordinating the time and day with my roommate, we had a week or so of waiting. When the day came, I jumped out of bed, put on the clothes I had neatly laid out the night before and scrambled downstairs. We got in 14 holes before we lost the sun.
Locals give Van Cortlandt the same tough yet undying love they give the Yankees and Knicks.
Leaving the city to play golf can be exhilarating, but the hassle and cost complicate the act, turning what should be an afternoon excursion into an all-day event, though it has its charms. Have you ever taken the subway with 14 clubs rattling next to you? It leads to all kinds of interesting exchanges; a homeless guy once spent 30 minutes regaling me with Tiger Woods jokes. What about walking through Grand Central at 11 p.m. with one hand on your irons so as not to wake the people sleeping on the stairs? Someone always wants to know how I played. Quizzical looks, knowing smiles, double takes, stares of envy and glares of hate, I've seen it all. One guy shouted "Fore!" from the roof of a building as I walked by. When an urban golfer spots another, there's an instant connection. I once gave a guy a swing tip on Park Avenue just because I saw him miming his stroke. Golf in the city might be hard to come by, but the golfers are everywhere, hiding in plain sight. All it takes is a golf hat or golf bag to get them to reveal themselves.
The quintessential New York City golf experience might be Van Cortlandt Park Golf Course, the oldest muny in America. I thought my eyes had deceived me when I discovered it sandwiched in the Bronx on Google Maps. To get there, I needed to take the 1 train until the end of the line, about an hour ride from my local station to 242nd St. A Sunday afternoon in Van Cortlandt Park is an eclectic scene—families from different cultures with rap, reggaeton and rock all echoing from different directions while grills puff out charcoal smoke and uncles puff on cigars. Once you pay and get your cart, you drive about a minute around a lake to get to the course. As I left the sights and sounds of the city and stood on the first tee of the tree-lined fairway, I felt like I had been transported. Van Cortlandt isn't making anyone's 100 greatest list, but locals give this layout the same tough yet undying love they give the Yankees and Knicks. The golfers I played with talked fast and played even faster and berated the course as much as they praised it.
Finding green-grass courses in Brooklyn and the Bronx was immensely satisfying, but I still needed somewhere close I could go for a few hours. This led me to Chelsea Piers, a four-deck range jutting over the Hudson River with a 19th-hole restaurant, golf shop and putting green. But the reality of New York City's standard of living soon hit me again like a golf ball to the face: An hour on the range was $35, $60 after 3 p.m. In Florida, I'm used to paying $8 for a large bucket. No matter, flip me upside down and shake the change from my pockets; if at all possible, my clubs and I will be at Chelsea Piers once a week.
Getting my golf fix in the most grassless place I've seen has been quite a journey. I've met great people, hit some memorable shots and enjoyed many means of transportation. However, when the course is too far and the range is too expensive, I can always take my wedge, chipping net, speaker and a few Titleists to Washington Square Park. It doesn't cost anything, and people like to stop to watch, cheering when I get one in and goading me when I hit one poorly. I become as much a part of the scene as the sunbathers, skateboarders, students and families. Perhaps the allure of living in New York as a golfer is that playing golf itself becomes something elusive to chase like a perfectly struck iron. You don't realize how much you love golf until it doesn't come easily. If the fully booked simulators and holes in the ceiling point to anything, it's that the city isn't so much a golfing prison as a golfing bullpen. We sit here with our dearth of options and new gear staring across the water with envy at the lush courses and the easy access people there have to them. They might not realize how good they have it. I do, and I don't take that lightly.