Courses
11 municipal courses that are getting the love they deserve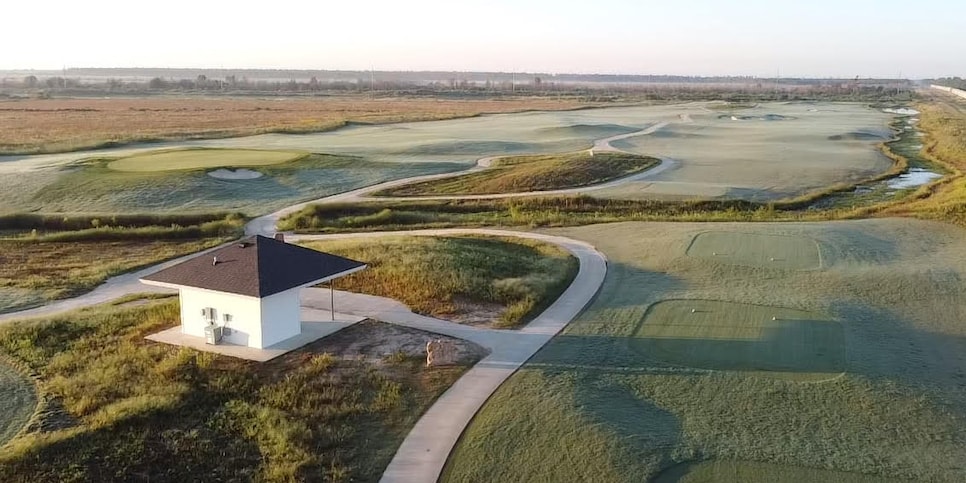 Richard Harris is the co-founder of the San Francisco Public Golf Alliance, a non-profit group that advocates for the viability of the city's municipal courses. In particular, the alliance fights for Sharp Park, an historic Alister MacKenzie design from the early 1930s that perpetually must fend off existential threats ranging from lack of funding and labor issues to lawsuits filed by groups who want the course shut down for environmental reasons. In a recent Golf Digest story about municipal course revivals, he pointedly observed that in the haste to dismiss golf, adversaries and non-supportive civic leaders often overlook the ways publicly funded courses benefit their surrounding communities.
"Public courses, and I would argue muny courses, carry the biggest burden of youth programs, First Tee programs, it's the place where high school teams are, and they're where beginners come into the game," he said. "They're [also] the most culturally and ethnically diverse places in golf," he went on, noting that they often provide jobs and opportunities to young men and women, helping prepare them for college or other careers.
The story highlights how a number of municipal courses around the U.S. have found progressive ways to foster this message of inclusivity and community synchronicity while also improving their golf courses, often by forging partnerships with private entities. Invigorated by these and other successful, affordable examples of public golf like Winter Park 9 outside Orlando and CommonGround in Denver, more and more municipalities are taking active roles in promoting golf courses as sources of healthy recreation, environmental green space and community-wide centers of social interaction.
Watch Golf Digest's latest "Every Hole At" course videos below:
If the following under-construction or recently opened projects are an indication, the reputation of municipal golf is once again on the rise.
Cobbs Creek Golf Club, Philadelphia
After roughly a decade of grassroots advocacy, the long-awaited revival of Cobbs Creek is about to commence. Opened in 1916 in Philadelphia, Cobbs Creek was designed by Hugh Wilson, the young architect who built nearby Merion. Despite its rare and historic pedigree, local popularity and pioneering integrationist policies (it was Charlie Sifford's home course and hosted numerous United Golf Association opens, a separate professional tour for Black golfers that began in the 1920s), the course has always been prone to flooding and suffered decades of neglect.
Thanks to significant funds raised by a network of supporters through the non-profit Cobbs Creek Foundation, a comprehensive rehabilitation of the original course and surrounding property will commence Spring 2022. The golf restoration is being guided by architect Gil Hanse and his design partner and Philly native Jim Wagner, who have recently renovated America's 100 Greatest standards including Merion, Winged Foot, Oakland Hills, Baltusrol and Los Angeles Country Club.
In addition to improvements on the 18-hole course, the project will transform Cobbs Creek into a center of youth activity and education. It includes the separately renovated Karakung nine-hole course alongside a Pinehurst Cradle-like playground of short holes, after-school programs, a state-of-the-art golf training center providing family clinics, a community center for area youths, a partnership with the First Tee and other outreach programs. The goal is for Cobbs Creek to be open by 2024.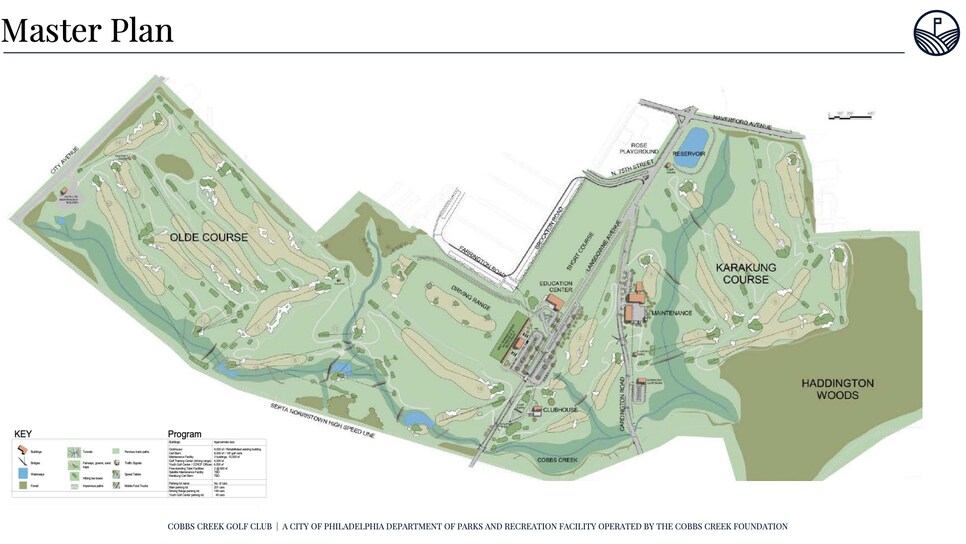 National Links Trust, Washington, D.C.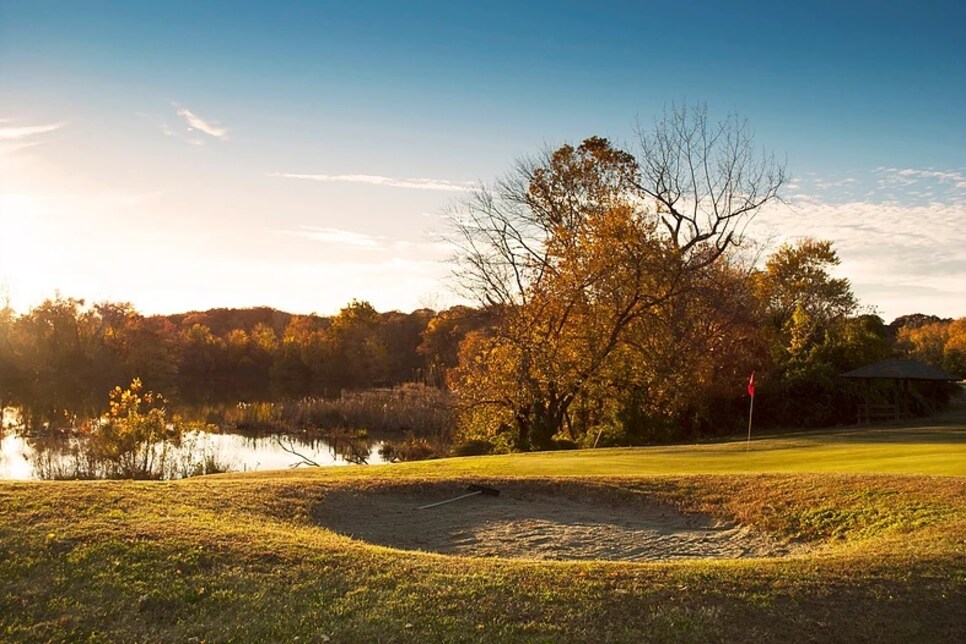 Courtesy of the National Links Trust
Created by Washington, D.C.-area natives Mike McCartin and Will Smith, both former golf course builders, the National Links Trust won a contract in 2020 to operate three popular public courses owned by the National Parks Service: East Potomac Park, Rock Creek and Langston. The non-profit NLT has been in the process of raising money to initiate a number of capital improvements at each historic property, with the ultimate goal that all three courses will be fully renovated by several leading architects, including Tom Doak and Renaissance Golf (East Potomac), Hanse and Wagner (Rock Creek) and Beau Welling (Langston, above). Stay tuned for further developments.
The Park, West Palm Beach
Hanse and Wagner hit the municipal trifecta for their ongoing work at The Park, a centrally located course in the dense city of West Palm Beach that was first designed by Dick Wilson in the years after World War II. Though none of the original holes have been kept (the course had been renovated several times over the years and closed permanently in 2018 due to financial struggles, it's the property itself that's the star attraction—a 165-acre, core parcel of pure sand and native palmetto, palms and pine.
The design elements of the newly redesigned course will riff on Australian Sand Belt themes with firm turf and sweeping bunkers. The facility will also have an enhanced practice area and family-oriented short course, and the project aims to connect to the surrounding community through clinics and youth activities. A non-profit organization affiliated with the PGA of America has partnered with the city to provide the needed funding.
Work is ongoing and is expected to be completed by late 2022.
Bobby Jones Golf Course, Sarasota, Fla.
If there's anyone currently as active in reviving municipal courses as Hanse and Wagner, it's Pinehurst-based architect Richard Mandell. Mandell has a long track record of renovating muny courses around the country, including the Keller and Braemar golf courses in Minnesota and Bacon Park in Savannah, among others. He's been working for several years with the city of Sarasota, Fla., on plans to redevelop what was a 36-hole facility, with 18 holes designed by Donald Ross in the 1920s.
After numerous delays and left turns, the project is finally moving forward and consists of a remodeled 18 holes along with a short course and an enlarged practice complex. The rest of the property will be converted to open space and trails. Work is expected to begin in early 2022.
Mandell is also currently working with the city of Denver to develop a master plan for one of its workhorse courses, Kennedy Golf Course. He's also engaged with Hollywood Beach, Fla., on a redesign of its public course; that work isn't expected to begin for several years.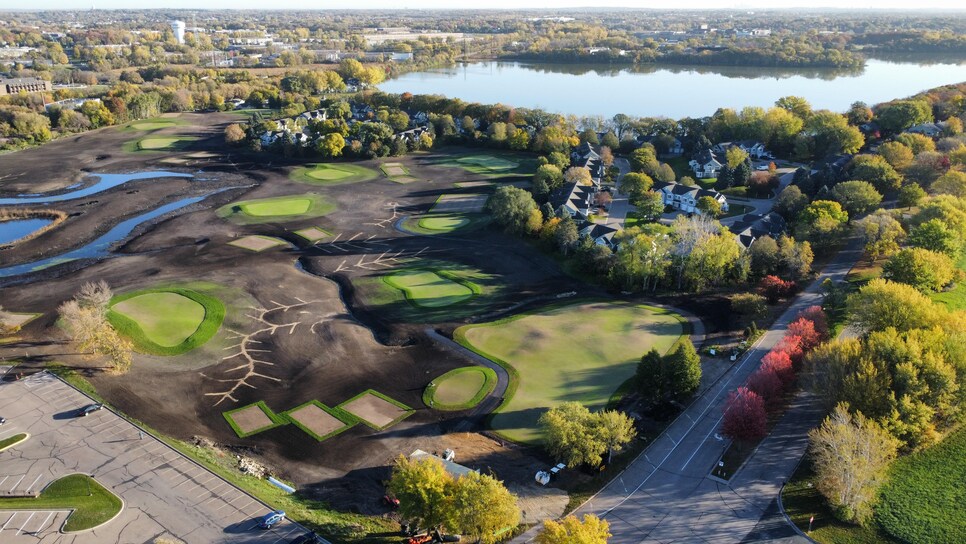 The city of Chaska, near Minneapolis, is taking a lead role in making golf a sustainable and inclusive sport for everyone, including those with physical and sensory impairments. Under the guidance of designer Benjamin Warren of North Berwick, Scotland, construction is underway on a nine-hole short course at the Chaska Town Course designed with low-profile features, wall-to-wall fairway cut and hollows rather than bunkers so golfers in adaptive carts can access all areas of the property.
It's being developed in partnership with Barrier Free Golf, a 501 (c) (3) non-profit group whose mission is to introduce the game of golf to beginners and people with disabilities, with the hope of bringing similar courses to other cities.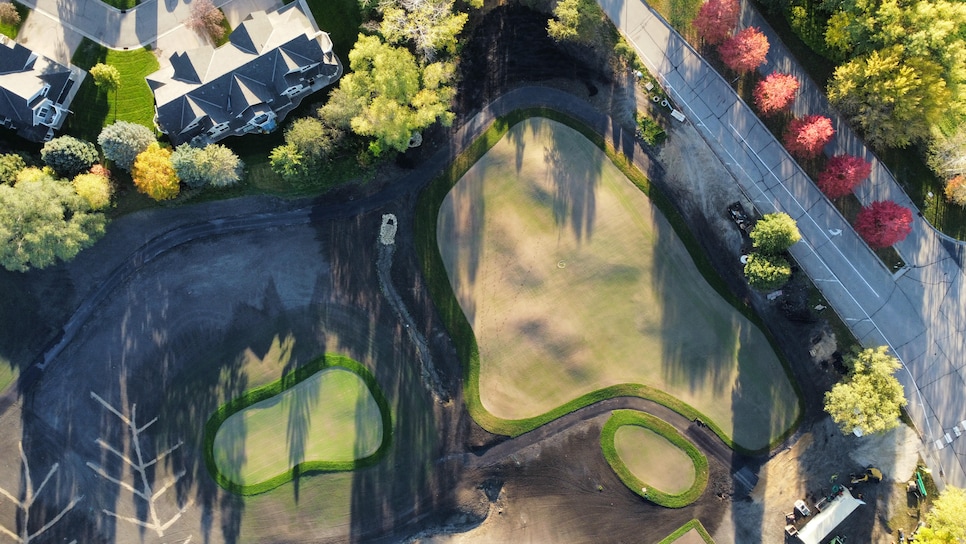 The Loop is a total remodel of a Robert Trent Jones short course built in the early 1970s, with holes ranging from 63 to 219 yards modeled after classical U.K.-inspired template holes like the Long, Alps and Double Plateau, as well as a large Himalaya-style putting green. The course is expected to open in Fall 2022.
Corica Park (North), Alameda, Calif.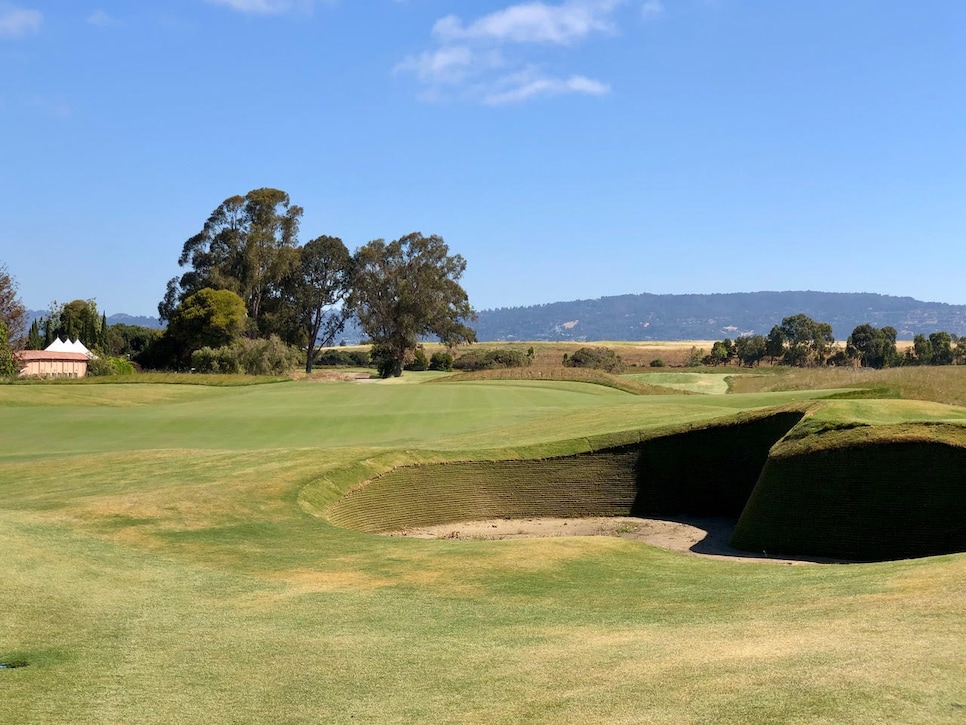 The South Course at the busy Corica Park complex in Alameda, across the bay from San Francisco, reopened in 2019 after a full strip-down and rebuild by Rees Jones and designer/builder Marc Logan. Logan is now finishing construction of the North Course (along with design edits from Golf Digest architecture editor emeritus Ron Whitten).
An Australian native with expertise in construction, irrigation, agronomics and botany, Logan has applied the lessons of the Melbourne Sand Belt to both Corica Park courses, emphasizing water capture, drought-tolerant grasses and conservation. Both courses are sand-capped and feature dry, fast-running Bermuda turf, with the South Course exuding a broad and subtle character versus the North Course's more rumpled and wind-swept dunes-like shaping pocked by revetted bunkers made from recycled sports field turf. The North should open in 2023.
Brown County Golf Course, Hobart, Wis.
Municipalities shouldn't feel they have to rebuild their entire course to improve their product for golfers. More focused projects can yield big results. Brown County Golf Course near Green Bay unveiled a bunker renovation last fall that has changed the complexion of the golf course. The old bunkers were built in the 1950s and were designed for the era's large mechanical rakes. They were out of proportion with the rest of the golf features, in addition to being simply tired and contaminated. Designer Todd Quitno of Illinois-based Lohmann-Quitno Golf Course Architects oversaw the bunker remodel, reducing their size and shifting them closer to the putting surface. The work has improved Brown County's playability, and it has also given the course a new look and new personality.
Glenway Golf Park, Madison, Wis.
The city of Madison has partnered with benefactor Michael Keiser, co-owner (along with brother Chris Keiser) of Sand Valley Resort, to revamp the nine-hole Glenway course in Madison. The project is unique in that it includes input from a number of designers and builders with Wisconsin roots, including Brian Schneider of Renaissance Golf, Jay Blasi, Andy Staples, Craig Haltom of Oliphant Golf (which oversees construction) and Keiser himself. The highlights include tree thinning, turf and irrigation improvements, greens expansion and redevelopment, and a Himalayas-inspired putting green.
Mallard Golf Club, Lake Charles, La.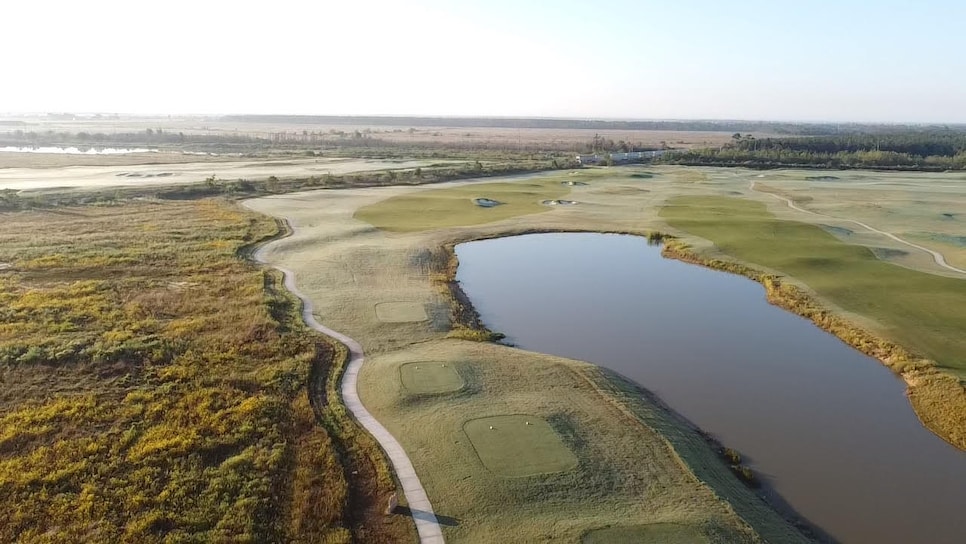 This new municipal course (lead photo) opened in the Fall of 2021 in the southwest part of the state, came about as the result of a land-swap. Chennault International Airport needed adjacent land to the old Mallard Cove Golf Course for expansion, so it traded that parcel for 160 acres nearby that the city developed into a new course. It wasn't easy. The construction suffered through the death of the land's owner just hours after signing over the property, a freeze of the decade and a 100-year flood, plus two hurricanes.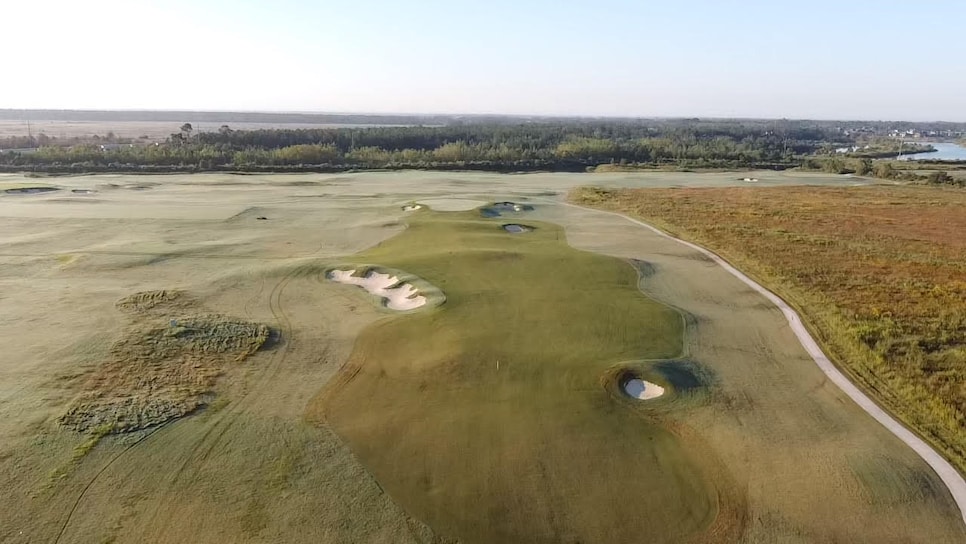 The struggles produced a low, treeless design created by Texas-based architect Jeff Blume, an ode to the fun, bump-it-along-the-ground game of the U.K. Mallard now features wide fairways that ramble around lakes and along wetlands, elevated greens and bunkers that sweep up into raised ground features.
Lake Oswego Golf Course, Oregon
The city of Lake Oswego, near Portland, recently made a decision that many municipalities may begin to consider—downsizing their 18-hole course in order to upgrade the quality of the golf. The cramped, tree-crowded 18-hole course, built in the 1960s, is being converted to a sporty short course with holes ranging between 95 and 300 yards with intriguing ground features.
The new course is being designed by Oregon-based architect Dan Hixson, designer of Silvies Valley Ranch and the upcoming Bar Run course in the south-central part of the state, who says Lake Oswego might end up be the most "improved" course he's ever been involved with.
The leftover space will include and expanded practice facility and a new public aquatics center. Construction is scheduled to begin summer 2022.
Timpanogos Golf Club, Provo, Utah
Formerly called East Bay Golf Club, this newly reimagined municipal course in Provo opened in late 2020. Recently, the city sacrificed three holes of the existing course for the construction of an adjacent medical facility, prompting a major golf remodel project led by architect Kevin Atkinson.
It's an aggressive redesign that includes lots of sand and scratchy new bunkers, sleeper tie accents and reversed and newly designed holes that turn around water hazards with views aligned toward the surrounding mountains, including Mount Timpanogos. In addition to the 18-hole course, the complex also features nine holes that can be played at night under lights, and a short seven-hole course meant for beginners by using modified clubs and tennis balls.