From the Magazine
The revival of these muny courses is an inspiration for public golf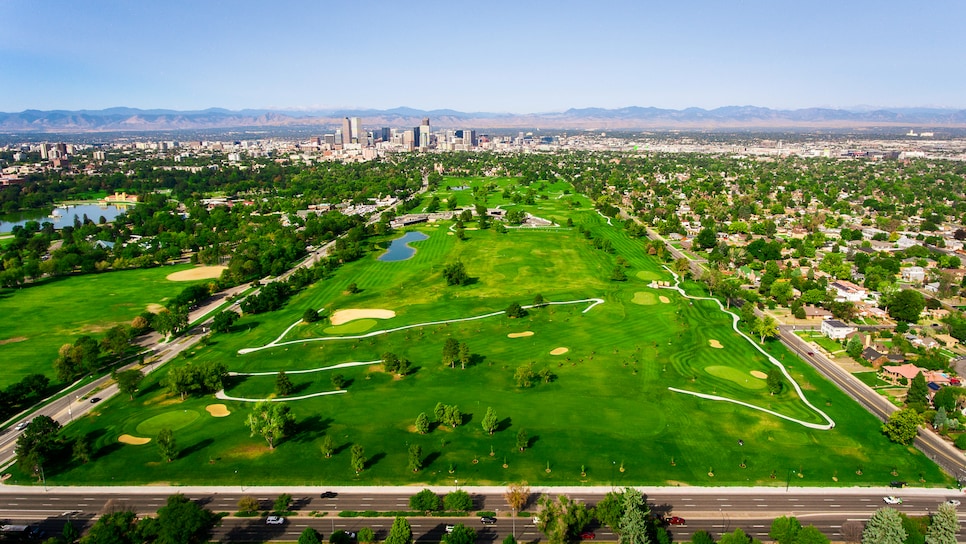 Richard Harris stands on the 16th tee at Sharp Park Golf Course in Pacifica, Calif., and gestures west toward a high embankment, a sea wall that separates the course from the Pacific Ocean. People stroll and jog on it, daubs of color moving in each direction, taking in views of golf holes on one side, the crashing water on the other. Harris is indicating where a proposed green might go, that of a par 3 playing to the base of the sea wall.
The hole would be part of a long-imagined recreation of the greens and bunkers architect Alister MacKenzie designed, just before he began work on Augusta National, that have been worn away in the decades since the course opened in 1932. A pure restoration is not possible—a number of magnificent beachfront holes were demolished in the early 1940s, replaced by the barrier that protects the property from storm surges. Although the sea wall prevents the design from being what it once was, its presence isn't the biggest obstacle to a rebirth of Sharp Park, one of only two municipally owned MacKenzie courses in the United States and one of the few anywhere the public can play.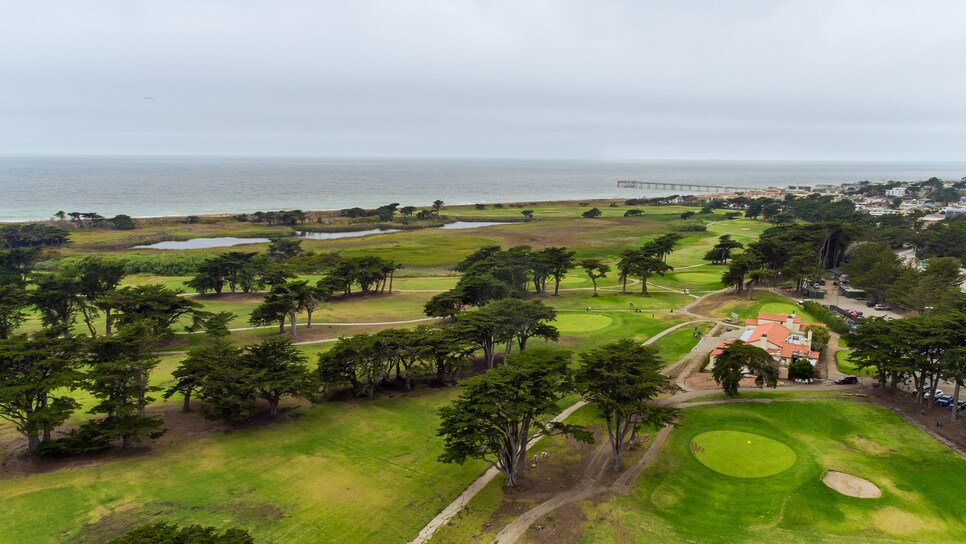 SHARP PARK, PACIFICA, CALIF. Alister MacKenzie's design near San Francisco remains in a fragile state. Photograph by Brad Knipstein
The course is simply run down. Rows of twisted cypress, frozen in wind-whipped postures, clog the golf holes. White clover grows in most of the fairways, sprinklers sometimes fire at odd intervals and trash bins overflow with debris, waiting to be emptied by volunteer golfers. Averaging close to 35,000 rounds a year, the course has been chronically underfunded by the city of San Francisco, leading to deteriorated playing conditions and a broad sense of golf anomie. Legislation was introduced in 2011 to shutter the course after outside groups sued because of the presence of two endangered frog and snake species, freshwater animals that migrated to a former saltwater lagoon after Sharp Park had been built. The San Francisco Public Golf Alliance, a group co-founded by Harris and attorney Bo Links in 2007 that advocates for the well being of the city's municipal courses, led efforts to successfully defend the course against four lawsuits and preserve its existence. That fight for Sharp Park stayed execution but also led to severe restrictions on how the grounds could be maintained.
"San Francisco is not an easy town," Harris says. "It has a very strong and very proud golf culture; the U.S. Open comes to the city about every 10 years, and it has nationally ranked clubs. But the politics are difficult." With the exception of Harding Park, renovated in 2003, the political and cultural willpower San Francisco authorities exhibit in protecting its most notable historic landmarks doesn't extend to its golf courses, even a rare and cherished site like Sharp Park.
Although the environmental issues at Sharp Park are unique, its economic and existential story is similar to that of many municipal courses.
During the golf boom of the late 1950s through the early 1970s, when hundreds of courses opened each year in response to popular demand, cities and counties eagerly financed the construction of golf courses. The game was embraced as a healthy outdoor activity, an important amenity that fostered a sense of community and offered attractive settings for social gatherings. Even into the 1980s and 1990s, courses were generally considered important civic utilities like parks, libraries and swimming pools, with the bonus of being sources of revenue.
But during the past generation, municipal courses in many localities have come under attack. Governments have begun to question the rationale of subsidizing such large and expensive properties given the relatively small number of people that use them, particularly as golf rounds in the United States declined overall during the past 20 years (2020 and 2021 being exceptions). City councils and other elected officials often look at their municipal courses with mixtures of bewilderment, resignation or even hostility, and environmental groups and other opponents brand them as 150-acre money pits that waste taxpayer dollars and wreak ecological damage. In every part of the country, from Seattle to Atlanta to Houston to Detroit, municipal courses have endured ongoing threats of closure and redevelopment, often only saved through the actions of vocal citizens' groups.
Recently, however, a number of cities have found innovative ways to recapture the promise and optimism of municipal golf, offering new prospects for the game in the public sphere. Just across the bay from Sharp Park, the city of Alameda knew it needed help managing the 36-hole Corica Park Golf Course, a complex that once hosted nearly as many golfers a year as Torrey Pines. Conditions and rounds had declined for most of the 2000s, and rather than allow the courses to limp along with no prescription, Alameda outsourced the operating contract to Greenway Golf, a company that specializes in turf and course maintenance.
Municipalities that hire companies to oversee their courses often continue losing money if they fail to remedy underlying infrastructure issues. At Corica Park it was drainage—the North and South courses sat below the water level of San Francisco Bay.
Greenway agreed to invest $14 million to essentially create two new courses in return for a 45-year lease. Partnering with golf architect Rees Jones to reconstruct the South course, Greenway's chief agronomist Marc Logan, who has undertaken much of the construction work personally, negotiated an agreement to receive shipments of more than 390,000 tons of sand that was being excavated in San Francisco to cap the entire site to a depth of 12 inches. Beneath it, Logan designed a complicated network of drainage and irrigation, installing it with a skeleton crew of workers (rather than contracting it out). Every drop of water that hits the grass is captured and recirculated, meaning nearly incalculable long-term savings as water becomes an expensive and strictly regulated resource.
The dry, sandy sub-soil and selected grasses, including an old, seldom used strain of drought-tolerant California Bermuda known as Santa Ana that shows beautiful golf hues from yellow to gold to lime, accentuate the "magic" of the South course's fast-running turf, designed to emulate the Sand Belt courses of Melbourne.
"I knew back in 2011 that [capping with sand] was the only way this site was going to work," says Logan, a native of Australia. "Quality is the only way to ensure success. You still have to work hard at it, but it gives you an advantage in the marketplace if your product is exponentially better than the competition."
The South course now tallies more than 70,000 rounds a year and costs residents $52 or less to play. Logan is applying the same sand-and-turf recipe as he builds the North course, a shorter but more sporty and heavily contoured layout designed in consultation with Ron Whitten, Golf Digest architecture editor emeritus.
Another encouraging revival is Charleston Municipal, completed in December 2020 after a thrifty but artistically ambitious renovation.
The 92-year-old working-class golf course has always been popular, but flooding, wet turf and excessive tree growth negatively impacted playability. Between an allocation of funds from the city (which continues to oversee operations) and private donations collected through an organization called "Friends of the Muni," approximately $3.5 million was raised, enough to enact significant upgrades without raising green fees. Residents can walk for just $20, and out-of-town players—projected to be about 10,000 a year—can do it for $60, if they can get a time.
In addition to new grass and drainage, architect Troy Miller rebuilt the green complexes and bunkering according to the template holes developed by C.B. Macdonald and Seth Raynor in the early 20th century.
Raynor had spent time in Charleston in the 1920s building Yeamans Hall and the Country Club of Charleston, so his angular, identifiable features and shot strategies have a history in the area, even if Charleston's public players haven't had the opportunity to experience them. Now they can.
Miller's renditions of the Raynor concepts—including gorgeous Redan and Punchbowl greens, among others—are loyal and adventurous. For Miller, it was especially gratifying to bring this new identity to Charleston Municipal because he grew up playing the course and lives in the neighborhood across the street. A youth tournament was being played the day I visited early in the year—Miller's young son was playing in it—and 8- to 10-year-olds carrying their small bags filled up the course. It's unlikely many knew who Seth Raynor was, but they were all getting accustomed to solving the problems of his particular architecture. The golf course looked like a park, or better yet, a playground.
The same is true at Belmont Golf Course in Henrico County, Va., now managed by The First Tee of Greater Richmond. For years, the county didn't know what to do with Belmont—the A.W. Tillinghast design that once hosted the PGA Championship had become dilapidated and logged about only half the rounds it once did. Henrico considered converting it into parkland.
Two grassroots groups—Preserve Belmont and Friends of Belmont—campaigned to save the course.
Around that same time, Brent Schneider, CEO of The First Tee of Greater Richmond, was traveling with a potential donor and mentioned the thought of converting Belmont to a 12- or 14-hole course with extra amenities. "He almost stopped the car and said to me, 'Are you kidding? I've been telling my friends for years I want to build a good 12-hole golf course,'" Schneider recalls. "I think 12 is the perfect number based on where society is going."
After securing more than $5 million in donations, including one major gift (the county contributed another $750,000), the design firm of Davis Love III and lead architect Scot Sherman faithfully restored 12 Tillinghast holes and converted the remainder into a fun, six-hole short course, a 31,000-square-foot Himalayas putting green and expanded practice range. Since opening in the spring of 2020, the response has been "crazy, just crazy," Schneider says. As a nonprofit, he says The First Tee's return on investment is measured by "how many kids we reach," and by that standard Belmont is already profiting: The historic Tillinghast holes attract die-hard architecture fanatics, and the low-stress culture appeals to a cross-section of children, families, new players and even young executives who want to learn the game.
Serving an array of community needs has always been municipal golf 's purpose, Richard Harris said as we spoke of Sharp Park. But civic leaders need to be willing to search for the right combination of ways to make courses work.
"Public courses, and I would argue muny courses, carry the biggest burden of youth programs, First Tee programs. It's the place where high school teams are, and they're where beginners come into the game," he said. In addition to providing jobs for all ages, "they're the most culturally and ethnically diverse places in golf."
They're also the largest green space provider for many communities, oases amid the surrounding urban heat. Far from damaging nature, golf courses can be a city's greatest expression of it.
Watch Golf Digest's latest "Every Hole At" course videos below:
"We try to explain to the general public that golf courses are good for the environment—it's open space, which is grass and trees," says Scott Rethlake, director of golf for the city and county of Denver. "We have stringent requirements on water usage—we use less per square acre than a park does. We do things for the environment that go beyond our borders, like creating bee pollinators or using non-playable areas for habitats or to plant vegetable gardens and donating up to 500 pounds of produce back to charities in the area."
In the case of City Park Golf Course, it also protects surrounding property values. The entire course was renovated beginning in 2017 as part of a $46-million stormwater project to mitigate flooding (funded by normal water utility fees). The century-old neighborhoods around the course, where golfers have played since 1913, regularly took in water during major storms. Now, after reconstruction, the low areas of the western half of the course serve as collection basins that can temporarily hold more than 200 acre-feet of water before draining out at a rate the below-ground infrastructure can manage (tees and greens are elevated above the waterline). Architect Todd Schoeder cleverly re-engineered the golf holes to accommodate the dual usage (City Park's entire acreage, including practice area, is only 138 acres) and crafted vintage features that recall original designer Tom Bendelow. The earth excavated to deepen the basins was moved to the center of the property where a new clubhouse stands, providing beautiful views of the Front Range. Local residents, including many who don't play golf, gather there to meet, eat and watch sunsets, something that didn't happen before.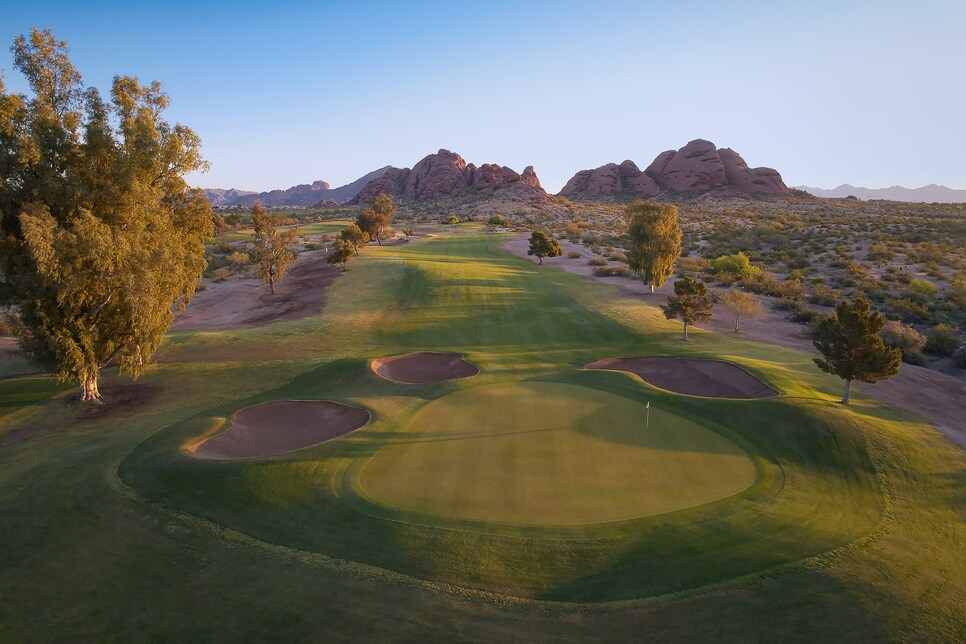 PAPAGO, PHOENIX A family destination with spectacular course vistas. Photograph courtesy of Papago/Jim Frenak
A similar synergy between golfers, non-golfers and the city takes place at Papago Golf Club in Phoenix, the result of an arrangement between public and private entities. In 2014, after years of financial struggle at Papago, the city entered into a management contract with Arizona State University, which needed a home for its men's and women's golf teams after deciding to redevelop the existing campus course. The university enlisted the help of Gregg Tryhus, developer of Grayhawk and Whisper Rock golf clubs in Scottsdale, to create the non-profit Arizona Golf Community Foundation. Tryhus and city and ASU representatives serve on a board that oversees administrative and financial obligations, and OB Sports is the daily operator. The Foundation and ASU also raised donations for the construction of a new clubhouse.
This private-public initiative has reenergized Papago and led to increased rounds, improved course conditions and the addition of a state-of-the-art practice and short-game facility used by the public and the ASU golf teams. But the main attraction at Papago might be the clubhouse and Lou's Bar & Grill, a bustling restaurant and outdoor space that breaks traditional barriers by attracting a diverse range of customers who don't play golf.
"We didn't design the clubhouse for the golfer," Tryhus says. "We designed it—and the back yard—for the community." On any given day or night, the restaurant is crowded with families, couples and kids dining, taking in the views of Papago Park and listening to live music. The revenues created by food and beverage in turn elevate the entire golf operation.
"Families don't look at it as if they're going to a golf course," Tryhus says. "They're going to a really cool destination, an outdoor restaurant—any restaurateur in town would want to be in that back-yard space." It all comes back to golf 's willingness to share land and connect with the community and residents. "Isn't St. Andrews used as a community park on Sundays? Maybe we've come full cycle."
The non-profit, public-private model might be the way forward for most municipalities (this is the approach being used at the restorations of Cobbs Creek in Philadelphia and three historic Washington, D.C., courses operated by National Links Trust). "This doesn't work if we have to make a profit," Marty Elgison told me. He was referring to Bobby Jones Golf Course, a remarkable re-imagination of an exhausted and dangerously tight course in Atlanta, where I live. Elgison, a longtime attorney for the Jones family, created the Bobby Jones Golf Course Foundation with former Georgia State Golf Association president Chuck Palmer a decade ago to elevate the standard of golf that bears the Jones name. It became much more.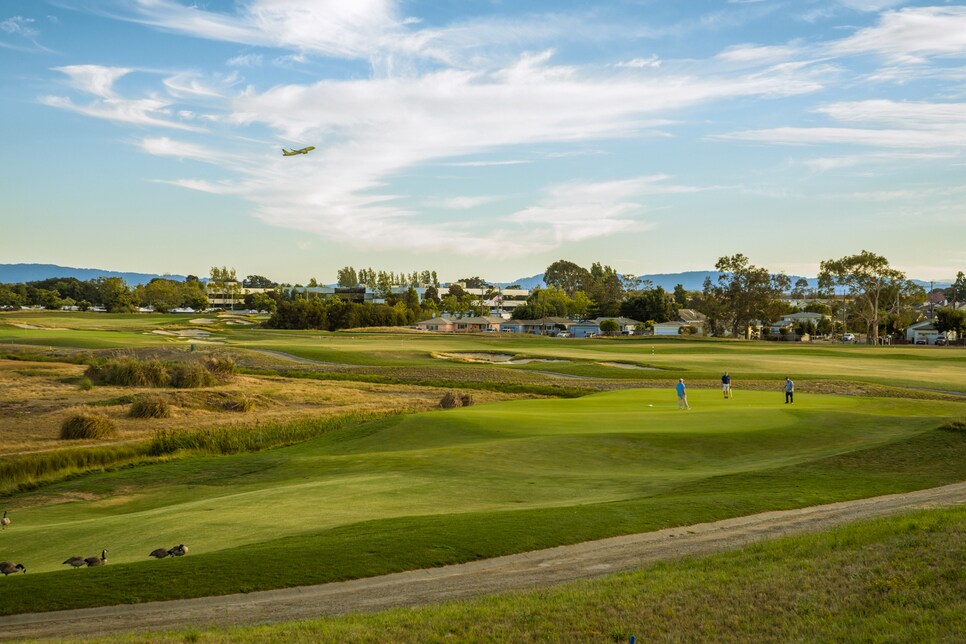 CORICA PARK, ALAMEDA, CALIF. A new drainage system has changed the fortunes of this muny. Photograph by Brad Knipstein
R. BRAD KNIPSTEIN
Fueled by $28 million in donations and naming rights, Bobby Jones now offers a reversible nine-hole course, elite practice facilities, weekly camps and clinics for kids, instruction and clubfittings and a restaurant with striking skyline views. To see the participation—women and men of all colors, kids and adaptive golfers taking lessons and millennials using robotic caddies—is inspirational. After all, transformations don't matter much if they don't fulfill municipal golf 's ability to expand the dynamics of who plays and how many.
The common thread in these and other successful revivals is support—municipal golf must have it. It can originate organically, later inspiring municipalities to solicit investments in the name of better golf and neighborhood connections, or it is the city or county that initiates improvements through private partnerships and smart management arrangements.
But no renaissance can happen without the bottom-line advocacy from a community of golfers and officials in high places. This brings the topic back to Sharp Park, one of the great unrealized municipal course revivals in the country. For now, its fate is "to be determined," with only one party—golfers—willing to take up the fight.
"But we're going to do this," Harris says. "It's Alister MacKenzie—you don't give up on that."