'Every Hole At'
Pacific Dunes like you've never seen it: Amazing new drone footage of every hole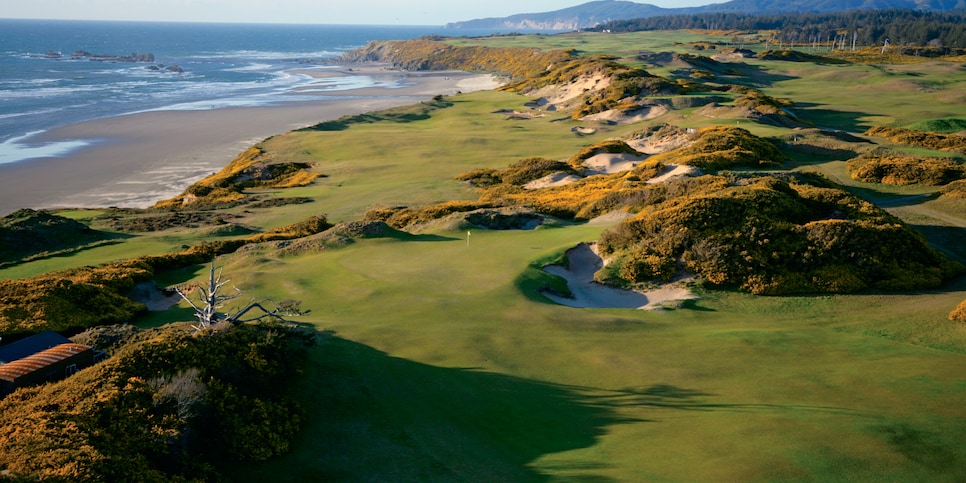 Photo By: Stephen Szurlej
There's no shame in being No. 2 to Pebble Beach, a course that was once ranked No. 1 on the Golf Digest America's 100 Greatest Courses and has Pacific Dunes by 80 years, six U.S. Opens, countless professional and amateur tournaments and the devotion of millions of golfers. If there was such a thing as "America's Course," it would be Pebble Beach.
But on closer scrutiny, when comparing the design, beauty, vibrancy and importance of each course, the outcome is less preordained. Architecturally, Pebble Beach's primary advantage—and it's a big one—are its ocean holes, which outnumber Pacific Dunes' nine to four. Pebble's seaside holes also engage their respective cliffs in a more exhilarating way—there are no shots at Pacific Dunes like the approach over the cove at eight, or the drive on 18.
Beyond that, however, the fight is on.
Watch our "Every Hole At: Pacific Dunes" video below:
Pacific Dunes' sandy turf is a true links surface compared to the heavy soils at Pebble that can become moist at certain times of the year. That and the width of Pacific Dunes creates opportunities for a more diverse day-to-day playing experience and a wider array of possible shots, options and trajectories to counter the north- and south-running winds.
Pebble's greens are small and tilted. Pacific's greens are also smallish but feature a broader scale of contour and pin positions that can alter the strategy of approach shots. There are no greens at Pebble like Pacific's seventh, or the 15th.
The variety of holes at Pacific is also remarkable as they ramble through sand dunes, sneak in and out of the shore pines, and play hide and seek with the Pacific, and the changing colors and textures of the native grasses, plants and gorse are natural assets few American courses can match. As Tom Doak says in our "Every Hole at Pacific Dunes" video, the inland holes might be just as strong as the ocean holes.
Pebble Beach's place in history is assured. No course other than perhaps Augusta National has done more to define the essence—or the exceptionalism—of American golf to the rest of the world. But Pacific Dunes has become the more influential of the two, at least when it comes to the field of architecture. It was the course that most significantly brought the sandy, minimalist aesthetic first established by Sand Hills to the public, giving travelers from across the U.S. the chance to experience an authentic links and naturalistic design. It would be impossible to build Pebble Beach except for where it is, but you could take the lessons of Pacific Dunes and apply them anywhere there was sand.
Pebble Beach currently leads Pacific Dunes in the rankings by approximately 2.5 points—a huge lead given the way our panelists score courses. Competitors often say second place is just the first loser, but when it comes to thinking about Pebble Beach and Pacific Dunes side by side, there is no losing. Both are public and both are among the greatest courses in the world, and golfers don't have to choose one or the other—they can have both. That's a win for all of us.