The Next One's Good
Why Gil Hanse—golf's hottest architect—isn't satisfied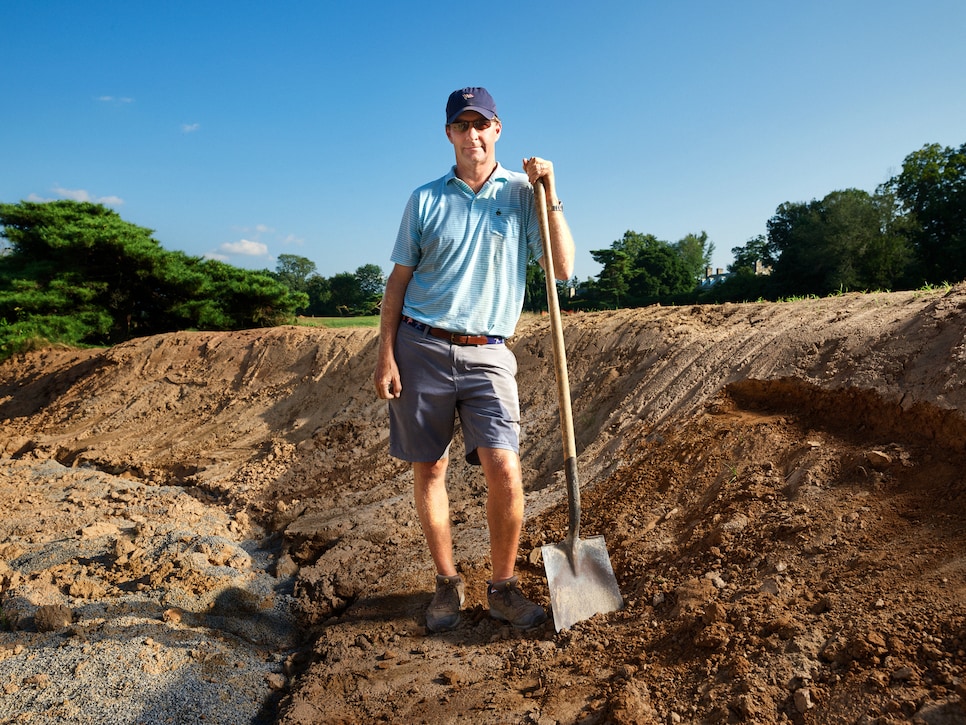 DIGGING HIS WORK Gil Hanse is one of the hottest architects in golf. Photographs by Finlay Mackay
The Kings of Golf is a concept that goes back to the Emperor Jones, the name used by newspapers in the 1920s for Bobby Jones. Sort of like the modern GOAT, it signified who was recognized as the reigning champion of the world. It often extended past their winning championships because it mixed popular acclaim with major achievement. Arnold Palmer was king even after he stopped winning, then it was Jack Nicklaus, followed chronologically by Tom Watson, Seve Ballesteros, Nick Faldo and, of course, Tiger Woods. Popular as he might be, Phil Mickelson was a prince at best; Rory McIlroy reached the top for a moment, but today there doesn't seem to be one player who wears the undisputed crown. Tiger still rules. Among women, Mickey Wright was queen, then Nancy Lopez, then Annika Sorenstam, who probably endures in retirement.
In the 1970s, Bill Davis, the founder of Golf Digest and inventor of America's 100 Greatest Golf Courses, once told me that the next superstars would be golf-course architects. The prediction came true as the royalty of design passed from Robert Trent Jones to Pete Dye to Jack Nicklaus. At the time it was said, "Trent made golf-course architecture a business, Pete made it an art, and Jack made it expensive."
The next king of architecture was Tom Fazio, who arguably remains undefeated. Fazio has more original designs on the 100 Greatest (13) than any other architect. Donald Ross (10), A.W. Tillinghast (nine), Pete Dye (eight), Alister MacKenzie (five) and Seth Raynor (five) trail among the dead with Tom Doak (five), Jack Nicklaus (four) and the team of Bill Coore and Ben Crenshaw (four) among the living. Who is king of kings? A case could be made for MacKenzie, who designed two of the top three (Augusta National and Cypress Point), but how could you argue with the amateur architect George Crump who was one for one (Pine Valley)?
The missing name from all this royalty is Gil Hanse, who is by far the hot-hotter-hottest architect in the world right now. He has crossed the line from prolific to ubiquitous. His specialty is restorations. In recent years, Hanse has restored Merion East, Winged Foot West and East, Fishers Island, The Country Club, LACC North, Oakland Hills South, Southern Hills, Baltusrol Lower, Sleepy Hollow, Plainfield, Quaker Ridge, Kittansett, Myopia Hunt, Aronimink and Burning Tree. The next two U.S. Opens will be played on his restorations—has he replaced Rees Jones as the Open Doctor? I've heard Hanse is now the consulting architect at Pete Dye's The Honors Course. He's reworking Oakmont and Yale. Every old course in America either has him redoing it or wishes they had him. As a course panelist told us, "No matter the original designer, Gil gets it right."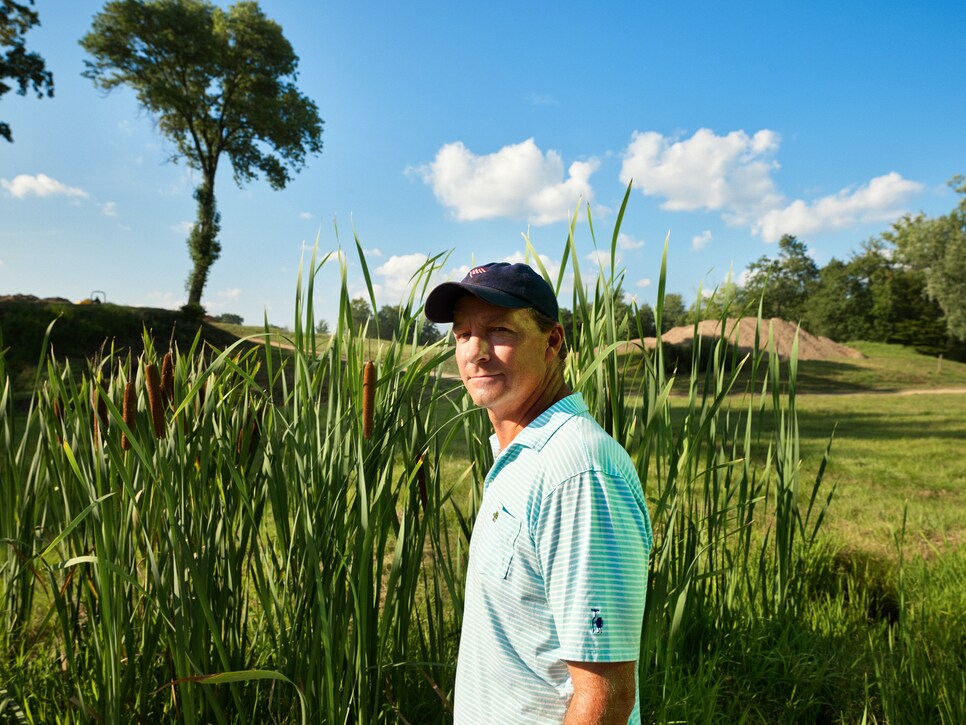 NATURAL WONDERS Hanse has said that he tries to make courses that are imperceptible from nature.
With an old classic, there's no question he'd be the one I'd want to restore it. As a real-estate developer once said of Pete Dye: "If I had a sow's ear, he could turn it into a silk purse." If you started with a silk purse, you can be assured Gil Hanse would turn it into a Birkin handbag. Hanse and his design partner, Jim Wagner, faithfully use old photos and plans to bring back to life the original architect's intent within a modern context of distance.
But no great virtuoso wants to be known simply as an art restorer. It's an artist's original work that makes his or her reputation. The great ones are writers or composers, not editors or conductors. In 1999, the Italian artisan Pinin Brambilla did a magnificent job of restoring the faded fresco that adorns a convent wall in Milan, but make no mistake—it will forever be known as The Last Supper by Leonardo da Vinci.
Coore and Crenshaw have their Sand Hills (10th on the 100 Greatest), Nicklaus has Muirfield Village (15th), Doak has Pacific Dunes (18th), Fazio has Wade Hampton (26th), but Hanse's best-ranked course opened in 2004 and sits quietly at No. 84, Boston Golf Club. His Ohoopee Match Club in Georgia is too new to have received enough votes for the 100 Greatest, and CapRock Ranch in Nebraska won Golf Digest's 2021 Best New Course Award, but Hanse's pièce de résistance is still to be identified.
"If this were the 1990s, when everybody was doing 15 new golf-design projects a year, Gil probably wouldn't consider himself a success unless he was getting first dibs at the best of those projects," says Ron Whitten, Golf Digest's architecture editor emeritus, who himself has a co-design on the 100 Greatest (Erin Hills at No. 46). "But this is 30 years later, and a lot fewer original courses are being built. Coore and Crenshaw now often get the best assignments because [Bandon Dunes owner] Mike Keiser is the driving force behind much of what's new, and they're his architects in residence.
"Still Gil is on top of the heap by popular, if not critical, acclaim, and I suspect he gets his share of first rights of refusal. Lord knows, every architect would sacrifice a family jewel to have Gil's career. However, I suspect he's not satisfied yet. For one thing, he hasn't done that original design that will have people clamoring for it to be in Golf Digest's top 10. Like it or not, America's 100 Greatest is the Hall of Fame for golf architects, and the top 10 is Mount Rushmore."
One of Hanse's greatest strengths is that he's a genuinely nice guy and a golf person through and through—his 11.5 Index plays out of clubs like Fishers Island and Pine Valley. He came across very well as a Fox Sports commentator until he got too busy to do TV. Maybe the only criticism is that he doesn't have a distinctive style that says you're on a Gil Hanse course. You could say he's a little derivative of Tom Doak, in whose footsteps he followed with a master's in landscape architecture at Cornell, even taking the same one-year study of Great Britain golf under the prestigious William Frederick Dreer Award. Hanse's style today is what's popular in modern design—big roly-poly greens and bumpy fairways and gnarly bunkers with acres of exposed sand for rough.
Hanse is only 58, so he has a long reign ahead of him if Pete Dye, who died at 94, and Tom Fazio, still going strong at 76, are any indication. Maybe the real test will be what he does with 300 acres of flat desert in Palm Springs, Calif., owned by music impresario Irving Azoff and Apple executive Eddy Cue, what might be the most sought-after new commission in the country. The working title is Coachella Golf Club—even the high-profile name raises the stakes.
In evaluating courses and architects, I like to ponder the words of Peter Fleming, who was the less famous brother of Ian (007) Fleming. While staying at the Piping Rock Club, Peter fell in love with Long Island, N.Y., and described it in a 1929 letter to a friend: It only shows you, he wrote, "what God would have done with Nature if he'd had the money."
With Azoff and Cue's money, Gil Hanse will be playing God when he builds the next course in Palm Springs. That's the question in the air: Will this be the one that takes Hanse from art restorer to king of all he surveys?