Golf isn't likely to come close to the kind of splurge it went on from 1986 to 2005, when more than 4,900 new courses opened in the United States, almost 250 a year. New course construction during the past decade has been as rare as rain in Los Angeles. During the 2010s, new course projects did not proceed without an audience clamoring to play them. Quality replaced quantity, and new course openings in the United States and Canada amounted to a small but delectable Michelin-starred menu that included highly ranked designs such as Cabot Links and Cabot Cliffs in Cape Breton, Nova Scotia, the courses at Streamsong (Fla.) and Sand Valley (Wis.), Ohoopee Match Club (Ga.), Congaree (S.C.), Old Macdonald (Ore.) and last year's Best New Course winner, Sheep Ranch at Bandon Dunes. These plus a few others revealed tastes tending toward courses that embody fascinating pieces of land, great architects and wise investment.
In 2021, 16 designs contended for the Golf Digest Best New Course award. Though this year's winner resides on an undeveloped site that was years in the making, nine others are built over the top of older or expired courses with reimagined holes, a new name and new brand. The reuse of existing properties is a continuation of a trend that's becoming the norm—savvy owners have discovered value in acquiring discounted or rundown facilities with permits and infrastructure already in place, then letting architects design over the languishing features.
The recycling of properties is positive news—golf will do better repairing the hundreds of needy courses it already has than pursuing new territory. Renovations and remodels are where most of the work is going to continue. This is why we have resurrected our year-end renovation award, which has not been given out since 2017. There are various degrees and definitions of renovation so that, for our purposes, we've chosen to divide remodels into two broad but distinct categories.
We were the first to capture drone footage of CapRock Ranch—watch the below video:
The first is Best New Renovation. This category encompasses traditional "renovation" (think of this as the effort to improve, enhance or update the features of a golf course) and "restoration" (a historic-based renovation that returns the course to some identifiable version of its past architecture). In both cases, the course remains essentially itself with the modifications concentrating on tree removal, grassing lines and rebuilt bunkers, tees and green surfaces. The second category is Best Transformation, an award that goes to a course that has taken on a fundamental alteration, perhaps with an entirely new design or the introduction of new holes—an architectural reset. The name remains the same, but if you blinked, you might not recognize the property.
Golf Digest panelists spent nine months on the road this year judging dozens of new, renovated and transformed courses. Their verdicts are in. Here are the winners.
BEST NEW COURSE: CAPROCK RANCH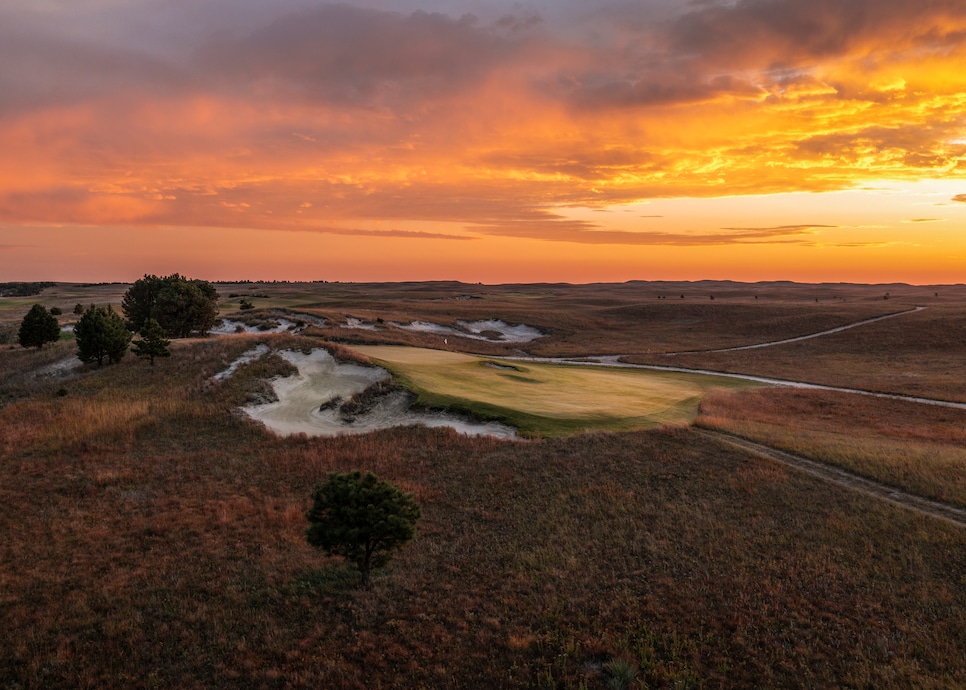 CapRock Ranch, a private course in Nebraska's north-central Sand Hills region near Valentine, was conceived in 2001. That's the year Gil Hanse, then a designer little known outside the most diehard architecture circles, developed a routing for the CapRock site. For various reasons the project remained stuck in neutral until 2019 when funding and a new ownership group allowed construction to commence. By then, Hanse and design partner Jim Wagner had become the most sought-after architects in the business, having restored numerous America's 100 Greatest private clubs like Los Angeles Country Club's North Course, Winged Foot and Merion and new standouts like Ohoopee Match Club and Streamsong's Black Course, both previous Best New Course winners. For CapRock Ranch, the wait was fortuitous, not only because Hanse and Wagner remained highly interested in building on the undeniably stunning site but also because of the perspective the delays afforded. "When you're a younger golf-course architect and you're trying to pin pelts on the wall, for lack of a better way to describe it, you maybe have a little less restraint and try to implement too many ideas instead of putting a softer hand on the landscape," Hanse says. "It allowed time for us, or at least me, to become a better architect. I'm not sure that 20 years ago we'd have built this same golf course."
CapRock Ranch is a study in contrasts—of steel and silk, storm and sun. The design moves like an alternating current between the broad, serene forms of open sand hills to the charged rim of the rocky Snake River Canyon plunging 100 feet or more into a craggy abyss. Eight holes are along the canyon edge, several of which date to Hanse's original routing. The most sensational include four of the course's five par 3s—the heroic 18th is one—that call for shots from different angles across chasms to greens mounted perilously close to the escarpments. It was often nerve-wracking building these holes, Hanse says. "I'm very comfortable in a bulldozer, but there are a couple of greens where we were teetering on the edge."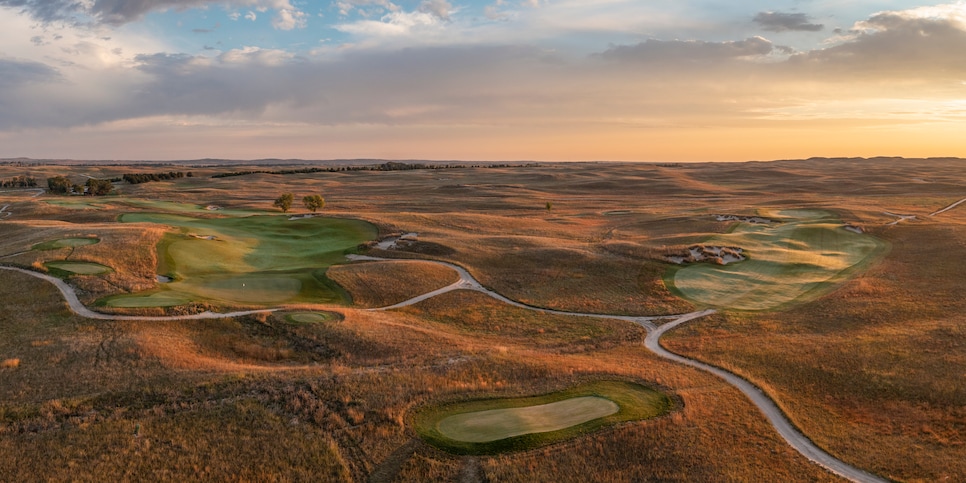 As attention-grabbing as the canyon holes are, Hanse and Wagner are perhaps more satisfied with the work throughout the sandhills section of the course—or to be more precise, the lack of work. The holes are daring, with a number of blind shots and up-and-over movements as at the par-5 second and long/short par 4s at 13 and 14, but overall Hanse and Wagner opted for subtlety and understatement, letting the natural property conduct the music. Even the greens tend to be more reliant on slope and tilt than the kind of exaggerated contour that makes Ohoopee, Streamsong Black and even Pinehurst No. 4 so profound.
"To me, the holes that are on the interior sit a little more softly because we wanted to let the landforms dictate creativity rather than try to inject something into them. CapRock was really a reaction to trying to incorporate more simplicity into the design."
BEST NEW RUNNERS-UP: (2) Payne's Valley at Big Cedar Lodge (Mo.); (3) Birdwood Golf Course at Boar's Head Resort (Va.); (4) American Dunes Golf Club (Mich.); (5) The Club at Holliday Farms (Ind.).
BEST NEW PUBLIC COURSE: PAYNE'S VALLEY AT BIG CEDAR LODGE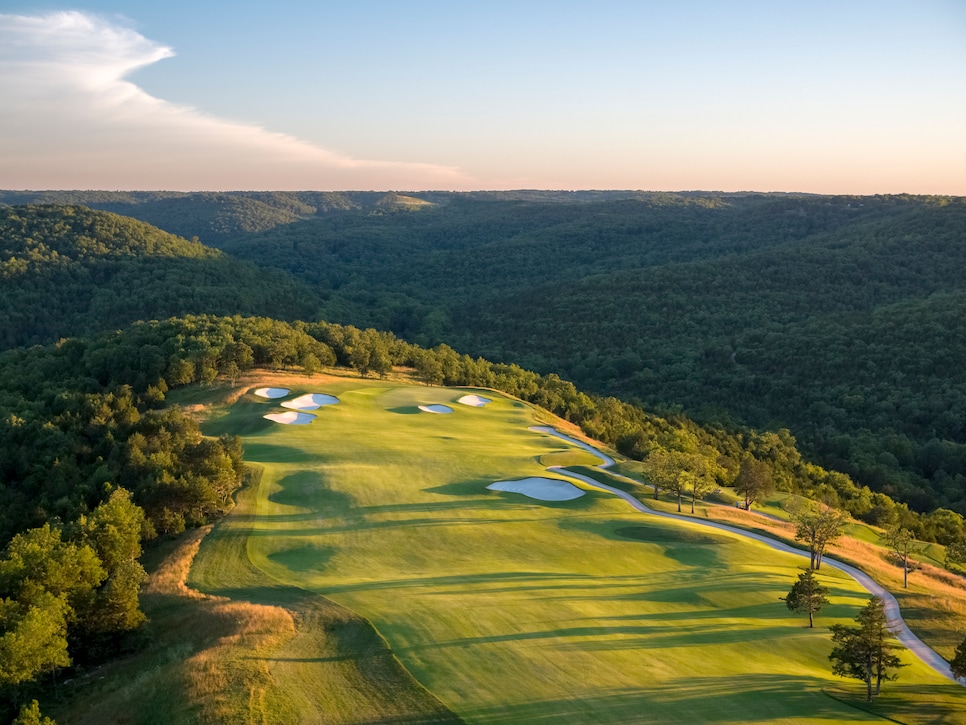 Designed by Tiger Woods and Beau Welling, Payne's Valley (named as a tribute to Missouri native Payne Stewart, who grew up in nearby Springfield) is an intriguing stylistic blend of holes with polished finishes and composed lines juxtaposed against elements that define the most consequential architecture of the 2000s: broad, forgiving fairways, roaming contours and an escapist setting. Many of the holes are framed against the low, ruptured terrain of the surrounding Ozarks, providing long vistas and the impression of playing high above a series of finger-like ravines. Artful, large-scale bunkering adds a depth-defying dimension to the play such that greens and backdrops often seem closer or farther than they are.
The par-4 third, the par-5 eighth or the "bottle" hole at 17 don't require much garnish—they're compelling because of the bunker arrangements and the angles into the subtle greens. But those who like glitter will find plenty in the sparkling water features at four, five and 10, the site's numerous limestone outcroppings, the 18th playing into a multistory amphitheater of stone with a zig-zagging cart path cut into its face and a bet-settling par-3 19th hole island green.
BEST NEW PUBLIC RUNNERS-UP: (2) Birdwood Golf Course at Boar's Head Resort (Va.); (3) American Dunes Golf Club (Mich.); (4) The Club at Lac La Belle (Wis.); (5) Sterling Grove Golf Club (Ariz.)
BEST TRANSFORMATION: CONGRESSIONAL COUNTRY CLUB, BLUE COURSE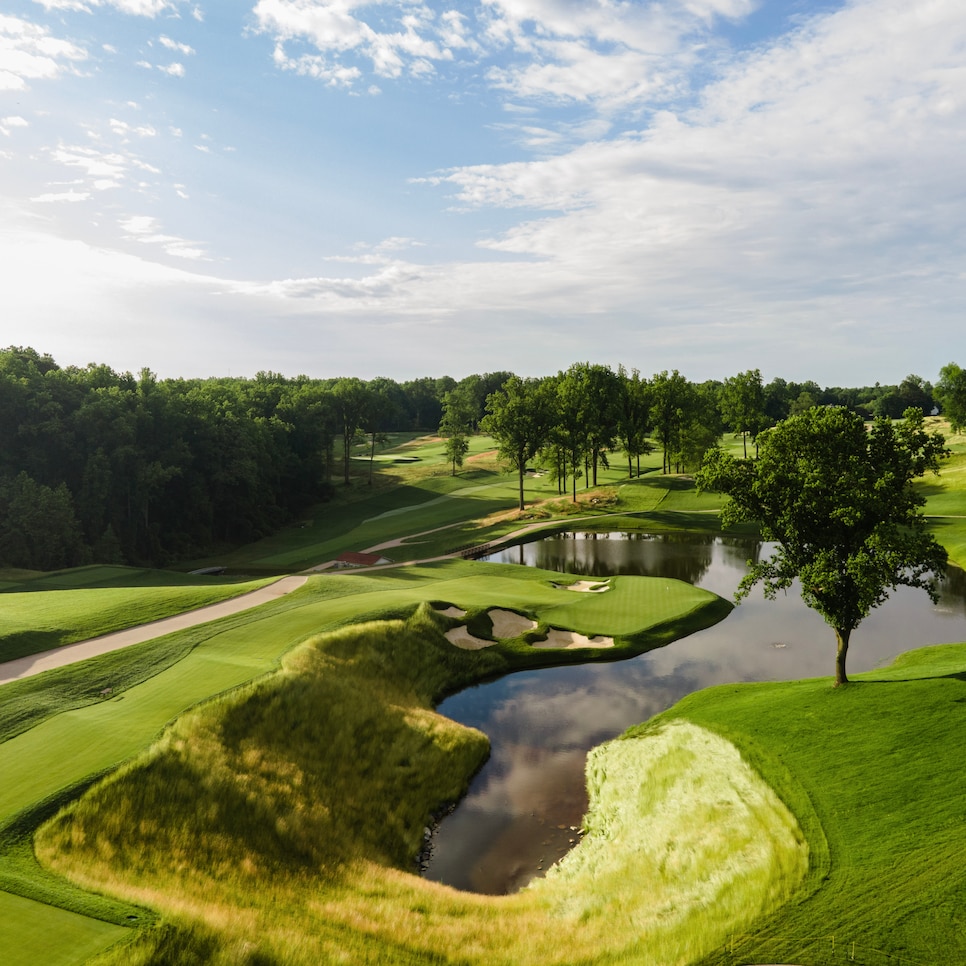 The transformation of Congressional's famed Blue Course is so utter that it could reasonably be classified a new course. The forests that have lined fairways and circled greens, remembered prominently from the 1997 and 2011 U.S. Opens, have been harvested during the past four years, leaving only scattered watchtowers of sturdy elms and oaks standing guard. In fact, virtually everything at Congressional has been stripped down to the studs and rebuilt. In addition to wanting to provide a more complex and stimulating course for the large membership, the club also reasoned that for the Blue to remain a nationally relevant layout worthy of continuing to host the types of major championships it had in the past (and perhaps sensing growing indifference from the USGA), something beyond merely another renovation of its historic but drainage-challenged design was needed.
Congressional's heritage has always been "anything you can do, I can do better." Devereux Emmet designed the club's original 18 (known as the Blue and Gold nines) in the early 1920s. Others modified them. Robert Trent Jones added a new nine in 1957 that the club considered superior to the existing courses and in 1962 asked him to revamp the Blue nine (the current first nine) in its image. This combination—the Trent Jones new nine plus Emmet's updated Blue nine—became the modern Blue Course. One of the tasks when Rees Jones remodeled it for the first time in the late 1980s (he remodeled it again before the 2011 U.S. Open) was to cut down sections of the naturally cresting topography to enhance visibility, leading to fairways that laid much flatter on the site.
In 2019, Congressional hired Andrew Green to orchestrate the ambitious re-imagining of the Blue. Green, a native Virginian who has performed substantial renovations at Inverness and Oak Hill's East Course, says the vision was to enable a wider array of golf shots by diversifying the architecture—13 greens from the previous design, for instance, had left and right fronting bunkers (three others featured water as a stand-in for sand), and the majority of greens were skull-shaped and of similar size and tilt. The key was to unclutter the landscape, shift and widen hole corridors, move several green sites and rebuild what had been graded away to reestablish the significance of the site's contours.
"Putting that dirt back in its natural place was what we talked about a great deal during the project," he says. "How do we create highs and lows that we can lay the golf holes on and how to make them feel natural, like they've lived a life?" Green says watching videos of a 1968 Shell's Wonderful World of Golf match between Sam Snead and Roberto De Vicenzo helped give him an idea of some of the slopes that once existed.
"As my architectural life has evolved, the ability to play golf over interesting ground is so important, and that's what makes for a good golf course," he says. "One of the reasons the Golden Age guys were so good and created such long-lasting classics, in my mind, is because they had to embrace the ground they were given. They couldn't move enough earth to force the property to give something that it wasn't doing naturally."
The revamped Congressional is stark and stunning to behold, bubbling and spilling across open fields, the fairways separated by steps of fescue and nests of deep bunkers. All the holes are new, but Green constructed an entirely original 10th, a downhill par 3 playing toward the water at the base of the clubhouse, hopefully locking in a routing that seems to change every time a big tournament comes to Bethesda. The design is meant to feel like it was built in the 1920s, and the randomness of the landforms, the perimeter ditches, the scattered trappings and tumultuous putting surfaces get Congressional most of the way there. But little of this rich bounty would be visible if the panoramas hadn't been freed, setting up cross-course vistas that hadn't been seen in 60 or 70 years. It's now possible to stand on the par-3 second green and see the little white church behind the 16th hole nearly a mile away. Fittingly, Congressional can now see clearly into its own uncluttered future.
BEST TRANSFORMATION RUNNERS- UP: (2) Hillcrest Country Club (Calif.); (3) Westfield Country Club, North Course (Ohio); (4) City Park Golf Course (Colo.).
BEST RENOVATION: MUIRFIELD VILLAGE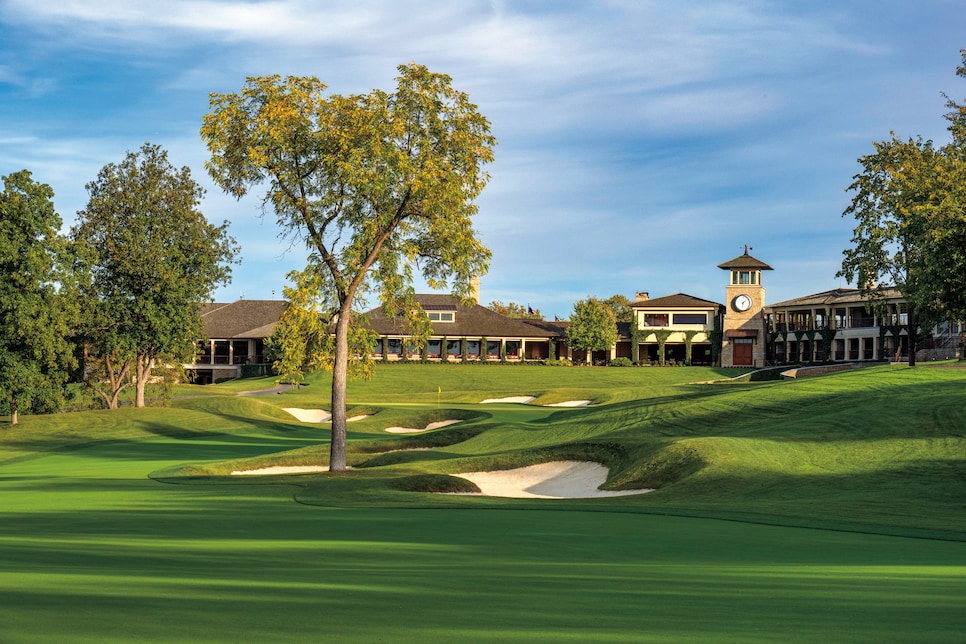 Courtesy of Jim Mandeville
The Jack Nicklaus and Desmond Muirhead design at Muirfield Village has always been viewed as a modern analog to Augusta National for its pristine conditioning, its founding by the generation's best player, the wooded holes that glide up and down elevations, momentum-swinging par 5s built around existing creeks that yield eagles and double bogeys, and the prestigious invitational tournaments each club hosts.
But the strongest resemblance might be how both are virtually impervious to the effects of course alterations, at least in terms of how they are judged. Like Augusta National, Muirfield Village has undergone a procession of tweaks and renovations through the decades that have resulted in almost no significant reward or punishment in the rankings. It debuted on the Golf Digest 100 Greatest Courses ranking in 1975, just two years after opening, climbed into the Second 10 by 1977 and was ranked between six and nine from 1985 through 1994. Since 1999, the course has fluctuated between No. 14 and No. 19 amid all types of nips and tucks. During the same time, Augusta has never landed outside the top three, despite some rather fundamental changes to the architecture.
After the 2020 Memorial, Muirfield Village closed to undergo one of the most comprehensive renovations in club history, overseen by Nicklaus and senior design associate Chris Cochran. The goal was to make the course more playable for the membership and intensify the challenge for tour players. In some ways this task has become simpler in recent years: As the separation between the professional game and the average player has grown drastic, courses can be designed within courses—one for bogey golfers and another for professionals who are hitting the ball to entirely different areas with different expectations.
At Muirfield Village, the tournament tees were extended more than 150 yards, and the forward sets were shortened by 250 yards and shifted for straighter lines of play. A number of green complexes were entirely relocated, and almost every surface was rebuilt and recontoured (the exceptions are 12, 13, 14 and 17), with edges softened in places to extend hole locations near hazards (for tournaments) and flared in others to hold or redirect balls (for those who need the help). Precision Air systems were installed. The newly mowed chipping swales around the greens are more playable for the high-handicapper but a nuisance for the overly aggressive who see missed shots bound away into depressions where getting up and down is less certain than chipping from short rough nearer the putting surface.
Muirfield Village edged out Oakland Hills' newly restored South Course for Best Renovation, denying Gil Hanse a double victory. For that matter, Hanse also restored the third-place renovation, Baltusrol's Lower Course (below), primarily reshaping bunkers, enlarging putting surfaces and lowering the associated tie-ins and other surrounds to give the greens the prominence they once possessed.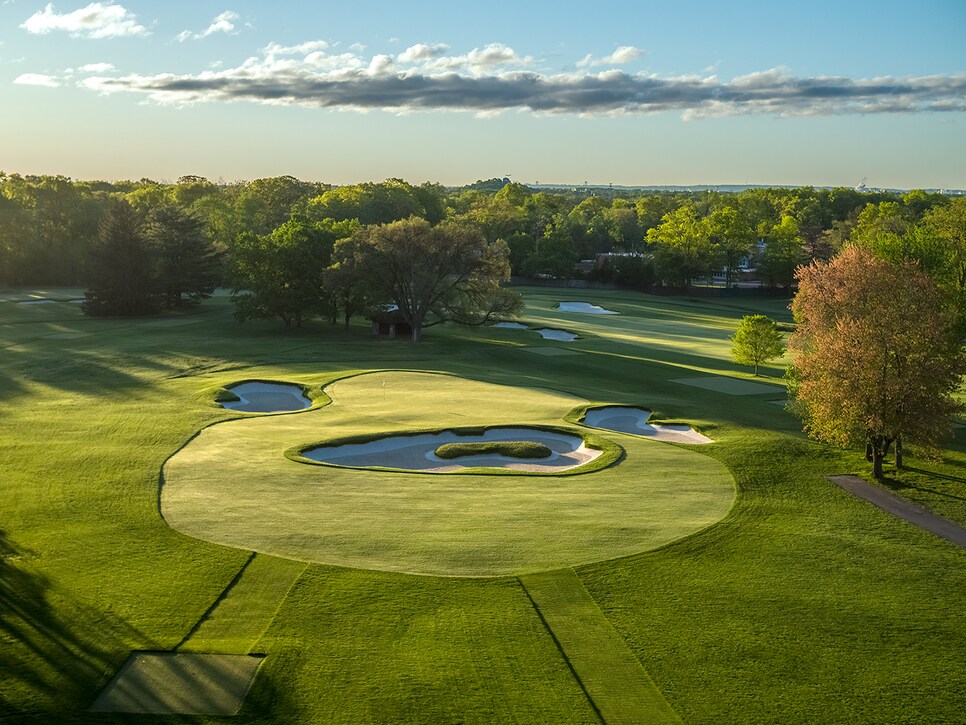 Both projects erased a generation of slow, methodical alteration—much implemented by Rees Jones in the lead-up to different major championships—by returning the courses to truer representations of what the founding architects envisioned. At Oakland Hills, Hanse initially intended to reincorporate elements of Donald Ross, who designed the South Course in 1918, and Robert Trent Jones, who narrowed and re-bunkered it for the 1951 U.S. Open, etching it in lore when Ben Hogan famously labeled it "the Monster" after he had won.
When a tournament guide for the 1929 women's amateur was found during the planning stages revealing photographs of all 18 greens, taken in most cases from about 80 to 100 yards out, the South Course program changed from a hybrid renovation to a purer restoration of Ross' design. The consistent and revealing ground-level photography provided a rare opportunity to accurately build back the outer edges and elevations of the greens and greenside bunkers. Ross had said that Oakland Hills was to be a "very open and roomy course," but over the decades the holes shrunk to ribbons, and bunkers had been added where green surfaces used to be. Accordingly, the architects expanded the putting surfaces out to their original sizes, adding significant square footage and countless lost-hole locations. They also cleared overplanted trees to reveal the course's full landscape and rebuilt the yawning, large-format, pre-Trent Jones bunkering that was atypical for Ross but verifiable in plans and photos. The work has reestablished the size and dimension of the architectural features Ross used to showcase the majesty of Oakland Hills, a property that he once wrote "could hardly be surpassed."
BEST RENOVATION RUNNERS-UP: (2) Oakland Hills, South Course; (3) Baltusrol Golf Club, Lower Course (N.J.); (4) Fox Chapel Golf Club (Pa.); (5) Old Memorial Golf Club (Fla.).