From the Magazine
Get down and dirty with Gil Hanse, who has fun making courses that are fun to play. *With Guy Yocom*
This morning, Bill Kittleman, one of our design partners and the head pro at Merion from 1963-'96, came out to the 15th green to discuss the finishing touches of our restoration work there. It's always fun being with Bill because his experiences at Merion made him a very wise man with a great eye. One time Bill was helping us on another project here in Philadelphia. The maintenance crew had left early and had taken their equipment with them. Bill, noticing an imperfection along the edge of a bunker, grabbed a stick on the ground and started chopping away at it. After a few minutes he stopped, took a long draw on his cigar and said, "Look at us. We're just a bunch of [bleeping] cave men hacking away out here." Ever since, we've referred to the fine-tuning we do with rakes and shovels—and sometimes our bare hands or soles of our shoes—as "cave-man construction." It's part nonsense, part truth. Some architects really do get down and dirty like that.
I WAS A BABY CAVE MAN. At age 11, my brothers and I built golf holes in the dirt in the back yard of our home in Babylon, Long Island. We didn't just build golf holes, but really intricate dams and levees, using a garden hose. Eventually I got a master's degree in landscape architecture at Cornell and got into course design while I was there. But it all started in my back yard.
EIGHTSOMES, PLAYING BAREFOOT AND LISTENING TO MUSIC. Grandparents playing alongside toddlers. Near-beginners jumping up and down when they hit a green in regulation for the first time. Experienced players playing with only one or two clubs, drinks in hand, laughing, with no pencil touching a scorecard. That's what happens at The Cradle, the nine-hole par-3 course at Pinehurst that opened last year. It might be the most successful of all our designs because we accomplished exactly what we set out to do—grow the game and make it fun. When the U.S. Open returns to Pinehurst No. 2 in 2024, The Cradle will be used as the practice range. But the hope is to shut down the range for a few hours and send the players out there with their children or kids from the community. Similar to the Par-3 Contest at the Masters. How cool would that be?
THE NEXT TIME YOU DESIGN A FEW HOLES IN YOUR HEAD, or imagine how a couple at your course might be redesigned, start with the notion that water flows downhill. Drainage is always first and foremost. Think of the water principle, and your design will get much better because you'll be doing it in the context of solving a problem. And it will provide clues as to why that crazy architect did what he did, and you might decide he wasn't so crazy after all.
GOLFERS LOVE PAR 3S, and architects know it, so we tend to hoard them for later in the front and back nines. We try to put them later, too, because they take the longest to play, and you don't want a backup on a par-3 second hole. I'd go so far as to say we'd never design a course with a par 3 early, except that the second I say it, a piece of land will dictate otherwise.
ONE OF OUR RULES IS TO USE EVERY EXISTING PIECE OF NATURAL LANDSCAPE possible before you start moving dirt around. It's so easy to shape things with the heavy equipment. But get bulldozer-happy, and the site you loved for its natural beauty can quickly turn into bad cosmetic surgery.
I'M A 13-HANDICAPPER WHO RARELY PLAYS TO IT. At my best, I was a 7, but I've been a victim of the greatest irony in golf: People in the golf business play very little golf. If you work very hard and also make sufficient time for your family, the quality of your golf is going to take a hit.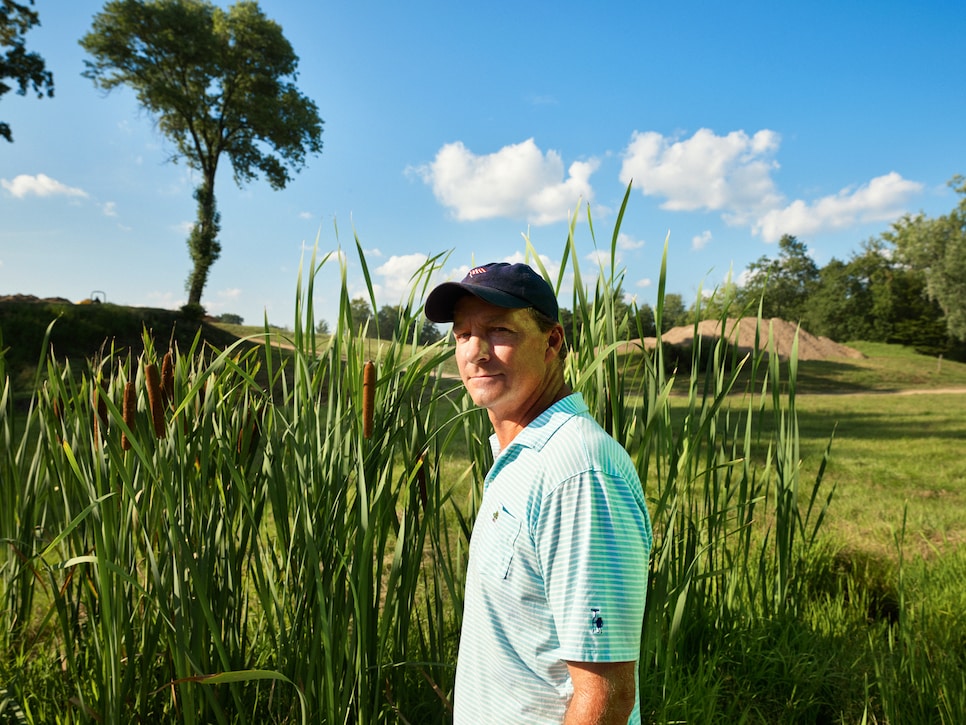 I ALWAYS SAW MY GRANDFATHER, who introduced me to golf, as the nicest person in the whole world. He was the mayor of the little village where I grew up as a teenager, and people everywhere treated him with great affection. I wondered if my impressions were biased. But at a dinner a few years ago, Jimmy Dunne, the president of Seminole and one of the most beloved people in golf, approached me and said, "Gil, when I caddied at Southward Ho as a kid, I drew your grandfather's bag a lot. I just wanted you to know, he was a terrible golfer, and also the nicest man I ever caddied for." That almost made me cry.
SOME YEARS AGO I ATTENDED A GREENS-COMMITTEE MEETING at a Tillinghast-designed course not far from New York City. The people in our firm are usually the smartest people in the room, architecture-wise, and we easily skate through their questions and concerns. But this time a voice piped up. A committee member, Dirk Ziff, wanted to discuss the pacing and flow of the course as Tillinghast saw it as opposed to the course's original architect, Devereux Emmet. This man was profoundly knowledgeable, the design equivalent of the kid in "Good Will Hunting." You occasionally run into individuals like that, ordinary golfers with a genius-level conceptual understanding of course architecture. The practical side is always another matter—Pete Dye has wisely pointed out that to design a course you first need to know how to build one—but the raw talent is out there, waiting to be discovered.
IN THE BEGINNING, MOST COURSES IN THE U.S. WERE DESIGNED to be very expansive because there was no irrigation to speak of. Certainly that's the case with Oakmont, Winged Foot and Oak Hill, among others. Trees weren't even in the minds of the architects. With the advent of single-row irrigation systems, the fairways got narrower because they couldn't water the entire property. So now they had green fairways that looked out of scale against the brown areas. Greens committees quite understandably added trees to fill in those areas. Trees became the standard. But over time, a lot of downsides emerged. Because trees grow, they eventually limit strategy and shut off opportunities for recovery shots. And they're terrible for grass, period. Tree-removal programs began in earnest. I love trees as much as the next person, but I've learned to take a clinical, unromantic approach to taking them out. Our restoration work at Aronimink, Sleepy Hollow and Winged Foot included significant tree removal. Members think they'll miss them, but I've never heard a single complaint once they're gone.
ARCHITECTS CAN IMPOSE THEIR WILL ON LANDFORMS. They can construct ponds, fill in swamps, create islands and build bunkers. But they can't dominate the weather. Courses built on flood plains are going to get flooded. A sand dune built near a wash, sooner or later is going to wind up in a dump truck. If you take on Mother Nature, you're eventually going to lose that fight.
IF I WERE TO PLAY THE COURSES OF TWO DESIGNERS THE REST OF MY LIFE, they probably would be those of Alister MacKenzie and C.B. Macdonald. MacKenzie—he did Pebble Beach, Cypress Point and Augusta National, among others—utilized the natural beauty of a setting and fit his flowing designs into the existing landscape. Macdonald—think The Course at Yale and Chicago Golf Club—was known for sharp, angular features of his creation. But these dramatically different architects shared an insistence that their works fit harmoniously into the land. Macdonald's designs, artificial though they are, never make you feel uncomfortable or give the feeling of being out of place. Is one architect's approach better than the other? Not at all. Our style is more after MacKenzie in that we try to make our courses imperceptible from nature.
But I still can sit back and appreciate Macdonald. It's like art: I prefer Claude Monet over Lucian Freud, but I still can gaze for a long time at Freud.
C.B. MACDONALD AND SETH RAYNOR SOMETIMES BUILT GREENS THAT LITERALLY WERE SQUARE OR RECTANGULAR. Such linear features are less common today because the architect risks being accused of having no imagination at all. But Macdonald and Raynor's linear creations work because the colors around them aren't monochromatic. At courses like Yale, you'll find grasses that over time snuck their way into the green complexes. They vary in color and texture. If everything around the greens were a dense, stock green, they wouldn't hint as to their age and wouldn't feel so harmonious.
ONE HOLE OF OURS STANDS APART AS MY CLEAR-CUT FAVORITE: The par-4 16th hole at the Olympic Course in Rio is only 303 yards, but the way it played made it the hole of my dreams. During the Olympics we saw eagles and birdies, and a three-putt par from Matt Kuchar. Watching players stand with a hand on their clubs, unsure what to do when they arrived on the tee there, was really rewarding. Some guys went for it, and Henrik Stenson and Justin Rose laid up. It was the product of three brains—mine, Jim Wagner's and Geoff Shackelford's. It's not just the design that makes me love it, it's the collaborative nature.
RIO WAS THE ADVENTURE OF MY LIFE. There were some harrowing moments. One night I woke up to find a huge centipede on my face. When I panicked and grabbed it, it secreted a blue chemical across my cheek that took three days to wash off. Before our walk-throughs of the site, which was thick with vegetation, we were assured it was safe—"No hay problema," they said—but we encountered coral snakes, boa constrictors and enormous pythons. Aggressive caimans were constantly slithering through the water toward the workers, who would scream and clutch the pipes. We had to keep lookouts. It's just a different world down there. To fuel the heavy equipment, diesel fuel was hauled to us in 50-gallon drums. One poor guy was charged with transferring the fuel, and he did it by siphoning it with his mouth using an ordinary hose. Each time he got a mouth full of diesel fuel. In America it would break every EPA and OSHA regulation in the books. Down there, it was no big deal.
DURING THE RIO INTERVIEW, AS AMY ALCOTT, environmentalist Owen Larkin and I were making our case for why we deserved the project, I noticed rather glumly that the name card on the table stated my name as "Gil Hansen." I'm quite sure no one on the panel noticed the mistake. When the interview was over, I tucked the card into my briefcase and took it home, where it resides in my office. My wife and kids had it framed and point to it when they feel I'm in jeopardy of my head getting too big.
ALISTER MACKENZIE ONCE SAID, "IF YOU WANT TO BUILD SOMETHING NATURAL, ASK THE VILLAGE IDIOT TO BUILD IT FLAT." What he meant was, a really clumsy person will unintentionally make something slightly askew. It's that "something"—the invisible slope or angle—that makes a design feature devilish and compelling. The trick for me is to be like the village idiot on purpose rather than by accident.
PETE DYE IS THE BEST OF THE MODERN ARCHITECTS. Given that a lot of his work was done in the 1980s and doesn't hold up visually—it was a time of visual excess, and PGA West to my eye is just awful—I love the way his courses actually play. The fact I can dislike the visual aspect while liking a design such as TPC Sawgrass, says a lot for the strategic aspects.
IT'S WIDELY KNOWN THAT A.W. TILLINGHAST, who designed Winged Foot, Baltusrol, San Francisco Golf Club and many others, had a serious drinking problem. Visiting his courses, you're able to guess, by the severity of the undulations and downright difficulty, if they were built during a drinking spell or a dry one. The drunk-to-sober ratio is about 80-20, drunk. This isn't to say the drinking courses are bad. Fenway Golf Club in Scarsdale, N.Y., is one of my favorite courses, and it clearly was done during an off-the-wagon period. The intense green slopes, deep bunkers and eccentric features are amazing to behold. Winged Foot West is so straightforward for him, he might have been just sipping.
'I love trees as much as the next person... Members think they'll miss them, but I've never heard a single complaint once they're gone.'
THOSE OLD ARCHITECTS LED SOME TUMULTUOUS LIVES. Donald Ross, who designed Inverness, Pinehurst No. 2, Oakland Hills and many other masterpieces, is purported to have been involved with several mistresses in the Rochester, N.Y., area. Maybe it's just coincidence that he designed more than half a dozen courses in the immediate area, including Irondequoit, Monroe, Oak Hill and the Country Club of Rochester. But we architect junkies have always wondered.
RUNNING THROUGH THE CRAIGHEAD LINKS COURSE WE DID IN SCOTLAND IS AN ANCIENT STONE WALL KNOWN AS DANES DIKE. Hundreds of years ago, when the Vikings were making their forays into Scotland, they would do their pillaging and then fall back behind the dike as they fought their way out. During the course construction, we had a team of archaeologists working full-time with us. Every time we sank a blade into the ground, they'd sift through the soil looking for artifacts. We were hoping they'd find cool stuff like helmets, spears and shields. Unfortunately, all they found were the remnants of roasted walnuts the Vikings had eaten. It's strange what turns up during golf course excavations. At Sleepy Hollow in New York, we unearthed an old horseshoe, interesting because it brought to mind the story of the Headless Horseman. It's neat seeing history give up its secrets.
THE COOLEST THING WE UNCOVERED WAS AT LOS ANGELES COUNTRY CLUB. During the restoration of the North course, one of the excavators had an inkling where the old No. 2 and No. 6 greens had been located. As he scraped at the dirt gently, the soil suddenly broke away. There, black as tar underneath, was one of the old greens, a hundred years old but preserved to the extent we could still discern where old cups had been cut. It was kind of a reverential experience.
WE'RE UNDERTAKING A RESTORATION OF THE SOUTH COURSE AT OAKLAND HILLS. Donald Ross did the original, of course, and it was Robert Trent Jones who did the renovation that created "The Monster" Ben Hogan conquered in winning the 1951 U.S. Open. Rees Jones later revised his father's work. The plan is to restore kind of a hybrid of the Ross and Jones designs, the best elements of each. The course will be closed for nearly two years beginning in 2019, but when we're finished, without a doubt it will be a Monster again, albeit one a little different than the one Hogan brought to its knees.
A BENEFIT OF BEING SOMEWHAT IN DEMAND IS HAVING THE ABILITY TO DECLINE OFFERS. When an opportunity to do an original design comes to my partner, Jim Wagner, and me, we ask ourselves two questions. One, will we be able to do something exceptional? We investigate whether the budget is sufficient, the land outstanding, and the potential overall. The other is—and I admit it's a first-world problem—will we have fun doing it? Jim and I are going to spend well over 50 days on-site, so multiple plane flights followed by a six-hour drive to get there doesn't sound like fun to us or to my wife, Tracey, who travels with me a lot. We also want the owner to be easy to work with. So if the answer to both of those question is "yes," then there's a good chance we'll take the job.
YOU KNOW HOW ALFRED HITCHCOCK ALWAYS MADE A CAMEO APPEARANCE IN HIS MOVIES? On every one of my courses, you'll find a sequence of three of something. It can be things like trees, hollows or bunkers, but they're always there as a tribute to our three children, Chelsea, Tyler and Caley. The sequences are hard to spot, kind of a "Where's Waldo?" for our times, and I won't reveal publicly what they are. If you visit the Olympic Course in Rio, Castle Stuart in Scotland or Streamsong Black in Florida, I challenge you to find them.
AFTER WE RENOVATED THE BLUE MONSTER AT DORAL IN 2014, we ended up going back two years later and scooting a bunch of fairway bunkers 25 yards farther out so the bombers couldn't fly them. Is building courses with concern for what distances might be five years from now a concern? Not really. For the average golfer, the traditional lengths that have been in place for decades are holding up just fine. Your regular Joe is not the one blasting drives over fairway bunkers and turning par 5s into short par 4s. We try to provide some elasticity, enough for new sets of back tees if they become necessary. You want to keep a bullet in the chamber that way.
SHORTER ACTUALLY IS THE ANSWER, NOT LONGER. I don't think the everyday male golfer appreciates how brutal a 5,500-yard golf course is for women, children and even some men. What we propose—and what you'll see more of in our future designs—is a forward set of tees that play less than 5,000 yards. The 5,500 set will remain for more skilled women and also seniors, who can play that yardage without having to say they play the forward tees. And then you'll have the more traditional white/blue/black sets for the avid club players. By the way, none of these tees will have gender- or age-related names. This approach isn't a lark, it's really a necessity to keep this game alive.
I'VE SEEN PEOPLE SCREW UP THEIR FACES AND ASK, "WHY WOULD YOU EVER WANT TO WORK FOR DONALD TRUMP?" My answer is always, "At the time, why wouldn't I?" My experiences with him all began before his run for president, and they were all positive. What I saw was a man focused on golf who had the financial wherewithal to make it happen. You can't ask for more than that. We renovated three courses for him at Trump Doral Resort and designed the Trump International Golf Club Dubai from scratch. It was never complicated. At Doral, it's always been about blue water, green grass and white sand, and he loves the clean, polished presentation. I don't think he's a fan of the rough-hewn, natural look. He's very hands-on with the big picture, and tromped around the Blue Monster with us a lot. It was his idea to build the big amphitheaters around the ninth and 18th greens. He also played an important role in the landscaping choices.
I PREFER TO GO WITH MY EYE WHEN I CAN, BUT IT'S AMAZING HOW SCIENCE AND EVEN MATH IS PLAYING A BIGGER ROLE. A good example is green speeds and the regrettable desire to have them fast. Say you have to design a set of greens knowing the typical Stimpmeter reading will be 12. To prevent a six-foot putt from breaking more than two feet at that speed, you can't have a slope exceeding 1.6 degrees. So you design the green with a bunch of sections that laser out within those parameters. One downside to the desire for fast greens is that the architect builds with an eye for playable hole locations instead of interesting green complexes. The cart pulls the horse. If greens were slower—which I don't see happening—you'd see lot more humps, ledges and fun whoop-de-doos. But quick greens don't allow it.
I DON'T THINK THE MOVEMENT TOWARD SLOWER GREENS IS GOING TO TAKE HOLD IN A MEANINGFUL WAY. If you have a car that can go 160 miles per hour, are you going to install a governor at 65 mph? No. Are faster speeds associated with better conditioning, and is it the standard we see on TV every week? Yes and yes. It's human nature to emulate what's perceived as good. Truth be told, nobody ever left a member-guest crowing about how wonderfully slow the greens were.
THE DAYS OF A YOUNG PERSON COMING OUT OF COLLEGE with a landscape-architecture degree and finding work in a top designer's office are long gone. There just aren't enough courses being built. To design a course with your name on it, you're going to have to work for years on the construction side, building up calluses, being super passionate and doing everything you're asked to do. Show one shred of entitlement, and you're going to be weeded out in a hurry. It's a very tough field to succeed in.
WE'RE A BUSINESS, BUT I DON'T FEEL WE'RE IN COMPETITION WITH OTHER ARCHITECTS. We're very careful not to fall into the trap of matching or exceeding someone else's features, because it will pull you away from your strengths and identity. Take Streamsong Resort in Florida. Coore and Crenshaw did one course, Tom Doak did a second, and we did the third. If you're the Mosaic Company, which owns Streamsong, you ideally want each course to appeal to exactly one-third of the golfers who visit, so there's an equal desire to play all three. You want foursomes debating deep into the night which one of the three distinct designs they liked best. You don't want a weak sister in there, nor do you want for one course to offer amenities or an experience that shouts down the other two.
IT WAS BEN CRENSHAW WHO TOLD ME BACK IN 1988, "THE SECRET IS TO STAY SMALL." He said he and Bill Coore wanted to do only two projects a year at most, but to do that they had to agree to do five, because some offers always fell by the wayside. The problem, he said, is when all five come through. The farther along they went and the more well-known they became, the better the chance all five would indeed come along. Ben's appraisal really influenced Jim and I in terms of volume. Right now we're right in the sweet spot, doing at most three courses a year. Fingers crossed it stays that way.
I APPLAUD OLD COURSES THAT REFUSE TO ADD LENGTH IN AN EFFORT TO NOT BECOME "OBSOLETE." Adding length separates the proximity of greens to tees, and it changes angles and shot values, often irreparably. A prime example is St. George's Golf and Country Club, a 1917 Devereux Emmet de-sign on Long Island. It is one of the great unheralded courses in America. Everyone who visits there gasps, it's so good. It measures just over 6,400 yards from the blue tees. The people there feel its first iteration is its best iteration.
MARK PARSINEN, OUR CO-DESIGNER AT CASTLE STUART, says, "The defining characteristic of a great course is the perspective of the golfer facing his third shot on a par 4." That's profound, because architects traditionally have focused on the drive, approach and then the green complexes. But Mark's point is that very few golfers hit many greens in regulation. If we can make the recovery scenarios around the greens more interesting—little golf courses in themselves—it turns the whole golf course up a notch.
MARK ALSO SAID THAT WHEN YOU FIND YOURSELF NO LONGER CLIMBING ON TOP OF THE BULLDOZER ACTUALLY DOING PHYSICAL WORK, YOUU'VE "LOST THE CODE." It means you're too busy to attend to details that desperately need attention. We really dread that happening. When it gets close, I think of what Ben told me back in 1988, and we fight hard to get our act together. Nothing has gone sideways for us—yet.
I FEAR GOLF SIMULATORS ARE GOING TO BECOME MUCH MORE ADVANCED. Technology 30 years from now will provide golf experiences more lifelike than we can imagine. Sights, sounds and climate will be duplicated, rain and temperature included. On every shot, the quality of your lie will be adjusted, the slopes just like the real thing. Wind will be provided. You might be able to walk to your ball. Smells, conversation, bad bounces, they'll have it all. I sincerely believe all of this is inevitable. And I hope I'm dead by the time it happens.