News
Report: Phil Mickelson, Bryson DeChambeau and Sergio Garcia interviewed by Justice Department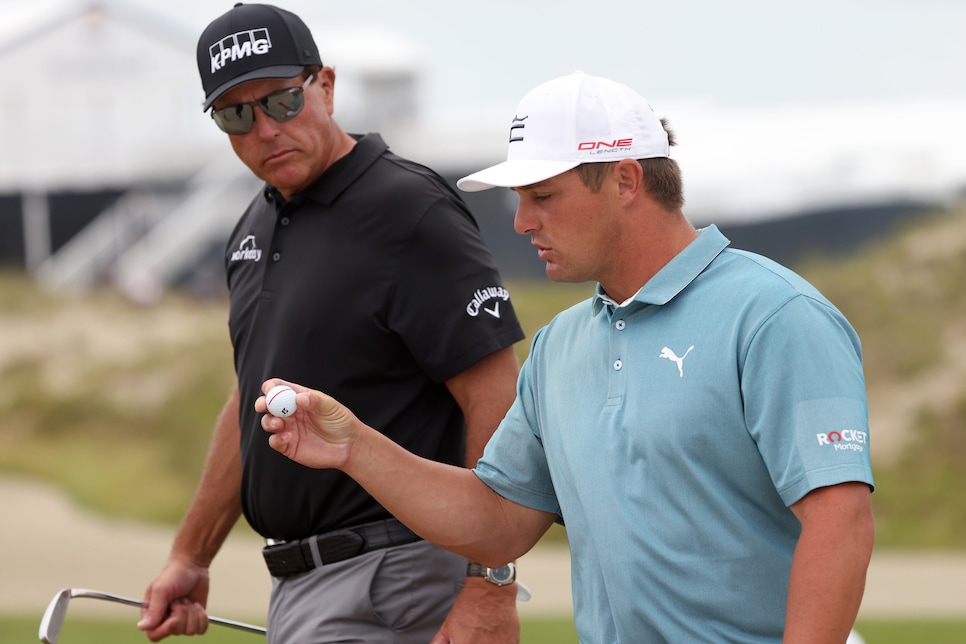 ROCHESTER, N.Y. — Phil Mickelson, Bryson DeChambeau and Sergio Garcia have been interviewed by the United States Department of Justice, along with lawyers from the PGA Tour, according to a report from the New York Times.
The tour remains involved in a probe by the Justice Department that was spurred by the advent of LIV Golf, as the Saudi-backed circuit has accused the tour of anti-competitive behavior and joined an antitrust lawsuit first filed by LIV golfers Mickelson and DeChambeau in U.S. District Court last August. In July, players' agents received inquiries from the DOJ's antitrust division regarding laws about participating in non-tour events and the tour's actions related to LIV.
The tour has countersued LIV, asserting that the case is not about unfair competition—"if anyone is competing unfairly, it is LIV, not the tour"—and contends the LIV-backed lawsuit is a "cynical effort to avoid competition and to freeride off of the tour's investment in the development of professional golf."
The probe has also spread to include other golf entities, including Augusta National Golf Club, the USGA and PGA of America, which is hosting this week's PGA Championship that includes Mickelson and DeChambeau in its field.
Mickelson, DeChambeau and Garcia have all been suspended from the PGA Tour following their defections to the new league, with court filings revealing Mickelson had been previously suspended for attempting to recruit players to LIV.
This is not the first time the tour has faced antitrust claims. In the early 1990s, the Federal Trade Commission concluded a four-year investigation into whether the tour violated antitrust laws—partially due to a rule stipulating permission for a conflicting-event release, which the tour has invoked this year to suspend those who have defected to LIV Golf. At the time, the FTC recommended federal action, but none was ultimately taken, a circumstance credited to the work of then-PGA Tour Commissioner Tim Finchem (a lawyer himself who worked in President Jimmy Carter's administration) and the tour's lobbying mastery. Coincidentally, this clashed with LIV Golf CEO Greg Norman's first try to challenge the PGA Tour through his attempt to launch the World Tour.
LIV Golf recently lost a crucial legal battle last month against the DP World Tour, as a U.K. arbitration panel upheld the DP World Tour's right to suspend and fine its members for joining LIV. Though the lawsuit and countersuit between the PGA Tour and LIV remains in its infant stages, the tour has come out on top in most of the early rulings, such as denying a temporary restraining order request from LIV players attempting to play in the tour's postseason last August and the court allowing Saudi Arabia's Public Investment Fund and its governor to be added to the suit.