BRYSON LEAVES LAWSUIT
Report: Bryson DeChambeau, Matt Jones the last of 11 LIV golfers to leave lawsuit against PGA Tour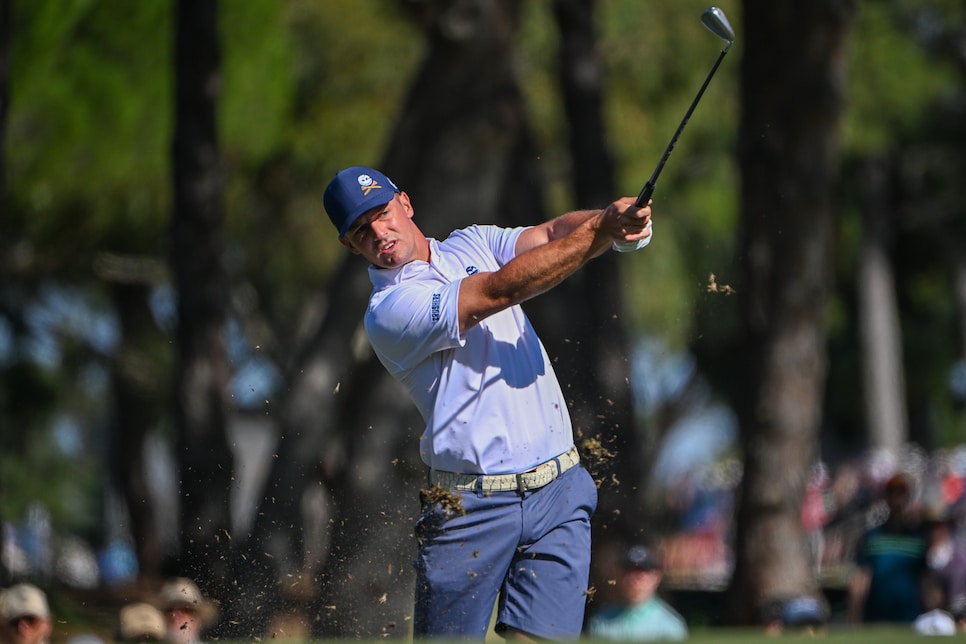 Nine months after 11 members of the LIV Golf circuit filed an initial lawsuit against the PGA Tour in U.S. District Court in San Jose, Calif., the last of those plaintiffs appear to have removed themselves from the case.
Golfweek reported Thursday that Bryson DeChambeau and Matt Jones are both dropping their names from the original 105-page complaint, where players were challenging their respective suspensions by the PGA Tour for leaving to play in the Saudi-backed LIV circuit.
Last August, DeChambeau and Jones, along with Phil Mickelson, Talor Gooch, Hudson Swafford, Abraham Ancer, Carlos Ortiz, Ian Poulter, Pat Perez, Jason Kokrak and Peter Uihlein filed a lawsuit against the tour. Later that month, LIV Golf joined the suit, the Saudi-backed circuit's lawyers claiming it had to start its league in the face of reduced access to players with super-competitive costs. Court documents spell out that LIV Golf wants "punitive damages for the PGA Tour's bad faith and egregious interference with LIV Golf's contractual and perspective business relationships."
The PGA Tour subsequently filed a countersuit against LIV Golf last September, arguing the LIV-backed lawsuit was merely a "cynical effort to avoid competition and to freeride off of the tour's investment in the development of professional golf," ratcheting up the battle between the two sides that has been drawn out in numerous legal maneuvers with a trial not expected to begin any earlier than 2024.
LIV Golf's participation in the suit is what many of the players have cited as the reason for withdrawing their names from the case over the last several months. Just last week, Uihlein withdrew his name last week, leaving just DeChambeau and Jones as the remaining holdouts.
"Bryson has made the decision to remove himself from the ongoing litigation between LIV Golf and the PGA Tour," DeChambeau's agent Brett Falkoff told Golfweek. "Bryson wants to solely focus on competing at the highest level week in and week out. He will continue to support the growth of golf and its expansion on a global scale, contributing both on and off the course as a positive influence on the game."
Golfweek also got ahold of DeChambeau this week at LIV Golf's event at Cedar Ridge Country Club outside Tulsa.
"I have a responsibility to grow the Crushers, grow my team, and I really need to focus on golf for the most part," he told the publication. "It has been a bit of a focus of mine, but it has gotten to a point where it's going to happen, no matter what. They'll resolve it, it'll be figured out one way or the other, and it's not my fight. That's my thought on it."
Jones told Golfweek that there wasn't a specific reason why he removed his name.