PGA Championship 2023
PGA Championship 2023: PGA CEO Seth Waugh says 'good things' have resulted from LIV Golf's disruption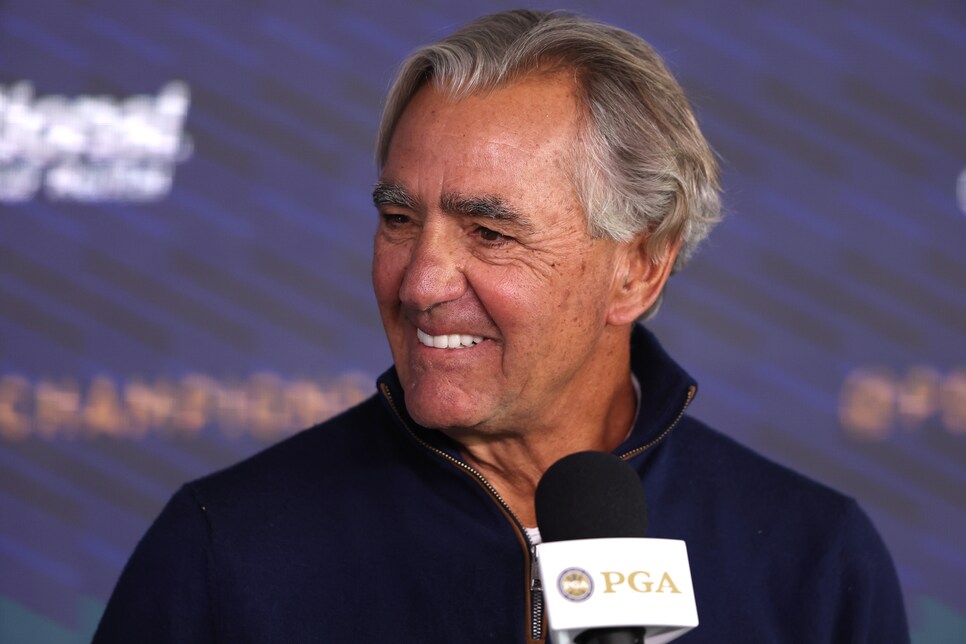 PGA CEO Seth Waugh speaks at his news conference ahead of the 2023 PGA Championship.
Warren Little
ROCHESTER — Apparently, it takes a lot more than a little upheaval in the game of golf to raise Seth Waugh's blood pressure.
"I've lived through 9/11 and a financial crisis or two," the PGA of America CEO said on Tuesday at Oak Hill Country Club. "I think we can handle it."
Waugh fielded a few pointed questions during a press conference ahead of the 104th PGA Championship and largely stuck to the script, reiterating his opinion from a few days earlier on the financial viability of LIV Golf. He also offered an update, of sorts, on LIV Golf's application for inclusion to Official World Golf Ranking. Waugh is on the OWGR board of directors.
Two days ago, Waugh was quoted by The Times of London casting doubt on the business model of the upstart LIV Golf League, which is in its second year and is backed by the Saudi Public Investment Fund, which has a portfolio estimated at over $600 billion. LIV Golf launched last June, making this year's PGA Championship the last of the four majors to include LIV members.
"Their logic about the team play being something significant that people can get behind I think is flawed," Waugh told The Times. "I don't think people really care about it. And I don't see how it's a survivable business model. They can fund it for as long as they want to, but no matter how much money you have, at some point, burning it doesn't feel very good. I don't see they are accomplishing much. It seems logical to me, then, that you would work towards some sort of agreement. I hope the game comes back together in some form."
At Oak Hill, Waugh contended that division isn't in the best interest of the game, though the "disruption" caused by LIV Golf's formation might have its benefits.
"When asked what do I think as a former businessman who looks at things, I think disruption is a good thing. I think good things have happened from that," said Waugh, who for years was a top executive for Deutsche Bank. "Certainly, the players are better off in a lot of ways from what it was. I think having more the fans deal with … get to see more of the great players together more often is a good thing. I think there's more interest in the game, frankly, as a result of all this disruption.
"I struggle, and I have since the beginning, even before the beginning, with understanding how it's a sustainable business model. When asked, I tend to try to say what I believe. That's not being a neutral body. I think being a neutral body is always acting in the best interest of the game, and that's what we'll always do and that's what I'll always do."
As to the business of LIV Golf's application to the OWGR, Waugh, who is one of seven members of the board, said that LIV's bid for inclusion is being handled the same as any other tour, and that it's a mischaracterization to say the OWGR is taking extra time with the process.
"What I've said and what I'll say now is there has been healthy back and forth. It has not been acrimonious," he said. "There's been collegial back and forth of them making an application as other tours have done. We've responded, they've responded. The ball, from my understanding, is in their court from our last response at this point. But it's a natural process. There is no magic to 12 months. … All of these, I think, certainly since I've been around, have taken more time than I think was assumed early on. That's where it is.
"If you take a step back, the whole point is to create a level playing field, a yardstick by which to measure the game. Our job is to measure tours. Not players, but tours, and how they perform on those tours to come up with that yardstick. That's what we're all attempting to try to do. We've been, I think, very responsive to them in terms of their requests, and they've been responsive to us. It isn't some battle."
Waugh hoped that the makeup of the field, with 17 LIV golfers among the 156 contestants, was an example of the PGA of America's collegial attitude. Any battle should be reserved for the East Course at Oak Hill.
"If you look at the whole [Times] article … I am proud of the Masters because they returned civility to the game. That's how they dealt with it. That's how we want to deal with it," he said. "What we're about this week is having it be the greatest field in golf. We said that's what we wanted to do, and that's what we've done. Everybody who's here this week is our invited guest, and we're happy to have them and we're going to treat them all the same."