U.S. Amateur
Michael Thorbjornsen, a pre-championship favorite, stunned in Round of 64 at U.S. Amateur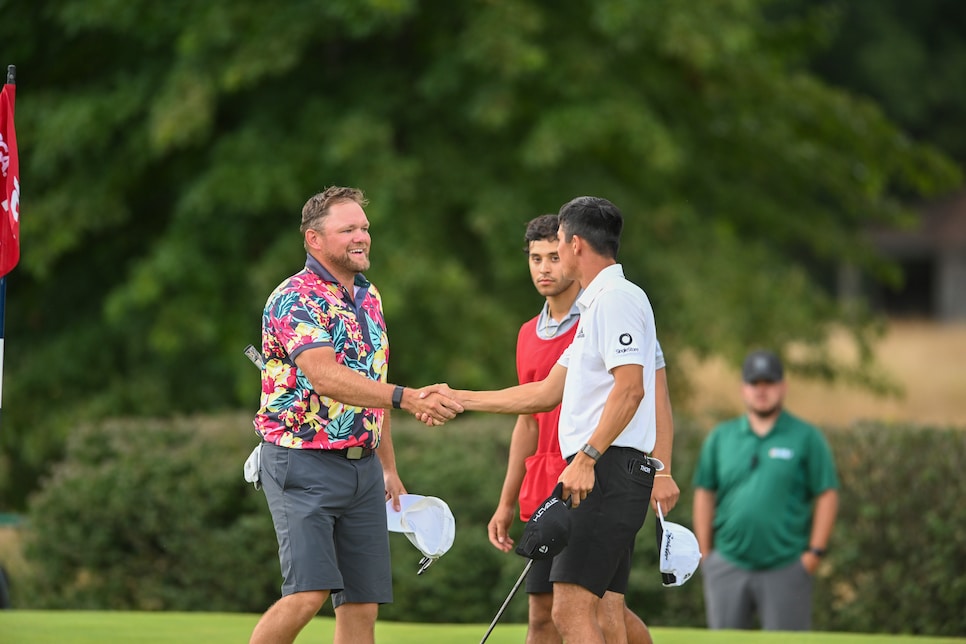 PARAMUS, N.J. — If not for an untimely double bogey at the end of his second stroke-play round, Michael Thorbjornsen would have easily earned solo medalist honors at the U.S. Amateur. The rising Stanford star was still one of the four co-medalists, a confirmation of what we already knew heading into this week—that he was on a short list of favorites to raise the Havemeyer Trophy.
But match play is a funny format, one that sometimes produces head-scratching "upsets" like the one Thorbjornsen suffered on Wednesday at Ridgewood. Playing against No. 63-seeded Andrew Von Lossow, Thorbjornsen failed to reach the 17th hole, falling 3 and 2 to the 34-year-old from Spokane, Wash.
Thorbjornsen failed to grab control early in the match, Von Lossow matching his par-birdie start and then winning the third and fourth holes with a birdie and a par to take a 2-up lead. Thorbjornsen bounced back with wins on two of the next four holes, squaring the match after eight holes. Pars on nine kept it tied at the turn.
But Von Lossow got on a roll, taking the 10th with a par and then making consecutive birdies at the 11th and 12th for a commanding 3-up lead. Thorbjornsen couldn't recover, tying the next four holes with pars and allowing Von Lossow to close it out on the 16th.
"That was awesome playing Michael," Von Lossow said. "First time meeting him, had heard about him, and I know he's a great player. Then seeing how he hits the ball and everything, it was awesome."
Von Lossow, a graphic designer for his full-time job, created a bit of a buzz with the colorful shirt he was rocking Wednesday morning during the 15-for-11 playoff to reach the match-play bracket. After making par and advancing, he created far more buzz with his stunning upset of the sixth-ranked amateur in the world, a player who had finished fourth at the PGA Tour's Travelers Championship in June.
"Just apply pressure," Von Lossow said of his strategy. "I didn't hit every fairway but I could muscle a few out of the rough. Then my caddie, my buddy Brian, he caddies here, Brian Roth, and he got me in the right spots around the greens. Just around here you have to be below the hole or just know if you have more room left or right of the holes. Had a few good numbers on the back nine where I could kind of hit some flighted shots and some full shots."
Thorbjornsen wasn't the only highly touted player to fall on Wedneday in the first round of match play. Texas senior Travis Vick, a semifinalist a year ago at the U.S. Amateur, lost 3 and 1 to Conner McKinney of Australia. And Thorbjornsen's fellow co-medalist Luke Gutschewski lost in 20 holes to No. 64 seed Peyton Snoeberger of Williamsport, Ind. Additionslly Gordon Sargent, the reigning NCAA individual winner from Vanderbilt, lost to Ford Clegg in 21 holes.
This only marks Von Lossow's second start in a USGA event, the first coming in the U.S. Amateur Four-Ball in May, where he and partner Sean Langham advanced to the match play. They lost their first match, but between that and this shocker over Thorbjornsen, it's been a solid summer for Von Lossow.
"These are majors for me," he said. "The course condition, the setup, how events run, it's just world class. And then you've got the world-class competition, as well. It gets the juices going."
His Wednesday fit got the juices going, too. Lucky for us, when Von Lossow tees it up at 9:20 a.m. ET against Ben Carr on Thursday, we can expect another style statement, and maybe another statement victory.
"This is my loudest shirt," he said. "I don't know, maybe I'll go red shorts or something. I don't know if it's turning into a signature. I might go a little brighter. My all-time favorite outfit is the milkman. It's all white. But I don't know if that's going to come out."