U.S. Amateur
'Three disappointing holes': Local favorite Mark Costanza misses out on U.S. Amateur match play in gutting fashion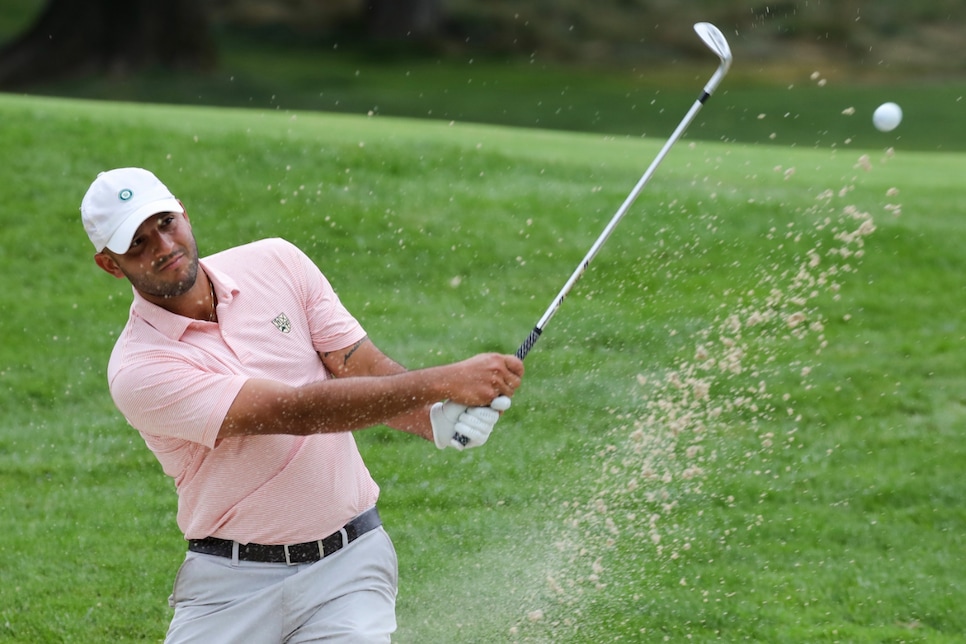 Photo courtesy of the MGA
PARAMUS, N.J. — Just by being in the 2022 U.S. Amateur field, New Jersey native Mark Costanza had already had a successful week. All it takes is a couple of good rounds, though, for expectations to change quickly.
For Costanza, who was born in Ridgewood, N.J., all it took was one putt. Late in Tuesday's second round of stroke-play qualifying, Costanza knew he needed a birdie to have a chance at advancing to match play. On the ninth hole (his 18th) at Arcola Country Club, a course he grew up playing, that birdie dropped from 25 feet, yielding a roar from the home crowd on hand.
The birdie secured a two-over 72 to pair with his first-round three-over 74 at Ridgewood Country Club, putting him at five over and right on the cut line. By day's end, he had gotten into a 15-for-11 spots playoff, which was set to begin Wednesday at 7:30 a.m.
"I had a lot of support the last couple days with friends and family coming out," said Costanza, 33, who was exempt into the event via his runner-up finish at the 2021 U.S. Mid-Amateur. "It was great to see, I definitely felt it when I made that putt to get into the playoff. It was exciting, having the crowd on my side."
Like any of us would in that same situation, Costanza allowed himself to dream. Imagine getting into match play at the U.S Amateur, just a few minutes from where he was born at Valley Hospital? Imagine the home crowd if he made it all the way to the weekend? Imagine raising the trophy at a course he's played more times than he can count?
Before he could think too far ahead, Costanza was on the par-3 15th tee at Ridgewood on Wednesday morning, facing an in-between shot from 148 yards to a treacherous green surrounded by bunkers. He was between 9-iron and 8-iron, and he chose the 9 and came up short, his tee shot finding the front bunker, where he had a feeling disaster awaited.
"It was buried pretty good," he said. "There wasn't much of the ball you could see. I hit the shot and I was walking up and I said to my caddie there's a good chance that's plugged, and, of course … I wouldn't even call it a fried egg, it was just buried. I actually did pretty well just to get it out, it was a rough lie."
Costanza did do well to get it out, but he could not get it to stop. His ball trickled just over the back edge, and his shoulders sank. After escaping with a bogey, he needed a miracle. Eight players were already in with par or better and just four remained. Costanza watched as three of them hit the green and one came up short in the same bunker he found. He needed two bogeys from the group to extend the playoff, but he only got one. In a matter of 15 hours, he went from the highest high to the lowest low possible.
Adding to the pain was the fact Costanza made a triple-bogey 8 at the par-5 17th on Monday at Ridgewood, then a double-bogey 5 on the par-3 second at Arcola on Tuesday. Had he played either of those holes in one less stroke, he'd have safely advanced to the match play without even needing the playoff.
"The whole week was kind of a roller coaster, just in terms of my play," Costanza said. "For 98 percent of this tournament, I really hit the ball well and played great. I made a triple on Monday, I made a double yesterday. Besides those two holes, and the playoff hole, I really played really well and I was proud of the way that I hit it. The first day I was cruising along and playing great, and then boom you make an 8, you go down on the roller coaster, and then the next day I'm kind of just plugging along, and then I make a double and i'm thinking i'm out of it. Then I'm looking at the scores and I'm saying, OK, I've got to make a couple birdies coming in, and I waited til the last [on Tuesday], made a great putt there. Elated to give myself a chance, that's all I could have hoped for at that time. Kind of a bummer that that 9-iron is going to be haunting me for a few days, there's no doubt."
Costanza added that while he was not making excuses, starting on the par-3 15th was less than ideal. But the USGA started the playoff there so that the Round of 64 matches would still begin on time at the first tee on Wednesday in the event the playoff went extra holes. Thems the breaks.
"It's just tough for me personally teeing off on a par 3, first [playoff] hole … but it's just not the most comfortable," he said. "It's not supposed to be comfortable, though. It's the U.S. Am and sometimes you've got to step up and hit a good shot when you're not comfortable. Unfortunately, I just wasn't able to do it.
"What makes it so disappointing is being so close to home, basically where I grew up. You never take the opportunity to play in a U.S. Amateur for granted, but not sure I'll have another opportunity to play a U.S. Amateur in front of a home crowd."
There are still plenty of positives to take from the week for Costanza, who will tee it up at the Met Open next week at Bethpage Black and then he'll head to Erin Hills in September for the U.S. Mid-Amateur, an event he finished runner-up in a year ago. Two golden opportunities to erase a sour memory.
"Overall, I played really well on two really, really difficult courses in difficult conditions," he said. "So I have to be proud of that. Lot of positives I can take from my game, the way I hit it, the way I was able to fight and hang in there. Pretty happy with the way i've played over the last two or three years, this week was no different. Three disappointing holes and 34 really good ones."