News
Michael Thompson's emotional 3M Open win was worth the seven-year wait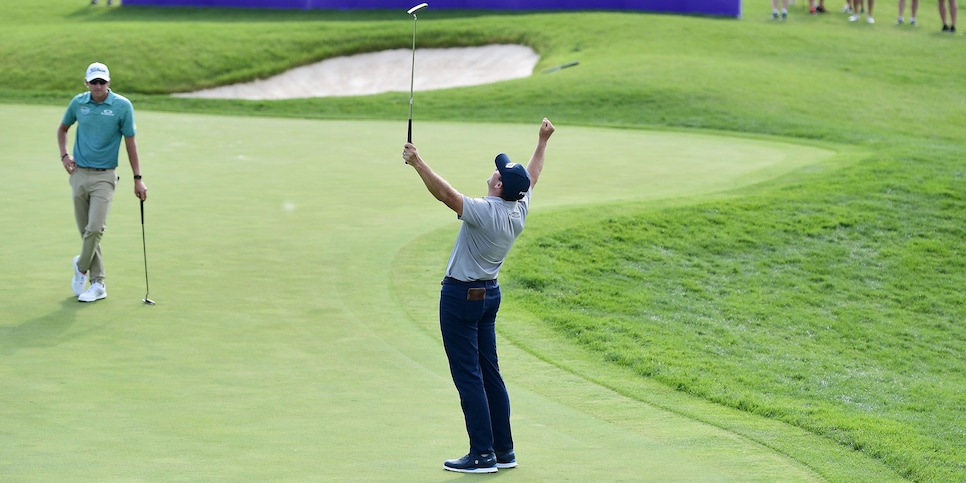 Welp, someone scratched his seven-year itch on Sunday. And he had to go all the way up to Minnesota to do it.
Michael Thompson, who hadn't won in seven-plus years and 166 starts, sprinkled in a spectacular bunker shot with a superbly mundane round of golf to calmly win his second PGA Tour title, beating a surging Adam Long by two strokes in the 3M Open. Thompson, who had a share of the lead after 18 and 54 holes, birdied two of his last three holes at TPC Twin Cities to come home in four-under 67 and 19-under 265 to keep Long and a long list of other challengers at bay.
Thompson, 35, looked like a seasoned pro and not one who was enduring a season on the brink. He came into the week ranked 151st in the FedEx Cup standings. He was ranked 218th in the world. In 227 career starts he had registered just 17 top-10s and four top-three finishes, including his victory at the 2013 Honda Classic. All of his primary strokes gained stats were negative except putting. He ranked 180th in driving distance and 131st in greens in regulation, the latter despite being one of the tour's most accurate off the tee.
If you're wondering where we're going with this, well, we're not quite sure. It's all rather confounding. But, hey, at least we're not alone.
Sir Nick Faldo was knitting together a thought on the CBS telecast as Thompson was sauntering up to his perfectly placed drive on the 18th hole that was more inquiry than elucidation.
"When a guy wins like this and he looks like a champion all week you wonder, Where has it been?" Faldo mused. "What's the tipping point, what's the fine line in this game where you go from struggle, struggle, struggle to then look this good and this controlled?"
One wonders if Young Tom Morris didn't one day ask Old Tom something rather similar around 1867. It is one of the eternal questions of golf, isn't it?
Thompson couldn't really explain it or the fact that he has gone through peaks and valleys but never lost confidence. Which is a pretty good trick in this game. Mentally, the guy has some fortitude. It helps when your wife, Rachel, tells you every day that "you're good enough, you belong out [there]."
"My wife has been a rock for me," Thompson said.
And he showed that he had some stones Sunday after an early bogey, his only one of the day and third all week. He hit 10 of 14 fairways and 16 greens in regulation (to finish 60 of 72 in greens hit for the week) and rarely got in trouble. Of his five birdies, none was more important—or impressive—than the one collected from a scant 2½ feet at the short par-4 16th. The shot that set it up was 37-yard blast from the left front bunker, the kind easy to hit fat or thin. Thompson executed it to near perfection.
Turns out he's rather happy playing out of the sand. As a teenager he'd practice bunker shots for hours at 49er Country Club in Tucson. Guess that's one way to stay out of trouble—by learning how to get out trouble.
"I love bunkers," Thompson said. "When I got in that bunker, I was nervous, but at the same time I knew the shot that I had to hit, and I relied on a lot of those memories for just being in the bunker for hours and hours on end in high school."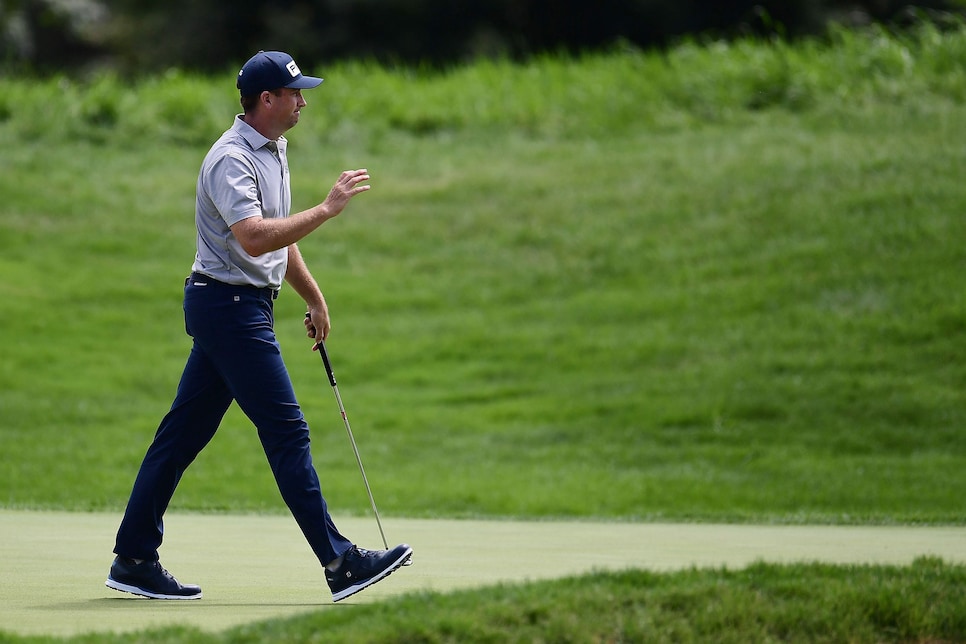 No bomber, like recent PGA Tour winners Bryson DeChambeau and Jon Rahm, Thompson used strategic play around TPC Twin Cities to secure his victory.
Stacy Revere
The birdie enabled him to break a tie with Long, and Thompson finished off the win in style with another birdie at 18. His 19 under score was the best of his career in relation to par.
The Georgia resident rose all the way to 39th in the FedEx Cup standings, a lofty perch for a guy who never has finished higher than 66th in his career. He earned a berth in this week's WGC-FedEx St. Jude Championship, the PGA Championship the following week at TPC Harding Park in San Francisco and the U.S. Open at Winged Foot in September.
Long, by the way, also earned a berth in the U.S. Open in the weekly qualifying that runs through the rest of the regular season. The top two finishers not otherwise exempt who finish among the top 10 get in the 120th U.S. Open in September.
Overcome with emotion after the win, Thompson said has been determined to make the U.S. Open field because Winged Foot, in Mamaroneck, N.Y., is the site of his first U.S. Amateur appearance in 2004. "You couldn't have written a better script for where I'm at right now," he said.
Clues to how he wrote that script reside in his dedication to fitness during the forced break in the PGA Tour schedule due to the coronavirus pandemic and his work with swing coach Justin Parsons. Even when his results were middling Thompson in January at the Sony Open in Hawaii talked about how encouraged he felt about his game. So maybe a payoff was simply due.
It could just be that old adage about hard work paying off.
Or, heck, it could just be as simple as beating the field by 7.275 strokes on the greens.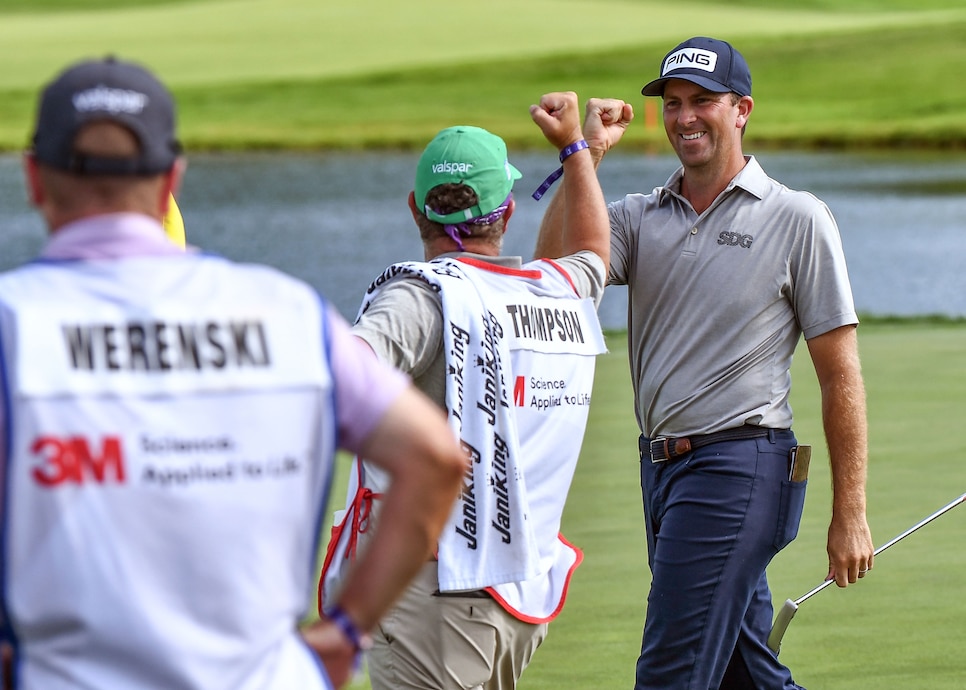 Thompson fist bumps his caddie after holing the birdie putt that secured his two-stroke victory.
Icon Sportswire
Whatever, it's astounding to watch a player flip a switch to not only play well, but to play well enough to win, especially when he doesn't have much experience with it. The key is doing it every week, or at least more often than every seven years. Thompson talked like he intended to exhibit a bit more consistency.
"This win validates the first win," he said. "It solidifies, kind of, my presence on the PGA Tour and proves to my peers that I'm a threat every week, and that's what I want to be.
"Man, I am champing at the bit to go prove myself again."
Good. Because that's the thing about golf; you have to prove yourself every week.