News
Winner's Bag: The clubs Michael Thompson used to earn the title at the 3M Open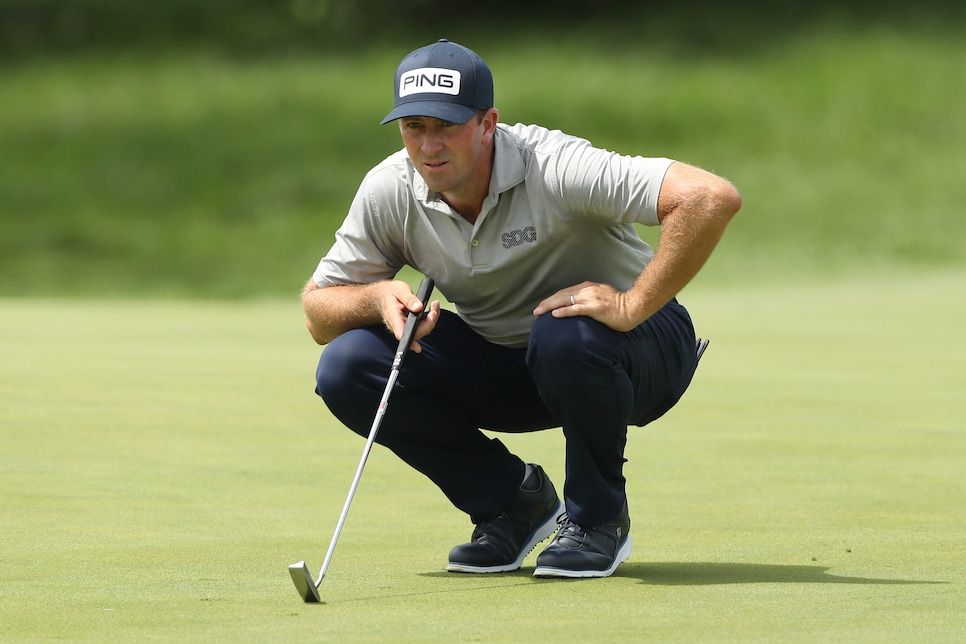 Michael Thompson looks over a putt on the first green during the final round of the 2020 3M Open.
Matthew Stockman
In a tournament and on a tour increasingly known for explosive distance, Michael Thompson showed that steady play and the most precise short shots still have a place. Thompson captured the 3M Open with top-shelf putting and a gritty 36-yard bunker shot on the 16th hole on Sunday to set up his second career PGA Tour victory and his first in seven years.
Thompson won the old-school way with bag full of old and new Ping clubs, including a putter that he picked up at a municipal course when he was 16 nearly two decades ago. The Ping Anser 4, which he also used when he won the Honda Classic in 2013, keyed his victory as he picked up two strokes on the field on the greens during the final round. Thompson likes the lighter weight of the putter, which was new in the early 1980s when putters weighed generally about 10 percent less than they do now. He closed the tournament with a 15-foot birdie on the par-5 finishing hole, set up by his 52-degree Ping Glide 2.0 Stealth wedge.
But the shot of the week came two holes earlier with another wedge. Thompson's long greenside bunker shot on the driveable par-4 16th settled less than three feet from the hole. He then converted the birdie to pull ahead by one stroke.
Thompson was well down the list in driving distance (he entered the week 180th on the tour off the tee) and even carried a Ping G410 7-wood because he prefers the higher launch over that of a hybrid. Still, he picked up seven strokes on the field with his approach play with his Ping Blueprint irons, a modern take on the vintage forged muscleback blade. That's an interesting set for Thompson, who seven years ago said blades were too much for his game "because my ball-striking isn't all that great. I need a little bit of forgiveness."
Not so this week. Thompson was third in greens in regulation and fourth in strokes gained-approach, hitting 16 of 18 greens in the final round. When you combine that with a trusty putter that led the event in strokes gained, it's the rest of the field that needed forgiveness.
What Michael Thompson had in the bag at the 3M Open:
Driver: Ping G400 LST, 10 degrees (Fujikura Ventus 6 Black shaft, X flex)