Gambling
Memorial Tournament 2020 expert picks: Is Tiger Woods a good bet this week?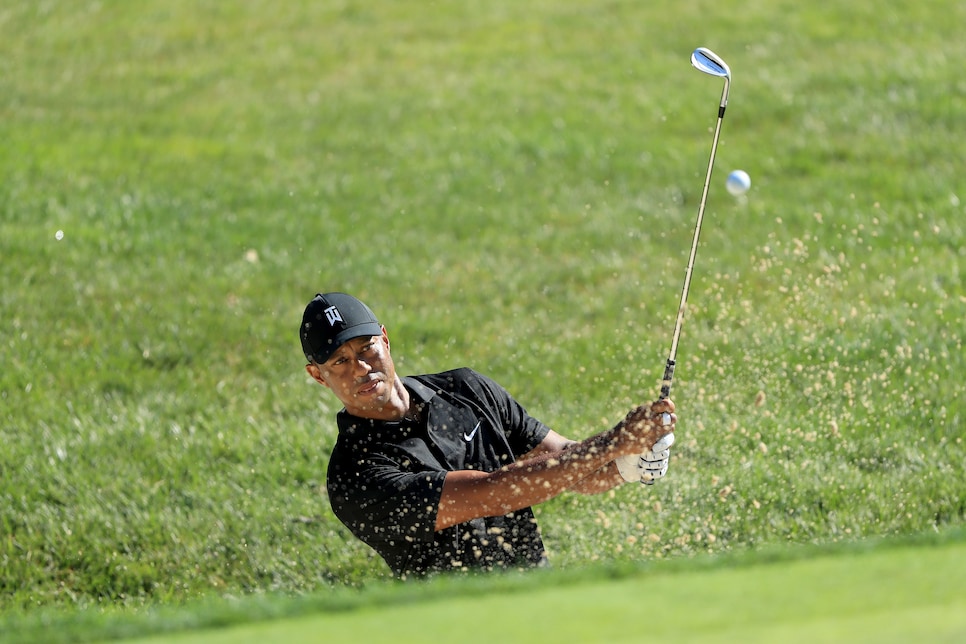 If you believe in the golf gods (and most of us golfers do), then you must know the golf-gambling gods are real, too. Early on in Sunday's final round of the Workday Charity Open, the Golf Digest betting panel seemed destined to hit a fourth winner in a row in Viktor Hovland. Similar to our good vibes with Matthew Wolff the previous week, Sunday turned out a little differently. Just like the young Norweigan's tee-to-green play, we finally cooled off. A reminder of how difficult handicapping golf tournaments can be.
You need to listen to our podcast with defending champion Patrick Cantlay, who had a great Sunday 65 to finish T-7 last week. Cantlay offers some insight into how this week play compared to last week. And of course, we break down our favorite plays and best bets in the podcast below.
Read on to see who we like this week at the 2020 Memorial Tournament.

2020 Memorial Tournament Picks To Win (Odds from William Hill)
Anonymous Caddie Picker of the week: Patrick Cantlay (14-1) — Rust might've been a little bit of an issue for Cantlay early in the tournament, but his game looked sharp later. His Sunday round was amazing: He gained nearly five strokes on approach and six strokes overall in his Sunday round. That's the momentum you want to see heading into this week.
Pat Mayo, DraftKings/Fantasy National analyst: Tiger Woods (20-1) — Long layoffs can be negatives for most players. Tiger is not one of them. He's actually one of the few who has a lot of experience in this realm. Yes, he's won this event five times (last in 2012), but he's played incredibly well here the past two years, too—T-9/T-23. In 2018, when he came T-23, he gained over 11 strokes with his irons and lost almost eight on the greens. Since 2012, only his putting performance at Riviera earlier this year has been worse. If Tiger can drive it just above field average, putt to his baseline, and continue to possess top-five irons in the world, he'll be there Sunday. I'm in full panic mode the first time to grabs his back, though.
Brandon Gdula, FanDuel/numberFire managing editor: Jon Rahm (22-1) — Rahm's recent form (cut, 33rd, 37th, 27th) has dropped his price enough to where I want to target him, and starting the betting card at 22-1 will let you add another outright bet or two. In a field this deep, that's what I'm targeting. Rahm gained 4.0 strokes from approach last week and picked up 2.0 off the tee by gaining distance and fairways on the field with a good driver showing. He wasn't in contention (he struggled out of the sand) but virtually always adds strokes off the tee and with his irons. All he has to do is avoid disaster around the greens and make a few putts for a change. Starting with Rahm lets me get to Viktor Hovland (25-1), Brooks Koepka (25-1) or Xander Schauffele (28-1), if he has really focused back in.
Rick Gehman, data scientist and RickRunGood.com founder: Rory McIlroy (14-1) — It's rare that you can get McIlroy at even this long of a number. The last time his odds got this high was the 2019 Genesis Invitational. It's been a slow-ish restart for McIlroy but his T-11 at the Travelers, in his last start, was his best finish so far. He's finished in the top 10 at Muirfield Village four times in his seven career trips, and I just can't pass up on this rare value.
Stephen Hennessey, Golf Digest dep. managing editor: Justin Thomas (11-1) — The playoff loss must've been brutal for JT. Up three strokes with three to go; that's not the type of closing performance you expect from JT. And that's not who I think he is. What's most important to me is that he was one of a few players to gain strokes on approach in every round and was third for the week (behind Morikawa and Keegan Bradley) and gained the most strokes tee-to-green. There's no strokes-gained metric for competitiveness and the intrinsic level of winner JT is. He'd be near the top in both stats, and I don't think scar tissue will be a factor for JT.
Christopher Powers, Golf Digest assistant editor: Brooks Koepka (25-1) — Oh yes, we're going right back to the Brooks well. I'm chalking up last Thursday's front-nine 41 to a complete lapse in focus, which made him quickly snap back into form, as he played the rest of the week in six under and just missed the cut. The fact he added this event to his schedule late Friday, claiming he needs to "run the table" the rest of the season, makes me think he's ready to lock it back in now. He's also playing alongside Tiger and Rory on Thursday and Friday, not to mention the rest of this field is extremely strong, so Koepka has no choice but to have his A-game from the start. One last reason I love him: Jon Rahm said last week that he thinks it might play like a U.S. Open this week. Does anybody know if Brooks likes U.S. Open conditions?
Lee Alldrick, FanShare Sports: Hideki Matsuyama (25-1) — Matsuyama's ability to play these long par-72 courses well means he ranks sixth in the Fanshare Sports' course-suitability ranking this week. He also ranks seventh for strokes gained/tee-to-green since the PGA Tour restart and ninth for Opportunities Gained. A win and two top-six finishes shows just how much he like Muirfield Village.
Results from this season: We have correctly predicted 12 of the first 26 winners to start the season. Our three-tournament win streak was snapped last week. Previously, our tour caddie predicted Bryson DeChambeau at the Rocket Mortgage; the week before, FanDuel's Brandon Gdula and DraftKings' Pat Mayo each correctly predicted Dustin Johnson's win at the Travelers, and the week before that, data scientist Rick Gehman picked Webb Simpson (25-1) as his outright winner (in his first week on the panel!). Golf Digest's betting panel continues to be the hottest golf betting panel in the industry: Counting outright winners, top-10 bets and matchups won and lost, we are up 267.29 units (the equivalent of being up $2,627.29 if you wagered $10 on all of our bets).
Sleepers/Dark Horses That Could Win the 2020 Memorial Tournament (Odds from William Hill)
Caddie: Talor Gooch (250-1) — You need to see how well he hits the ball. Sure, a lot of guys kill it on the range, but Gooch backs that up on the course. Very quietly, he finished 17th last week gaining an incredible six strokes on approach and seven strokes tee-to-green. Consider him a great play in DFS lineups, and worth a few bucks on a first-round leader bet, and a nice ticket to have to be able to hedge with into the weekend.
Mayo: Sungjae Im (66-1) — A final-round blow-up really masked how pure Sungjae's ball-striking was on Friday and Saturday. Look, as a 22-year-old, he's going to be inconsistent, but he's already won at a tough Nicklaus course this year (Honda Classic), and actually is above average in all four main strokes-gained metrics. It just hasn't all been at once since the return. But the game is getting close to where it was pre-hiatus, and now his price is really high. Just looking at his round-by-round stats on FantasyNational.com, they currently look eerier similar to his performances before the Honda Classic.
Gdula: Sungjae Im (66-1) — It's hard to build a case for Im from an extremely recent form standpoint, but we've got enough data on him to know what the ceiling is. He's got a field-leading tee-to-green game in his bag if everything clicks, and this is a field that minimizes putting a bit. Not that he's a bad putter. There's value on Im, who has been forgotten.
Gehman: Abraham Ancer (50-1) — Ancer is a pure competitor and has elevated his game since going 3-1-1 in the Presidents Cup. He has six top-15 finishes in his past seven starts, and it's even more impressive considering where he has found success. His T-12 at WGC-Mexico, T-14 at the Charles Schwab Challenge and his runner-up at the RBC Heritage were all very deep fields, like he will face this week. Per the RickRunGood.com database, only three golfers have gained more strokes than Ancer since the return of golf. Ancer's total is the best for anyone who has played only three events.
Hennessey, Golf Digest: Gary Woodland (45-1) — My guys Mayo and Gehman were all over a miss-the-cut bet for Woodland, which looked good after a first-round 75. Then the 2019 U.S. Open champ found his off-the-tee game, figuring out a new Ping driver he put in play, and he gained strokes all around in his last three rounds. He gained a ton of strokes putting, probably not sustainable for Woodland, but if he even gains half of what he did putting, he should be in the mix.
Powers, Golf Digest: Marc Leishman (66-1) — This number, even higher at some books (DraftKings has him at 90-1 currently), seems like a major overcorrection after the big Aussie's missed cut last week. Leish has great history at the Memorial and is one of the great bounce-back players on tour. The past five times he's missed the cut and played the very next week he's gone: 19th-3rd-13th-3rd-13th. Also, check out Leishman's finishes in some of the biggest events with the strongest fields. He's won at Torrey, API, BMW (playoff event), and has high finishes in many of the majors and WGCs. Big-game player.
Alldrick, FanShare Sports: Emiliano Grillo (200-1) — Grillo missed the cut last week, but a return to a Memorial setup will suit him more this week. He still ranks second in this field for Opportunities Gained since the PGA Tour restart, and he ranks sixth in strokes gained/putting on fast, Bentgrass greens since 2017.
Players to Fade This Week (who will disappoint)
Caddie: Tiger Woods (20-1) — I'm willing to be wrong here, but we've seen players like Dustin Johnson and Patrick Cantlay struggle in their first weeks back. I know Tiger is on another planet, but the highest likelihood of outcomes is that Tiger doesn't win. This field is just too stacked to expect him to win right away in his return.
Mayo: Webb Simpson (22-1) — I love Webb most weeks. I don't love this course for him. And I don't love him on Bentgrass either. He'd have to play almost perfect to win this week. Not inconceivable, but Muirfield Village just sets up easier for other players.
Gdula: Dustin Johnson (16-1) — Thankfully I was in on DJ's win at the Travelers, but I'm off of him at this small price. Johnson has three top-15 finishes over his past four starts at the Memorial, but off-the-tee play was not very impactful last week, and we can't have our golfers in this thick rough. Johnson is super long, sure, but he's 93rd in fairways gained over the past 50 rounds. It's not quite the right fit for Johnson, whose irons have been hit-or-miss. I'd rather go with a more consistent approach option.
Gehman: Bryson DeChambeau (10-1) — It's scary to be fading someone breaking the game, but DeChambeau's odds are too short in a historically deep field like we will see this week. While DeChambeau has been dominant in the restart, I'm a bit worried about the challenge that Muirfield Village will present. This will be some of the thickest rough we've seen recently, and Muirfield Village requires precision from approach shots, which are much more difficult when you miss the fairway. Finally, DeChambeau has gained 15.07 strokes putting in his first four events back, the fifth-most on tour, which is likely due for a regression.
Hennessey, Golf Digest: Collin Morikawa (22-1) — Winning twice in back-to-back weeks is so tough. Doing it at the same course? That might be more feasible. I still think emotionally, you have to be so committed to reset after such a huge playoff win over one of the sport's best players to run the table. I wouldn't be surprised if he contends again. But you have to be on another planet to refocus and have the edge to want it more than the rest of this historically great field. This number is right, because I'd like it at 30-1, but 22-1 isn't for me.
Powers, Golf Digest: Collin Morikawa (22-1) — Fully aware of how dumb this could prove to be. If the iron play is anything like last week, he'll be right there again, but I don't see myself ever backing a guy to go back-to-back on consecutive weeks. If anybody can do it it's this kid though.
Alldrick, FanShare Sports: Tiger Woods (20-1) — Not only is this Tiger's first PGA Tour event in five months, but perhaps also concerning is his past performance on fast Bentgrass greens these last few years. Since 2017 he has lost strokes putting on these type of greens. The rust won't help change that.
2020 Memorial Tournament Matchups
Caddie: Brooks Koepka (+110) over Hideki Matsuyama (FanDuel) — Koepka had a ton of momentum on Friday, firing at flags and making putts before he ran out of holes. I think he would've made a move on the weekend if he had made the cut on the number. Hideki, on the other hand, couldn't make a putt again, and I think that has to be incredibly frustrating for someone as good as him. That has to weigh on you, and I think you can see that impacting his game. This is as much of a play on Koepka as it is against Hideki.
Mayo: Sergio Garcia (-120) over Jordan Spieth (DraftKings) — One guy is an elite ball-striker but can't putt. The other guy can be lights out with the putter but his ball-striking hasn't been right in more than a year. At a ball-striker's venue, this is easy for me. Give me Sergio.
Gdula: Justin Thomas (+100) over Bryson DeChambeau (FanDuel) — It's scary to go against Bryson right now, but we saw off-the-tee play de-emphasized last week. The rough should be quite penal this week, and while DeChambeau has been about average in fairways hit despite the distance, we have to account for the potential that his distance could be mitigated this week. Thomas is the better overall tee-to-green player still.
Gehman: Daniel Berger (-120) over Patrick Reed (DraftKings) — Berger has been amazing this season, you just might not remember it. He opened the restart with a victory at Colonial and followed it up with a T-3 the next week at Harbour Town. We haven't seen him play since but that now marks five consecutive top-10 finishes on tour for Berger dating back to the Waste Management Open. He's one of the few players who gains strokes in all four major categories which usually provides a solid floor, something that I love investing in for matchups.
Hennessey: Marc Leishman (-110) over Jordan Spieth (Bet365) — You're getting a price break on Leishman after his missed cut. Take advantage of it. He has a great track record here: Two fifth-place finishes; two other top-15s; and a made cut in every Memorial since 2010. I'll trust the longer sample size, and I'll do the same with Spieth, whose ball-striking numbers are still so inconsistent.
Powers: Patrick Reed (+100) over Daniel Berger (DraftKings) — After his win at Colonial and third-place finish at Harbour Town, Berger took some well-earned time off and I bet he spent it wisely. And by wisely I mean he was straight-vibing on a boat for the past few weeks. As for Reed, he hasn't missed a start and just needs to get the putter working again to be back in contention.
Alldrick, FanShare Sports: Dustin Johnson (-137) over Tiger Woods (BetFair) — DJ is the World No. 4 and is coming in off of a win. Woods is the World No. 14 has not played in three months. Give me hot form over no form any day of the week.
Matchup Results from Workday Charity Open: Gehman: 1 for 1 (Viktor Hovland (-106) over Rickie Fowler); Hennessey: 1 for 1 (Viktor Hovland (-106) over Rickie Fowler); Powers: 1 for 1 (Viktor Hovland (-106) over Rickie Fowler); Alldrick: 1 for 1 (Joaquin Niemann (-110) over Sungjae Im); Gdula: 1 for 1 (Patrick Cantlay (-114) over Brooks Koepka); Tour Caddie and Mayo: 0 for 1.
Matchup Results from this season: Alldrick: 15 wins, 7 losses, 2 pushes (+5.95 units); Powers: 9 wins, 4 losses, 1 push (+5.59 units); Hennessey: 9 wins, 5 losses (+5.09 units); Tour Caddie: 12 wins, 8 losses, 1 push (+3.36 units); Gehman: 4 wins, 1 loss (+2.62 units); Mayo: 11 wins, 13 losses (-1.86 units); Gdula: 8 wins, 13 losses, 2 pushes (-4.22 units)
Top 10 (odds from DraftKings Sportsbook)
Caddie: Sepp Straka (+1100) — The youngster has finished 14th and eighth in the past two weeks and gets another crack at Muirfield Village. Straka can bomb it out with the best of 'em, and his irons are better than others in this price range. I'd expect him to continue to trend up.
Mayo: Abraham Ancer (+450) — Was his downtime long enough for everyone to forget how good he has been since the restart? His recent finishes: T-14/2nd/T-11 coming out of the break, and the ball-striking, has been out of this world. He's tops in strokes gained/approach in this field since golf came back and he's been elite from the key proximity range (150-175 yards). Do I worry about his short game and putting? A little. But short game doesn't mean much when you're hitting almost every green. Just ask Collin Morikawa.
Gdula: Abraham Ancer (+450) — Ancer has gotten into contention lately by doing a few things well, mainly gaining strokes on approach and hitting fairways. Those are key stats this week, and we're getting a bit of a longer number because of his time off. His actual value is above +500 in my model, so this is a strong play for me.
Gehman: Paul Casey (+550) — Casey's only event since the restart was a 32nd-place finish at the Travelers Championship. This is more about course fit for Casey, who ranks 11th in this field in strokes gained/off-the-tee and eighth in strokes gained/approach. That ball-striking combination should come in handy at Muirfield Village, where precision in those two aspects is required.
Hennessey, Golf Digest: Jon Rahm (+250) — Even if he doesn't win, I like a Rahm to continue the momentum from his scorching hot Sunday round with 10 birdies. I'd take him at these odds, same as Daniel Berger (+400) and our tour caddie has me loving Talor Gooch at +1600 for a top-10.
Powers, Golf Digest: Shane Lowry (+1100) — If you're buying in to the course is going to play like a U.S. Open hype (clearly I am), Lowry is a great play this week. The Open champion lives for tough setups. He finished eighth at Bethpage last year, 12th at the PGA the year before, second at Oakmont in 2016, winner at Firestone in 2015 and ninth at Chambers Bay in 2015. Based off that history, the Irishman might be worth a sprinkle at 150-1 outright as well.
Alldrick, FanShare Sports: Justin Rose (+550) — Yeah, Rose had a stinker last week, but I'm chalking that up to an anomaly. He still ranks 13th in our course-suitability ranking, as he is still one of the best players in the world to play these tough, long courses well. He is also still one of the best putters in the field on these fast Bentgrass greens. It was only four weeks ago he finished third.
Top 10 results from the Workday Charity Open: Everybody: 0 for 1.
Top 10 results from this season: Mayo: 4 for 23 (+13.5 units); Alldrick: 5 for 23 (+3.5 units); Hennessey: 3 for 13 (+3 units); Gehman: 1 for 5 (+2 units); Gdula: 3 for 24 (-5.8 units); Powers: 1 for 13 (-10.35 units); Tour caddie: 1 for 31 (-17.5 units)
46.96 - The number of total Strokes Gained: Tee-to-Green by Viktor Hovland since the tour's restart. It's by far the most on tour and ranks historically since 2015. Only four other golfers (Rory McIlroy, Dustin Johnson, Hideki Matsuyama and Luke List) have had any five-event stretch better than Hovland's current stretch.
151 - The number of days since Tiger Woods last official PGA Tour round, at the Genesis Invitational. Woods finished 68th, the worst of anyone to make the cut.
8.86 - The number of strokes gained/putting last week for Ian Poulter at the Workday Charity Open. That is the second best total for him since 2015 and the third best putting performance by any player since the restart.
93.3 percent - The percentage of Rickie Fowler's past 15 tournaments that he finished either inside the top 20 or missed the cut. His T-37 at the Waste Management Open was his only finish in the middle.
21.0 - The average finish for Tiger Woods in 17 starts at The Memorial, the lowest of anyone with at least five starts.
More DFS advice, courtesy of FanShare's Lee Alldrick:
Under The Radar DFS Pick: Emiliano Grillo (FanDuel: $8,000; DraftKings: $6,700) — Grillo was disappointing last week, but the bigger track record the Argentinian had made all 4 of his cuts here at Muirfield Village and even recorded a 9th place finish in the 2019 Memorial.
DFS Value Pick: Bernd Wiesberger (FanDuel: $7,900; DraftKings: $6,600) — The Austrian is the 26th-highest ranked played in the field this week, Official World Golf Rankings wise, yet is priced up as just the 77th most expensive play. It's not often you see someone in the world's top 30 priced up as low as $6,600. This will be his first event since the post lockdown restart but Wiesberger won 3 European Tour events last year so his golf is hot right now. The rust makes him a risky play but my word, the upside is high!
And please subscribe to Golf Digest's new betting podcast, "Be Right!" Patrick Cantlay joins us this week to discuss how Muirfield Village might play differently this week and other observations that can help bettors make their plays at the 2020 Memorial Tournament.
Pat Mayo is an award-winning video host and producer of long and short-form content, and the host of The Pat Mayo Experience daily talk show. (Subscribe for video or audio. Mayo (@ThePME) won the 2020 Fantasy Sports Writing Association Daily Fantasy Writer of the Year and Golf Writer of the Year awards, along with the Fantasy Sports Trade Association Best Sports Betting Analyst award, and was finalist for four FSWA Awards in 2020 (Best Podcast, Best Video, Daily Fantasy Writer of the Year, Golf Writer of the Year). His 21 FSWA nominations lead all writers this decade and are third-most all-time. Mayo is on the board of governors at www.fantasynational.com.
Brandon Gdula, managing editor and analyst for NumberFire, a FanDuel daily-fantasy analysis company, recently won the 2018 fantasy sports-writers association Golf Writer of the Year *(congrats, Brandon!)*. Gdula also co-hosts the DFS Heat Check podcast.
Rick Gehman is the founder of RickRunGood.com and the RickRunGood YouTube Channel, is one of the industry's leading experts on golf DFS and gambling. Gehman is co-host of the First Cut Podcast and appears regularly on the Pat Mayo Experience golf podcasts. Follow him on Twitter: @RickRunGood.
Lee Alldrick of FanShare Sports started out writing an article highlighting the best bargain plays for fantasy golf under his twitter handle @DKGolfBargains. His success at this prompted FanShare Sports to enlist him as a guest writer, which evolved into him writing the weekly Under The Radar article. As a U.K.-based expert, Alldrick's insight into European Tour regulars and low priced, low owned plays has provided an invaluable edge for readers when it comes to DFS GPPs.