News
Memorial Tournament 2020 DraftKings and FanDuel picks: Our expert's favorite plays in this historically loaded field
This will be a major-like atmosphere in a return to Muirfield Village, following Collin Morikawa's big-time playoff win over Justin Thomas. What do you do with Morikawa and JT this week? Or Viktor Hovland, who led strokes gained/off-the-tee for an unprecedented third week in a row? There are a lot of answers to get to this week. This heavily stacked field means the pricing on DraftKings and FanDuel will yield some absolutely stacked lineups. Gosh, Rory McIlroy hasn't been this lowly priced ($10,200 on DraftKings) in a full field since the 2019 U.S. Open.
Like we said, this is truly like a major. That means you have options in lineup construction, and I do my best to provide some of my favorite options in each price range this week.
High Upside: Tiger Woods ($9,000 DraftKings | $10,600 FanDuel)
There's no higher upside than winning, which is what Woods has done five times at the Memorial Tournament. With that upside comes great risk: We don't know much about the state of Woods' game or body for that matter. He looked great at the exhibition with Phil Mickelson in May, but this is an elevated level of competition. Luckily, Woods is still one of the game's elite iron players, and Muirfield Village is certainly a second-shot course.
Safest Option: Webb Simpson ($9,600 DraftKings | $11,100 FanDuel)
Few golfers are as good as Webb Simpson with an iron in their hands. I'm worried about his lack of distance, but he has been finding fairways consistently and competing in the biggest fields. Per my RickRunGood.com database, Simpson has gained a total of 18.46 strokes since the tour's restart. That's the second-most of anyone who has only played three events (behind Abraham Ancer).
Most Likely To Disappoint: Collin Morikawa ($10,000 DraftKings | $11,300 FanDuel)
There is nothing wrong with Morikawa's game, evidenced by his win last week, plus the 9.21 strokes he gained on his approach shots, the second best total of his career. The concern, of course, is not only backing up an emotional win but now with a massive price tag. He will likely need to win again to pay off this salary.
Pick To Win: Jon Rahm ($9,300 DraftKings | $11,400 FanDuel)
There's something intriguing about Jon Rahm at this price tag. Per the RickRunGood.com database, this is the lowest price on Rahm in over a year, since the 2019 U.S. Open. It's been a slow restart for Rahm but last week was his best finish yet (27th), and he finished with a birdie barrage on Sunday, carding 10 "circles" to shoot a 64, the low round of the day. Also, the statistical composition of that final round, gaining 6.29 strokes/tee-to-green, is exactly what should translate to this week.
High Upside: Sungjae Im ($8,200 DraftKings | $9,500 FanDuel)
Im hasn't been the same since the restart, with a missed cut and three other finishes outside the top 50. The "good news" is that most of Im's issues have been with the putter. Also, he will likely benefit more from a tough golf course like we saw during his win at the Honda Classic.
Safest Option: Daniel Berger ($8,700 DraftKings | $10,200 FanDuel)
It's easy to forget how good Berger has been recently, even dating back before the shutdown. Not only can he boast eight straight cuts made, but five consecutive top 10s including his win at Colonial. The list of golfers with similar recent form is incredibly short.
Most Likely To Disappoint: Jason Day ($8,000 DraftKings |$9,800 FanDuel)
I'm actually more optimistic on Day this week than most will be, but his T-7 last week was only his third top 10 since the 2019 Masters. He's had plenty of great weeks but hasn't been able to put together a stretch of solid golf. He might be popular with the angle that this is his favorite course, and there are plenty of other great options in this range.
Pick To Win: Abraham Ancer ($8,500 DraftKings | $9,900 FanDuel)
Ancer is an absolute competitor. It doesn't matter how deep the field or difficult the course, Ancer finds himself in the mix. He's now tallied four top-15 finishes in his past five starts, including a runner-up at RBC Heritage. He will need his irons dialed in to find success at Muirfield Village.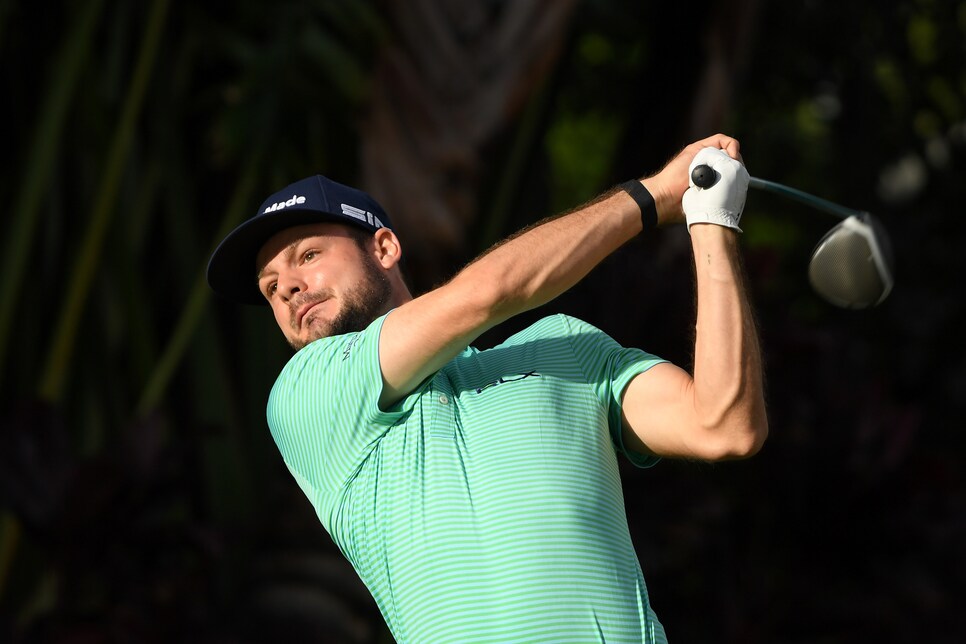 High Upside: Doc Redman ($7,600 DraftKings | $9,100 FanDuel)
Redman returns after a week off to try and tackle Muirfield Village. Redman has gained strokes tee-to-green in 22 of his past 24 measured events, dating back to the Memorial in 2018. He has three consecutive top-25 finishes.
Safest Option: Adam Hadwin ($7,400 DraftKings | $9,200 FanDuel)
Hadwin rarely finds himself out of position, something that will come in handy this week at Muirfield Village. He hasn't missed a cut since the restart and finished T-35 last week to go with his T-4 at the Rocket Mortgage Classic.
Most Likely To Disappoint: Ian Poulter ($7,600 DraftKings | $9,300 FanDuel)
This all comes down to one thing—the putter. Poulter rolled in almost everything he saw last week, gaining 8.8 strokes on the field putting. It was his second-best putting performance in the past five years, which is hardly sustainable. Those putting numbers combined with the fact that he lost 2.4 strokes/approach last week is a recipe for regression.
Pick To Win: Kevin Streelman ($7,600 DraftKings | $9,300 FanDuel)
The beat marches on for Streelman with a T-7 last week to follow-up his second-place finish at the Travelers Championship. Muirfield Village has been a great venue for Streelman who has four top-20 finishes at the Memorial in the past five years.
High Upside: Ryan Palmer ($6,400 DraftKings | $7,800 FanDuel)
Palmer is coming off back-to-back missed cuts but finished eighth at the RBC Heritage. His week at Muirfield Village last week was so bad that it might be chalked up as an outlier. He lost over six strokes around the greens and another six on the greens. It's almost impossible to be that bad. You'll also notice that he carded a "9" on a par 3 on Thursday and was never the same after that. Let's see if he can press the reset button this week.
Safest Option: Mackenzie Hughes ($6,700 DraftKings | $7,900 FanDuel)
Safe goes out the window in this price range, but Mackenzie Hughes made the cut last week and is coming off a third-place finish at the Travelers. I wish he was a better ball-striker, but you're taking a risk no matter where you go in this range.
Most Likely To Disappoint: Stewart Cink ($6,100 DraftKings | $7,200 FanDuel)
Don't fall for his T-17 last week as a reason to roster Cink at ultimate value this week. He achieved that result by gaining over six strokes on the greens, fourth-most in the field. He lost strokes on approach, which means he'll be in real trouble without a scorching flat stick this week.
Pick To Win: Troy Merritt ($6,600 DraftKings | $8,100 FanDuel)
Merritt has been playing well, with four consecutive cuts made that include an eighth-place finish at the Rocket Mortgage and a 22nd last week at the Workday. Tack on a 17th-place finish at the Memorial last season, and he seems real keen on Muirfield Village.