News
In duel for the (young) ages, Collin Morikawa beats Justin Thomas in scintillating playoff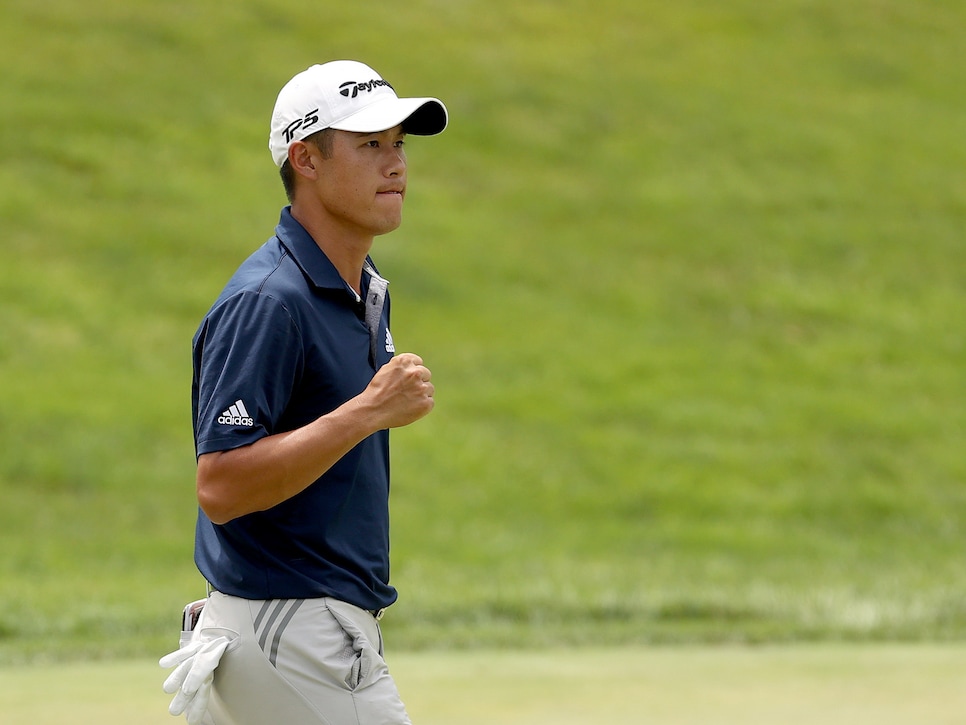 Collin Morikawa reacts to making his birdie putt on the 18th green during the first playoff hole in the final round of the Workday Charity Open.
Gregory Shamus
DUBLIN, Ohio — Golf is perhaps the ultimate game of inches. Centimeters, really. Had Collin Morikawa's two-foot putt on the 18th green at Muirfield Village hit the rim of the cup just a fraction farther left, it would have spun out, and Justin Thomas would be holding the trophy, and the stories would all be about Morikawa's inability to make putts when it matters.
And if Thomas' tee shot on the third playoff hole had rested a few inches right or left of where it did behind a tree, he would have had a clear shot to the green, and those two might still be playing.
Yet Morikawa's ball lipped in, and Thomas' ball was stymied, and Morikawa is your Workday Charity Open champion.
"The hole was very kind to me," Morikawa said. Perhaps it owed him one after Colonial, where he lipped out a three-footer on the first playoff hole to lose the Charles Schwab Challenge just four weeks ago.
"It was a long, long 21 holes. I'd explain that. But it was a grind. I knew from the start nothing was going to be given today."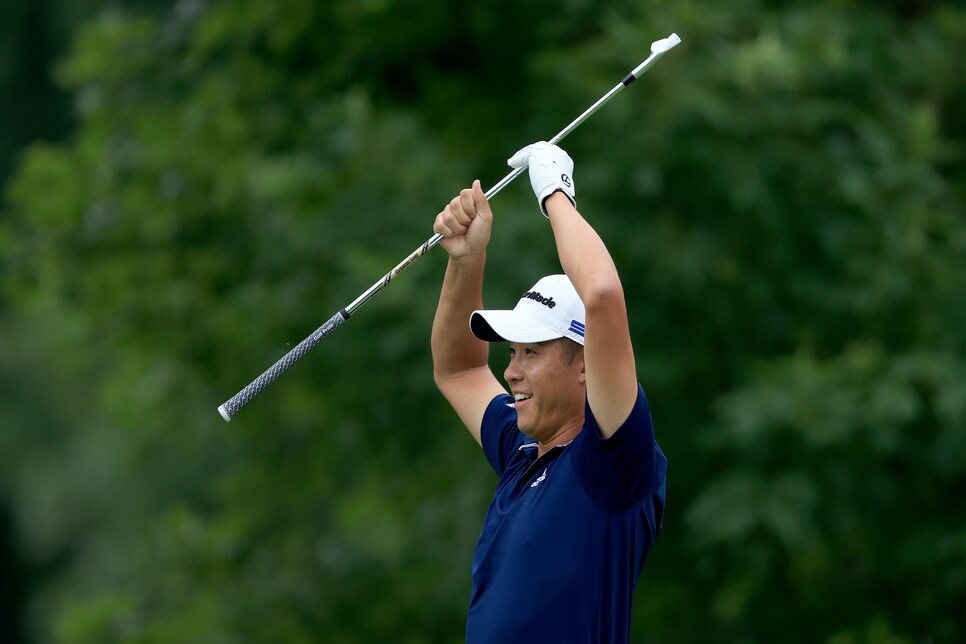 Collin Morikawa reacts after nearly making a hole-in-one on the fourth hole during the final round of the Workday Charity Open.
Sam Greenwood
With the victory, Morikawa now has more PGA Tour wins (two) than missed cuts (one), joining that Tiger Woods fellow as the only two to secure win No. 2 before missed cut No. 2. His first and only missed cut came in his last start, at the Travelers Championship, which broke a streak of 23 straight to start his career. He also moves into the top 20 of the World Rankings, though you'd do well to find a full handful golfers better than the easy-going Californian right now.
It was a show. Nothing less. The only shame is there were no fans here to see it, to freak out over the putts, to give the whole thing the buzz it deserved. Thomas canned a 50-footer—fifty—for birdie on the first playoff hole, yelled "come on!" at the top of his lungs, and his scream was greeted by modest applause from 20-or-so people. Morikawa answered him with a 24-footer of his own. The moment begged for roars; there were none.
The whole day had a heavyweight-title-fight feel, albeit one featuring rather young fighters. Thomas was the geriatric of the final threesome at 27 years old. At 16 under, he began the day with a two-shot lead over Viktor Hovland, 22, and Morikawa, 23, began three shots back. Thomas hadn't made a bogey all week until he made two in row on Nos. 2 and 3. That, coupled with hot starts by both whippersnappers, saw Thomas' advantage morph into a three-shot deficit as he stood on the eighth tee.
He stayed patient—with age comes experience!—and caught fire, playing his next eight holes in seven under. That included making a 23-footer for eagle on 15, his 10th straight one-putt green, to put him ahead of Morikawa by three, while Hovland's chances were torpedoed by a water-ball bogey at the drivable par-4 14th.
"Once [Thomas] made that eagle, I knew I had to make my par putt," Morikawa said of his effort at 15. Spoiler alert: He made it.
"If I didn't make that par putt, I might not be sitting here right now because a three-shot cushion with three to go is a lot different than four with three to go," Morikawa observed.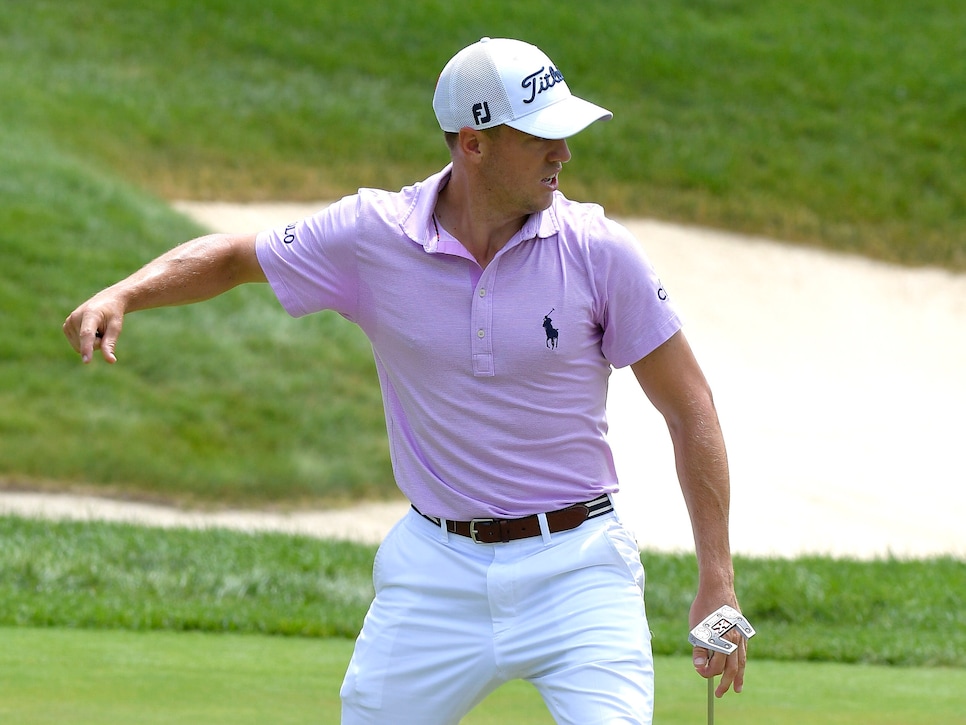 Justin Thomas reacts to making his putt on the 18th green during playoff at the Workday Charity Open.
Stan Badz
Thomas let him back in it by playing the final three holes in two over, including a bogey at 18 after his second put him in a virtually impossible position short of the green. Morikawa managed a gutsy birdie at 17 before lipping in that par effort at the last to secure extras.
"It's completely unacceptable to give up a three-shot lead with three to go," said Thomas, who squandered an opportunity to become the third-youngest player since 1960 to get to 13 tour wins. Woods and Jack Nicklaus beat him to it, naturally.
"I'm upset," Thomas said. "I'm disappointed in myself. But at the end of the day it's over with now, and I just need to take some time … to build on it and figure out what I can do better."
The two traded blows on the first playoff hole, so they headed back to the 18th tee to do it all again. Both hit the fairway, though Thomas laid back with a fairway wood while Morikawa hit driver, so JT played first. He came up with a laser that never left the flag, leaving himself a slippery eight-footer for birdie. Morikawa's birdie effort fell one roll short—leaving, mercifully, a tap-in rather than a knee-knocker—meaning Thomas's putt was for the win.
It slid by on the low side, and the two 20-somethings headed to the 10th tee.
"I just knew I had to keep putting on the pressure," Morikawa said. "I couldn't give away any shots. If I just hit quality shots and you slowly wear him down, slowly give yourself a chance to make birdie, and at one point hopefully they'll drop, and if not, I got a fortunate break with Justin having to chip out there."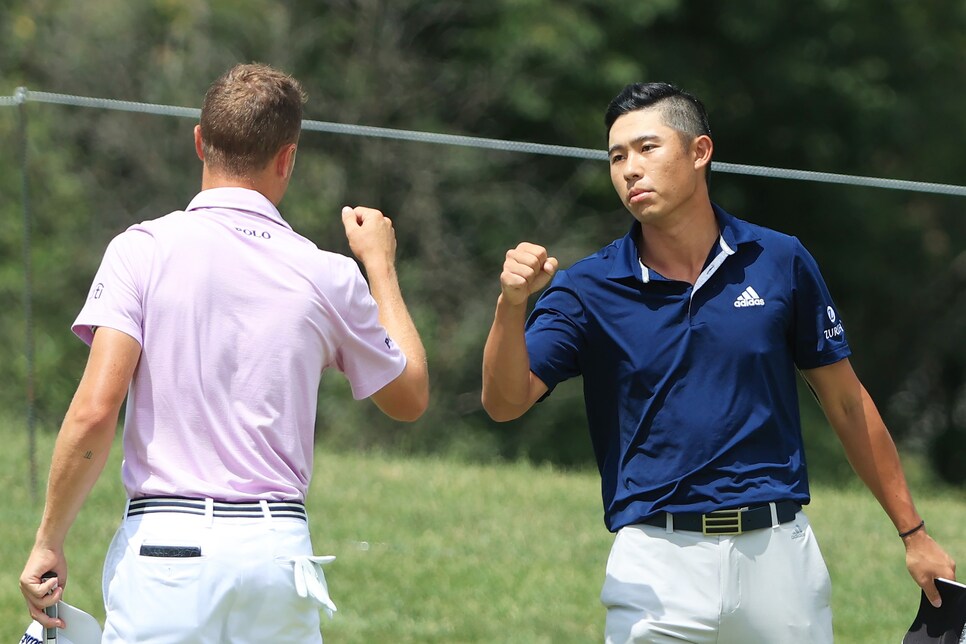 Collin Morikawa is congratulated by Justin Thomas after Morikawa won a playoff in the Workday Charity Open.
Sam Greenwood
Both pulled 3-wood. Thomas played first. His arms got a bit stuck behind his body, and he tried to save it with his hands, but he couldn't prevent the block. Morikawa's ball took its time, but eventually did fall right and catch the left side of the fairway. Thomas' ProV1 finished directly behind a narrow tree, forcing him to punch out and try to make par the hard way. Morikawa then summoned yet another good one, producing his 10thapproach of the day inside eight feet. Thomas hit a meh wedge and his par putt wouldn't fall. Morikawa two-putted from eight feet for victory number two.
"You know, I'm not surprised," Morikawa said of his remarkable early career success. "But I didn't expect myself to do all this."