News
Workday Charity Open 2020 picks: Can our experts make it four winners in a row?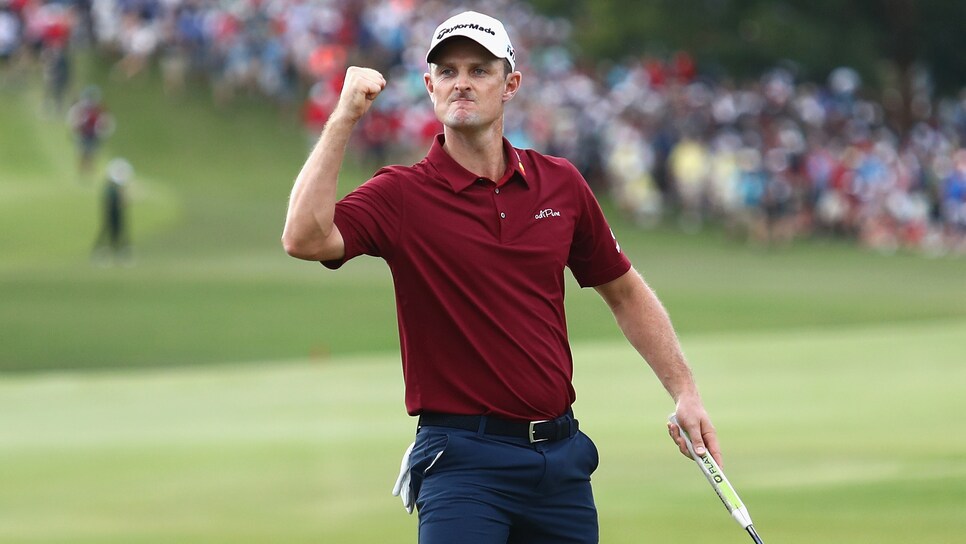 OK, full disclosure: Bryson DeChambeau's win last week was a victory for our tour caddie, but a loss for four of our experts who faded him. Just to be clear, our experts were fading the 6-1 price, not Bryson's chances to win. It's hard to win golf tournaments, even if you are far and away the best player in the field. DeChambeau led the field in putting along with his unchartered tee-to-green game, proving (most of) us wrong in the process.
Our tour caddie saved our win streak, meaning we have three winners in a row heading into the 2020 Workday Charity Open. Can we make it four in a row? We've been told to never get off a heater, so we're going to try.
There is no clear-cut favorite for us to fade this week with DeChambeau not in the field, but there is much more star power than there was in Detroit. Justin Thomas, Patrick Cantlay, Brooks Koepka, Jon Rahm and Hideki Matsuyama lead the way at the top of the betting board, with Xander Schauffele, Viktor Hovland and Justin Rose close behind.
Read on to see who our experts, which includes a PGA Tour caddie reporting live from Muirfield Village this week; Pat Mayo of DraftKings; Brandon Gdula of numberFire/FanDuel; data scientist Rick Gehman, who has a premium website RickRunGood.com; Lee Alldrick of FanShare Sports and us two jabronis, like this week.

Workday Charity Open 2020 Picks To Win (Odds from DraftKings Sportsbook)
Anonymous Caddie Picker of the week: Justin Rose (26-1) — I'm sensing a surge in motivation out of J-Rose, and his ball-striking stats since the restart back that up. Given his incredible course history (win and seven top-10s), I think there's a good chance he finds the winner's circle once again here in Ohio.
Pat Mayo, DraftKings/Fantasy National analyst: Viktor Hovland (26-1) — In a fable I once heard, it said: One day, the Norwegian Nightmare is going to make a few putts. Not all, but merely a few, because that's all it's going to take. I can't guarantee it will be this week, but it'll happen at some point. Hovland has played each event since golf returned and his immaculate ball-striking has been masked by a frigid flatstick. Rocket Mortgage marked the second consecutive week Hovland led the field in strokes gained/tee-to-green, losing a remarkable -6.8 strokes putting in those events. And he still managed top-12 finishes in each. What has been a huge positive has been the improvement in his short game. He'd lost strokes around the green in 10 events before the hiatus. And not just some strokes, an egregious amount. Over the break he got a new chipping coach and the results are clear. He's gained in three of the four starts since. That's progress.
Brandon Gdula, FanDuel/numberFire managing editor: Xander Schauffele (17-1) — Schauffele, statistically, should have won this year by now. He's been that good. Few golfers are as well-rounded as Xander, and that can come in handy at any course. Muirfield will have some penalizing rough, but Xander is both long and straight off the tee. He's also at his best putting on Bentgrass greens. In a top-heavy field, Schauffele comes in with solid win odds in my projections at a more reasonable price than the rest of the other elites.
Rick Gehman, data scientist and RickRunGood.com founder: Brooks Koepka (15-1) — Koepka reminded us why he's an elite player with his run up the leaderboard at the RBC Heritage. His final round 65 vaulted him into the Top 10, finishing 7th. The big question mark for Koepka coming out of the break was his putter. However, he has silenced those concerns with eight consecutive rounds of gaining strokes with the flatstick. Per the RickRunGood.com database, the last time he had a stretch like that, was in 2018 around his U.S. Open victory.
Stephen Hennessey, Golf Digest dep. managing editor: Justin Rose (26-1) — A bunch intrigues me about Justin Rose this week. First, the course history. Second, the fact that these greens might be rolling only about 11 or so, per our Dave Shedloski. I know the stats say J-Rose is an improved putter the past two or three seasons. But the eye test tells you: The guy struggles on clutch putts. I think that will be different this week, knowing he can really firm these putts to the hole. Muirfield Village is a ball-striker's paradise, and J-Rose is back to being one of the best in the world in that category.
Christopher Powers, Golf Digest assistant editor: Brooks Koepka (15-1) — Before he had to bow out of the Travelers over coronavirus concerns, Koepka was "knocking on the door," according to himself. A confident Brooks is a dangerous Brooks, even if his approach game has been lacking. Clearly, he believed he was turning a corner to be so sure of himself. Plus, I love the motivation factor. This is a guy that was No. 1 in the world in February and has fallen to sixth. DJ has jumped him. Justin Thomas, Jon Rahm, Webb Simpson. Bryson DeChambeau is on his heels. This is a good week to flex on all those guys, as Koepka has been known to do.
Lee Alldrick, FanShare Sports: Justin Rose (26-1) — Rose's fantastic off-the-tee game and approach on these longer par-72 courses means he ranks second in our course-suitability ranking this week. His seven top-10 finishes here, plus the win, in addition to him ranking third in the field in strokes gained/tee-to-green since the restart are reasons to be confident in J-Rose.
Results from this season: We have correctly predicted 12 of the first 25 winners to start the season. Our tour caddie predicted Bryson DeChambeau last week, despite four of our experts fading Bryson (price related). The week before, FanDuel's Brandon Gdula and DraftKings' Pat Mayo each correctly predicted Dustin Johnson's win at the Travelers, which was the fifth outright winner on the season for each of them. That puts Gdula up a massive 137 units on the season (the equivalent of being up $1,137 on $10 bets) and Mayo up 110 units for the 2019-'20 season on their outrights. The previous week, data scientist Rick Gehman picked Webb Simpson (25-1) as his outright winner in his first week on the panel! FanShare Sports' Lee Alldrick also has three winning predictions this season. Golf Digest's betting panel continues to be the hottest golf betting panel in the industry, as collectively, counting outright winners, top-10 bets and matchups won and lost, we are up 280.28 units (the equivalent of being up $2,802.80 if you wagered $10 on all of our bets).
Sleepers/Dark Horses That Could Win the 2020 Workday Charity Classic (Odds from DraftKings Sportsbook)
Caddie: Cameron Champ (75-1) — Champ drives it straight and long, and his T-12 finish after flying in on Thursday morning in Detroit will translate to Muirfield. Out of the mid-range tier, I think he's got a good chance to contend.
Mayo: Shane Lowry (100-1) — Why do I keep doing this with the Irishman? Apparently I'm a masochist. Here's the deal. Lowry's still the 25th-best player in the world and has triple digit odds. The ball-striking showed life at the Travelers. He's had a modicum of success at Muirfield before. But most importantly, he's won at Firestone. Another tough, Ohio course where a lot of crossover success can be gleaned.
Gdula: Matthew Fitzpatrick (55-1) — Fitzpatrick now has a lengthy history of being a good ball-striker, and we saw that come through at the Heritage when he finished 14th. He also gained a lot of strokes putting there, but that's something that he can do. He can separate himself from the pack with the flat stick. That's vital to winning. If you want a longer shot, Sebastian Munoz (150-1) or even Carlos Ortiz (300-1) are the ones who pop most.
Gehman: Cameron Champ (75-1) — Champ was a late addition to the field last week at Detroit Golf Club, but you would've never have known it from the results. His T-12 was highlighted by a final-round 66, and his statistical profile is exactly what you'd expect to carry over from week-to-week. He gained 5.13 strokes from tee-to-green, his best performance since winning the Safeway Open back in September.
Hennessey, Golf Digest: Byeong Hun An (66-1) — We've declared ourselves OUT on betting Ben An on Golf Digest's betting podcast (we have a new feed, by the way, make sure to subscribe!) more times than I care to count. But it's just reallllly tough to quit Ben An full turkey. Plus, for the same reason I'm on J-Rose with the slower greens, that might help Benny, who seems to struggle like no other on the greens. The stats point to Benny, and I'm just not gonna be on him if he breaks through. An expert ball-striker with world-class scrambling skills scream success at Muirfield Village, which he's had in the past (four straight top-25s including a runner-up in 2018).
Powers, Golf Digest: Maverick McNealy (130-1) — McNealy's skill set override his lack of experience at Muirfield Village, which rewards hitting the fairway and putting well. Mav has gained strokes on the greens in all three events since the restart, including 6.5 last week in Detroit, where he finished eighth. That was his fourth top-15 finish in his last eight starts on tour. I like the trend, and I love the hot putter. If he can dial it in off the tee, he's absolutely worth a bomb this week.
Alldrick, FanShare Sports: Michael Thompson (175-1) — Thompson is an excellent putter on Bentgrass greens, ranking 15th in the field long term for strokes gained/putting at Muirfield. He finished 14th here last year and eighth in 2013, plus he ranks 10th in the field for Opportunities Gained since the restart.
Players to Fade This Week (who will disappoint)
Caddie: Hideki Matsuyama (17-1) — He's slowly getting his game back in form, but this price is too high when you can use that money on Koepka, J-Rose and Hovland, all of whom I'd say have a way better chance to win. Memorial demands precise driving and iron play, which are usually his strengths, but I haven't seen it from him yet.
Mayo: Xander Schauffele (17-1) — Xander could very well win, but his game has been out of sorts since missing that short putt at Colonial. It's one great round followed by pure meh. And there's no discount to be had at this price. Pass.
Gdula: Rickie Fowler (28-1) — Fowler is getting some buzz and is priced like a real contender after his 12th at the Rocket Mortgage. The problem? He was just fine there against a weaker field. Fowler has yet to show consistently elite tee-to-green performances, and frankly, the putting hasn't even been enough to get him too many consistent runs at wins.
Gehman: Gary Woodland (35-1) — This should be a good fit for Woodland but the red flags are large and difficult to ignore. Once a prolific driver of the ball, Woodland has now lost 9.19 strokes off-the-tee since the TOUR's restart. His best weapon has become subpar and the rest of his game has followed suit.
Hennessey, Golf Digest: Patrick Cantlay (13-1) — As Gehman points out in his By The Numbers below, Cantlay hasn't finished outside the top 20 since September. Remarkable consistency. But at this price, consistency gets you nothing. You need a victory. It's tough to repeat … although I know he's not technically the defending champion here. I just don't think Cantlay has had the competitive repetitions since the restart to really get it done on Sunday. Consider him in DFS or top-10 bets, but not to win.
Powers, Golf Digest: Hideki Matsuyama (17-1) — The way Hideki is putting it right now, he should be in the 25-1 to 40-1 range. But since he was so good tee-to-green last week, and he's at a place where he's won in the past, he's getting a ton of respect. He could be in the mix, no doubt, but 17-1 is too expensive with that balky putter.
Alldrick, FanShare Sports: Xander Schauffele (17-1) — Xander doesn't have a top 10 at Muirfield in two appearances here. Despite being one of the favorites this week, he only ranks 32nd in our course-suitability ranking this week, in large part due to his poor putting on these Muirfield greens, where he has never been able to really get anything going.
2020 Workday Charity Classic Matchups
Caddie: Patrick Reed (+110) over Hideki Matsuyama (DraftKings Sportsbook) — A sneaky important part of success at Muirfield Village is scrambling. These greens are only 5,000-square-feet, which is small relative to others on tour. At plus odds, give me Reed's scrambling over Hideki's.
Mayo: Joaquin Niemann (+105) over Gary Woodland (DraftKings) — Woodland appears to be on a mission to make as many crooked numbers as possible these days. The irons have been great, but he appears to have lost the ability to drive the ball since golf returned to action. Niemann has been solid and has the course history.
Gdula: Patrick Cantlay (-114) over Brooks Koepka (FanDuel Sportsbook) — Cantlay returned to a solid finish at the Travelers (11th) but did it with a hot putter and good-not-great tee-to-green play. However, he's a former winner at Muirfield, and he has some of the best long-term stats of any golfer on the planet. That matters more than one worrisome start at the Travelers. Koepka, meanwhile, has lost strokes with his approach in 2020 overall. Yes, he can always win, but Cantlay is a lot safer.
Gehman: Viktor Hovland (-106) over Rickie Fowler (DraftKings) — Hovland continues to knock at the door, seemingly on the verge of another win soon. Since the restart, he's fourth on strokes gained/off-the-tee, second in strokes gained/approach, first in strokes gained:/tee-to-green and third in strokes gained/overall. He's on the verge of something special.
Hennessey: Viktor Hovland (-106) over Rickie Fowler (DraftKings) — Hovland's stock is climbing higher and higher. Rickie faded big time after a strong start on Thursday. It's easy to pile on Rickie, but this one seems like a no-brainer.
Powers: Viktor Hovland (-106) over Rickie Fowler (DraftKings) — As Gehman pointed out on Twitter on Monday, Rickie has been feast or famine all season. Last week, he barely made the cut and then had a strong weekend, eventually finishing T-12. But he's been too inconsistent to be favored in this matchup, especially over his fellow Oklahoma State Cowboy Viktor Hovland. The former U.S. Amateur winner has gone T23-T21-T11-T12 since the restart, and is striking it better than anybody right now. I'll take Mr. Consistency over a streaky Fowler.
Alldrick, FanShare Sports: Joaquin Niemann (-110) over Sungjae Im (Betway) — Sungjae has not played well since the restart, recording no better finish than 53rd. Niemann, on the other hand, has a top-five finish and ranks third in strokes gained/tee-to-green since the restart.
Matchup Results from the Rocket Mortgage Classic: Powers: 1 for 1 (Matthew Wolff (+100) over Mark Hubbard); Tour Caddie: 1 for 1 (Tyrrell Hatton (-118) over Patrick Reed); Mayo: 0 for 1; Gdula: 0 for 1; Gehman: 0 for 1; Hennessey: 0 for 1; Alldrick: 0 for 1.
Matchup Results this season: Alldrick: 14 wins, 7 losses, 2 pushes (up 5.04 units); Powers: 8 wins, 4 losses, 1 push (up 4.65 units); Tour caddie: 12 wins, 7 losses, 1 push (up 4.36 units); Hennessey: 8 wins, 5 losses (up 4.15 units); Gehman: 3 wins, 1 loss (up 1.68 units); Mayo: 11 wins, 12 losses (down 0.86 units); Gdula: 7 wins, 13 losses, 2 pushes (down 5.09 units).
Top 10 (odds from DraftKings Sportsbook)
Caddie: Maverick McNealy (+1100) — He's coming off his best finish of the season last week. Clearly the youngster is getting comfortable out on tour. He drives it well and has a tidy short game, which should translate again at Muirfield Village.
Mayo: Joaquin Niemann (+450) — Niemann hasn't dropped strokes with his irons in any event in over a full calendar year now. And, he's been solid in both appearances at Memorial, and he always putts better on Bentgrass. He's gained over four strokes putting in an event four times in his short career. Three have come on Bentgrass.
Gdula: Scottie Scheffler (+850) — The hate has gone too far on Scheffler after a bad return with a 55th and two missed cuts. What we know Scheffler to be is a great ball-striking option who can gain strokes both off the tee and—more importantly—with his approach play. Scheffler's short sample is not indicative of what he can really do, and at +850, he's a good top-10 option.
Gehman: Scottie Scheffler (+850) — I'll take the bait and back Scheffler after a bipolar missed cut last week. He opened with a 7-over 79 to immediately remove any chance of him playing the weekend. He then turned around and fired a 7-under 65 that included the best off-the-tee round of anyone on Friday, which was also the third best tee-to-green round. I have no idea what to expect from Scheffler moving forward, but the price is good enough to hope the positives carry over.
Hennessey, Golf Digest: Joel Dahmen (+800) — Dahmen's approach stats have been so good this year, and his ball-striking prowess will translate nicely to Muirfield Village. He's also third in strokes gained/par 4s in his past 50 rounds, per Fantasy National. He has four top-20 finishes in his past six starts … he's like the new Matt Kuchar, consistent week after week. The win is coming, and even if it's not this week, I like these juicy top-10 odds.
Powers, Golf Digest: Patrick Rodgers (+1100) — In Rodgers' last time at Muirfield Village (2018), he finished eighth, and that week his iron game and around-the-green game were subpar. But he gained seven strokes on the greens, and last week in Detroit he gained nearly five. So he's on greens he likes, and he happens to be putting well. That smells like top-10 material to me, especially if he can clean up the other areas of his game.
Alldrick, FanShare Sports: Emiliano Grillo (+1100) — Grillo ranks 13th in the field in strokes gained/tee-to-green since the restart, and he's 1st in Opportunities Gained, per FantasyNational.com. Grillo's putting performances rise incredibly at Muirfield compared to his base level; he's 10th in strokes gained/putting long term at Muirfield Village.
Top 10 results from the Rocket Mortgage Classic: Everybody: 0 for 1.
Top 10 results from this season: Mayo: 4 for 22 (+14.5 units); Alldrick: 5 for 22 (+4.5 units); Hennessey: 3 for 12 (+4 units); Gehman: 1 for 4 (+3 units); Gdula: 3 for 23 (-4.8 units); Powers: 1 for 12 (-9.35 units); Tour Caddie: 1 for 30 (-16.5 units).
By The Numbers, Courtesy of Rick Gehman:
24.94 - The number of total strokes gained by Viktor Hovland since the tour's restart, good for third behind only Bryson DeChambeau and Abraham Ancer, and the most of anyone in this field.
10 - The number of top-15 finishes at Muirfield Village (the Memorial) for Matt Kuchar in his past 14 starts.
281 - The number of days since Patrick Cantlay has finished an event outside the top 20. That's six straight starts dating back to the Safeway Open.
93.3 percent - The percentage of Rickie Fowler's last 15 tournaments that he finished either inside the top 20 or missed the cut. His T-37 at the Waste Management Open was his only finish in the middle.
86.93 - The average number of DraftKings points scored by Justin Thomas in the 21 events that he has been priced $11,000 or more.
More DFS advice, courtesy of FanShare's Lee Alldrick:
Under The Radar DFS Pick: Russell Henley (FanDuel: $8,800; DraftKings: $7,300) — Last time out, Henley shot rounds of 64 and 65 at the Travelers Championship. Two events prior, he posted an eighth-place finish at the Honda Classic. His excellent short game at these longer courses and strong putting stats on Bentgrass have elevated Henley to a 26th-place ranking in our course-suitability ranking this week. He comes into this event ranked 16th for strokes gained/tee-to-green since the restart and eighth for Opportunities Gained, per FantasyNational.com. It's clear he is playing some good golf. Henley also has a top-10 finish here at Muirfield and has recorded three rounds of 68 in his last two attempts here.
DFS Value Pick: Michael Thompson (FanDuel: $8,200; DraftKings: $6,900) — Thompson is an excellent putter on Bentgrass greens and he actually ranks 15th in the field this week for strokes gained/putting at Muirfield. This has helped Thompson on his way to three made cuts here in the last three years, including an eighth-place finish. Thompson's recent form has also been good, ranking 10th in the field for Opportunities Gained since the restart, which helped him to an eighth-place finish at the RBC Heritage.
And please subscribe to Golf Digest's new betting podcast, "Be Right!" Brandon Gdula joins us this week to discuss his picks this week and who the stats point to as being the next players to break through.
Pat Mayo is an award-winning video host and producer of long and short-form content, and the host of The Pat Mayo Experience daily talk show. (Subscribe for video or audio. Mayo (@ThePME) won the 2020 Fantasy Sports Writing Association Daily Fantasy Writer of the Year and Golf Writer of the Year awards, along with the Fantasy Sports Trade Association Best Sports Betting Analyst award, and was finalist for four FSWA Awards in 2020 (Best Podcast, Best Video, Daily Fantasy Writer of the Year, Golf Writer of the Year). His 21 FSWA nominations lead all writers this decade and are third-most all-time. Mayo is on the board of governors at www.fantasynational.com.
Brandon Gdula, managing editor and analyst for NumberFire, a FanDuel daily-fantasy analysis company, recently won the 2018 fantasy sports-writers association Golf Writer of the Year *(congrats, Brandon!)*. Gdula also co-hosts the DFS Heat Check podcast.
Rick Gehman is the founder of RickRunGood.com and the RickRunGood YouTube Channel, is one of the industry's leading experts on golf DFS and gambling. Gehman is co-host of the First Cut Podcast and appears regularly on the Pat Mayo Experience golf podcasts. Follow him on Twitter: @RickRunGood.
Lee Alldrick of FanShare Sports started out writing an article highlighting the best bargain plays for fantasy golf under his twitter handle @DKGolfBargains. His success at this prompted FanShare Sports to enlist him as a guest writer, which evolved into him writing the weekly Under The Radar article. As a U.K.-based expert, Alldrick's insight into European Tour regulars and low priced, low owned plays has provided an invaluable edge for readers when it comes to DFS GPPs.