FIRE PIT COLLECTIVE
Meet Pierson Huyck, the youngest competitor ever in the U.S. Junior Amateur
Editor's Note: This article first appeared in Fire Pit Collective, a Golf Digest content partner.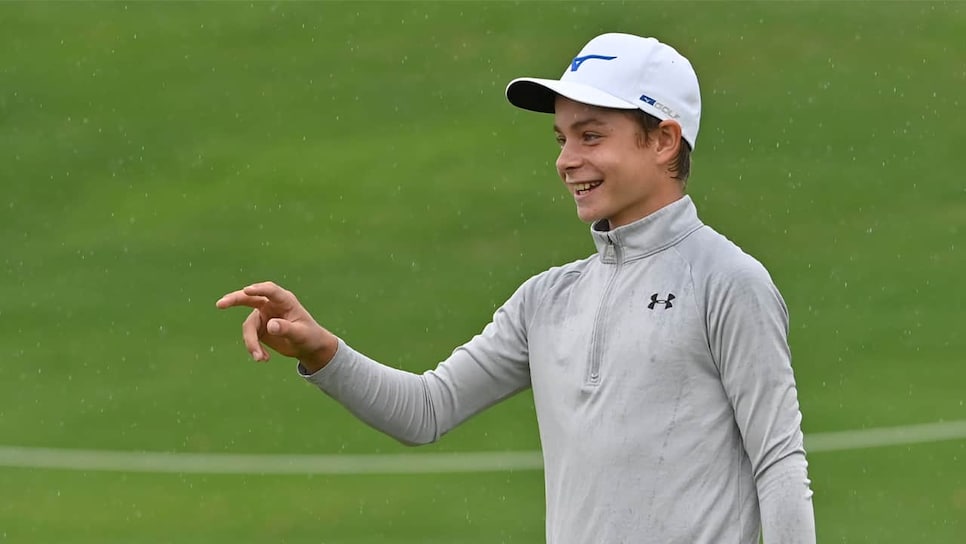 Pierson Huyck (pronounced HIKE) got the call of a lifetime just a few weeks before arguably the biggest event in junior golf. He typically likes to spend his weekends on the motocross track, but he is trading the dirt for the dunes this week at the U.S. Junior Amateur.
Huyck, who hails from Phoenix, finished as a first alternate after losing in a playoff at the Hawaii qualifying site in June, but he's now in the field at Bandon Dunes. At 12 years and 17 days old, he will be the youngest to tee it up in the 74-year history of the event. Matthew Pierce Jr. was 12 years, 2 months and 15 days old when he competed in 2001. Gay Brewer, Johnny Miller, David Duval, Tiger Woods, Jordan Spieth, Scottie Scheffler and Will Zalatoris are among the players who have captured the championship. Woods won it three straight years, and Spieth was a two-time champ.
The tournament, which starts Monday, features 264 players competing in 36 holes of stroke play across two days. The top 64 advance to match play.
Few can say they've played a USGA championship ahead of sixth grade. Here's a look at how Huyck got there (with some insight from his dad, Greg). This interview has been edited for clarity and length.
Q: You played the Drive, Chip, and Putt in 2021. Does it amp you up to be back on a big stage again?
Pierson: The Drive, Chip, and Putt was fun. I think this tournament will be cooler because it's actual golf. This is like a real tournament. It just makes it more fun. So yeah, I think it'd be more of a test that tells you who will do good in the conditions at Bandon.
Q: Was the goal to make the U.S. Junior Amateur?
Greg: There were some requirements to just even make the field. To be able to qualify for U.S. Junior Am, your handicap has to be 4.4 or less. So we started working on getting him a handicap nine or 10 months ago. And he plays here in Phoenix. I didn't know how it was going to turn out. But we started posting every score. And I explained to him that you've got to declare on the 1st tee, are you going to hit two balls? Or are you going to post a score? When it all came down to seeing what his resting handicap was, he was somewhere between zero and 1. So he was able to meet the 4 that was necessary just to get in the field at Hualalai on the Big Island.
Q: What happened at your qualifier? You were the first alternate. How did you react when you got the call?
Pierson: I tied this one kid, and we went into a playoff. He beat me, and then a couple of weeks later, the USGA called us and said I was invited to the tournament. (Note: Only one automatic qualifier was taken from the Hawaii site.) Obviously I was excited. But yeah, it was nice. It was cool.
Greg: We spend the summers in Hawaii, just to try to beat the heat in Phoenix. His best buddy over there, a kid by the name of Blake Nakagawa, is a 10-year-old and is a really active player on the islands and on the mainland. And he caddied for Pierson through qualifying. They were playing against a lot of kids that the two of them knew but sort of look up to him. It's neat to see those two interact together to get me off the bag and behind the ropes.
Q: When did you find out that you would be the youngest person to ever compete?
Pierson: I think before I played the qualifier, I sort of knew. I wasn't 100 percent. But then after I started looking, we saw that I was.
Q: That's so exciting. Do you think it kind of shows people that maybe you can achieve these kinds of feats regardless of age?
Pierson: Yeah, I think so. Just makes it fun to beat all the kids that are older than me. It just makes it cool.
Q: I saw that your grandfather was the one who introduced you to golf. Did it click immediately?
Pierson: It was mostly him and my dad. I started playing tennis when I was about 4. Then when I was 5, I went out to the range. And I realized I was good at that. So we just started playing golf instead.
Q: What is the best part of your game?
Pierson: Probably recovering from mistakes. And then chipping. Just getting up and down if I have a bad approach.
Q: What do you like about golf so much?
Pierson: I like competing in tournaments. It's fun to win tournaments. It's nice knowing that the work you do is actually doing something.
Q: What does your golf practice look like?
Pierson: It's normally about four or five days a week. My dad picks me up from school. After that, we go to our golf course, which is Phoenix Country Club. And we go to holes. We practice hitting all kinds of shots.
Greg: He's definitely committed. He's a better tournament player than he is at practice. And that may have something to do with his age. But he definitely likes winning. It's evident that he puts himself into a different gear when he's playing competitive golf. And he keeps super calm. His demeanor during tournament play is as steady as you could imagine for any junior golfer.
Q: Have you put in a little more practice since you got the call?
Pierson: Oh yeah, definitely. I've tried to practice in all the windy conditions because that's just what I heard it's like at Bandon Dunes.
Q: When did you get into dirt bikes?
Pierson: My dad and I made a bet. I think I was 8 or 9. I had to shoot even par over a couple of days. And I did. So he bought me this little dirt bike. And then I moved on to the next biggest size, and after that I got a real dirt bike. That's probably one of my favorite things to do besides golf.
Greg: I rode too when I was younger, and he's pretty accomplished at it. But I can see now, the way he views his dirt bikes and his golf, he is a real instinctive feel player. He'd prefer to get more comfortable and have more confidence with a golf club in his hand, instead of being so mechanical. The best riders will tell you, you've just got to be calm, comfortable and confident on a bike. If you're white-knuckling it, it's not going to work. I think that's what he brings to his motocross, and that's why I think he loves the sport because he has been able to get confident and relax on top of a powerful machine.
At the end of the day, my wife and I wanted a way to teach him responsibility through a lot of facets of his life and to put himself at some risk and try to teach him how to ride safely. And how not to be a knucklehead was important to us. That's what we've stressed with his time on his dirt bikes.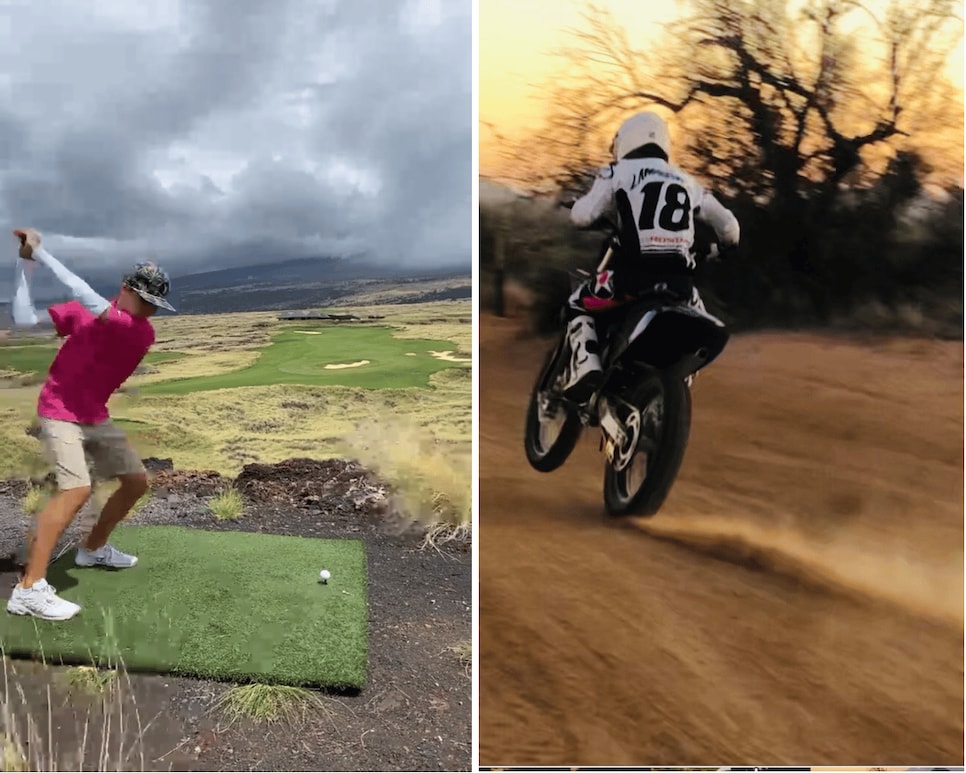 Q: What's your biggest goal this week?
Pierson: My main goal is to make the cut. And then I think I can do well in match play.
Q: What's the most rewarding thing about watching Pierson?
Greg: Frankly, seeing him be able to hit a shot when he has to hit it. Being able to execute when he has to execute. And I'm especially proud of his demeanor. He's got a very steady demeanor, which from a parent's perspective, I think is a wonderful hallmark characteristic of a lot of PGA Tour players.
Q: What's your biggest goal in golf?
Pierson: Just make it to the PGA Tour and be top 10 or 15 or 25 in their ranking.
Q: Are you thinking about playing college golf?
Pierson: I haven't really decided that yet. But yeah, probably.
Q: What's next after the U.S. Junior Am?
Greg: Pierson's got a second round of Drive, Chip, and Putt qualifying coming up on Aug. 7. So as soon as we get back from Bandon, he's got to get the job done in Tucson and see if he can get back to Augusta. We're also going to Salt Lake City in September for qualifying for the Notah Begay Invitational.