Fan mishaps
Watch a fan pick up Nelly Korda's ball during the final round of Evian Championship and scramble to put it back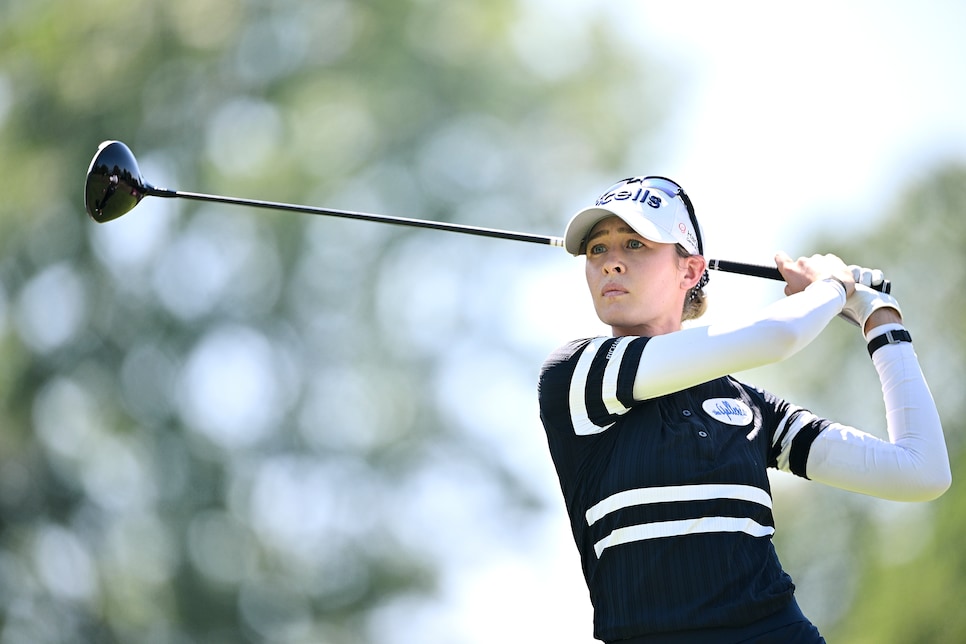 You expect to deal with a lot of things when you're in contention during the final round of a major: stress, tough pin positions, fast greens, birdies from your competition. But what you don't expect is a fan picking up your tee ball moments after it comes to rest. That's exactly what happened to Nelly Korda on the sixth hole of the final round of the Amundi Evian Championship.
We love seeing new fans coming out to golf tournaments, but you've got to know that picking up a ball isn't the right move. As you can see, the man who appears to be with the fan gave her a quick lesson in proper tournament etiquette.
The man tells the woman to put the ball back where she found it, which is actually the correct thing to do according to the USGA Rules of Golf. Rule 9.6 says "If it is known or virtually certain that an outside influence lifted or moved your ball there is no penalty. The ball must be replaced on its original spot (which if not known must be estimated)."
Despite not incurring a penalty during the mishap, Korda went on to make double-bogey 6 on the hole at Evian Golf Club. It was her second shot on the par 4 that found the wood chips. She flubbed her third into a green side bunker, hit out in four but missed a eight-foot putt for bogey. To her credit, she made a birdie on the seventh and eagle on the ninth to jump back into a tie for the lead, but she'd play her back nine in one over to eventually finish four shots back of winner Brooke Henderson.