The Loop
Meet DK Metcalf, the linebacker-devouring breakout star of NFL Combine season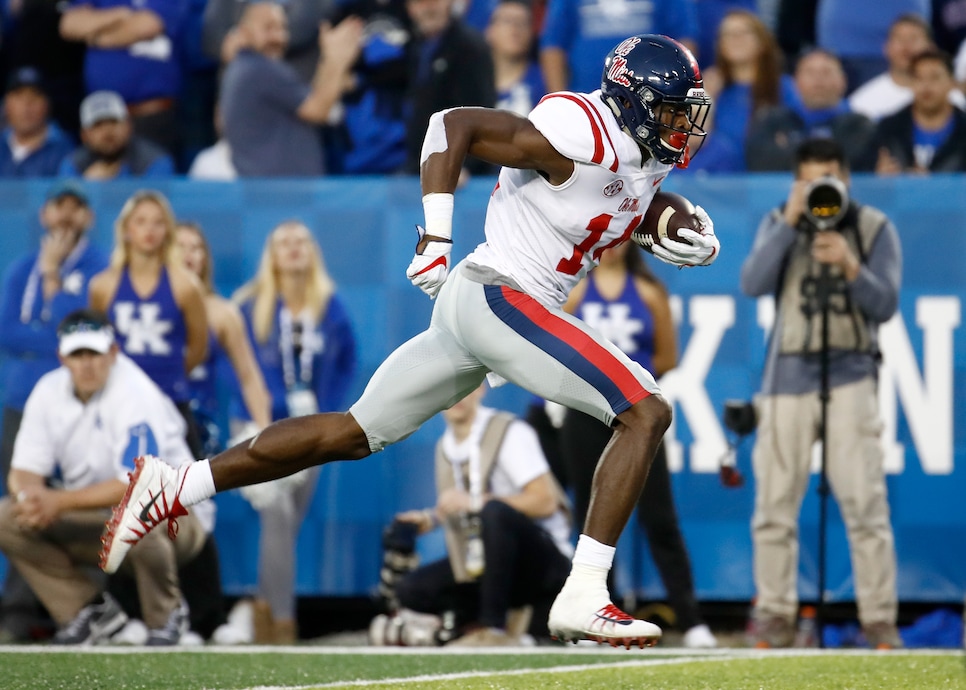 It's officially Combine season in the NFL—the hap-hap-happiest time of year when the collective football brain trust nukes dudes who go on to win six Super Bowls and champions guys that will be spit out of the bottom of Arena Football barrel in three years time. Each and every spring, the sports world falls ass over tea kettle for some physical "freak," who rockets up draft boards and tattoos himself on the hearts of delusional NFL fans everywhere. For each J.J. Watt, however, there's a Vernon Gholston—for every Megatron, a John Ross—which brings us to the currently very viral matter of DK Metcalf, Ole Miss prospect and escaped government super soldier #6-C29. If don't recognize him by name, perhaps you recognize him by abs:
OK, so a few things you should know about DK. First of all, he's the guy on the left. Second all of, HE'S A WIDE RECEIVER. And actually, that's about it. Rumor has it, he ate Alshon Jeffrey whole and consumed his powers, but this remains unconfirmed. He's listed at 6' 4", 230 pounds, which seems like either a conservative estimate or an outright lie. Oh, and he can actually catch a damn football...or at least could, before choosing Bruce Banner as his PCP. Now he can't pick up a baby bird without crushing it.
Obviously Football Twitter likes DK Metcalf—WHO DOUBLED HIS BODY SIZE AFTER BREAKING HIS NECK LAST YEAR—a whole bunch.
More importantly for Metcalf/the future of humankind, however, so do NFL scouts, projecting Metcalf as a mid first-round pick with Josh Gordon-like downfield ability and the over-the-middle presence of a cement mixer. Currently Vinny Iyner of Sporting News has Metcalf going 17 to the Cleveland Browns (yes, the same Cleveland Browns who just signed Kareem Hunt and already have Baker "f—k Hue Jackson" Mayfield and Jarvis Landry doing the whole throw-and-catch thing.) Please, Santa, make this happen. We promise we'll never ask for anything ever again.