Well Played
Tour pro absolutely roasts himself with hilarious name on caddie's bib
You may not have even noticed it yet, but players are allowed to put nicknames, or whatever else they'd like, on the back of their caddie's bib this week at the Valspar Championship. It's a fun feature the Valspar decision-makers came up with about six years ago, stealing an idea from the MLB, which does something similar for its "Players Weekend" (h/t: Subpar podcast).
More or more players and caddies are beginning to embrace it each year, and it's led to some hilarious messages slapped across the caddie bib nameplate ("Kick Me" from Mark Hubbard's caddie was a personal favorite in 2021).
While we're sure there are plenty of A+ messages and nicknames this week, none of them will top the nickname on the bib of Max McGreevy's caddie. It simply reads "Mr. 89":
Now, unless you're a total golf sicko, you're probably asking "what am I missing here?" Is McGreevy a big fan of Carolina Panthers legend Steve Smith? Or New York Giants unsung hero Kevin Boss (I had to)? Is 89 his lucky number? Try none of the above. McGreevy is actually roasting himself here. Last week at the Players Championship, after opening with a first-round 69, he shot 20 shots worse in his second round: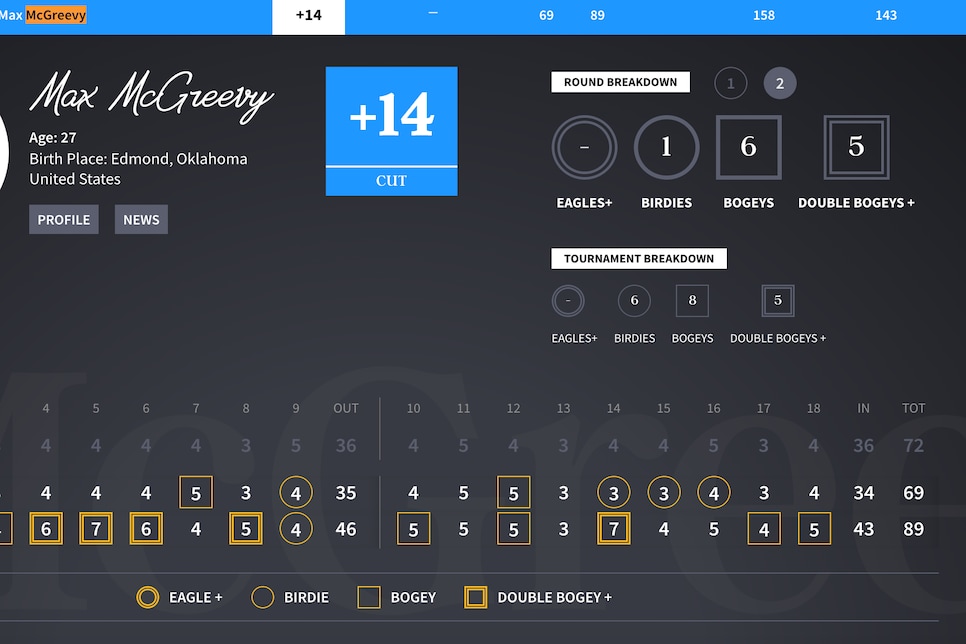 Well played, Max, well played. A masterclass in making the joke about yourself first, thus disarming anyone who was going to make the joke themselves. Mr. 89 has a decent ring to it, too.