How He Hit That
How to play Max Homa's ridiculous tree recovery shot
Want something to add to the level of difficulty to the tricky short-game shot you have to win $1.7 million and a trip to the Masters? On the first hole of a playoff at the Genesis Invitational, Max Homa not only needed to figure out how to find a stance that would let him ground hook a gap wedge away from a tree his ball had nestled near at Riviera Country Club's famous 10th hole, but he had to do it right after missing a three-footer on the last hole of regulation that would have given him the trophy outright.

The California kid stepped up and hit one of the shots of the year. Homa hooded his wedge and trundled the ball up the sticky Kikuyu slope, helping him to save par and stay tied with Tony Finau. He would win the next playoff hole and the title.
"It was a weird looking shot, but I had a shot, which is cool," Homa said. "I took a 50-degree out and just hooded it as much as I could to get it started as left as I could with some tumble spin, because going into that Kikuyu uphill it all sticks. I tried to land it as low into the hill as I could to get it rolling."
Click below to watch the incredible shot Homa executed in the clutch:
Homa's coach, Golf Digest 50 Best Teacher Mark Blackburn, says the key to the shot is both being able to visualize that it's possible and knowing what makes the ball curve. "It's harder to curve the lofted clubs because of the spin loft, so manipulating the face angle at the start is especially important," says Blackburn, who began working with Homa U.S. Open week last year.
"He aimed way right of the target, but the face was pointed left. When he swung down his body line and rotated his forearms through the shot, it produced the low hook onto the green."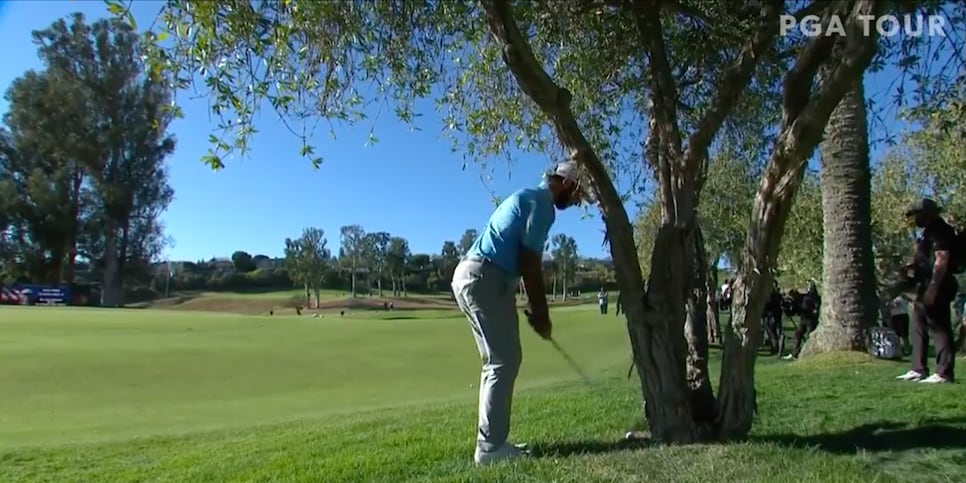 When you try a shot like that, make sure you do two things, Blackburn says. First, the key to curving it is in the setup—put the ball back in your stance and shut the clubface. "If you try to do it dynamically with just your hands, there's not much margin for error—or time in the swing to recover from a mistake." The second piece is making sure you hit the ball before you hit the ground. Anything you try to do to create curve spin will get dampened—literally and figuratively—if you catch a bunch of turf first.
Blackburn says he's as proud of Homa's willingness to see and use his creativity in a high pressure situation as he is at the execution. "Max is a lovely kid—attentive, and a perfectionist who asks awesome questions and applies the information. As my idol, Coach Nick Saban would say, he bought into the process."