Genesis Invitational
Golf can't get any cooler for Max Homa than winning at his beloved Riviera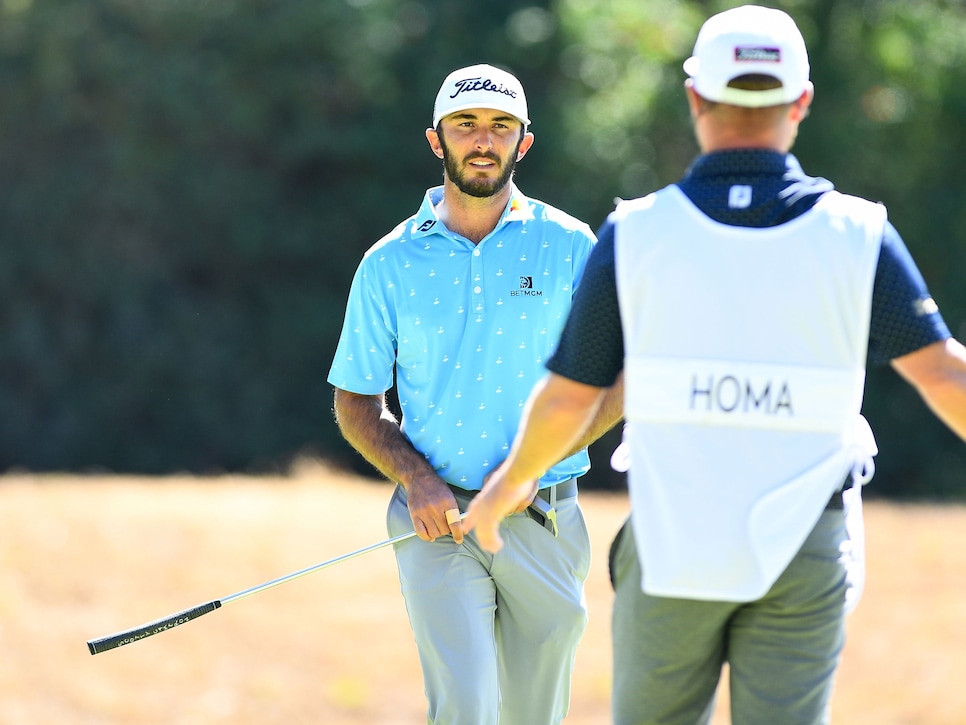 Photo By: Icon Sportswire
PACIFIC PALISADES, Calif. — Max Homa would come to this event as a kid. The signage has since changed a few times—it was the Nissan Open back then—but Riviera Country Club hasn't, and Homa would make the drive from nearby Valencia year after year to "watch the professionals." It's easy to imagine 10-year-old Max, stuck in 405 traffic on the drive back, daydreaming about the situation 30-year-old Max found himself in on Sunday.
Middle of the 18th fairway, wedge in your hand, birdie for the win. The 30-year-old Max completed step one, sticking the wedge to 40 inches. Next up: brush it in, and get the champagne ready.
Homa didn't convert that three-footer, a nervy stroke and a slight misread producing a jaw-dropping miss. Twenty-five minutes later, his ball rested against a tree, and Tony Finau had one hand on the trophy.
So it wasn't exactly a Hollywood ending—but Hollywood really isn't that close to Pacific Palisades, and the only thing that matters in this wonderfully weird game is who finishes with two hands on the trophy.
On Sunday, that was Max Homa. Finau missed a putt for a win of his own on the first playoff hole, and a two-putt par on the 14th was enough for Homa to secure a pinch-yourself victory at the Genesis Invitational.
"I think young me would have had a hard time dreaming this one," said Homa, explaining how this tournament helped fuel his love for the game. "It was so fun to watch from the other side of the ropes. Even just playing, every day I come here is kind of a pinch-me moment. So when I saw my name at the top of the leader board, it hit me."
A year ago, Homa finished T-5 in his fourth career start at Riviera and he said that helped him handle his emotions this week as he contended again. "I felt much calmer this year," Homa said. "It's truly a dream come true. … I don't know if I could do anything cooler in golf than this."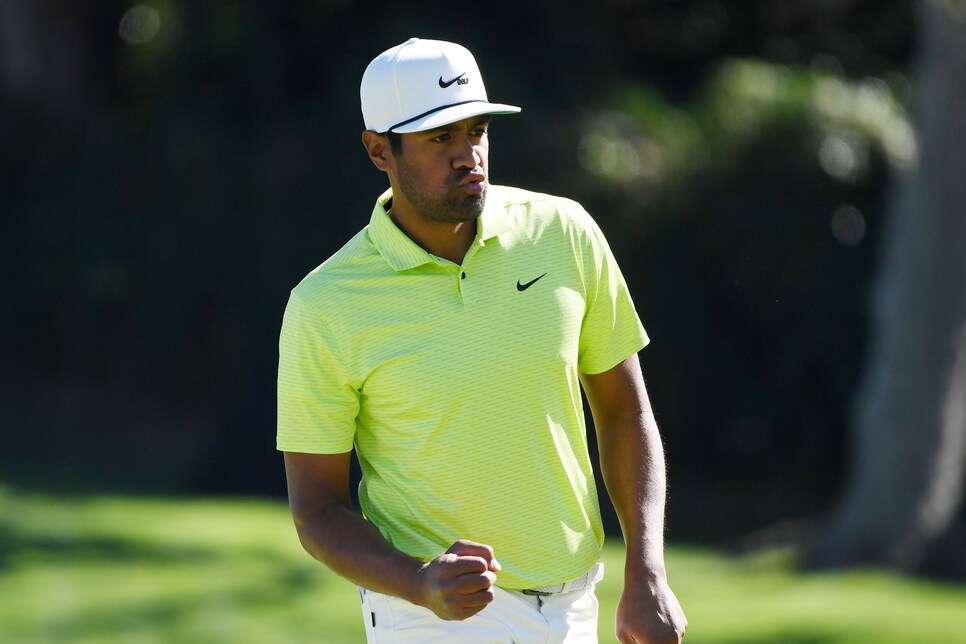 Despite a Sunday 64, it still wasn't enough for Finau to end his five-year PGA Tour victory drought.
Harry How
The day began nine hours before the final putt dropped, when Homa was among the 23 players who had to return to Riv to finish their third rounds after winds stopped play for nearly four hours on Saturday. Homa parred all five of the holes he played amid frigid conditions at dawn and entered the final round two shots back of Sam Burns, who tied the 36-hole tournament scoring record and slept on the lead three straight days.
Burns could not have asked for a better start to his final round. Neither the winds nor the greens had the same fire on Sunday, and the 24-year-old took advantage of reasonable scoring conditions to shoot a bogey-free 31 on the front nine. After a par save from the trees on 10, which let him keep his three-shot lead, you sensed this might be yet another instance of a lesser-known player staring down the megastars at Riviera. John Merrick did it 2013, and so did Rory Sabbatini in 2006, so why not Sam Burns?
The first wobble was a massive one, a violent pull-hook that looked destined to soar into the backyards of one of the $20 million homes that line the left side of the 12th fairway. It struck a branch square and somehow bounced back onto the golf side of the fence. Burns then played a wonderful shot to get the ball just short of the green. But he bungled the chip for his first bogey of the day, and by the time he stepped to the 14th tee, both Homa and Finau were officially in pursuit.
Finau, who gets asked repeatedly about his failures despite his consistent world-class play, posted the round of the day with a seven-under 64, the best of anyone by two. He birdied 16 and 17 to get to 12 under, then needed an up-and-down for par after a chunky approach into 18.
Burns bogeyed 14 and 15 to fall out of the lead for the first time since Thursday. So after canning a seven-footer for birdie on 17, Homa was the only man who could beat Finau. Two perfect shots, then that miss.
"Obviously wasn't a very good putt," he said. "I was just a little nervous, honestly. This tournament means a lot to me."
Finau and Homa headed to the first playoff hole—which, in normal years, would be the 18th. But with no fans sitting on the natural amphitheater behind that green, the beautifully chaotic 10th played host. Finau hit a perfect cut 3-wood that just carried the left bunker and kicked to the sliver of fairway just left of the green. Homa's was about 10 yards further left and nestled up against a tree. But he was able to manipulate his wedge's clubface enough to flick one onto the green, and Finau's 10-footer for the win didn't get to the hole.
Finau's tee shot on the second extra hole, the par-3 14th, found the bunker and he couldn't get it up-and-down from there to force a third.
"It's bittersweet to be in this position again," said Finau, who now has 21 top-five finishes since his lone PGA Tour win at the 2016 Puerto Rico Open. "But I mean, I never get tired of playing good golf, and that's what I tell myself every week. Sports is about winning, I've said that any times. I grew up trying to win every tournament I play, and nothing's changed. But I know that at the end of the day you're going to lose a lot more times than you're going to win on the PGA Tour."
Homa knows this. He'd have killed for even one top-five back in 2017, when he played 17 events on the PGA Tour and made $18,008. (Sung Kang, who finished dead last among players who made the cut this week, made $19,623 on Sunday). Since then, Homa rediscovered the game that saw him win the 2013 Pac-12 championship across town at Los Angeles Country Club, and became a PGA Tour winner two years ago at Quail Hollow.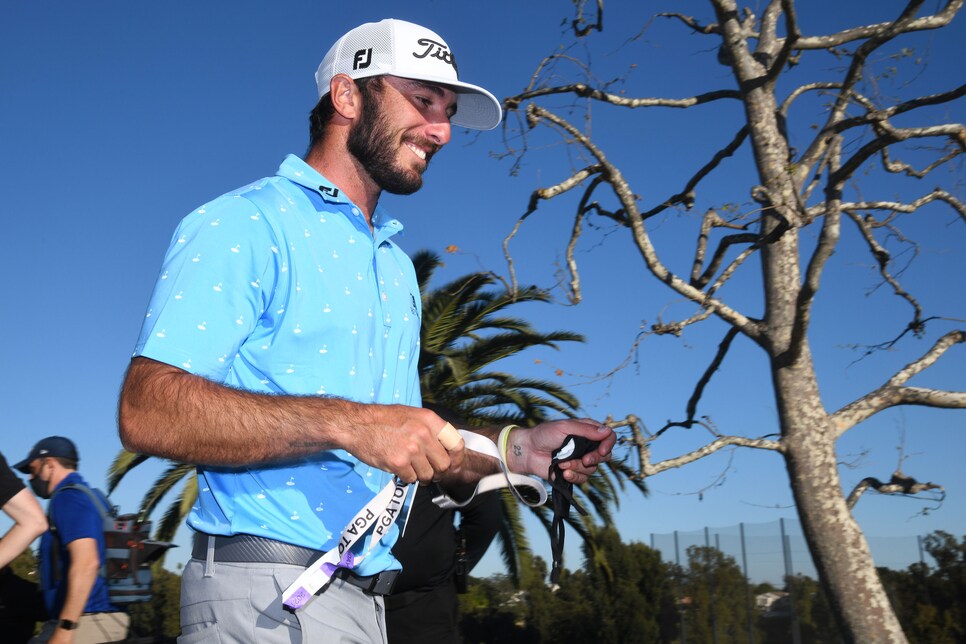 Homa says he attened the PGA Tour stop at Riviera several times in his youth, the tournament inspiring him to become a pro golfer. "It's truly a dream come true," he said of Sunday's win.
Harry How
All the while, Homa has been a fan favorite for his social-media presence and his relatability. Whereas the majority of PGA Tour stars' Twitter feeds are littered with canned corporate jargon posted by their managers, Homa has given fans an honest window into the life of a jovial guy who just happens to be damn good at golf.
He is, put simply, so … normal. The guy you'd have a beer with, and the antithesis of the larger-than-life personas that so many players work so hard and pay so many people to cultivate. Until today, that's what Homa was chiefly known for: the funny guy who's always tweeting. After winning at a course like this, against a field like this—his game is starting to do plenty of talking.