Apparel
Matthew Wolff's tie-dye Nike shoes turned heads at Seminole—here's the story behind them
Matthew Wolff wore a pair of tie-dye Nike shoes during the TaylorMade charity skins match on Sunday. Here's more info about them.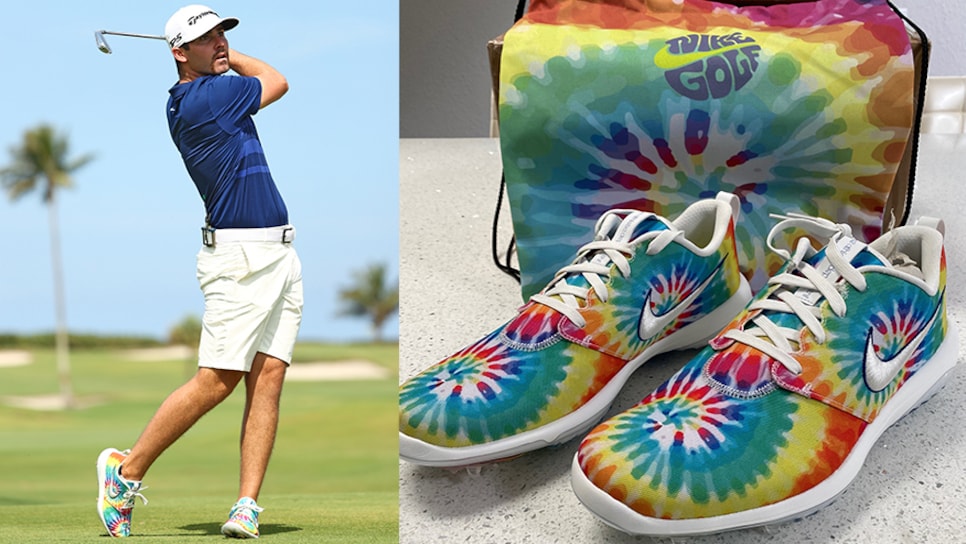 Several winners emerged from the TaylorMade Driving Relief charity match this weekend. Of course, those who helped raise $5.5 million for COVID-19 relief were the biggest winners, with Rory McIlroy and Dustin Johnson winning the competition over Rickie Fowler and Matthew Wolff in an exciting closest-to-the-pin playoff. But Wolff emerged to a larger sports fanbase as a rising star in the game, and he turned heads for his choice in shoes, sporting a rainbow tie-dye pair of Nike golf shoes. We found out a little more about them.
The tie-dye golf shoes are part of the "Peace and Love" footwear collection Nike designed for the 2020 PGA Championship at Harding Park. The rainbow dye pattern is inspired by San Francisco's history as home to the counterculture, hippie movement in the 1960s.
You can expect to see more of Nike's pros wearing a simliar pair of shoes during PGA Championship week, which was rescheduled for the first full of week of August. The shoe is expected to be sold by Nike closer to the new PGA date. And in the meantime, simpler versions of the Nike Roshe G Tour Golf Shoe are available now.
Wolff previewed the shoes during a practice session posted on Twitter the day before the match at Seminole Golf Club in Florida.
During the match, it was announced that the shoes would be auctioned off post-round with the proceeds being donated to COVID-19 relief efforts. The auction has since closed and the winner will be announced tonight.
For now the lucky auction winner and a few Nike ambassadors are the only ones able to get their hands on the bright kicks, but another pair of eye-catching Nikes recently dropped may help bide the time while we wait for the tie-dyes to hit shelves.