DP World Tour Championship
As Matt Fitzpatrick tries to fend off American charge for the Race to Dubai, he's seeking Ryder Cup redemption, too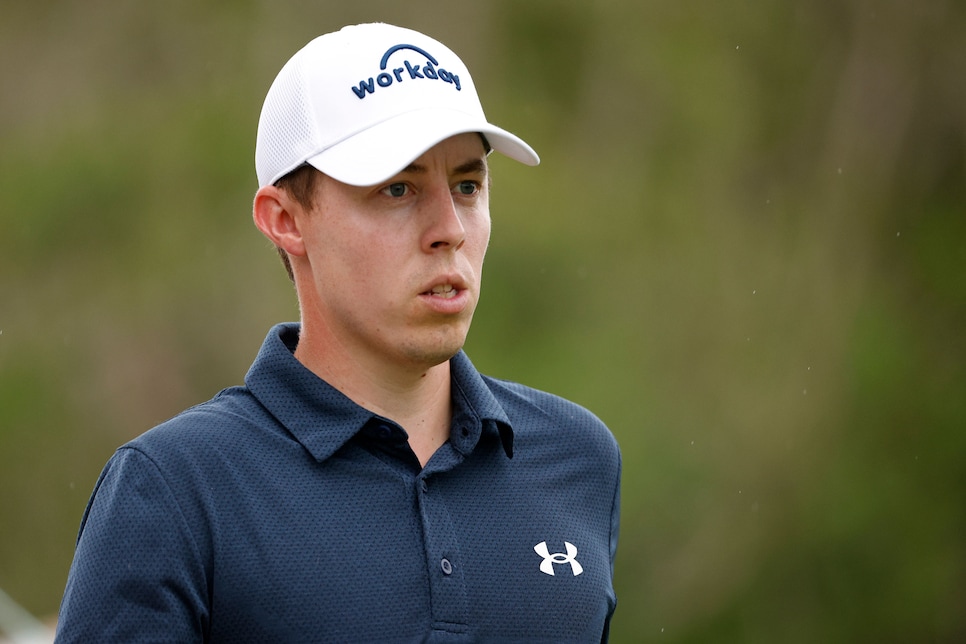 DUBAI, U.A.E — They're still smarting. Almost two months on from the record-breaking 19-9 Ryder Cup defeat the Old World suffered at the hands of the Americans at Whistling Straits, at least one member of the European squad is looking for a wee bit of payback. With some justification, too. One of only six players capable of topping the season-long Race to Dubai points list, Matt Fitzpatrick has arrived at the European Tour's climactic DP World Tour Championship as the leading European and armed with some weighty credentials to back up his wish for retribution.
The 27-year-old Englishman—pointless in his five matches over two Ryder Cup appearances—is the defending champion in this event, having also triumphed back in 2016. In six previous visits to the 7,675-yard Greg Norman-designed Earth Course on the Jumeirah Golf Estates, Fitzpatrick has accumulated five top-12 finishes. Twenty-one of his 24 rounds have ended in red figures (he is a cumulative 71 under par), and only once has he shot more than 72.
But even a third victory this week would not be enough to guarantee a first-place finish in the RtoD. Currently sixth in the standings, Fitzpatrick is 1,743.2 points behind the leader, Open champion Collin Morikawa, and 1,507 points adrift of second-placed Billy Horschel, both of whom are aiming to be the first American to win what used to called the "Order of Merit." To pass both, Fitzpatrick has to win—which is worth 2,000 points and $3 millions—and have Morikawa finish worse than ninth and Horschel worse than a two-way tie for fifth.
A tall order, but Fitzpatrick "fancies his chances" at the end of a season that has seen him consistently perform with some distinction on courses where he has either positive history or just feels "comfortable." Strangely, however, that covers a range of courses with hardly any common factors. Where this week the Earth course calls for big-hitting into generously wide fairways, just last month the former U.S. Amateur champion claimed his seventh European Tour victory at Valderrama, a notoriously tight, tree-lined venue.
There's no logic to it really. Hardly the longest hitter on tour, the 17 under Fitzpatrick shot to win here in 2016 is the lowest he has ever gone in his pro career. Then he was 15 under last year.
"This is one of the two European Tour courses, Crans-sur-Sierre in Switzerland, where I've won twice, is the other, on which I feel like I have the best chance to win," he said. "Which is weird. Before I came here for the first time, everyone was telling me how long and tough the course is. Then I finished fourth. And a year later I won. So now I love it here.
"I have felt it more this year for whatever reason," Fitzpatrick continued. "I just feel comfortable on certain courses, ones I know well and have played well on. If I look at my results this year, that is definitely a pattern. I played well at Riviera, which I've done a few times. Same at Bay Hill and the Players. In contrast, my summer was poor, apart from the Scottish Open. Again, I tend to perform well there."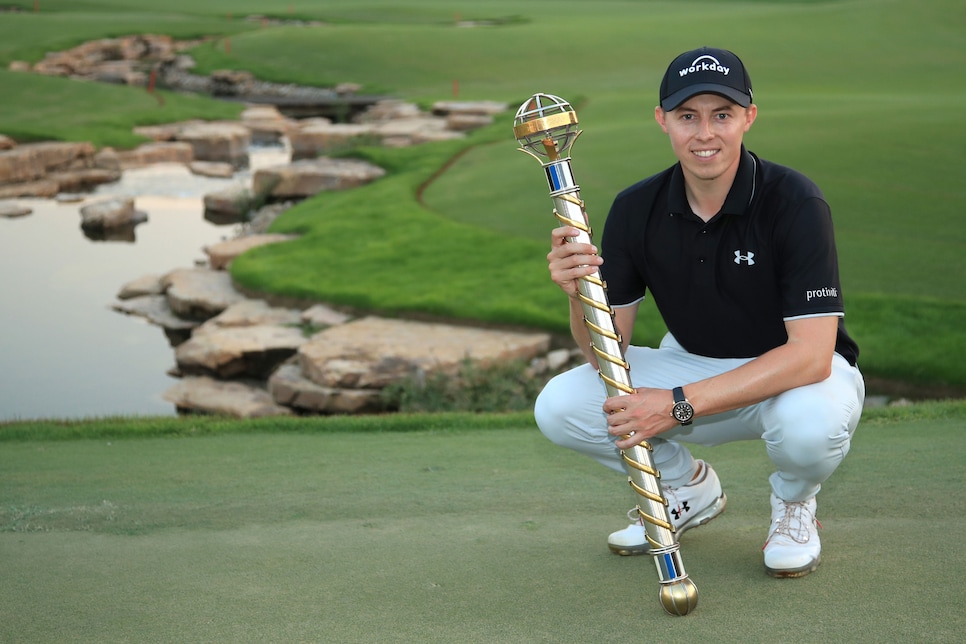 Fitzpatrick was the winner in Dubai in 2016 and 2020 (shown).
Andrew Redington
"I know no American has won the Race to Dubai," he said with a smile. "And I'm the leading Europeans going into this week. So no pressure then. I've had a look at how we stand. I don't think Collin played that well here last year [he finished T-10, eight shots behind Fitzpatrick]. And Billy is here for the first time. So he'll have to get used to the place a bit. I'll be honest, I fancy my chances having won last year. It's not a secret.
"It would be nice to stop them winning our title," he continued. "And yes, it was nice to see me, Rory [McIlroy] and Victor [Hovland] win tournaments since the Ryder Cup. And yes, it would be good to stop history. A 'this one's for Europe' sort of thing [laughs]. It would be great. To be completely honest though, I've not really thought about that. I'm really focusing on winning the tournament. If I do that, everything else hopefully takes care of itself."