DP World Tour Championship
Collin Morikawa sounds like he's all business as he eyes American history in the Euro Tour finale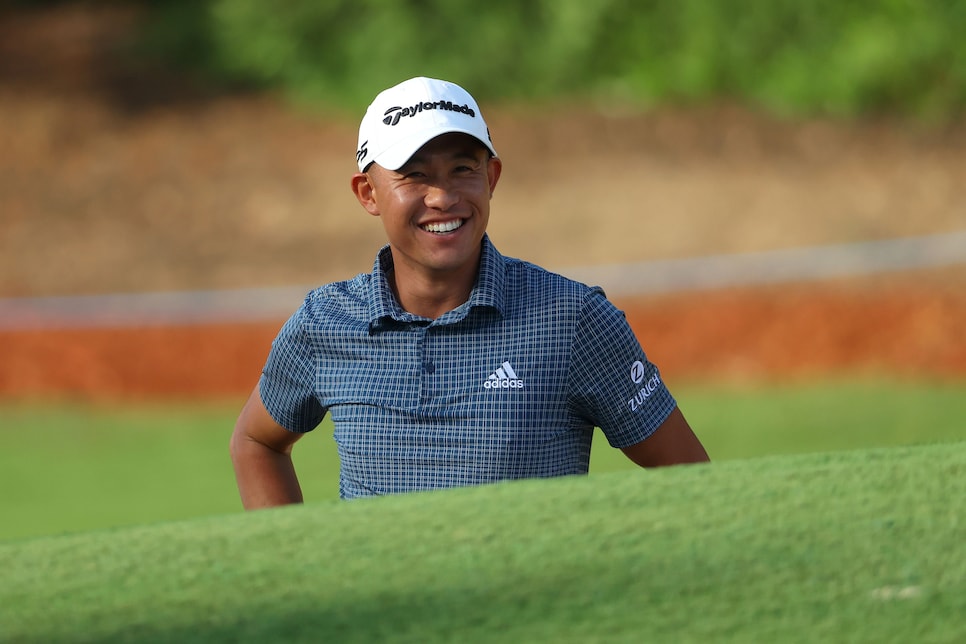 Collin Morikawa, a newly named Honorary Member of the European Tour, smiles at the 15th hole during the Pro-Am at the DP World Tour Championship.
Andrew Redington
DUBAI, U.A.E. — It would be something of a stretch to claim that Collin Morikawa sat down at the start of 2021 and thought, "Wouldn't it be nice to win the Race to Dubai?" But, rather like a man strolling along minding his own business, the Open champion has suddenly come upon a $100 bill lying on the sidewalk. So it is that, heading into what will be the final event of the 2021 European Tour season, the DP World Tour Championship, Morikawa sits atop the standings.
With 72 holes to play over the Greg Norman-designed (oh, the irony) Earth course at the Jumeirah Golf Estates in Dubai, Morikawa has much to ponder. First place in the tournament pays $3 million. Maintaining his lead over countryman Billy Horschel—currently 236.2 points—would bring a $1 million bonus. And there is some potential for history-making involved, too. No American has ever finished first on the European money list.
Before all that, however, Morikawa had a pleasant surprise. In a short and informal ceremony ahead of his pre-tournament press conference, the 24-year-old Californian became the 57th honorary member of the European Tour (and last, given the imminent re-branding of the circuit to the DP World Tour). Morikawa is just the fifth American so honored, joining Tom Watson, Jack Nicklaus, Arnold Palmer and Patrick Reed.
"Two and a half years ago when I turned pro, I had no clue what life was going to put in front of me," said a visibly touched Morikawa. "Obviously the world has gone through many changes, but this means a lot. We want to grow the game as much as we can, and this is an important piece of that. I'm going to honor this. It is very special and definitely a top highlight for me since turning pro."
Still, any feelings of friendship will be forgotten later this week as Morikawa attempts to fend off a cosmopolitan quintet led by Horschel. Given the extent of Morikawa's advantage, only Tyrrell Hatton, Min Woo Lee, Matt Fitzpatrick and Paul Casey also have a chance to claim the RtD title. Indeed, even if Morikawa were somehow to finish 53rd (last) in the elite field this week, he would still top the standings if Horschel finishes worse than a two-way tie for 8th and the other four fail to win the tournament.
In other words, Morikawa is in a pretty strong position. But he is taking nothing for granted.
"I'm not taking this week lightly," he insisted. "It would mean a lot to be the first American to win the Race to Dubai. I've put a lot of work in the last week, the past couple days to be ready and to come here and play as best as I can. Yes, we're at the tail end of the season. But I made that mistake with how the FedEx Cup went. I injured myself and got a little unfortunate with the way the playoffs worked. I worked so hard through the regular season to put myself in a good spot, so I don't want to let this go. You don't know how many chances you're going to get to win a Race to Dubai. I've been lucky to play well this year in a major and the WGC to get me in this position.
"But I'm here to win the tournament," he continued. "If I just beat Billy Horschel, that's not going to guarantee me the Race to Dubai. I'm trying to take care of my business. The only time I've ever looked at trying to beat an opponent was at the Ryder Cup. There, that's all that matters—you get a point on the board. When it comes to tournaments like this and you have a chance to win a season-long race like the Race to Dubai, you can't think about that. You can't worry about the 'what ifs' or what points might add up. You've just got to go out and play your best. The goal is to win the tournament."
Inevitably, amidst this burst of mutual appreciation, Morikawa was asked if the imminent change to the DP World Tour will see him crossing the Atlantic more often in future. As ever, though, that question was met with an understandably qualified but diplomatic response. Professional golfers go where the money is, and that, like it or not, is most weeks the PGA Tour.
"I'm always open to adding new events," Morikawa said. "We travel so much, and my off-season this year is going to be about a month. I had three weeks off before this, but still had to prep for this week and still had to get ready. So it's all about balancing your schedule. I've been very lucky since I turned pro to figure out a schedule and been able to balance not playing too much here and there. But the European Tour, the DP World Tour has been great to me. They've done amazing things every time I've been able to travel over here and play. It's exciting. I'm always welcome. It's been a lot of fun and I look forward to adding a couple more events here and there."