Masters
Masters 2023: Viktor Hovland's 65 was as bold as his very loud shirt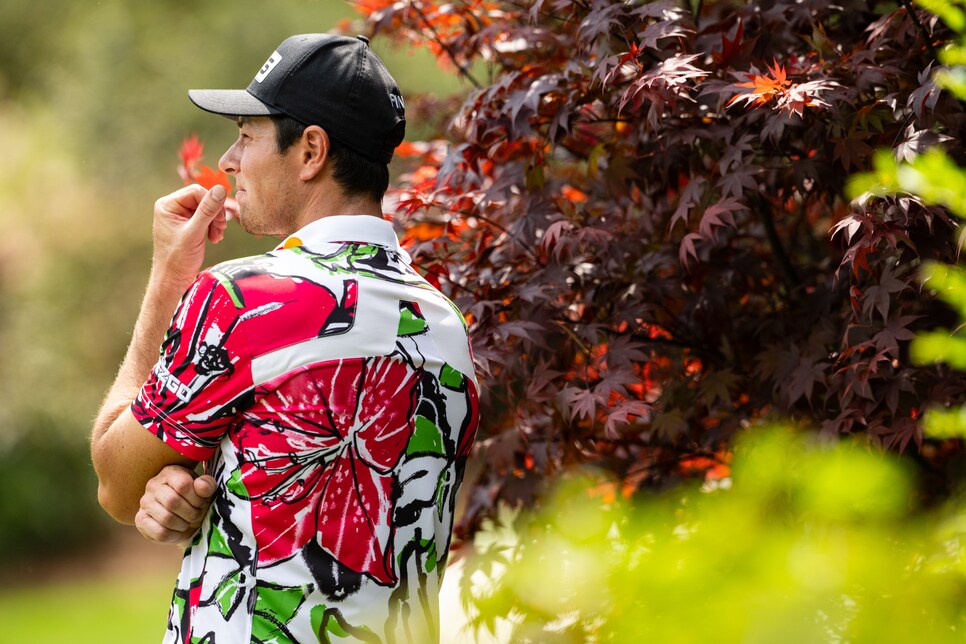 Viktor Hovland wore a loud Masters-themed shirt in the first round.
J.D. Cuban
AUGUSTA, Ga. — Taking attention away from Tiger Woods while playing in his group at Augusta National is pretty difficult to do. You have to play great golf, or wear an outfit so loud that it lights up social media.
On Thursday at the 87th Masters, Viktor Hovland did both.
Playing in five-time Masters winner Woods' group, the popular Norwegian put together an eagle and five birdies for a sizzling 65. It was the World No. 9's lowest round at Augusta National, giving him a share of the first-round lead at seven under par, alongside Jon Rahm and Brooks Koepka, In the final major of last season, the Open Championship, Hovland faded from a 54-hole co-lead to a tie for fourth.
Hovland also wore a J.Lindeberg shirt that slammed the colors of azaleas and Masters green so violently together that one veteran golf writer brilliantly described in on Twitter as, "hibiscus piña colada."
"It's definitely a little bit out there," Hovland, 25, said of his shirt through laughter. "I had nothing to do with it. I just wear what they tell me to wear. But I think I'd rather take these than the pink pants I had [in the first round] last year. So we're making progress."
It was part of a gamble, wearing that shirt in the same group as Woods, who ended up shooting 74. The third player, Xander Schauffle, scored 68.
Viktor Hovland played for the first time ever in competition on Thursday at the Masters.
Ross Kinnaird
Early in the round, Hovland launched a 200-yard 6-iron to the green at No. 2 and made eagle. Amid all of his birdies, he made a deft pitch from a difficult spot above the bunker at 10 to save par. And with a near-impossible greenside bunker shot at the 18th, Hovland "got a little bit cute" and took the risky play of aiming it right and letting the slope take it down towards the pin. It settled close and he saved par.
"I like to gamble a little bit," the three-time PGA Tour winner said. "You probably shouldn't find out and see if you can hit that shot at the Masters [laughter], but you've got to try them out somewhere. Today I pulled a lot of those shots off, so that's fun. It just gives me more and more confidence."
Hovland has always played well in the vicinity of Woods. The Oklahoma State star was low amateur (T32) when Woods won his fifth Masters in 2019 and has twice won Woods' Hero World Challenge in the Bahamas. "Yeah, I don't know what it is," Hovland said. "It's really cool to just be around him. He's been such a huge influence to the game of golf, and obviously watched him hours growing up. And to get to play with him for the first time today was very special."
But Hovland had never played with the 15-time major winner in a tournament round. Naturally, he was nervous, despite the reassurances from his caddie, veteran looper Shay Knight.
"This is the best place to play with Tiger, at Augusta, because the crowds are much more controlled and not as big a distraction," Knight said after the round. "It was awesome fun today. For 'Hovvy' to play like he did with Tiger just shows how world-class he is."
Added Hovland: "Shay told me on the practice area [Wednesday], because I wasn't on my phone checking it, and when he said we were paired with Tiger, my heart kind of went a little bit further up in the throat," Hovland said. "After that, I calmed myself down and thought, this is going to be very exciting. You've just got to embrace it."
Hovland will also embrace the poor weather forecast for the remainder of the week. Rain is expected for Friday's second round, while Saturday's outlook is grim—temperatures in the 40s and 50s and driving rain.
The conditions will be nothing new for Oslo-raised Hovland. He was in Norway late in 2022 and played in worse conditions.
"The few weeks that I've had at home the last two months, I would say it's been really cold, and I've played with three, four layers in 30-degree weather and blowing 30 [mph]," he said. "I've definitely had enough practice in those types of conditions. But I haven't played Augusta National in that type of weather, so that will be interesting to see how that goes."
Perhaps as interesting as Hovland's outfits over the next three days at Augusta.