The Grind
A Masters patron gets PAID, a classic golf photo gets recreated and the Will Ferrell rumors that we're praying come true
Welcome to another edition of The Grind, where we have learned that Masters tickets are more valuable than ever. Take the case of Texas Tech cheerleader Aaliyah Kikumoto. The 19-year-old got plenty of airtime standing behind the 16th tee on Sunday while the final group waited—thank you, Patrick Cantlay—going viral as "Masters Girl." And now, Masters Girl has a modeling contract:
Talk about being in the right place at the right time. What a great country, huh? Congrats to her and congrats to anyone who gets a ticket to next year's tournament. Just be aware that it might be even more crowded than usual around the 16th tee. Until then, let's talk about everything else going on in golf.
Lilia Vu: We begin with the LPGA's first major champ of the year, and what a story. Not only did Vu consider retiring from the sport after a rough start to her pro career, but she might not even be in this country if not for her brave grandfather fleeing war-torn Vietnam on a boat—and being saved by a U.S. naval ship. There were plenty of golfers leaking, um, oil at the Chevron Championship, but Vu stayed the course and captured her maiden major with a birdie on the first extra hole. Then the 25-year-old took the maiden victory plunge at this new major venue:
Considering the color and temperature of that water, Lilia is pretty darn brave herself.
Davis Riley/Nick Hardy: After an impressive rookie season that saw him on many leaderboards, but never at the top, Davis Riley is now a PGA Tour winner. Sometimes you just need a little help from your friends. Or, well, friend. Hardy can say the same as well after the two young guns paired up to take the title at the Zurich Classic: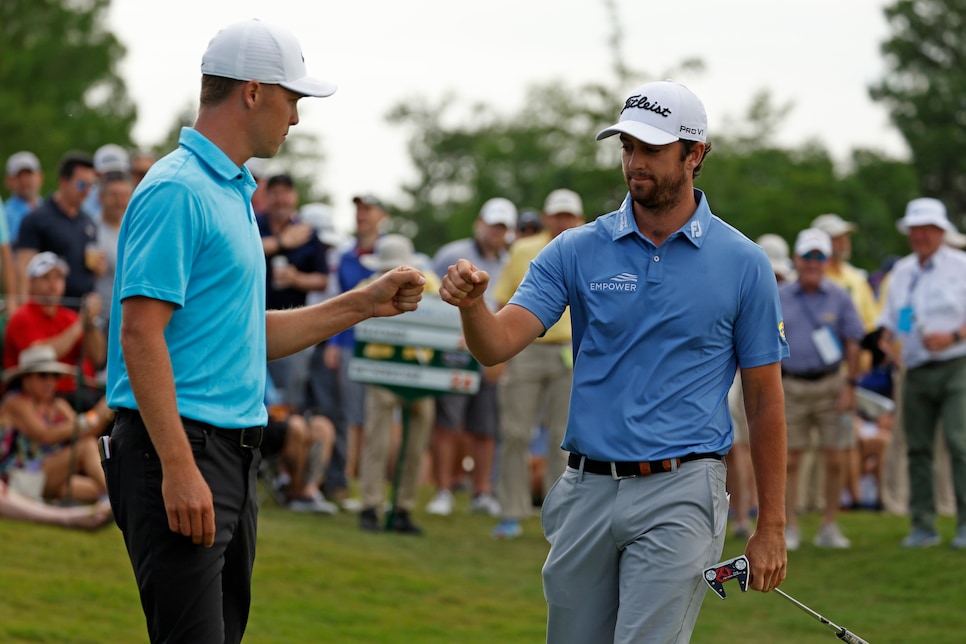 This is usually where we'd make a ham-and-egg joke, but you can't fake shooting 30 under par, especially when two of the rounds are alternate shot. Well played by these two, although they'll still need to do more on their own if they want to earn any modeling contracts for themselves at next year's Masters.
The Will Ferrell rumors: The Hollywood legend is reportedly involved in a comedy series that sounds like it's based on the PGA Tour vs. LIV battle. And that Ferrell would play a golfer who is the new face of the new league, so, basically, Phil Mickelson.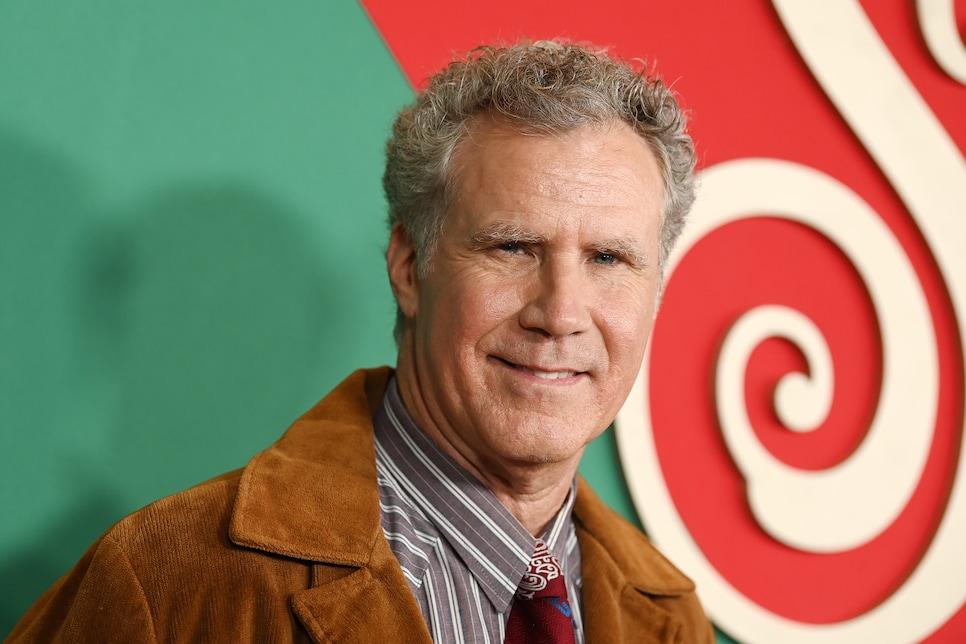 Please, please, PLEASE let this be true. I'm not sure if I should be praying to the golf gods or the TV gods, but I'll do whatever it takes for this project to be released.
Australian golf fans: There's no denying that LIV's first foray Down Under was a huge success. The crowds in Adelaide were incredible, and it reminded me to listen to the great Ben Folds song of the same name. That being said, this seems to be more of a product of great golf fans being starved of seeing many of the game's greatest players in person through the years, as the number of big-time events held in Australia has declined over time. But still, it was a big week for the new league, Talor Gooch, "shoeys," and Chase Koepka, who made this ace at the party hole:
Quite a scene—especially the shirtless guy in a 4 Aces hat at the end. It makes me wonder if LIV shouldn't break up its schedule into various swings (Australian, Asian, U.S., etc.) where they do three or four events in that region in a row to actually build some momentum. Damn, that's a good idea. You're welcome, Greg Norman. Just give me one of those sweet hoodies you were wearing and we'll call it even.
Scott Gutschewski: I've never "bought" five things in this section, but it's my column so I make up the rules. And I don't think anyone will have a problem with this one. This guy earning his PGA Tour card a couple years back was an all-time feel-good moment, but he may have topped it this week with his first Korn Ferry Tour win in 15 years.
What an absolute grinder. Good for you, Scott.
The Green Robe: Sorry, one more! There's too much stuff going on! And this thing won by Lucas Herbert at the DP World Tour's ISPS Handa Championship in Japan is too good not to give a special shout-out: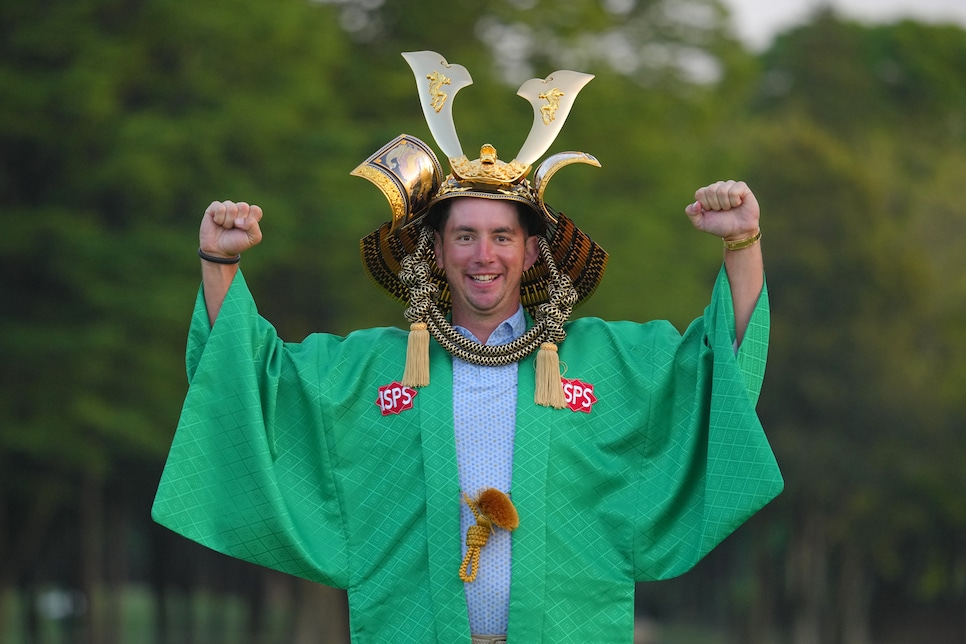 Please take that bad boy on a tour, Lucas. Sounds like a great premise for an episode of that new golf sitcom. Just saying . . .
The 'green jacket' rules: Apparently the Masters isn't like Fight Club or Jon Rahm would be in big trouble for talking about all these rules set by Augusta National. During various media appearances, Rahm revealed there's a green jacket ceremony rehearsal as well as a lot of strict rules for wearing the coveted garment in public.
C'mon, Augusta National, lighten up! Actually, Will Ferrell's potential character flaunting these rules would make for an even better sitcom episode. Streaking to KFC while wearing the green jacket would be an instant classic.
Tiger's season: Another week, another setback for Tiger Woods, who announced he underwent successful subtalar fusion surgery in New York City last week. Although Tiger provided no timetable, doctors agree his major championship campaign is done for the year.
Sad, sad stuff, although watching him play in agony at Augusta National wasn't exactly fun, either. Let's hope this provides Woods with some relief and that we can at least see him out there with Charlie in time for the Father-Son in December.
Team Daly-Duval's week: The pairing of John Daly and David Duval made for a fun early-week story, but they didn't have much fun together on the course. It wound up being a disastrous couple days in New Orleans, where they finished in dead last place. By a dozen(!) shots.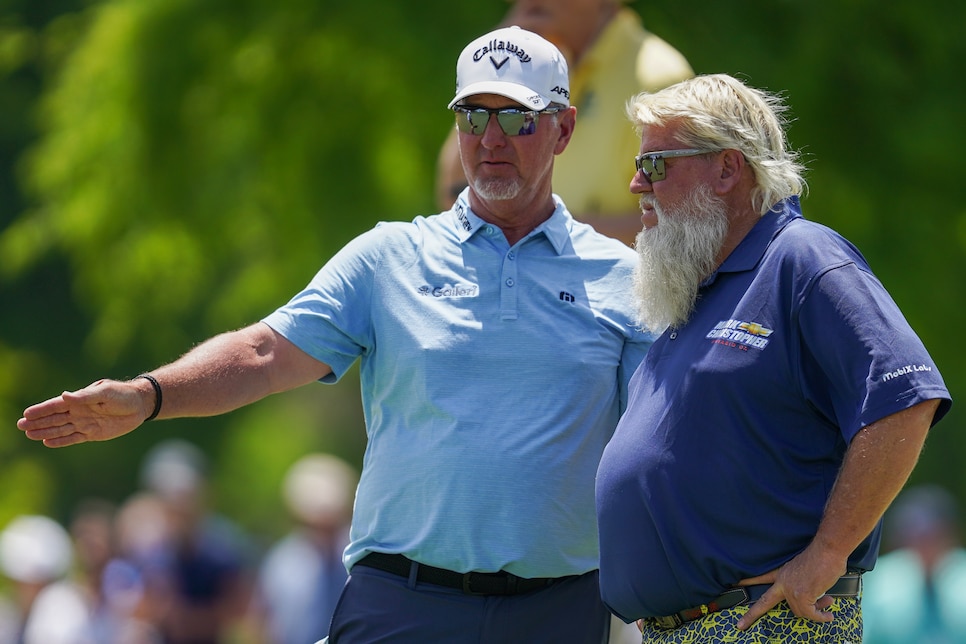 These guys might want to consider stepping away from golf until the Father-Son as well.
Golf cart penalties: Tough story from the Korn Ferry Tour as several players were penalized for taking a cart from the 18th green to the first tee during the LECOM Suncoast Classic. While we've seen something similar happen before—and, yes, these players should know to be more careful hopping on a golf cart—the difference here is that players were allowed to be shuttled to other parts of the course so they were confused by a volunteer offering them a ride. The two-stroke penalty cost one player, Wilson Furr, in particular. The 24-year-old missed the cut and will need some luck in order to get into the next few KFT events because of being bumped in the tour's recent priority reshuffle. Luckily for him, he wound up being the last person into this week's field, however, so like with Scott Gutschewski, Golf Twitter has another player we can all get behind.
The PGA Tour heads to Mexico for the Mexican Open, AKA that one that just became a PGA Tour event last year after being played for nearly eight decades, AKA that one that Jon Rahm won last year against a field more watered down than the margaritas served on a booze cruise the last time I was there in college. Rahm, now the reigning Masters champ, will be back to defend his title, and, well, good luck to the rest of the field. Even Davis Riley and Nick Hardy dropped out a day after winning Zurich! Tough scene.
Random tournament fact: Al Espinosa won the first four Mexican Opens from 1944-1947. So Rahm still has some work to do to match that.
RANDOM PROP BETS OF THE WEEK
—John Daly & David Duval will team up at next year's Zurich: 1 MILLION-to-1 odds
—Jon Rahm will win this week: 2.75-to-1 odds (Actual odds!)
—There are fewer rules to follow when you win the green robe: LOCK
Greg Chalmers is the sneaky Golf Twitter King.
CLUB PRO GUY TWEET OF THE WEEK
The #SB2K boys are all grown up with wives and kids, but this seven-year reunion was great to see:
Probably smart to keep the shirts on this time around.
Sungjae Im and Keith Mitchell could star in a reboot of "The Odd Couple":
That's just gold right there. A few more weeks under Mitchell's tutelage and Sungjae will be breaking down zone blitzes and explaining why the Daniel Jones contract makes sense.
THIS WEEK IN PUBLIC DISPLAYS OF AFFECTION
What a masterpiece. But if you know this person, please check on him, because it was a rough week when it comes to Tiger news …
"I don't want the players to feel like they're pulling into the parking lot coming to football practice in April. That's just not happening. So it's great to see these guys around. Hopefully we can keep the golf carts upright. But uh, yeah, no meetings, just weight room and running."—Denver Broncos head coach and avid golfer Sean Payton with a not-so-subtle dig at Russell Wilson after his golf cart fail the week before. Sorry, Russ, but this is going to follow you for the rest of your career.
Congrats to Mark Hensby, who won his first senior title at the PGA Tour Champions' Invited Celebrity Championship. Glad they invited actual tour pros as well. … Tony Romo rallied in the final round to win the celebrity portion of the PGA Tour Champions event. Cue the "that's the clutchest" performance of his career jokes again. … Mac Meissner shot the eighth sub-60 round in Korn Ferry Tour history with a Friday 59. The bad news? Despite putting his name in the record books, he only managed a T-16. … And, finally, I'm nearly through the first month of having solar panels on my roof: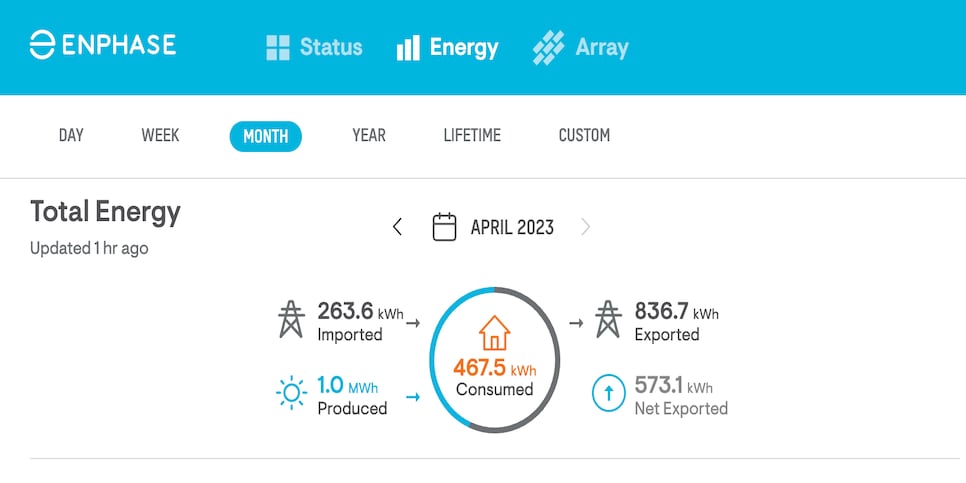 Look at that production! That's one MEGAwatt-hour, people! Look at that net exported number! I'm a real-life hero. You're welcome, planet Earth.
RANDOM QUESTIONS TO PONDER
How much money will solar save me in the long run?
Who is John C. Reilly going to play in the Will Ferrell golf sitcom?
Who will be the next "Masters Girl/Guy"?