LPGA Tour
Winning the Chevron Championship was a family triumph for Lilia Vu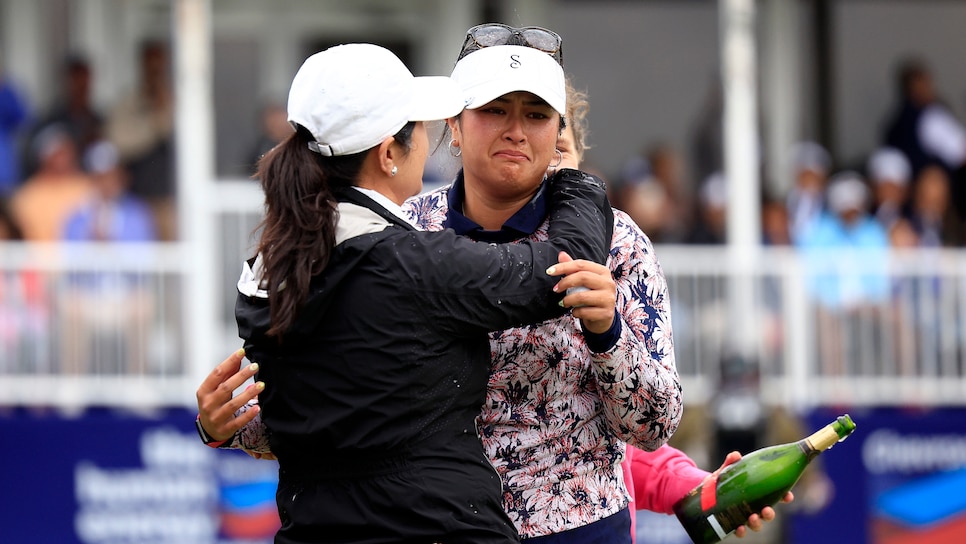 THE WOODLANDS, Texas — The outpouring of emotion following a victory reveals the years of sacrifice, dedication and moments of self-doubt culminating in triumph. The tears streamed down Lilia Vu's face on Sunday after she holed a 15-foot birdie putt on the first playoff hole to overcome a four-shot deficit and beat fellow California native Angel Yin to win the Chevron Championship at Carlton Woods. Her emotion after winning her first LPGA Tour major was about honoring the sacrifices of multiple generations of her family in giving her a chance to achieve her dreams.
"Everything happens for a reason," said Vu, who birdied the last two holes of regulation to shoot 68 and tie for first at 10 under. "All the bad things … everything I've always struggled through, family-wise. I think of myself as my biggest obstacle. I had a very tough, not easy past two days. I was definitely my own enemy. I don't know how I pulled this out."
The journey started two generations prior, with her maternal grandfather, Dinh Du, getting his family out of war-torn Vietnam. For months in 1982, seven years after the conclusion of the Vietnam War, he hid away in the countryside to slowly build a boat. He risked his life making the craft to give his family a chance to escape. Then, one night, he told everyone it was time to go.
"My dad said that we need to get out of Vietnam to get a better life," Vu's mom, Kieu Thuy, said on Sunday. "We chose America, and luckily, we did it."
"The reason I'm here is because of my grandpa"
Lilia Vu after winning the Chevron Championship
Du built a boat for 54 people. As the craft took off, people from the shore swam to climb on aboard. Du turned no one away, ending up with 82 souls searching for a new life. Hope started to fade as the boat leaked two days into the journey. Du fired off flares hoping for anyone to help them.
Fortunately, the USS Brewton, a United States Navy warship, saw Du's flares. They rescued everyone on the boat.
"The reason I'm here is because of my grandpa," said the 25-year-old Vu, who was born and raised in Fountain Valley, Calif., and attended UCLA.
Thuy felt very emotional hearing the impact her father's sacrifices had on Vu, and the mother cried before heading to the locker room to rejoin her daughter.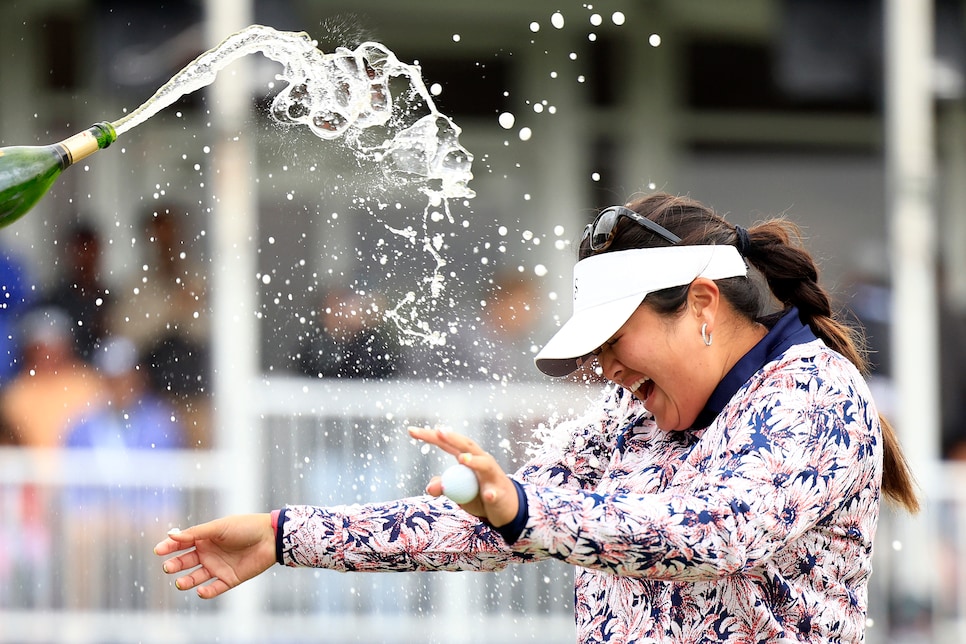 Lilia Vu is sprayed with champagne in celebration of winning the Chevron Championship in a playoff over Angel Yin.
Carmen Mandato
"My dad, he's my hero," Thuy said.
Du continued serving as the patriarch of his family up until his passing near the beginning of the COVID-19 pandemic. As he went to the hospital for a checkup on his heart condition, he chatted with Vu. Vu explained to her grandfather that she wasn't playing her best golf. She just finished a 2019 LPGA rookie season in which Vu made one cut in nine starts. A demotion to the Epson Tour led to similar struggles to begin the year. His advice ended up being the last he would ever give Vu, as he passed at the hospital.
"The last thing he told me was to play my best," Vu said. "He's in the hospital, thinking of me and my tournament."
His advice has stayed with Vu ever since, as she thinks quite a bit of the day he passed. That included Sunday, where his memory helped keep her grounded. Vu battled a tangle of emotions in the tournament, from frustration, moodiness, and not understanding why she was so angry with herself.
"Even today, I was getting really upset on the course," Vu said. "I just had to remind myself, like, grandpa is with you, and he'd be really disappointed if you were getting upset like this and that you didn't get your act together."
Her father, Douglas Vu, also gave simple advice again to his daughter. He served as her swing coach from when Vu turned 6 to heading to UCLA for her first year of college. Vu credited him for his advice that one good round could lead to a victory at the Honda LPGA Thailand, where Vu went on to win in February for her first LPGA title. His thoughts after hugging her at 8 in the evening on Saturday before Vu went to her room echoed a similar sentiment.
"I said keep your focus on the game," he said. "If you have mid-60s [round], you may win."
Vu's caddie, Cole Pensanti, also kept an optimistic tone Sunday. He reminded Vu that she came from six behind in the final round to win in Thailand and could make a comeback at Carlton Woods.
Vu cut into the four-shot deficit quickly Sunday. On a challenging scoring day where Carlton Woods gave up only nine rounds under par, Vu birdied the second and third. Her birdie on the par-5 eighth moved Vu to nine under, a stroke off the lead.
Then, frustration mounted. Pensanti felt Vu tried to force things during the middle of the round, not making the birdies she wanted. Vu bogeyed the ninth, then started the back nine with seven pars.
Pensanti's advice echoed that of Vu's father and grandfather. "Same thing I always say, just let it happen," Pensanti said.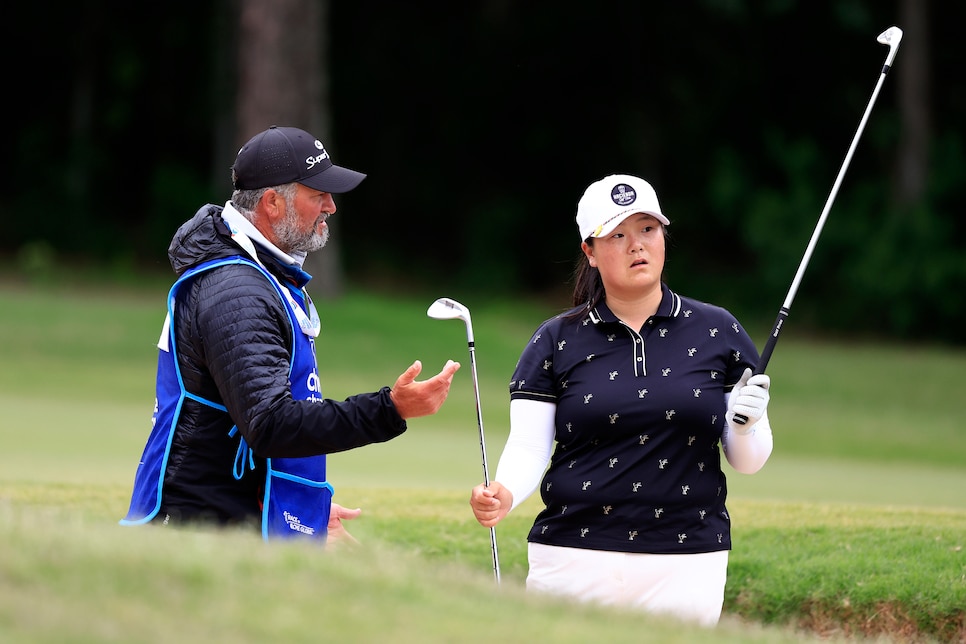 Angel Yin talks about club selecton with her caddie after driving into a fairway bunker on the 16th hole.
Carmen Mandato
That turned into birdies on the 17th and 18th to take the clubhouse lead at 10 under. Vu sat at the scorer's tent for 25 minutes before heading to the range to warm up for 25 minutes. Then, she heard the roar on the 18th green when Yin made birdie to force the playoff.
For Yin, the co-leader at 10 under after 54 holes, getting into the playoff seemed out of nowhere this week. The 24-year-old California native had one top-10 finish before the Chevron since late July 2021. Yet even on a day when she didn't feel her best, Yin didn't express frustration about the round. Instead, she beamed with pride at her journey rather than agonizing over the close defeat.
"I'm just really happy with who I am, where I am, and what I'm doing right now," Yin said. "Just a lot to appreciate. If I can talk about how much I appreciate life right now, I'll get emotional, not over this [loss]."
Yin led Vu by two shots with three holes to play, but she bogeyed the 16th and 17th after hitting her tee shots on both holes into bunkers. At the 18th, she reached the par-5 green in two shots and two-putted for birdie to close regulation with a 72.
Nelly Korda also appreciated her journey, even without a victory. She stood two shots away from her second major title at the beginning of the day, and a potential return to the No. 1 spot in the Rolex Women's World Rankings sat 18 holes away. While Korda spent most of the day out of striking distance of contention, a closing eagle on the 18 delivered a one-under 71 Sunday that got Korda into solo third.
With current World No. 1 Lydia Ko missing the cut for the first time in 40 starts, the LPGA projected Korda to return to the top of the rankings. It's her second time as the No. 1 player since missing the Chevron Championship last season due to a blood clot.
"It would have been obviously very nice to win the major, as well, but I think being World No. 1 is very rewarding," Korda said. "All my hard work has paid off, and hopefully continue building, but the No. 1 ranking keeps bouncing back and forth, back and forth."
Vu's victory, worth $765,000, culminated with her leaping into the new edition of the pond alongside her caddie and trainer. Her parents watched on from afar, taking in the family affair of their daughter becoming a major champion.
"It means the world," Vu said of her parents watching her victory. "I honestly want them everywhere whenever I play."
No matter where Vu goes, her family is always with her, in spirit or in person.