LIV Golf
Masters 2023: LIV golfers answer question of whether they can still compete in majors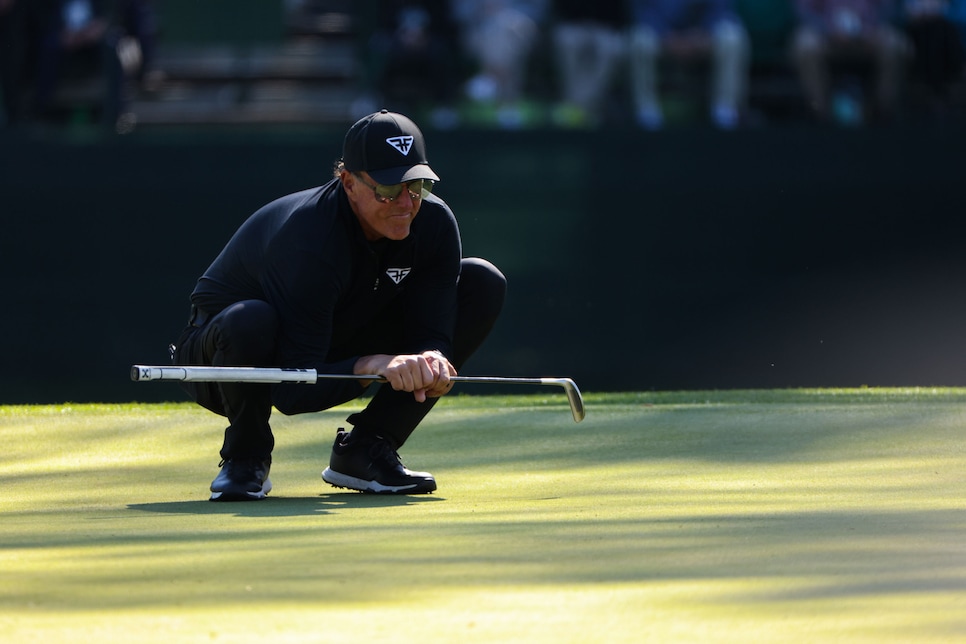 AUGUSTA, Ga. — Players who compete on the LIV Golf League have won major championships, of course. Quite a few and all four of them, in fact. Phil Mickelson comes immediately to mind. So do Brooks Koepka, Bryson DeChambeau, Dustin Johnson and Cameron Smith. Patrick Reed, for various reasons, is hard to forget. And there is more than one South African in the mix if I'm not mistaken. Are we forgetting anyone? Oh yes, Sergio Garcia.
But no LIV golfer has yet won any of golf's four most important events while wearing one of the many hats to be found on the controversial Saudi-backed circuit. And that remains so after this week at the 87th Masters. Twelve LIV players completed all 72 holes although none of the original 18 starters—more than 20 percent of the starting field—could beat Jon Rahm over four rounds. (Hang on though. Koepka did achieve that notable feat, but only if an oh-so ironic 54 holes is to be our measure.)
Before all that too, any question that the LIV guys should be teeing-up at Augusta National had long been banished from even the most cynical minds (even if the week was marked by a spectacular defeat for LIV in the arbitration battle with the DP World Tour). Jordan Spieth, who had his own epic encounter with Mickelson over the final round summed up the prevailing mood.
"If you qualify, you qualify," said Spieth, whose closing 66 at Augusta National was beaten only by Mickelson's 65. "You shouldn't keep anyone out if they qualified. As long as people keep qualifying, whoever you typically have the fields that you normally have because that criteria makes you have to play really, really good golf. Every major wants to have the best field possible."
Indeed, even amidst doubts over the long-term advisability of playing events over three rounds instead of four, it is hard to argue the notion that the LIV players have deteriorated to a point where they do not belong in elite company. While not all of them played well—Smith, the reigning Open champion, plodded to a T-34 finish and only five finished inside the top 30—of the five names highest on the leaderboard Sunday evening, three will be playing in LIV's next event in Australia later this month: Mickelson and Koepka sharing second and Reed finishing T-4. An impressive return.
"I don't think it was needed," said Joaquin Niemann, who finished T-16, of such a stellar performances. "There are potential major winners on the PGA Tour and also on the LIV Golf. I think I've got the game to win a major. Some might be talking that we don't have the top guys. But I think that anybody could win tournaments."
Niemann's take was far from unique, although no one on either side of professional golf's great divide was understandably keen to portray this Masters as a battleground—official or otherwise—rather than just another major.
"I wouldn't look at it like that," Mickelson said. "I'm very appreciative that we're here; that we are able to play in the majors. And I thought it was exciting that this tournament rose above it all to have the best players in the world here and lost all the pettiness; that was great."
The other man in joint second place was also having none of it.
"We're still the same people," Koepka said. "I know if I'm healthy, I know I can compete. I don't think any of the guys that played this event thought otherwise. When Phil plays good, we know he's going to compete. Patrick Reed, the same thing. I think that the notion that we can't compete any more, that we are washed up, is just manufactured by the media. The game is fractured, I guess, from the fan's perspective. But as far as us, I think everybody saw it this week. It has been nice to see everybody. There's no hard feelings pretty much. I think that's the way everybody should see it."
Reed offered his perspective, too. Despite his run-in with Rory McIlroy at the DP World Tour's Dubai Desert Classic in January, the 2018 Masters winner has apparently never been in any doubt as to the ability of PGA Tour players and LIV players to co-exist.
"I felt that way even before this week," he said. "I've played on the European Tour in events there, and all the guys have been fine. They treated me the same no matter what. I've always shown support for their Tour. I've gone over and played even when I was part of the PGA Tour. Now, being part of LIV, I've also gone over there and showed my support. The guys like that, the competitiveness, guys coming over and competing. This week is the first time really seeing the PGA Tour guys, and they were all great. They all acted the exact same way, whether I was part of LIV, or whether I was a part of the PGA Tour."
While such sentiment is open to both debate and conjecture, one thing is not in any doubt, if indeed it ever was. So far at least, the LIV guys can still play. Some of them anyway.