Viva Espana
Masters 2023: The sign that had Jose Maria Olazabal convinced Jon Rahm was going to win this week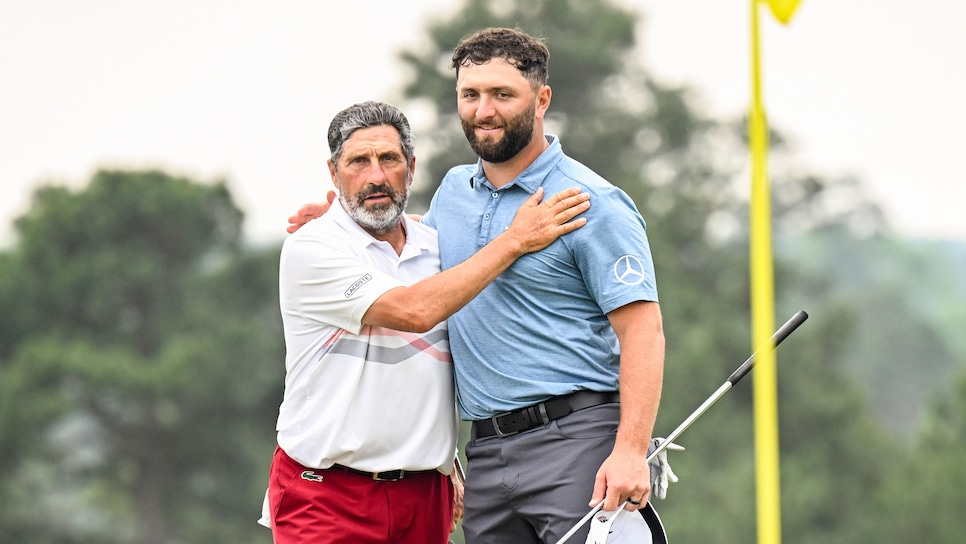 AUGUSTA, Ga. — Jose Maria Olazabal, the second Spaniard to win the Masters after the late, great Seve Ballesteros, recognized the poetry in his protégé Jon Rahm triumphing at Augusta National on Sunday. The final round of the 87th Masters came on April 9, meaning Ballesteros, a five-time major champion, would have been celebrating his 66th birthday that same day had he not succumbed to brain cancer in 2011.
What better way for Rahm to honor the greatest golfer to have come from his homeland than to don Augusta's green jacket on the 40th anniversary of Ballesteros' second Masters triumph in 1983?
"It's amazing how things work out," Olazabal, the 1994 and '99 Masters champion, said Sunday night. "Sometimes the stars align for a wonderful script."
Part of that script was apparently written last Tuesday during a practice round Olazabal played with Rahm and Sergio Garcia, the other Spanish player to win at Augusta. Garcia's victory in 2017 also coincidentally came on April 9.
"Funnily enough, we talked about Sunday being Seve's birthday and how nice it would be to for one of them to win it on such a special day like today," Olazabal said.
There was a bit of Seve present in Rahm all week. When Rahm four-putted his first hole of the tournament on Thursday for a double-bogey 6, he thought about a famous quip from Ballesteros when a reporter had asked him how he could have four-putted. "I miss, I miss, I miss, I make," Ballesteros joked.
Olazabal predicted Rahm, 28, could become one of the greats of the game.
"Jon has the full package; a great long game, a great short game … if there are no injuries were seeing Jon win for a number of years to come," Olazabal said.
Olazabal choked back tears as he was asked about the connection between Ballesteros and Rahm.
"I'm a little bit emotional, yes," he said. "I first met Jon as a 14-year-old at a junior event for [Olazabal's long-term apparel sponsor] Lacoste, in Spain. I didn't believe he was 14. He was taller than me. He was stronger. He hit it a bloody mile. He had a strong temperament, but it was what impressed me the most. To see him become a Masters champion, the way he was so patient today, is really special."
It was special. For the country of Spain, and for its favorite golfing son, Ballesteros.
"This one was for Seve," Rahm said. "He was up there, helping."